AIR ASTANA is to expand its Asian network with a new service to Kuala Lumpur from the beginning of the winter season (31 October). The weekly service will be operated every Saturday by Boeing 767 aircraft, with a flight time of eight hours. Kuala Lumpur will become Air Astana's seventh international destination in Asia and the Gulf, with existing schedules operating between Almaty and Bangkok (3 times a week), Beijing (5), Delhi (3), Dubai (9), Seoul (2) and Urumqi (2). Passengers on the weekly service will be able to return via Bangkok using the through fares of Air Astana and its partner airlines. The airline flies to Heathrow twice weekly using Boeing 757 equipment and is a joint venture between a quasi-government investment fund (51%) and BAE Systems (49%). www.airastana.com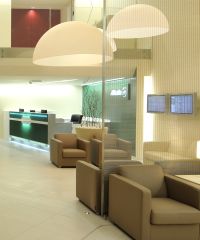 ALITALIA, now merged with Air One and with a 25% shareholding by Air France – KLM, is pressing on with an airport lounge refurbishment programme. Latest on the schedule is the Le Navi VIP lounge located at Rome Fiumicino Terminal C, host to Freccia Alata Club members, Magnifica and Business passengers, and SkyTeam Elite Plus members, travelling to extra-Schengen destinations. This project has already seen the complete renovation of the Alfieri lounge at Turin airport, Bellini at Catania, Bramante and Canova at Rome Fiumicino and Parini and Manzoni at Milan Linate. By the end of the year two further international lounges, Borromini and Giotto, will be renovated at Rome Fiumicino. www.alitalia.com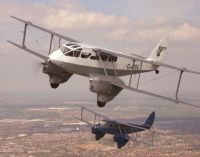 CLASSIC AIRCRAFT enthusiasts might like to know that Air Atlantique will again this autumn be engaged in a UK tour with both de Havilland Dove and Dragon Rapide available at certain venues. On offer this year is Cambridge next weekend (10-11 October), Doncaster 17-18 October, Swansea 24-25 October, Blackpool 30 October-1 November, and Coventry on 14-15 November and 12 December. If you have never flown on a vintage aircraft before it is a remarkable experience to fly at 1500ft, 140mph, and actually see the pilot working. It makes for a good present too. www.classicflight.com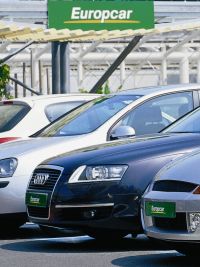 EUROPCAR has launched a mobile phone service following research indicating that over 8m adults in the UK can access the internet via their mobile phone, a growth of 42% on 2008. Clients can now make an online booking from any web enabled mobile phone or any extras such as sat nav and child seats and find the nearest hire location when they are on the move, say at a railway station. An integrated search engine makes it easy to find a convenient car hire location, and for iPhone users, it automatically selects the nearest branch to the customer's current location. Once booked, the confirmation is sent immediately by text and email. Available in seven languages (English, Dutch, French, German, Italian, Portuguese and Spanish) and for all Europcar vehicle hire locations around the world, the innovative service is compatible with all mobile phones that have internet access (including Blackberries, iPhones and other smart phones). www.europcar.com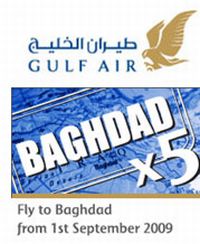 GULF AIR has confirmed that it will commence connecting services from London to Najaf and Erbil (Iraq) from 26 October. From its hub at Bahrain the airline will fly a daily service to Najaf, in the south of the country using an A320 aircraft. It will operate a three times per week to Erbil, in the north, on Monday, Wednesday and Thursday, which will also become a daily service in due course. Both flights have excellent connections in Bahrain with just a 45-minute transfer to Erbil and 120 minutes to Najaf. The launch of the schedules follows the successful start of flights to Iraq's capital Baghdad on 1 September. Erbil is Iraq's third largest city as well as the capital of the Kurdistan region and an important commercial centre. The holy city of Najaf is a site of great religious significance to Muslims and a centre of pilgrimage. www.gulfair.com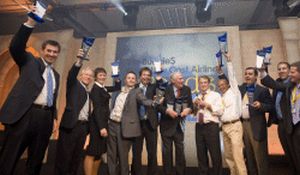 Alison Chambers reports from Barcelona.
The talk at last week's World Low Cost Airlines Congress in Barcelona was evolution. For while low operating costs is the religion of this fraternity, it seems the industry is increasingly moving toward the hybrid low cost carrier (LCC) – with a few exceptions. Ancillaries are trumpeted as a successful way of generating revenue as legacy carriers move to adopt some of the practices of the LCCs. "Even British Airways is now selling a seat twice," quipped Flybe Chief Commercial Officer Mike Rutter. easyJet is working with GDS Amadeus to appeal to the corporate travel departments and LAN Peru has evolved from a legacy carrier to a low cost model to adapt to market demands, becoming profitable in the process too.

"We have to find ways of doing things that have not been done before, without compromising on cost. There is no uniform low cost model like there was 15 years ago," opined Vueling CEO Alex Cruz (formerly Click). "Corporate travellers want a punctual service, loyalty schemes and lounges – but we as an industry we are shy of these things because they create cost. But we are in a different world now," he said.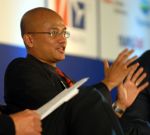 Azran Osman Rani, CEO of Air AsiaX, concurred that the lines are blurring between the traditional airline and low fare offering. The Kuala Lumpur based airline has started to introduce lie flat seats on its long haul flights – without gourmet food, champagne and red carpet check in, he said. These tickets are half the price of the typical business fare charged by the legacy carriers.

Paying for checked baggage fee is a good thing, delegates agreed – it is tangible. Passengers understand fluctuating fuel prices and the taxes the airlines have no control over. Yet when it was first introduced, by Flybe, there was an outcry. Now both LCCs and legacy carriers, including BA and United are doing it. Last week Ryanair abolished airport check-in and for those who have the misfortune of not checking in on line the penalty is £40 per person.

Asking passengers to pay to use the toilet is, however, a step too far, said Stelios Haji Ioannou, serial entrepreneur of the easyGroup, adding that he hopes Michael O'Leary does do it.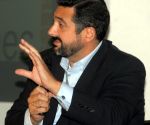 Alex Cruz said that now is the ideal time to find the Holy Grail in terms of airline ancillaries, but there is a limit. "We need to find the right balance," agreed Flybe's Mike Rutter, because if we don't we will find ourselves thwarted by regulations. "The tablet of stone that bear the commandments of what is the low cost model have been chiselled along the way," he said.
"Aish to Bish routes"

How far can the LCCs in Europe grow? Alex Cruz suggested that there will be more activity between secondary airports (Aish to Bish routes, he calls them). There are probably 450 major cities in Europe which do not have connections yet, many cities in Spain that don't have links to Europe and this is where we at Vueling will explore. We realise we cannot stand still in this industry.

Russia remains a largely untapped market in the low cost airline arena, principally because of Russians' fear of flying and the government's monopoly on aviation, explained Maxim Poberezhnik, Marketing Director of the country's first LCC Sky Express. Only 7% of Russian people fly, he said. They are put off by the safety record in the country and they need educating on the term 'low cost airline', believing there is only one carrier – Aeroflot. Hefty import taxes on new aircraft (40%) is also stifling growth, he said. Sky Express, which has been operating for three years now, is flying domestically to ten destinations including Moscow-Perm. Even raising its fares by 25% last summer, it is still some 10 to 15% lower than Aeroflot.
Half standing seats – advocates China's Spring Airlines

Spring Airlines, China's first and only low cost airline was in force in Barcelona with a 14-strong delegation. They arrived with an interesting proposition – standing only seats – that would enable 40% more passengers to fly aboard its Airbus A320 jets and provide a considerably lower ticket price. The motivation is that 70% of people in China cannot afford to fly, 'our so-called grass root people,' said airline representative Zhang Wuan, who reports to the airline's CEO. Passengers would be accommodated on bar stools with a safety strap, fastened around the waist. China and India are prime markets and this would catch on he said, taking the opportunity to call on airlines in the low fare community to embrace the concept. Ryanair, which will take out washrooms to create more seats, has already mooted the idea – to mixed reaction.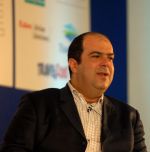 Shanghai-based Spring, which operates 13 A320 aircraft has met with Airbus about the idea with the endorsement of China's Vice Premier Zhang Dejiang. Wuan suggested that such an aircraft, which Spring is dubbing X322, would need a redesigned cabin floor. Wuan highlighted that half standing seats could help airlines cut a further 20% of their costs. He noted that EASA, FAA and China's CAAC do not have regulations on half standing seats. They would need to be satisfied on the safety aspect, especially take off and landing.

Will the long haul low cost sector be as successful as the short haul model? Yes, said a bullish Azran Osman Rani, CEO of Malaysia's Air AsiaX, but the key to that success will be connectivity. The airline which recently launched flights from Kuala Lumpur to Stansted highlighted that 30% of its passengers arriving in Stansted were jumping on flights of other LCCs to go to destinations such as Ireland or Spain. It is not the traditional, interlining way, but they can save £300 on a family of four travelling this way. Osman Rani disclosed the airline was looking at starting services to Barcelona. It starts Abu Dhabi services in November with A340 aircraft.

Walter Prenzler, CEO of Saudi Arabia's Nasair, highlighted that the low cost model continues to evolve in the Middle East as air travellers are becoming far more price sensitive. Legacy carriers are aligning their short haul economy class prices and because passengers do not like paying for extras it has opted not to charge for inflight refreshments and checked baggage. "Accordingly, we are more of a low fares airline," he said.

And there was some good news for the operators from the leading OEMs, Airbus and Boeing. Financing for aircraft purchases, albeit more expensive, is coming back, from sources including Exim Bank, they observed in Barcelona. The global crisis is affecting everyone, it is not specific to the aviation industry unlike 2002 when the airlines could not get hull insurance for example, noted Drew Magill, Boeing's Director Marketing. He pointed out, however, that the US low cost airlines are going to be disadvantaged when the market upturn comes, as they have not invested for the future in their fleets the way that European and Asian airlines have done. There will be some 400 single aisle aircraft in the replacement wave for them, said Andy Shankland, VP Marketing at Airbus.

Next year the World Low Cost Airlines Congress is back in London. For more information www.lowcostairlinesworld.com
ALISON CHAMBERS
Emerald Media
alison@emeraldmedia.co.uk
Eryl Crump supplied the pictures