20 JUNE 2011
BTN DISTRIBUTION
BTN also goes out by email every Sunday night at midnight (UK time). To view this edition click here.
The Business Travel News
PO Box 758
Edgware HA8 4QF
United Kingdom
+44 (0)20 8952 8383
info@btnews.co.uk
© 2021 Business Travel News Ltd.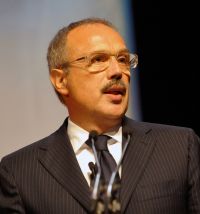 SITA, the IT specialist, says it has become the world's first global mobile data services provider dedicated to the air transport industry. Through a new extended partnership agreement with Orange Business Services, the air transport communication's expert is to provide connectivity with all involved in the business enabling the secure use of mobile data, machine-to-machine and application to person technologies worldwide.
Francesco Violante, CEO, SITA said: "As the adoption of mobile devices and data transfer soars worldwide, the air transport industry requires a high-performing, cost-effective service that provides consistent connectivity globally. SITA has partnered with Orange Business Services because it provides global coverage at competitive rates. Together we are combining this high standard of data connectivity with SITA's knowledge of the air transport industry to make the use of mobile applications most effective."
Orange Business Services extends to 400 roaming agreements in more than 180 countries giving 100% national roaming.
Mr Violante pointed out that SITA already provides a mobile workforce solution to airlines that are today embracing mobile data applications such as electronic flight bags and mobile passenger applications. By becoming the first global mobile data services provider for the industry, SITA claims to deliver a one-stop-shop solution that includes middleware, managed devices, Wi-Fi connectivity at airports and global 3G data connectivity. www.sita.aero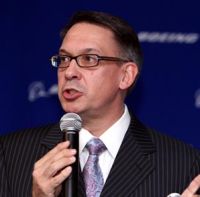 Boeing predicts a US$4 trillion market for new aircraft over the next 20 years with a significant increase in forecasted deliveries. The company's annual commercial aviation market analysis released last week foresees a market for 33,500 new passenger aeroplanes and freighters between 2011 and 2030.
"The world market has recovered and is now expanding at a significant rate," said Randy Tinseth, Vice President of Marketing, Boeing Commercial Airplanes. "Not only is there a strong demand for air travel and new airplanes today, but the fundamental drivers of air travel – including economic growth, world trade and liberalization – all point to a healthy long-term demand."
Passenger traffic is expected to grow at 5.1% annual rate over the long-term and the world fleet is expected to double by 2030. The single-aisle market will continue to see strong demand around the world and is expected to increase its share of the market. Fleet composition will change significantly by 2030 with single-aisle jets making up 70% of the total. www.boeing.com/cmo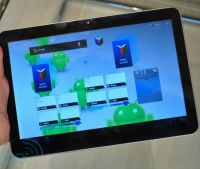 Samsung electronics is to provide American Airlines with Galaxy mobile electronic tablets for premium class in-flight entertainment. The carrier plans to deploy 6,000 of the new Galaxy Tab 10.1 devices onboard select flights beginning later this year.
The tablets will replace the airline's current personal entertainment device in American's premium cabins on transcontinental flights between New York's JFK and Los Angeles, JFK and San Francisco, and Miami and Los Angeles served with 767-200 and 767-300 aircraft; international flights to and from Europe and South America flown by 767-300 aircraft; and transcontinental flights departing from Boston to Los Angeles with 757 aircraft.
The Galaxy Tab 10.1 combines the Android platform, ultra-slim, lightweight design, a brilliant 10-inch touch screen and array of applications. It is powered by the Android™ 3.1 (Honeycomb) platform, offering faster and smoother transitions between different applications, more intuitive navigation to and from home screens and broader support of USB accessories, external keyboards, joysticks and gamepads. Samsung will customize the Galaxy Tab for American's in-flight entertainment needs, including the addition of expanded memory. www.samsung.com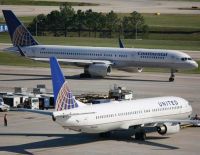 With a little more than eight months gone since the merger of Continental Airlines (CO) and United Air Lines (UA) the company is able to report that half of the combined mainline fleet now features the new shared livery.
As of 8 June, the airline has completed repainting 351 aircraft in the combined colour scheme. There are also aeroplanes in the Star Alliance colours and with the heritage themes such as the FriendShip Airbus A320 and the Blue Skyway Boeing 737-900ER. The airline says it expects to finish the entire CO fleet and all the UA narrow bodies by 30 June 2012, and the last of the UA wide bodies in 2013.
At Heathrow, its main European centre, the combined flight operation now offers 17 flights every day. Currently United operate four daily services from the Star Alliance Terminal 1 to Washington, DC; three to Chicago; two to San Francisco and one to Los Angeles. Continental is still in T4 with twice daily Houston services, and five New York/Newark flights. Newark is also served non-stop from Manchester (twice daily), Edinburgh (twice daily), Belfast, Birmingham and Glasgow (all daily). In the Irish Republic the New Jersey airport has services twice daily from Dublin and 11 times weekly from Shannon. www.united.com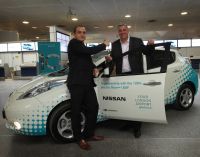 With Heathrow's recent announcement of the installation of electric car charging points 's Gatwick Airport has confirmed that it too can supply power for the new range of high technology vehicles. They have actually gone one better and allowed CEO Stewart Wingate to drive such a vehicle in the North terminal building, the delightful Nissan LEAF (Leading, Environmentally friendly, Affordable, Family car).
Mr Wingate said: "Opting to partner with Nissan LEAF to promote and support the use of electric vehicles was an obvious choice for us as the brand's goals fit with our own values and aspirations at Gatwick.
"We are driving a programme to incentivise the use of cleaner vehicles across the airport community and have set ourselves an ambitious target to push our own use of low emission vehicles to 20% by 2015." www.gatwickairport.com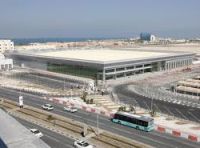 Doha International Airport is preparing to open before the end of June Terminal B (the old arrivals terminal) as a dedicated facility for foreign airlines – just in time for the summer holiday rush. As a result, the check-in area of the existing Transfer and Departures terminal – to be renamed Terminal A – will be used exclusively for Qatar Airways as the national carrier of Qatar continues to expand at a rapid pace.
Designed to greatly enhance the departure experience for travellers leaving Qatar, the major airport upgrade will facilitate the increased passenger traffic through Doha International Airport until the state-of-the-art New Doha International Airport (NDIA) opens in 2012. The new 2,000sq m large Terminal B, developed on the premises of the former arrivals terminal at DIA, will be entirely dedicated to the over 30 foreign airlines operating services from Doha. Featured is an enlarged check-in area with 35 counters, including an online check-in lounge, dedicated customer service desk for oversized luggage, currency exchange bureau, ATM machines, and food and beverage outlets. www.dohaairport.com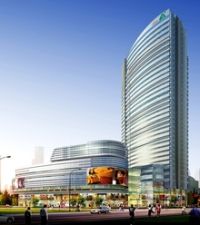 Marriott International's signature brand, Marriott Hotels & Resorts, has announced a global expansion pipeline of nearly 50 new hotels and resorts to open in the next four years. Properties under development will be mostly in emerging business and leisure destinations, with 24 hotels in the Asia/Pacific region, nine in the Middle East/Africa, four in Europe and 12 in the Americas.
Initially the maximum effort is concentrated in China with new hotels expected to open this year to include the 295-room Shanghai Marriott Luwan, on the Huangpu River. Also in Shanghai is the 5-star, 720-room Shanghai Marriott Hotel City Centre. It offers more than 2,000sq m (22,000sq ft) of dedicated event space and is within walking distance of Nanjing Road Pedestrian Street, People's Square and the Bund.
The 319-room Guangzhou Marriott Hotel Tianhe opens this autumn. The new hotel will have three restaurant outlets, lobby lounge, 1,200sq m (13,000sq ft) of meeting facilities, and a spacious fitness centre. Also new in the autumn is a 392-room property, part of the Hainan International Conference & Exhibition Centre on Hainan Island.
In the coming months there are also new properties in Jaipur, the capital of Rajasthan (India) and in Rayong (Thailand). www.marriott.com
This is a motoring joke and once again IFALPA dug it out from somewhere. Pilots seem to have time to find these!
A man was driving home late one afternoon, and he was driving above the speed limit. He notices a police car in his rear view mirror. He thinks "I can outrun this guy," so he floors it and the race is on. The cars are racing down the highway -- 60, 70, 80, 90 miles an hour.
Finally, as his speedometer passes 100, the guy figures "what the heck," and gives up. He pulls over to the curb.
The police officer gets out of his cruiser and approaches the car. He leans down and says, "Listen mister, I've had a really lousy day, and I just want to go home. Give me a good excuse and I'll let you go."
The man though for a moment and said ... "Three weeks ago, my wife ran off with a police officer. When I saw you in my rear view mirror, I thought you were that officer and you were trying to give her back to me!"