Following AERBT's report in the 23 May issue Steve Slater, an international TV sports journalist, has responded. He is also a PPL holder and Honorary Press Officer of the Historic Aircraft Association.
It was always expected that security restrictions around the 2012 Olympic and Paralympic Games would require a known air traffic environment. It is therefore not surprising to see an exclusion zone around the stadiums and Olympic village.
However the proposal of a Restricted Zone covering over 3,000 square miles is unnecessarily draconian. The zone extends from Cambridge in the north to almost the south coast. It has no geographical logic, it has simply been drawn along existing 3,500ft air traffic control boundaries without any reference to navigational features or local lower airspace needs. Its imposition will inconvenience many, and may also cost some their livelihoods.
Blackbushe, Duxford, Earls Colne, Fairoaks, Headcorn, Old Warden, White Waltham and Wycombe are just a few of the busy general aviation (GA) airfields that have been placed within the zone. Between July and September 2012, in order to fly in this zone a pilot must file a flight plan and receive an approval number. This may or may not be given dependent on air traffic control (ATC) workload at least two hours before take-off.
Whilst many flights will be local, landing and taking off at the same airport, there are people who fly to a destination, for business or pleasure, and return the same day. What happens when one rushes back to an airfield that is just about to close? Is an overnight stay a prospect (and even worse if you originated on the Continent)?
To comply with the regulations a pilot must establish and maintain radio communications and 'squawk' a specific transponder code. As can be imagined many flying school operations, particularly flights for students who have just reached solo standard, will be almost impossible within these requirements.
The restrictions will simply stop activities such as ballooning and gliding which just cannot operate under the restrictions, while many private owners of microlights, light aircraft and vintage types will effectively be excluded from their home airspace for the duration.
Many aircraft used for local leisure flying have radios (if fitted at all) with limited range. Their electrical systems too are often simply incapable of driving the power requirements of a transponder which needs to continually transmit its coded message.
There are some who feel that leisure aviation may just have to suffer for the greater good for the three months.
For airfields, flying clubs and maintenance organisations within the zone, there will be a dramatic drop in revenue for one quarter of the next year. GA businesses rarely operate with conspicuous 'meat on the bone'. Any financial reserves will be eroded or worse still companies and jobs may simply disappear.
While gliding and ballooning may appear 'niche' activities, a significant number of people earn their livings carrying out maintenance, flying and instructing at sites across the affected region. It is also noteworthy that other areas of aviation will be adversely affected too.
Somewhat belatedly in May, the DfT and the CAA requested information from the GA sector of the true cost the Olympic Airspace Restrictions will have on the aviation community. It seems that neither NATS nor the CAA were party to the scale of the restrictions until the initial announcement by the Right Honorable Theresa Villiers MP, Minister of State for Transport, on 7 March.
Their apparent expectation was that any announcement would form the start of consultation. Instead the DfT's transport security arm, TRANSEC, simply imposed the restriction as a fait accompli.
Had TRANSEC discussed this more fully in advance of their pronouncement, it is clear a solution which better meets the needs of the GA community is available.
TRANSEC's stated requirement is for a 30m radius security zone centred on the Olympic Park. However the use of existing ATC boundaries has extended this area disproportionately.
A simple circular line of 30nm radius that does not follow existing airspace architecture would clearly and simply define the restricted airspace and match the Government's security specifications, while placing 70% of previously affected airfields outside the restricted zone. Other airfields such as White Waltham and Rochester would be sufficiently close to the zone boundary that special access corridors could be created if required.
This proposal has been forwarded to the Department by GA organisations including the British Gliding Association, UK Aircraft Owners and Pilots Association, the Historic Aircraft Association and Light Aircraft Association. We now await the Minister's response with interest.
Steve Slater
www.kingpinmedia.co.uk
The map can be found at
www.parliament.uk/deposits/depositedpapers/2011/DEP2011-0389.pdf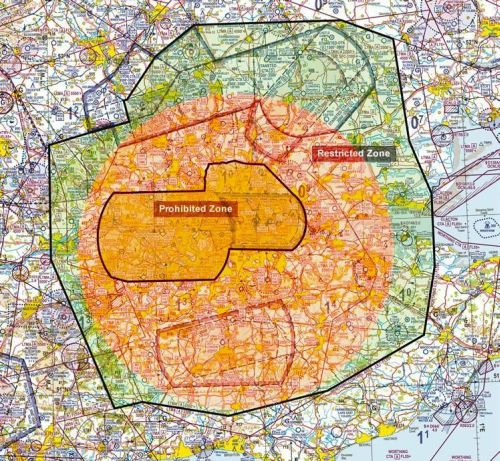 OUR READERS' FINEST WORDS (All times and dates are GMT)
All comments are filtered to exclude any excesses but the Editor does not have to agree with what is being said. 100 words maximum
---