8 NOVEMBER 2010
BTN DISTRIBUTION
BTN also goes out by email every Sunday night at midnight (UK time). To view this edition click here.
The Business Travel News
PO Box 758
Edgware HA8 4QF
United Kingdom
+44 (0)20 8952 8383
info@btnews.co.uk
© 2021 Business Travel News Ltd.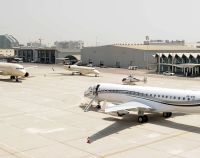 Al Bateen Executive Airport, Abu Dhabi's dedicated private aviation airport, is taking the lead in promoting the UAE as the hub for business aviation in the region through announcing an attractive offer during the Etihad Airways' Formula 1 Grand Prix, the final race of the 2010 season. The executive airport will provide landing and parking services free of charge to all executive jets arriving between 10 and 14 November 2010.
Endorsing the initiative of the airport's owner Abu Dhabi Airports Company (ADAC), Ali Al Naqbi, Chairman of the Middle East Business Aviation Association (MEBAA), said: "This Formula 1 offer is a proactive initiative on behalf of its management to further promote the airport, specifically for business aviation and in general, in the UAE during this mega event of 2010."
The airport's strategic location, just over the causeway into the city of Abu Dhabi, provides business travellers with direct access to the central business district of the capital, and is a 15 minutes' drive to the Yas Island motor racing circuit. The new CEO Steve Jones, currently Managing Director of Oxford Airport, takes up his position in mid-November. (see AERBT 4 October) www.adac.com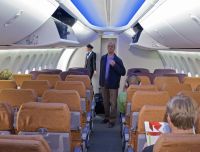 Flydubai has taken delivery of the first Next-Generation 737 with the new passenger-inspired Boeing Sky Interior featuring sculpted sidewalls and window reveals. The ingenious design of the new, larger stow bins allows them to accommodate even more bags than before, while taking up less room and giving a greater sense of space in the cabin.
Airlines will select from different lighting schemes that range from a welcoming soft blue overhead sky simulation to a calm, relaxing, pallet of sunset colours. LEDs (light emitting diodes) are brighter and replace incandescent signage, attendant and halogen reading lights. With an estimated 40,000 hours between replacements, LEDs last ten times longer than the previous standard of lights.
Boeing says that the next to come will be a package of performance improvements that will reduce fuel consumption and carbon emissions by 2%, making the aeroplane a full 7% more efficient than the first 'Next Generation' 737 delivered. The modifications to the airframe and engine are beginning certification test soon, and will be fully in service by early 2012. www.boeing.com/commercial www.flydubai.com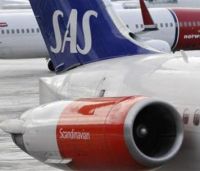 Airlines with smaller and older aircraft are to be penalised at Heathrow according to a story in the Financial Times last week. It is all part of competing with continental operators.
The airport, owned by Ferrovial of Spain, will raise its charges on airlines for passengers flying between UK cities from about £13 to £20, but slash fees by 25% for those who arrive on one aircraft and leave on another within 24 hours. A fee will also be brought in for airlines' transit passengers who arrive and leave on the same aircraft. The way landing charges are calculated will change so the proportion based on nitrogen oxide emissions will rise from 10 to 15%. Airlines flying quieter aircraft will get discounts.
British Airways, Heathrow's biggest user with more than 40% of capacity, said it supported the changes broadly but had some concerns about the higher charges for its domestic fliers. About half of Heathrow's revenues come from airline charges, the balance raised via retail, parking, rail and property sources. www.baa.com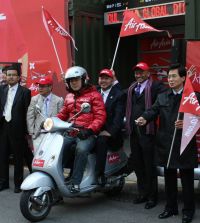 AirAsia X has introduced Seoul (Korea), as the airline's 12th international long haul destination.
AirAsia X Chairman Dato' Kamarudin Meranun said: "The AirAsia Group is witnessing strong synergies between its short haul and long haul wings." They feed into each other. AirAsia claims to have an unmatched route connectivity within the south east Asia region. AirAsia X connects travellers to destinations in northern China, northern India, Australia, Taiwan, South Korea and the United Kingdom. And the list is growing. It is an amazing feat when you consider that AirAsia X is just over two years old."
Clearly the success of AirAsia X rides on the back of affiliate AirAsia's leading regional network in Southeast Asia. With over 139 routes to 76 destinations and the highest daily frequencies to most Asian cities, both AirAsia and AirAsia X complement each other. www.airasia.com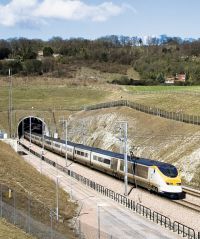 The Channel Tunnel Rail Link, now known as High Speed 1 (HS1) has been sold to Canadian money people for £2.1bn. Also put up for sale by the Government last week is 49% of National Air Traffic Services (NATS), the balance owned by BAA Ltd and seven of the UK's largest airlines.
HS1 is the 68-mile long dedicated rail line from Folkestone to St Pancras currently only used by Eurostar and South East Trains Javelin service to and from Kent. The line has stations at Ashford, Ebsfleet and the somewhat misnamed Stratford International, not an international gateway, but the main railway station for the London Olympics 2012.
The new Canadian owners aim to woo further train operators onto its tracks with Deutsche Bahn a prime target. The German train company has already made public its ambition to operated services to London from Frankfurt and Amsterdam. The concession is for 30 years. www.highspeed1.co.uk www.nats.co.uk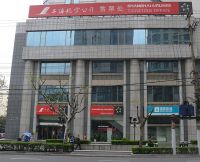 SkyTeam has announced that Shanghai Airlines is to become a member under the wings of parent company China Eastern, which is already in the process of joining the alliance in 2011.
China Eastern and Shanghai Airlines merged in February 2009. In June 2010 China Eastern signed an agreement to join SkyTeam. As a result, both Shanghai-based airlines are scheduled to be part of the SkyTeam family during 2011. Shanghai Airlines customers will enjoy SkyTeam alliance benefits including Frequent Flyer Miles across the global network, Elite recognition, priority passenger service and access to more than 420 lounges worldwide. Shanghai Airlines will enter into codeshare agreements with the current SkyTeam members.
China Airlines, based in Taipei, is also expected to join the alliance in the same period. China Eastern and Shanghai Airlines will add 32 new destinations to the SkyTeam network. www.skyteam.com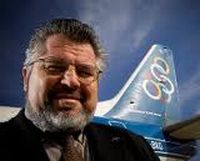 Olympic Air has introduced a Gatwick – Thessaloniki route. Services are flown on a on Monday, Wednesday, Friday, Saturday and Sunday with a flight time of 3.5 hrs. These are operated by Airbus A319 with 120 in Economy and 12 Business Class seats.
Thessaloniki is Greece's second city and is a major port city and an industrial and commercial centre. Being a free port, the city functions as the gateway to the Balkan hinterland. The population is just under 400,000 although the metropolitan area hosts over one million.
With British Airways and easyJet on the route, time will tell whether whether Gatwick can sustain three operators. www.olympicair.com.
The following has been received by AERBT following a very straightforward press enquiry.
"I am currently out of the office until Tuesday 26/10/10. Please resend your email upon my return to the office as all emails will be automatically deleted."
We will not dream of telling you which airline it is, but it is Irish and its CEO has in recent times been more than friendly!