31 MAY 2010
BTN DISTRIBUTION
BTN also goes out by email every Sunday night at midnight (UK time). To view this edition click here.
The Business Travel News
PO Box 758
Edgware HA8 4QF
United Kingdom
+44 (0)20 8952 8383
info@btnews.co.uk
© 2021 Business Travel News Ltd.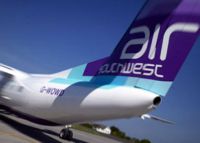 PLYMOUTH could be in danger of losing its link to London and other parts of the UK following the decision of Sutton Harbour Holdings plc to offer for sale Air Southwest, created in 2003 after British Airways ditched its former Brymon subsidiary. Plymouth had already lost its Heathrow services, dumped by BA in a slots benefit move. At the time Sutton Harbour also acquired Plymouth City Airport, part of which is now being redeveloped for housing. The airline has dropped its twice daily service to London City. Any potential purchaser would require some kind of guarantee that the airport would remain open. www.airsouthwest.com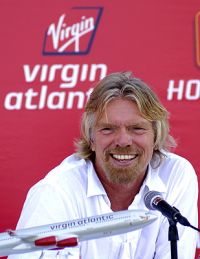 VIRGIN ATLANTIC has introduced a three times per week service between Heathrow and the Ghana capital Accra, operating an Airbus A340-300, with the standard Virgin layout of Upper Class (34), Premium Economy (35) and Economy (171) seats. It is the Crawley-based airline's fifth African route and flies in direct competition with British Airways and their previous near monopoly. Sir Richard Branson used the inaugural to again attack BA with regard to its tie-up with American Airlines which he calls "anti-competitive", but also hinted that Virgin was not standing still, floating the idea of a link-up with another airline or even a sale. Virgin Atlantic is 49% owned by Singapore Airlines. www.virgin-atlantic.com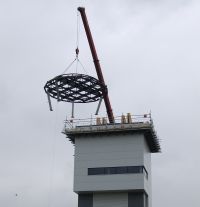 CARLISLE AIRPORT is not to be developed as a scheduled operation and freight storage and distribution centre. The airport owner, transport group Stobart, has had its planning approval rejected by the Court of Appeal after an application by local farmer Gordon Brown. Judges found that the submission was unlawful, noting that the City Council should have conducted a full environmental impact assessment before approving the plan by Stobart Air. There is no right of appeal although Stobart says it is still in discussion with the Council, who have supported the scheme. Stobart is also the owner of Southend Airport where a major development is under way. www.stobartgroup.com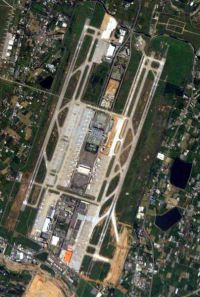 CHINA AND TAIWAN have signed an agreement to further increase fights between the two countries. At the present time nine mainland carriers operate 135 weekly services covering 27 destinations. Airlines will be permitted to add 100 weekly cross-straits flights. Two new destinations are also included in the accord, Shanghai's old Hongqiao Airport and Shijiazhuang, capital of Hebei Province. Currently, direct flights between Shanghai and Taipei must be operated to/from the new Pudong International. www.caa.gov.tw www.caac.gov.cn/English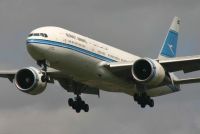 BAGHDAD is in the news flight-wise, with Iraqi Airways dropping its services to the UK and Sweden after a row with Kuwait over war reparations. Last month an aircraft owned by the carrier was impounded at Gatwick on the basis of a court order obtained by a lawyer for state-owned Kuwait Airways. Kuwait has a significant war repatriation claim against planes seized by the Saddam regime. Iraq is now threatening to wind up the airline which could leave Kuwait with no financial compensation. On a positive front, following the successful introduction of flights to Erbil from Frankfurt in April, Lufthansa will on 30 September introduce a four times per week service from Munich to Bagdad, the service operator flights flown by a PrivaAir Boeing 737. www.kuwait-airways.com www.lufthansa.com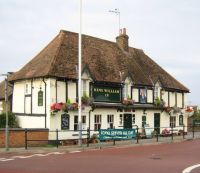 BAA AIRPORTS LTD has withdrawn its planning permission applications for a third runway at Heathrow and a second runway at Stansted. In what could be seen as a sop to the new UK government these have been withdrawn before being forced to by Westminster. It is now up to the coalition to come up with a proper airports' policy, the idea of a Thames estuary international airline hub also being ruled out. BAA will now be able to concentrate on the redevelopment of Heathrow Terminal 2, and hopefully seriously consider a dedicated high speed rail link to Stansted. In an interview with the London Evening Standard new Transport Minister Philip Hammond confirmed that the bonus culture was very much still with us saying that he wants to end the "Heathrow hassle". "It means that we pay the operator more when he makes the queues shorter," he said. What he did not say was where the money was coming from, presumably once again from the traveller. www.baa.com

BARCELONA EL PRAT AIRPORT is to gain some 20 Ryanair routes in the balance of 2010 following yet another about face by the airline. The Dublin-based carrier was vociferous with its attacks on the airport when it opened a base at Girona, some 60 miles to the north west, in 2003, where it is now the major carrier. In the meantime El Prat has been redeveloped with a new terminal. Whether the authorities relent on their requirements for air bridges will be seen when the airline introduces its services in September, a quick turnaround a major factor in the Ryanair success story. On Tuesday (1 June) the carrier will announce its April 2009-March 2010 figures which will not include the estimated 1.2m drop in numbers due to April's ash problems. SEE ALSO HAPPY TALK. www.ryanair.com
Ryanair's April Traffic Grows 17%
That was the figure splashed across the press release.
Journalists and city followers of Michael O'Leary have long been accustomed to scrutinising the small print for the truth and in this case have come up trumps. The Ryanair April figures include 1.2m passengers the airline did not fly due to the ash problems (and whose fares and "reasonable expenses" were returned). Ryanair actually carried a very respectable 5m passengers at an unknown load factor but not the 6.2m or the 67.4m suggested for the full year.
However at the average fare of €30 quoted by Ryanair spokesman Stephen McNamara this translates to €360m in April alone, plus ancillary costs. On Tuesday (1 June) Ryanair announces their full year profits until the end of March, which are expected to be in the €275 range. Quite what Michael will forecast for 2010/2011 is anyone's guess.
But read the small print.