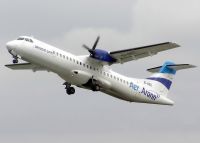 AER ARANN has come to an arrangement to operate 12 routes from Dublin and Cork under an Aer Lingus franchise, as already predicted by AERBT. The sectors will include current Aer Lingus and Aer Arann services as well as three new ones. The services will be branded as "Aer Lingus Regional" and operated using Aer Arann ATR 72-500 aircraft and crew. All franchise flights will be sold and distributed through www.aerlingus.com. Aer Arann will assume full operational and commercial responsibility for the services covered by the franchise agreement with Aer Lingus receiving a franchise fee in recognition for providing its brand and product suite to Aer Arann. The new agreement significantly increases Aer Lingus presence in the Ireland – UK market with new services to Ireland from Blackpool, Bristol, Cardiff, Doncaster/Sheffield, Durham, Edinburgh and Glasgow in addition to new seasonal services from Cork to Jersey in the Channel Islands and La Rochelle in France. www.AerLingus.com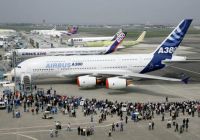 AIRBUS has increased the list price of all its aircraft by an average of 5.8% although the numbers are somewhat hypothetical as every leasing company, bank and actual airline will negotiate a deal with the manufacturer depending on the kit required and delivery date. Airbus says that the price increase is the first since January 2008, and applies for all new aircraft ordered from the beginning of January 2010. Airbus notes that even with record aircraft deliveries and impressive orders in recent years, the continuing strength of the €uro against the US Dollar and the ongoing financial challenges ahead have forced the company to take action. An Airbus A318 to a fairly standard specification is priced at US$62.5m and an A380 at $346.3. Place an order now for a A350-800 XWB and its yours for US$225.2m. www.airbus.com
BRITISH AIRWAYS (BA) and its oneworld business partners are in talks with European regulators about giving up slots at London's Heathrow Airport to win anti-trust immunity for their alliance, according to a report in the Wall Street Journal on Friday (29 January). A US spokesman for BA confirmed that the airline is in discussions with the European Commission regarding its application for anti-trust immunity, but could not elaborate on the specific details of the current discussions. "British Airways is very hopeful that we won't have to give up any slots," said John Lampl. BA, American Airlines and Iberia, oneworld members, need approval from European and American regulators to operate certain routes across the Atlantic. BA has always been adamant in the past that it would not give up slots at Heathrow noting that both Air France and Lufthansa have larger percentages of slots at their home airports. www.ba.com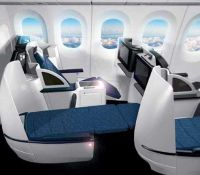 CONTINENTAL AIRLINES is to increase its flight schedule between Heathrow and its New York hub, Newark Liberty International Airport, during 2010. The airline will add a fourth daily early evening (departs18:40 arrives 21:40 – all times local) service in March and a fifth flight in October (08:40/12:05), bringing the total number of Continental daily departures from Heathrow to seven, including its twice-daily service to Houston. From June all Heathrow flights will feature the new flat bed BusinessFirst, the latest upgrade of its award winning Business Class cabin. Newark, across the Hudson River from Manhattan, has a direct rail service to Penn Station near Times Square and also is ideal for the New Jersey Turnpike. www.continental.com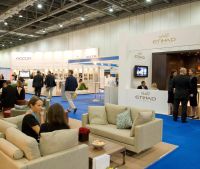 BUSINESS TRAVEL MARKET (BTM) has confirmed over 50 exhibitors booked to date at its second annual event, including Accor, British Airways, Eurostar, Kingfisher, Sabre and Wyndham Hotel Group. The Institute of Travel & Meetings (ITM) has become a partner and will be devising a stream of five conference sessions themed 'Innovation' that will be open to all attendees, free of charge, on 16 and 17 June at London's ExCeL. ITM joins the Hotel Booking Agents' Association (HBAA) and Association of Corporate Travel Executives (ACTE) who are both in the second year of their respective agreements. Each is creating its own stream of content for the only industry conference that is open, free of charge to both buyers and suppliers. ITM is also hosting a breakfast briefing on the first day of Business Travel Market 2010. www.businesstravelmarket.co.uk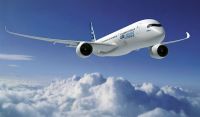 ILFC (International Lease Finance Corporation) is not for sale according to a report in the London Financial Times. Owner, insurance group AIG, now US government controlled after a bailout, has decided against a sale of its aircraft leasing unit after concluding it would not reap a big enough profit from the divestment of one of its crown jewels. The world's largest aircraft leasing company was co-founded in 1973 by Hungarian uprising refugee Steven Udvar-Hazy. It has been part of AIG since 1990, has a portfolio of around 1,000 aircraft, and is a major customer of both Airbus and Boeing. Udyar-Hazy, who stepped down as Chairman in December, is reported to be ready to sever ties with the company where he is still CEO. www.ilfc.com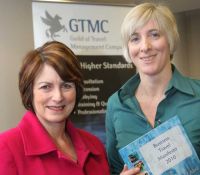 GUILD OF TRAVEL MANAGEMENT COMPANIES new Chief Executive Anne Godfrey, very proudly from Glasgow, led the launch of its first ever Business Travel Manifesto last week. Held at the Institute of Civil Engineers, Westminster, it was attended by senior transport spokespeople from both political parties, and the House of Lords, as well as member companies. The briefing heard the results compiled from a survey of 1,250 business travellers. Whilst a high speed rail network was called for there was much criticism of train (and airport) terminals and the lack of wireless and power points. Low cost airlines were used by 20% of those surveyed. On-day rail travel was criticised for its high cost. www.gtmc.org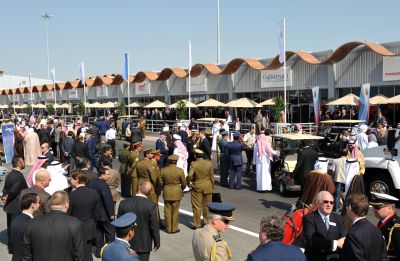 Following initial scepticism the inaugural Bahrain International Airshow, held at the Sakhir air base, has proved to be a resounding success for the aviation industry as a whole and for the Kingdom of Bahrain. The show was organised by Farnborough International Ltd.
The site adjoins Bahrain's Grand Prix racetrack the 3.36 mile circuit currently being extended to four miles in time for the opening race of the F1 season on Sunday 14 March.
The aerospace event hosted 40 participating companies, 94 aircraft and visiting delegations from 25 countries. Early indications suggest that deals worth somewhere in the region of US$1bn were signed at the event with the attending companies from all over the world and 30,000 visiting the public and trade areas over the three days.
Amongst the major deals announced at the show were Yemenia's (Yemen's national carrier) for ten Airbus A320s, as reported in AERBT last week; Bahrain's purchase of nine Blackhawk-M helicopters from US manufacturer, Sikorsky; Gulf Air's preliminary agreement to lease two Embraer 170 jets; Selex's award of US$15m contract by the Bahrain Civil Aviation Authority for a primary surveillance radar and two Mode-S secondary surveillance radars at Bahrain International Airport.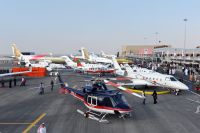 Boeing's announced that it expects to deliver 1,700 aircraft in the next 20 years to the Middle East whilst on the Airbus front the huge hangar certainly helped found rumours of a Bahrain order for a pair of VIP Airbus A380.
Switzerland-based Comlux Aviation Group and Saudi-based Maz Aviation reached a partnership agreement to set up a new Bahrain-based aircharter service.
Comlux and MAZ will base two of their Airbus aircraft, an A318 Elite and ACJ, in the region as a first phase, and by the end of this year an Airbus A320 Prestige will be added to the new company fleet when Comlux takes delivery on it.
''A presence in the Middle East is strategic to our VIP aircraft operations in Fly Comlux division. This joint initiative between MAZ and Comlux follows our agreement for Saudi charter sales and represents a new step for our development into the Middle East,'' President of Comlux Group, Richard Gaona said.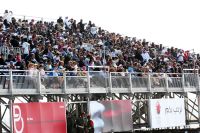 Chairman of MAZ Aviation, Mohammed Al Zeer, said that the partnership was part of an effort to provide close support and services to their clients in the Middle East.
The UK's Aerospace Defence and Security organisation, A|D|S (formerly known as the SBAC), announced it has chosen Bahrain to act as the central hub for the Middle East. Gulf Aviation Academy, a wholly owned subsidiary of Bahrain Mumtalakat Holding Company, was launched and will play a key role in the development of Bahrain's air transport training and infrastructure.
Chairman of the Supreme Organising Committee, HH Sheikh Abdulla bin Hamad Al Khalifa said:
"We are delighted by the results of the first Bahrain International Airshow. The show brought manufacturers and users under the same roof enabling them to do business effectively and uniquely, reflecting Bahrain's status as a regional centre for transport and trade. The strong presence of the leading aerospace and defence manufacturers signalled the inaugural show's success and reflected Bahrain's status as a pioneer in the aerospace industry in the Middle East. The airshow is a welcome boost to Bahrain's economy and to its profile as a business centre in the region."
www.bahraininternationalairshow.com