20 FEBRUARY 2012
BTN DISTRIBUTION
BTN also goes out by email every Sunday night at midnight (UK time). To view this edition click here.
The Business Travel News
PO Box 758
Edgware HA8 4QF
United Kingdom
+44 (0)20 8952 8383
info@btnews.co.uk
© 2021 Business Travel News Ltd.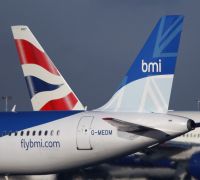 British Airways should know by Friday 16 March whether owner IAG has gained approval with its bid for bmi, the Lufthansa-owned former British Midland Airways. The European Competition Commission has posted the date on its website.
A bmi takeover would boost IAG's share of runway slots at Heathrow Airport to about 52% from the current 43%, still less than the dominance of some continental airlines at their home airport. From a BA point of view it would allow for route consolidation, the slots realised opening up possibilities for more frequencies and new destinations, particularly to China and India. Against the move is the loss of competition on UK regional routes, with the potential to push up fares and limit transfer traffic to Virgin Atlantic and other carriers not commercially friendly to British Airways. bmi's pulling of the Glasgow route is sited as an example.
Last year, EU Competition Commissioner Joaquin Almunia blocked the merger of Greece's Aegean Airlines and Olympic.
If British Airways succeeds in its bid BAA will have to reconsider the long term tenancy of airlines in the new Terminal 2. BA will clearly want to move any solo bmi routes it acquires either into T3 or T5. www.baa.com
In his strongest outburst yet Sir Richard Branson has attacked the proposed British Airways takeover of rival bmi.
"This takeover would take British flying back to the dark ages. For years pioneering airlines have fought to provide consumers with more choice and lower fares. This move will see British Airways unravel all of this progress made.
When British Airways was left the only operator on the Glasgow to Heathrow route in 2011, fares paid by Scottish travellers rocketed by 34% in six months.
BA has a track record of dominating routes, forcing less flying and higher prices.
This merger will see BA holding more than half of all take-off and landing slots at the UK's only major international hub – an airport that has had much needed growth plans forcibly frozen.
It is vital that regulatory authorities, in the UK as well as in Europe, give this merger the fullest possible scrutiny and ensure it is stopped."
What Sir Richard failed to mention was that bmi regional operation has in the past been a valuable contributor to Virgin Atlantic's hub at Heathrow. British Airways says that on the Continent its competitors control far more of the slots at their home European gateways. www.virgin-atlantic.com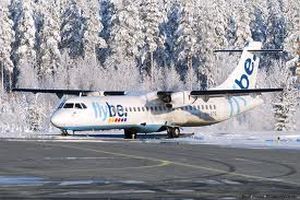 Bromma, Stockholm's downtown airport just 5 miles from the city centre, is to be linked from 22 May by Flybe Nordic to Oslo with up to 22 flights per week.
This moves Flybe one step closer to realising its ambitions to becoming the largest regional airline in the Scandinavian and Nordic region, linking all key business cities. It was in August 2011 that the British airline was able to confirm the arrangement with Finnair to invest in Finncomm, a local regional carrier. Flybe is now the largest international airline flying from the airport, threatened with closure in the 1980s with the expansion of Arlanda, 25 miles outside the city.
Currently Flybe Nordic flies from Bromma to Copenhagen (Denmark), Tallinn (Estonia) and Oulu and Vaasa in Norway. The airline operates 15 ATR aircraft and a pair of Embraer 170s. The biggest operator at Bromma is Malmo Aviation. www.flybe.com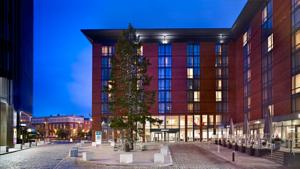 Hilton has announced the opening of a Garden Inn at Birmingham's prestigious Brindleyplace development. The former Mint Hotel is located in the heart of the city centre within close proximity to the National Indoor Arena, International Convention Centre and Symphony Hall. In the coming weeks, two additional former Mint properties will also join the Hilton Garden Inn portfolio, in Glasgow and Bristol. Already open are hotels in Aberdeen and Luton.
Hilton Garden Inn Birmingham Brindleyplace features 238 rooms all with Apple iMac computer which functions both as a TV and computer, mini-refrigerators, floor-to-ceiling windows, as well as a newly refurbished fitness centre with Precor equipment. The hotel also offers meeting space for up to 120 people in its six flexible conference rooms, all of which benefit from natural light and provide the latest in audio-visual technology. Complimentary wi-fi access and a 24-hour business centre is provided.
Dining options include a continental-style brasserie, Bank, which has views over the city from its terrace and relaxed fine-dining restaurant, Edmunds – open to both hotel guests and non-residents. In addition, guests of the hotel will be able to enjoy the 24-hour Pavilion Pantry, which stocks a range of healthy snacks and drinks. http://hiltongardeninn.hilton.co.uk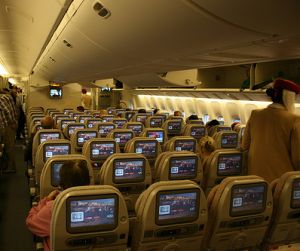 Emirates is to fly to Lisbon on a daily basis from 9 July as it continues with its quest to connect with every European capital and important city. The date is just six days after it launches flights to Barcelona in neighbouring Spain.
Emirates will serve Lisbon with a Boeing 777-200ER aircraft offering First, Business and Economy Class cabins. The Portuguese capital becomes Emirates 31st European destination. It will be the only Middle East-based carrier operating into Portugal.
Portugal has a population of around 10m, of which nearly 2m live in Lisbon and its suburbs. It is estimated there are some 200m Portuguese speakers around the world, making it the third most spoken European language globally, according to Visit Portugal. The airline serves many of Portugal's former colonies and spheres of influence, the countries where Portuguese is heard, including India, Angola, South Africa, Zimbabwe, Brazil and Hong Kong – gateway to the former enclave of Macau.
With a fleet of 169 aircraft, Emirates now flies to 121 destinations, having recently launched Dallas, Lusaka and Harare. Services to Seattle start on 1 March and to Ho Chi Minh City from 4 June. From August Amsterdam gets an Airbus A380. www.emirates.com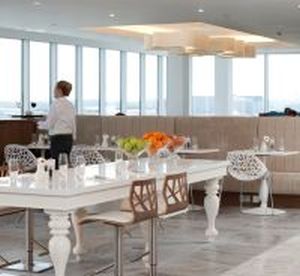 Airport lounges continue to expand and improve in quality. No.1 Traveller says it is preparing for its busiest year yet by creating additional seating capacity at three of its pay-on-entry airport lounges in the London area. New arrival for the operator is Hong Kong Airlines who has chosen the lounge for its daily service to Hong Kong which will be introduced in March.
No.1 Gatwick in the North Terminal will increase capacity by 30%. In the South Terminal capacity is also planned to expand by 40% with an additional 1,000sq ft, making space for a new business area, games table and Snug. Seating capacity at No.1 Heathrow in Terminal 3 will increase by 10% and a second treatment room will be added to its Travel Spa, which recently received a 'four bubble' review by the Good Spa Guide.
All upgrades are expected to be completed prior to the London 2012 Olympic Games.
No.1 Traveller opened its first lounge in the UK at Gatwick's South Terminal at the height of the recession, in April 2009. In May 2011 the 'super-lounge' concept at Gatwick's North Terminal was launched, a 10,000sq ft facility, incorporating a fully-tended bar, bistro, business centre, mini-cinema, games room and family room. www.no1lounges.com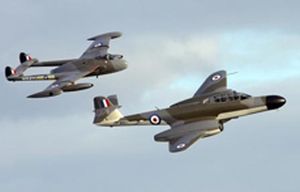 Some of Britain's greatest aircraft that heralded in the jet age have been saved for the nation through the generosity of Jersey-based businessman and enthusiast Mike Collett. Mr Collett's collection, which includes a former world record holding English Electric Canberra, Gloster Meteor and De Havilland Vampire, all flyable, would have achieved well over one million pounds in auction in the United States. Mr Collett has donated in total some 10 aircraft to the newly created The Classic Aircraft Trust (CAT) which plans to keep them all in the air.
Tim Skeet, Chairman of the Trust explains:
"There are numerous examples of Britain's early post-war aircraft sitting in museums but very few that remain airworthy. This new Trust has been set up to ensure that we can raise funds efficiently to secure the future of the few aircraft we have left. It has taken years to get the Meteor T7 back in the air and our aim is to try and ensure that it and the rest of the fleet can be flown.
The jets are expected to be seen at airshows all around the country this year. www.keepthemflying.co.uk
From "annoyed of Edgware"
"I have to be off at Perth," I said to the attendant. "I sleep very well on trains and have been known to miss my stop. Be very firm with me whatever I say in my confused state."
The next morning I woke up at Inverness!
Extremely annoyed I found the man and gave him a piece of my mind. It was not very pleasant.
After I left, somebody asked the attendant,
"How could you stand there and take that kind of talk?"
"That's nothing!" he replied. "You should have heard the guy I put off at Perth!"