This month's cruise review: Prinsendam – Holland America Line
Our 10-story news update (which on this occasion is the Passenger Shipping Association's own preview for 2012)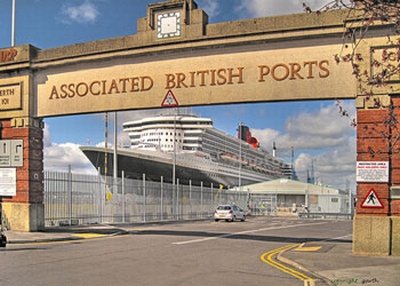 More Brits are choosing to begin their ocean cruise holiday from a UK port than ever before, according to figures released by the Passenger Shipping Association (PSA).
In spite of the gloomy economic outlook 2011 has been another strong year for the UK cruise industry with growth of more than 5%.
The trend for British port departures is predicted to continue as the number of passengers taking a cruise holiday slows after a period of sustained growth. This year, more than 760,000 passengers will have started their cruise holiday from one of the 20 UK departure ports, sailing to destinations including Russia, Scandinavia, the Norwegian fjords, Iceland, the Mediterranean, America and closer to home, the coast of Britain and Ireland. This is a 28% increase for cruises departing from British ports over the last two years indicating that the high cost of flying (APD) to an overseas boarding point is having its effect.
William Gibbons, Director PSA, explains: "Looking forward, we anticipate modest growth in 2012 as capacity slows following the reduction in the number of new ships being built," he said. "However, we remain confident that growth will continue over the coming years as companies introduce new ships including the 3,611-passenger vessel for P&O Cruises, the largest in their fleet, due for introduction in early 2015. The great choice of ships now providing cruise holidays from the UK to a wide variety of destinations will lead to more passengers sailing from British ports."
Mr Gibbons continued: "Cruising is expected to continue to outperform other areas of the holiday market with travel agents, who account for around 80% of sales, continuing to play an important role. The all-inclusive nature of a cruise holiday, which can be purchased in sterling and which offers exceptional standards of quality, innovation, choice and customer service, continues to make it a compelling and mainstream holiday choice."
Cruise Review: Prinsendam – Holland America Line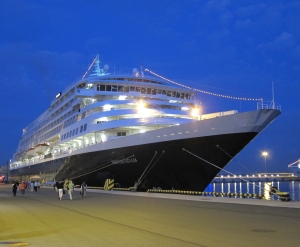 Holland America Line sails 15 ships of varying sizes, ranging between the Nieuw Amsterdam (2,106 passengers) and the Prinsendam (835). Having now travelled on five HAL ships, I enjoyed the Prinsendam more than the others.
Not all the ships are equal in their amenities due to their differing sizes and the Prinsendam was not built for HAL, so her fittings and layout varied from other ships of theirs that I have sailed on.
These differences enhanced our cruise experience! The staterooms were fitted with walk-in closets, refrigerators, etc and all of them opened from a small passageway off the main corridor thus ensuring greater privacy. The flat screen TV and DVD player could be enjoyed any time as there is an extensive DVD lending library. There was also wireless internet connectivity. Our cabin, forward on the lower promenade deck had an uninterrupted view and was most convenient. Many extra benefits were provided, such as substantial sail away prizes at the first port, two chances for us on this voyage. Really decent prizes were awarded for Trivia quizzes and other competitions; twice including universal power adaptors, selling for US$30 in the ship's shop. Who would cherish a ship's pin realistically?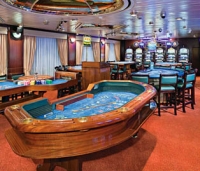 Although the ship had only one specialty restaurant, the Pinnacle Grill, it mattered little. This locale was transformed into 'an evening at La Cirque' (top NYC restaurant) each cruise. The elegant La Fontaine Dining Room had a wonderful menu; no items were repeated on a cruise and the quality and service were excellent without exception! Dining was always a great experience and we found open seating dining to our liking, rather than fixed early or late seating. There was also the overwhelming Lido buffet with so many choices, a terrace grill, a café and very extensive 24-hour room service choices. All dining matters are under the guidance of a Culinary Council and well known Executive chefs.
The ship's artwork and antiques, beautiful floral arrangements, elegant furniture and stylish public rooms, made us feel most comfortable in these pleasant surrounds. There are two banks of lifts and the several wheelchair users were able to access all facilities. There is one general store and a jewellery shop which also sold perfumes etc. It is easy to get around this ship and the only time I felt crowded was at the initial lifeboat drill!
There are many good facilities on the Prinsendam such as the Spa and Salon, Fitness centre, two swimming pools, whirlpool, hot tubs and so on. There were many daily classes in yoga, Pilates, tai chi and health issues.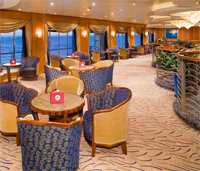 The Library is an excellent one for a ship of this size; it also held many computers with internet access, which was, as usual aboard ship, very pricey and slow.
Classes were available with chefs, on wine and food, floral arrangement, cake decorating and naturally, napkin-folding, all in the Culinary Centre (which doubled as the movie theatre) There were digital workshops – 'techspert' classes on editing photos, video etc. Other activities included trivia quizzes, name that tune quizzes, bridge instruction and play, dance classes, deck games, bingo, and daily religious services as well as a beautifully catered Jewish Sabbath service each week (Jewish people don't drink a lot but do enjoy their food).
The Showroom at Sea was the venue for full-scale musical and dance productions by a very talented and experienced troupe. There were also individual performances by comedians, vocalists and pianists which were delightful. The ship had a movie theatre (for which my husband suggested enhancements of the sound and picture quality), a casino, an excellent and talented orchestra plus a classical trio and a small band. There was a piano bar, with DJ and dancing as well as other activities.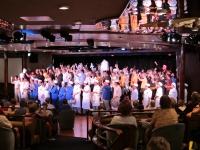 Port information was disseminated by a staff member; shuttle buses were usually provided in port to the centre of town. We were given information including 'Lodestar' maps of each port which unfortunately lacked important details for personal touring and they were not to scale. Shore excursions were handled efficiently and they were quite satisfactory; in particular an evening tour arranged solely for passengers of our ship to the Hermitage in St Petersburg.
Missing were learned lecturers on the special area of the Arctic that we were exploring – geology, history etc. A member of the excursion staff gave two lectures on the Vikings but they were of a very general nature and boring. What a missed opportunity! This seems to be one of many small cutbacks which have been made and are so noticeable to regular cruisers. The room stewards also clean more staterooms, the table stewards handle more tables, cocktail parties have been replaced with a drink before a scheduled show to see the captain and senior staff lineup!
We are HAL regulars as noted. The product is very good but HAL have to be careful. The ship is only as good as the last voyage. We will be returning.
Evelyne Perks Cohen – a habitual traveller living in both the USA and Australia.
PROGRAMME: At 40,000 tons and 835 passengers Prinsendam is by far the smallest ship in the Holland American fleet. As such it can reach ports that are not possible with its larger sisters. The highlight of 2012 is a 68-night circumnavigation of South America starting (and finishing) 4 January from Ft Lauderdale. Initially down the west coast and then taking in Elephant Island and Antarctica she visits The Falklands, Buenos Aires, Manaus in the Amazon and Devils Island before meandering home across the Caribbean. A 62-night return trip across the Atlantic to the Mediterranean follows, and then she is off to Tilbury, London. for the start of a summer programme based in Europe. www.hollandamerica.com

UK HIGHLIGHTS FOR 2012

AmaWaterways' AmaCerto will debut in Europe in April 2012 with an array of innovative features including an advanced design offering spa­cious staterooms featuring two balconies; a heated swimming pool and multiple fine dining venues. www.amawaterways.co.uk

Avalon Waterways has plans to launch a series of revolutionary 'suite' ships following the popularity of the first of its kind Avalon Panorama. Two more 'suite ships' are due for delivery in 2012 – Avalon Vista and Visionary. www.avaloncruises.co.uk

Carnival Cruise Line's new fun ship Carnival Breeze will launch during 2012 and follows the introduction this year of the 3,646-passenger Carnival Magic. Featuring waterslides, an aqua park and a rope course, the ship has wide appeal to families and couples (of all ages) and has meant that Carnival's UK business has more than doubled. www.carnival.com

Celebrity Cruises will introduce Celebrity Reflection, the fifth and final ship in the popular Solstice-class in autumn 2012. At 3,030 guests, Celebrity Reflection, features an additional deck compared to its sister ships offering more accommodation including additional AquaClass Suites. In addition Celebrity Cruises is also midway through a fleet revitalisation programme, delivering US$200 million worth of enhancements to its existing ships including new restaurants, bars and accommodation suites. www.celebritycruises.co.uk

Crystal Cruises is introducing 20 new ports of call, a dozen new itineraries, more shorter-length cruises and an almost 50% increase in overnights in waterfront destinations around the world. Strategic planning has most of 2012's cruises beginning with a shipboard overnight stay in port, while 86% of the voyages include at least one two-day call. Together, in 2012 Crystal Symphony and Crystal Serenity will visit 182 ports of call in 59 countries on 60 itineraries worldwide. www.crystalcruises.co.uk

Fred Olsen Cruise Lines' award-winning Vistas onboard enrichment programme will welcome even more celebrities aboard in 2012, featuring talks by expedition leader, naturalist, and veteran broadcaster, Tony Soper, wine expert Jilly Goolden, and veteran newscaster and broadcaster, Peter Sissons. www.fredolsencruises.co.uk

Hebridean Island Cruises launches a new dedicated river cruises programme on board the Royal Crown. Following extensive renovations, the luxurious cruiser will sail on the Rhine and Danube during June and September 2012. www.hebridean.co.uk

Holland America Line has increased the number of no-fly cruises available from Dover which contributed to more than doubling the company's UK business in 2011. The company is extending its programme of Asia cruises for 2012/13, offering more sailings from Dover as well as providing two, no-fly winter 2012/13 voyages from Southampton – to the Caribbean and Asia. www.hollandamerica.com

Hurtigruten is offering a series of charter packages in 2012 from Stansted for the Classic Round Voyage, the first time the operator has run charters outside the Northern Lights programme since 2004. The additional capacity will be offered in April, May, September and October. www.hurtigruten.co.uk

Norwegian Cruise Line's Studio staterooms, first launched on board Norwegian Epic and designed and priced for solo travellers, have proved to be a successful innovation for the line and due to the continued success of the Studios, they will also feature on board Norwegian's two brand new ships, set to launch in 2013 and 2014. www.ncl.co.uk

Oceania Cruises' new Riviera launches in April joining sister ship Marina. Riviera will also feature the Bon Appétit Culinary Centre, the only hands-on cooking school at sea which includes shore-side visits, guest chefs in the school's programme, visiting local markets and involving guests with hands-on cooking at individual workstations. www.oceaniacruises.co.uk

P&O Cruises is increasing the capacity of ships exclusively for adults with the refurbishment of Oriana – the company will now have three ships offering accommodation for over 4,500 passengers. 2012 is the 175th anniversary of when the Peninsular Steam Navigation Company was awarded its first mail contract and P&O Cruises plan a year of celebration culminating in one Grand Event on 3 July 2012 when all seven ships will be in Southampton for the first time. www.pocruises.co.uk

Royal Caribbean International is continuing its international expansion and in 2012 will base Voyager of the Seas in China from May, doubling the size of any cruise ship operating in China and in the Asia-Pacific region. A £300 million investment programme to introduce features of the new Oasis-class – the world's largest and most innovative cruise ships – to existing ships in the fleet will continue in 2012 with features such as speciality restaurants, baby and toddler nurseries, new balcony accommodation and 3D technology. www.rccl.com

Swan Hellenic's multi-million pound upgrade for Minerva will be completed by March for a series of new cruises around the Canary Island, Mediterranean and Black Sea. (AERBT will be reporting on the maiden voyage after the major re-fit). www.swanhellenic.com

Thomson Cruises is returning to ex-UK cruising from May 2012 when the Thomson Spirit will be sailing from Harwich and Newcastle. www.thomson.co.uk/cruise/


Voyages of Discovery add Voyager to the fleet in late 2012 while Discovery undergoes extensive refurbishment between November 2012 and February 2013. www.voyagesofdiscovery.co.uk
OUR READERS' FINEST WORDS (All times and dates are GMT)
All comments are filtered to exclude any excesses but the Editor does not have to agree with what is being said. 100 words maximum
---