11 JULY 2011
BTN DISTRIBUTION
BTN also goes out by email every Sunday night at midnight (UK time). To view this edition click here.
The Business Travel News
PO Box 758
Edgware HA8 4QF
United Kingdom
+44 (0)20 8952 8383
info@btnews.co.uk
© 2021 Business Travel News Ltd.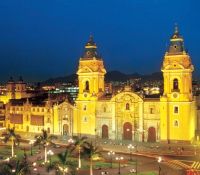 Lima is the latest South American destination to be linked to the Air France network. The carrier has inaugurated a five times per week service from Paris Charles de Gaulle, flown by a Boeing 777-200ER. The aircraft is configured with three cabin classes with 35 seats in the new Business Class, featuring a lie-flat seat bed measuring over 2m in length, 24 pod style seats in Premium Voyageur and 250 in Voyageur (economy) class. Sister company KLM operates a daily service out of Amsterdam.
Lima is the capital of Peru, has a population approaching and sits at sea leval. The historial site of Machu Picchu is at 8,000ft, similar to the cabin height most airliners operate at. Another popular tourist attraction, Lake Titicaca, is much higher at 12,500ft, at which the lack of air pressure does become noticeable. Lima is the fifth largest city in Latin America, behind Mexico City, São Paulo, Buenos Aires and Rio de Janeiro. It is home to one of the largest financial hubs in Latin America. www.airfrance.com
Thomson Airways, essentially a holiday airline, will begin using biofuels on selected routes between the UK and Spain this month, making it the initial UK-based carrier to use sustainable fuels in its fleet.
The airline will operate the UK's first biofuel flight from Birmingham (UK) to Palma (Majorca, Spain), on 28 July, once its testing process has been completed and final safety clearance has been received.
Weekly flights will follow on the same route from September. Thomson plans to operate the flight to Palma for a year and switch to the Birmingham – Alicante route in winter.
The selected flights will operate on a 50% blend "Hydroprocessed Esters and Fatty Acids" (HEFA) fuel in both engines with 50% Jet A1 fuel. The HEFA fuel will be produced from used cooking oil.
The fuel will be supplied by Dutch firm SkyNrg, which was founded by the Air France/KLM Group, fuel supplier North Sea Group and consultancy group Spring Associates. See last week's AERBT
In 2012 Thomson Airways will become the first British airline to operate the Boeing 787.
As sustainable biofuels become more commercially viable, Thomson Airways plans to expand its use of sustainable biofuels across its fleet over the next three years. http://flights.thomson.co.uk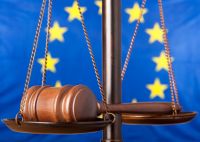 A European Union plan to include all airlines flying to Europe in the Emissions Trading Scheme from next year is unfair and contrary to global efforts to fight climate change, China's state-run Xinhua news agency is reported to have said. Xinhua, whose commentaries are a reflection of government thinking on major issues or controversies, said the scheme had been ill thought out.
"In the name of dealing with climate change, the EU's approach will generate enormous financial benefits at the expense of the rest of the world, including developing countries," it said in an English language commentary.
"Studies show that the extra costs of the EU's plan will amount to US$1.6bn in the first year alone. The direction of the cash flow is contrary to the spirit of the agreements reached at the UN Cancun climate change conference last year."
In a further move US airlines have taken the European Union to court, arguing that charging foreign companies for carbon permits violates international agreements. The Luxembourg-based European Court's Advocate General will deliver her opinion on the case on 6 October, which will be followed by a final judgement by the Court at a later date. http://europa.eu/about-eu/institutions-bodies/court-justice/index_en.htm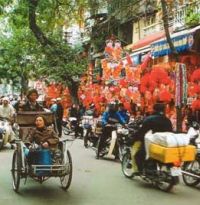 Journey time between London and Vietnam will be significantly reduced from next December when Vietnam Airlines introduces non-stop flights between Gatwick and Hanoi and Saigon. A passage which was previously over 18hrs will be reduced to just 11hrs 30mins. Modern Vietnam is today an industrialised western looking country keen to overlook its French colonial past and virtually ignore its Chinese communist heritage.
Vietnam Airlines will fly a two-class Boeing 777 on the route offering connections to a comprehensive number of destinations throughout Indochina including Siem Reap (Cambodia), Luang Prabang (Laos), and Yangon (Burma).
Far East experts Bamboo Travel says the new operation will bring a boom to emerging areas that seldom appear in brochures, typically Ba Be Lake in Northwest Vietnam, Khammouane Province in Southern Laos and Mondulkiri in Eastern Cambodia. Vietnam is fast-becoming one of the most popular tourist destinations in the Asia-Pacific region with just over 5m tourists visiting the country in 2010. www.gatwickairport.com www.vietnamairlines.com
Work began last week on both sides of the river on the London cable car project which only gained approval last March. It is expected to be ready in time for next year's Olympics.
The scheme will provide a quick link between the O2 and ExCeL – two of the largest entertainment and exhibition venues in Europe, cutting travel times to five minutes.
Scheduled for completion in summer 2012 the airborne link will provide spectacular views across the Thames and a new and unique addition to London's transport network for thousands of commuters and visitors to London.
In order to get the project off the ground Transport for London (TfL) has agreed to provide the upfront costs for the cable car. TfL will recoup its costs from a range of sources including the appointed commercial partner, fare revenue and advertising.
The cable car will be the UK's first urban cable car with a crossing every 30 seconds carrying up to 2,500 passengers per hour in each direction. It will be fully accessible and is designed to be used by those with reduced mobility including wheelchair users and people with pushchairs; in addition bicycles will be allowed onto the link. www.tfl.gov.uk/cablecar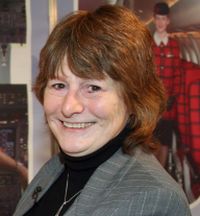 Loganair has purchased Cambridge-based Suckling Airways, better known up north as Scot Airways with Stagecoach as a previous major shareholder.
Suckling was founded by the late Roy and Merlyn Suckling in 1984 and these days is essentially a specialist executive and charter operator with a fleet of five 32-seat Dornier turboprops.
"Scotland's Airline" Loganair is even older and goes back to 1962. It operates scheduled services under a Flybe franchise in mainland Scotland and to Orkney, Shetland and the Western Isles. From Dundee it flies to Belfast City and Birmingham.
Commenting on the acquisition, Loganair's Chairman Scott Grier said: "The acquisition of Suckling Airways is a major change for Loganair, but one which reflects our increasing ambition to diversify and expand our business. Today's announcement brings a new, yet mature revenue stream from specialist charter flights into the company. We look forward to working with Mrs Merlyn Suckling and her team to develop its exciting business over the coming months and years whilst we continue to grow Loganair's own operations as and when opportunities arise."
With the deal set to be completed at the end of the month the synergies bring together two of the UK most experienced airlines. www.scotairways.com www.loganair.co.uk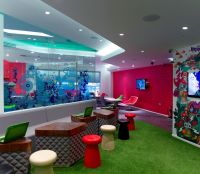 Following the success of its Gatwick v-room leisure customer complex, which opened three years ago, Virgin Atlantic has duplicated the offering at Manchester. Admission is £20 for adults, and £12 per child (infants are free), with complimentary access for all Virgin Holidays customers staying at a Platinum Collection hotel.
Described as "funky and colourful" the v-room Manchester overlooks the main passenger concourse, just yards from the departure gates. Once checked in by Virgin Holidays staff at a dedicated reception, guests are free to enjoy three distinct areas:
• v-room for kids:
A water-themed zone for babies, toddlers and little ones to romp around in before boarding the aircraft, featuring soft play facilities, a magnetic wall and interactive games.
• v-room for tweens:
The gaming zone, where a wall-sized screen will immerse big kids and adults in a selection of X-Box Kinect games, is joined by an 'outside-inside' space with free internet access, plasma TVs and funky furniture.
• v-room for adults with quiet relaxation and courtesy wi-fi.
A hot and cold buffet, serving a mixture of breakfast and brunch dishes and beverages every day, is available to all guests and is included in the entry price. A pay bar is available. www.virginholidays.co.uk
Renault Wind Roadster 1.6 Dynamique
Cute Wind is exhilarating!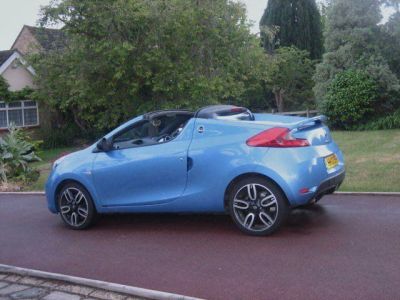 Oh my goodness! What has Renault done now? It has brought a breath of fresh air to the world of motoring in the form of a two-seat machine aptly called the Wind that has such distinctive looks that it neither suggests a sports car nor a cabriolet, more likely a concept car heavily disguised.
Closer examination and a week behind the wheel, proves that the Wind is a positive car, nothing negative about it for sure. The high back angular styled body is certainly a credit to its designers and even more so to those who had to fettle this machine at Renault's Novo Mesto plant in Slovenia.
What this Wind is all about is to provide its occupants with every opportunity to indulge themselves in open air motoring. The roof panel and rear window cleverly fold/rotate and slot into a storage area in the boot lid without actually stealing any boot space…the top literally disappears from view, replaced by metal mesh wind deflector.
Transformation from snug coupe to open top takes a claimed 12 seconds and involves pressing a release button in the roof panel and turning a central release knob and then holding down the open/close switch and that's it…commune with nature. First turn of the weather and reverse the procedure and be cosseted against the elements.
Interestingly I found that the Wind in open form is very quiet enabling civilised conversation at speeds up to 70 mph though I noted that the noise generated by most other cars does not say a lot for their aerodynamics.
With the roof in place there is a degree of drumming at certain speeds but I am not complaining, having cut my teeth on early sports cars where the hood was a crude folding arrangement held in place by nail breaking press studs.
The two seats are low to the kerb and access to the driving seat might be a bit challenging for the less agile having to fit themselves around the steering wheel.
The driving position, aided by a tilt/reach steering column, good pedal positioning and the well contoured sports seats with fixed head rests is very comfortable and provide the driver with generally a sporty/relaxed situation. The close proximity of the rear bulkhead obviously restricts rearwards adjustment of the seat which could be a problem for longer bodied drivers. Like a good suit/dress, have a first fitting.
Cockpit presentation is smart, uncluttered and purposeful, highlighted by three conventional circular dials which are clear on read-out though the kph markings on the speedometer are hard to distinguish. The effect is business like, in keeping with the character of this unusual car.
Two petrol engines are offered for the Wind, a 1.2-litre TCe 100 portrayed by Renault as flexible and a 1.6 VVT 133 lifted from the Renaultsport Twingo and this time described as feisty.
This test involved the top version which proved spirited and yet a refined performer. Both engines use a short ratio five-speed gearbox (no automatic option) that felt a slightly notchy changer until warmed up and then could either entertain the driver or enable him/her to poodle along in a flexible manner.
Performance? The Wind is no poser, the claimed top speed is 125 mph with 62 mph reached in a sprightly 9.5 seconds and plenty of gusto between the gears when there is the opportunity to play.
There is plenty of driving character, some inherited from the good handling Clio II Renaultsport platform on which the car is based, some the result of further attention to the sophisticated suspension system. The end result is a good riding car on low profile Continental Sport tyres that also provides stable and positive handling machine that lives up to its promising looks. Good grip, well braked in a progressive manner and with strong safety margins but always with a good dose of fun.
Driver vision is a good from the frontal view, horrible from the rear three-quarter angle as a result deep rear pillars - plenty of neck muscle effort required when negotiating angled junctions.
There's also driver aids in abundance including ABS anti-lock braking, emergency brake assist, stability control and under steer control. Economy is passable for a sporty performer with a an official combined consumption figure of 40.9 mpg which is about par for a medium sized hatch back. Carbon footprint is 160 g/km - clean but not squeaky clean.
Worthy of note is the cruise/speed control that enables the driver to fine tune the pace by simple + or - finger touches; ideal for those tedious motorway workings where drivers struggle to hold strictly monitored speeds. Interior oddments stowage is a bit of a joke, being restricted to a non-locking small glove box and possibly a little room behind the rear seats though luggage capacity is an eye-opener - a generous 270 litres that is massive for a small sporting car.
Equipment package at both levels is comprehensive, this top version coming with four alloy wheels (a puncture repair kit - space saver wheel optional extra), powered/heated door mirrors, immobiliser/alarm, automatic headlights/wipers, climate control, Bluetooth and much more.
Just as Peugeot spotted a strongly viable market niche with the 207/8 Cabriolet, Renault has identified a potential sales winner with the Wind. Iconic is an understatement for this real head turner!
Rivals include Mazda MX5, Peugeot 208 Cabrio, MG F, MINI Cabrio.
STAR RATINGS (out of 10)
Performance 9
Handling 9
Transmission 8
Noise 8
Economy 8
Ride and Comfort 9
Accommodation 8
Styling 8
Brakes 9
Finish 8
TOTAL: 84 %

NOTES FROM TED WILKINSON'S MOTORING DIARY
VOLVO: The Swedish car maker scoped two awards at the annual British Insurance Vehicle Security Awards 2011 – Thatcham's International Security Award and the Best Small Car Security Award for the Volvo C30. www.volvo.co.uk
TOYOTA: The third generation Yaris model is due for UK sales launch this summer. Maker claims compact outside, spacious inside. www.toyota.co.uk
VOLKSWAGEN: A 14% increase in global sales is reported for the first five months of the year. Total sales over the period were in excess of 3 million vehicles for the first time. www.volkswagen.co.uk
PEUGEOT: An expanded range of its Sportium version of the 207 has been launched with the inclusion of two new engine options and upgraded equipment valued at £1,215 but charged at only £350. Package includes a Clarion multi-media navigation system. Prices from £12,095 on the road. www.peugeot.co.uk
SUZUKI: A launch into Facebook, Twitter, You Tube and Linkedin is announced by Suzuki in a drive to generate more consumer interaction. www.suzuki.co.uk