Business Travel News has long promoted Northolt (NHT) as the solution to the London connectivity problem for the provinces until the new Heathrow R3 is ready. LHR served 20 UK destinations 30 years ago. It is now down to seven, with some of those under scrutiny by the BA routes team.

Speaking at the AOA Conference last week, Heathrow executive director expansion Emma Gilthorpe showed a timeline which suggested an opening of the new runway 3 in 2026. She echoed aviation minister Baroness Sugg, who spoke enthusiastically to the industry in July regarding the great parliamentary support for the expansion.

Heathrow is keen to promote the regions but what happens in the interim? It is very unlikely to give up international slots for Prestwick, Newquay, Carlisle, Durham Teesside and Humberside, all crying out for links to London and the world beyond. And for the Channel Islands too.

RAF Northolt has to be the answer. There are currently 12,000 unscheduled civil slots that work into NATS and 1,564m of runway eight road miles north of Heathrow sitting just by the A40 and a South Ruislip Central Line/Chiltern Railways station within 400m of the guardhouse.

With a few alterations to declared runway lengths, to the ILS alignment and airfield lighting arrangements, Northolt could conform to CAA civil aerodrome licence requirements. The cost would be minimal. Initially, the present terminal can be quickly modified and for the future a prefabricated building erected on spare land to the west of the current terminal, creating a civil enclave with direct access to the A40/Western Avenue. This would leave the current military and VIP operations unaffected.

Last week, the Ministry of Defence announced the closing of the airport for a period next year (see RAF Northolt to close in this issue).

The BTN contention is that when NHT re-opens, the noisy business jets should not return, their place taken by quiet turboprops typically flown by Flybe. Besides the revenue, another bonus for the MOD/RAF would be allocated departure and arrival slots rather than the current disruptive ad hoc system.

Brian Donohoe, the former MP for Central Ayrshire and a long-time member of the Transport Select Committee, says connectivity to Heathrow from all the regions of the UK, and particularly Scotland, is vital. "Scheduled flights into Northolt are an opportunity not to be lost at this time."

Both Southend and Oxford airports were quick to comment, clearly wishing to add business.

"We believe that our combination of 24hr access and great service offers private jet operators currently using NHT a great alternative gateway to London," said Southend managing director Glyn Jones.

Oxford is even better placed to increase executive jet activity. Head of business development James Dillon-Godfray had this to say: "We are able to accommodate any of the more regular users of Northolt during the runway works programme with no slot issues at all and have among the best opening hours of any non-commercial airport in the UK, offering standard hours from 06:30-23:00 seven days, but can go from 06:00-midnight, again seven days, on request. We offer a helicopter service in 22min to Battersea."

Go back in history and you will find Northolt once took over from Heathrow when Heathrow's central area was first being built. It can do so again on a very limited scale. If handled properly, it can be a win-win situation for both the Ministry of Defence and the Chancellor of the Exchequer. More revenue straightaway with 250,000 paying customers vs 30,000 subsidised. And, in the long-term, a very large contributor to the Heathrow extension costs.

It would also save the MOD money by using commercial air services rather than road or rail to some parts of the UK poorly linked to London.

Another winner could be Flybe, an airline desperately needing City friends with its share price at 10.5p last Friday and a market capitalism of just £22.51m. It has the right aircraft (Q400) and already operates from many of the airports on the "wish list". A really decisive move regarding NHT operations would be seen as positive by the City (see Flybe share crash in this issue).

Why is the MOD so adamant in its objections to a change of use for Northolt?

One reason is fear of the unknown. While the public would be using a secure area away from the military, these private citizens would be on MOD property. Scary for the military types!

The other reason is more significant.

Northolt covers 800 acres, worth perhaps £3bn at today's prices and who knows what in 2026.

What would happen if the MOD were to sell the site? – the RAF moves into a secure enclave at Heathrow and the other government tenants dispersed?
The MOD would then pay only rent and not have an airport to run. Heathrow is open for emergency use 24hr (Northolt is restricted), and aircraft such as the Voyager (A330) can use the facility. NATS wins too, as it is one airport fewer to worry about.
And of course the local community, if planned properly, will have a state-of-the-art village built on its doorstep with huge revenues due and housing problems solved. It would be Britain's largest new town for decades, and on London's doorstep.

A military area at a commercial airport happens all over the world, even in the UK. And think of all the extra revenue the Treasury would have at its disposal. Plus the annual cost of RAF Heathrow will be substantially less than RAF Northolt.

What about it, Mr Chancellor (and the present custodian once had air transport under his portfolio)? The window is open for a rethink.

The regions need action now. Not in eight years' time!

www.gov.uk/government/news/contract-awarded-to-resurface-raf-northolt-runway


FOOTNOTE

Over the years, BTN has led the campaign for scheduled civilian flights at NHT (the IATA Northolt code). Sad to say our expert on the matter, Laurie Price, is no longer with us. Let us hope that somewhere in the "great hangar in the sky" he is following the campaign.

The following is a selection of useful background articles:
2018: The regions need air action now!
2017: London Assembly gets Northolt wrong
2017: Domestic air routes – Can we wait?
2016: Brian Donohoe, former MP
2015: Northolt ready for take-off
2014: Northolt and The Queen's Terminal T2
2013: Not in my backyard
2012: The case for Northolt
2011: Terry Liddiard, former MD Manx Airlines
2010: Heathrow and the third runway problem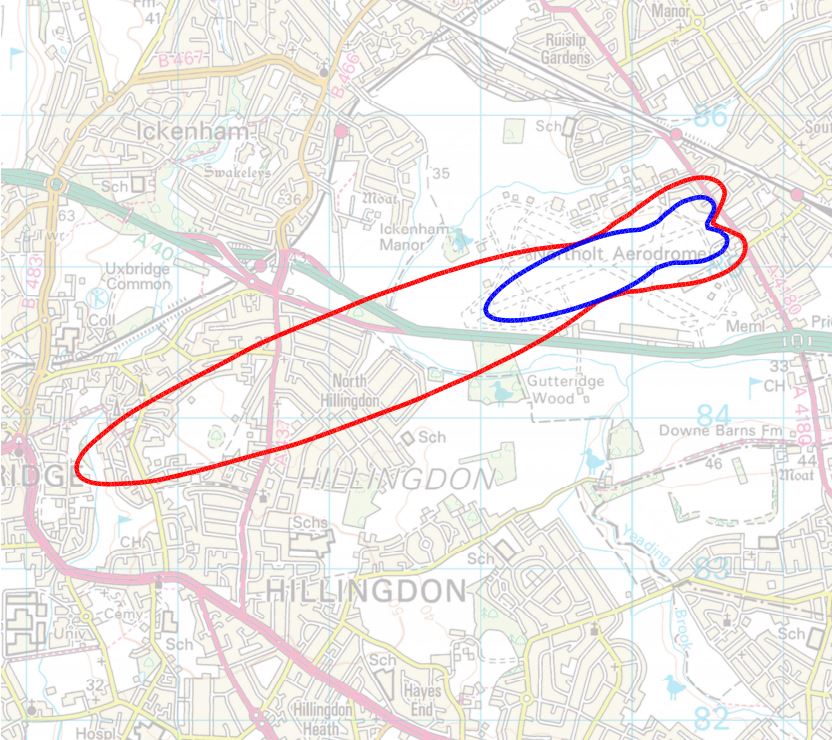 NOISE LEVELS: BAE 146 (red) vs Bombardier Q400 (blue)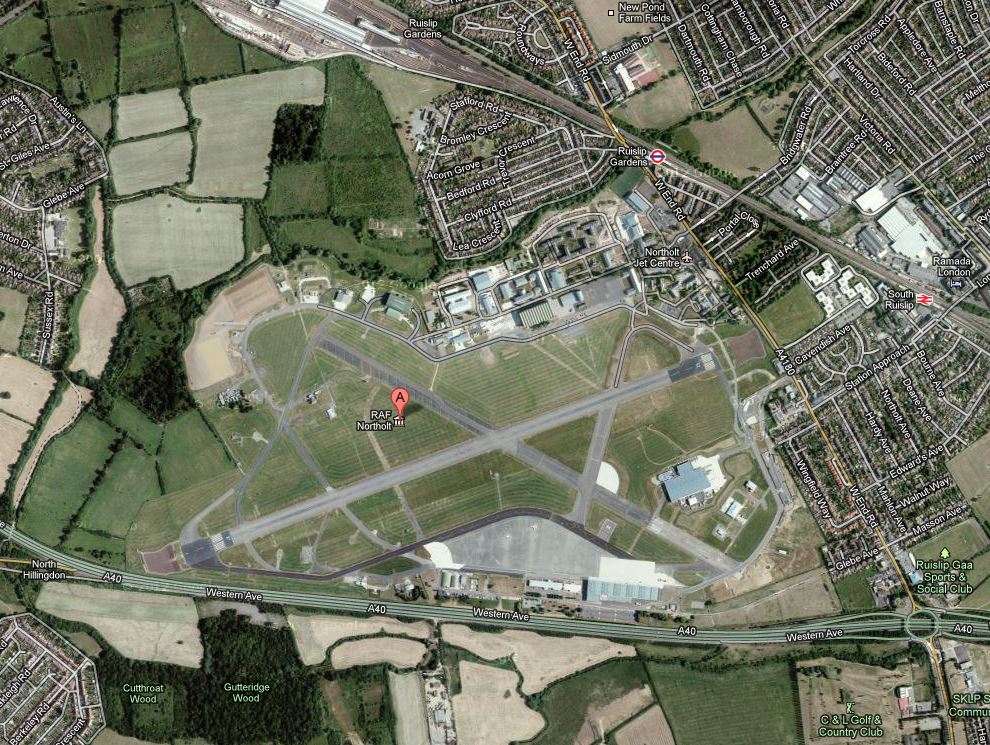 RAF Northolt (NHT) adjoins the Western Avenue with direct M40 access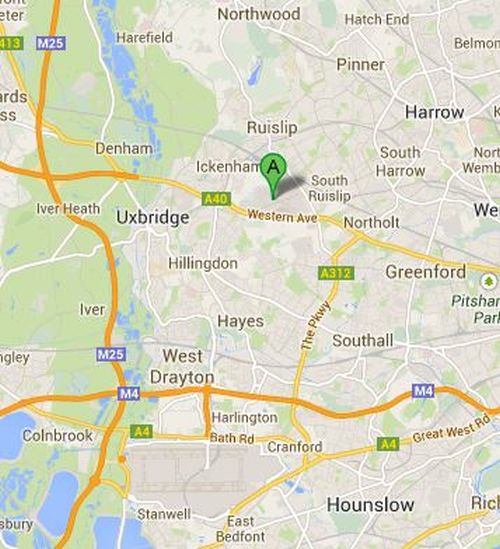 Northolt to Heathrow
OUR READERS' FINEST WORDS (All times and dates are GMT)
All comments are filtered to exclude any excesses but the Editor does not have to agree with what is being said. 100 words maximum
---
Chris Pocock, Uxbridge
The road access alone rules out this daft idea. A new junction required on the very busy A40 – who pays? South Ruislip tube station is 3,000m from your proposed passenger terminal, via always-congested West End Road. Passengers wanting to connect with international flights from Heathrow would face an equally-congested road journey, of up to 75 minutes.
---
Simon Grigor, Harrow
The idea of Northolt becoming a housing estate has to be stopped! There is already a totally unmanageable amount of traffic on the A40 and the surrounding roads, without adding further to the local population.
---
Alan Cooke, Brighton
. .. and don't forget there is already a direct rail link connecting Heathrow via Greenford to South Ruislip, just 300 yards from the Northolt terminal. It would be much more reliable than the road links, especially during the rush hours.
---