26 SEPTEMBER 2011
BTN DISTRIBUTION
BTN also goes out by email every Sunday night at midnight (UK time). To view this edition click here.
The Business Travel News
PO Box 758
Edgware HA8 4QF
United Kingdom
+44 (0)20 8952 8383
info@btnews.co.uk
© 2021 Business Travel News Ltd.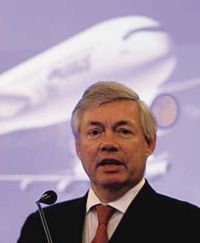 John Leahy, effectively Sales Director of Airbus, was in fine form last week when he gave the annual "State of the Nation" Global Market Forecast 2011-2030 in London.
Of all the plethora of statistics and data given perhaps the most interesting was a statement that the airlines are consuming just 3% more fuel than 10 years ago and carrying 45% extra passengers. Airbus did not give predictions for a decade ahead but with the average size of aircraft increasing year by year (with the arrival of more A380s) the fuel burn could be negative by 2020. Along the same "environmentally friendly" lines he noted that average passenger load factors had risen from paltry 54% at the start of the 747 era 40 years ago to 78% in 2009 and rising.
Airbus sees a demand for 27,800 aircraft with 100+ seats over the next 20 years. Asia-Pacific will account for 34% of demand, followed by Europe and North America both with 22%. The Middle East only represents 7% of the actual aircraft order backlog. Whilst these figures are in general agreement with Boeing, Toulouse says the demand for Very Large Aircraft will be for 1,780, far in excess of Seattle. www.airbus.com/company/market/gmf2010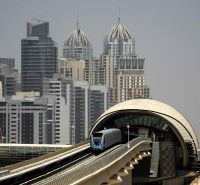 Exactly two years after the inauguration of its partially underground driverless rail system, known as the 'red line' and serving the current international airport, Dubai Metro has opened its 'green line' serving the Dubai Creek on both banks. Initially 15 miles long the line has 18 stations, with two more to open.
At this stage, with a total length of 43 miles it vies with London's DLR as the world's longest fully automatic railway system, but there are plans for further extensions. It is partially underground.
The new line is expected to carry 120,000 passengers daily, the original track now up to around 180,000. The system is operated by the British company Serco.
Purple and blue lines are planned but these are dependant on the completion of the new Al Maktoum International Airport which is the terminal for both lines. Work has not yet started. http://dubaimetro.eu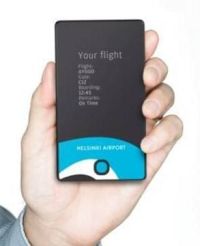 A new, personal airport guidance display card, developed by Agaidi, is currently being piloted at Helsinki Airport. For the next month or so transfer passengers with a tight connecting time will be met at the gate and provided with the card, which will guide them quickly and easily to their boarding gate.
The light and thin card shows personal, real-time flight information to passengers and keeps them updated about, for example, boarding times and estimated walking time to the gate. The goal of the pilot is to optimize capacity utilization by managing real-time passenger flow and to locate passengers arriving late to the departure gate. In addition, passengers will get information about services, such as cafés, restaurants and shops.
The airport display card is a small device that does not need wire charging and has an operation time up to three years. It is easy-to-use and should provide robust and reliable communication. Unlike smart phone apps, it offers equal service to all passengers regardless of personal devices that the passengers are carrying with them. www.helsinki-vantaa.fi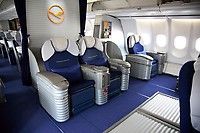 Lufthansa is to introduce a five times per week Mexico City to Munich service from 26 March 2012 supplementing the daily flights already operated by the carrier from Frankfurt. "We are delighted to be able to offer a connection from our Munich hub to Central America. In economic terms, in particular, Mexico is gaining in importance for the Bavarian market," says Thomas Klühr, Lufthansa German Airlines Board member. Flights will be operated by a three-class Airbus A340.
Mexico City has a population of 30m, making it one of world's largest metropolitan areas. The city is the political, business, social and cultural capital of the country and also its largest transport hub. Moreover, with its numerous museums and monuments, it is a fascinating tourist destination. www.lufthansa.com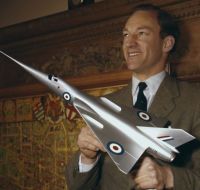 To a younger generation the name Peter Twiss may mean nothing but for those who remember the 1950s the five times married former Royal Navy pilot was a true British aviation hero and a holder of the World Airspeed record, the first man to fly over 1,000 miles per hour.
On 10 March 1956 piloting the Fairey Delta 2 Twiss broke the World Speed Record, raising it to 1,132 mph (1811 km/h), an increase of some 300 mph (480 km/h) over the previous record. As a test pilot for Fairy (later taken over by Westland) he also flew the remarkable and advanced Rotodyne, the forerunner of today's Chinook. Peter Twiss passed away on 31 August aged 90.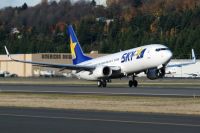 Rolls-Royce has won the contract as engine supplier to the Japanese airline Skymark for its six Airbus A380s, the first to enter service in 2014. Skymark is a new customer for Rolls-Royce, and the carrier is the only Japanese carrier to date to order the aircraft. It was established in 1996 as a budget carrier and currently operates a 20-strong fleet of Boeing 737-800s on Japanese domestic routes. It says it plans to expand internationally with the A380, including Europe. A two-class 400-seat cabin layout is envisaged.
The aircraft will be powered by Trent 900, the contract calling for Rolls-Royce 'TotalCare' long-term engine service and support package. Trent 900 engines powered the very first A380 to enter service in 2007 and have now been selected by 11 of 16 airlines who have ordered the aircraft.
Jim Sheard, Rolls-Royce Senior Vice President – Civil Aerospace, said: "Skymark is a new customer for Rolls-Royce and we are very pleased that they have put their trust in our leading edge engine technology and TotalCare support. This latest order, from a new customer, confirms the Trent 900 as the true market leader and engine of choice for the majority of A380 operators." www.rolls-royce.com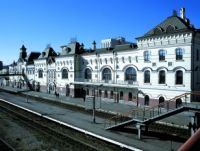 Hyatt is to open two brand new hotels in Vladivostok, Russia's largest port on the Pacific Ocean. The Hyatt Regency Vladivostok, Golden Horn and Hyatt Vladivostok, Burny, which will be the third and fourth Hyatt-branded hotels in Russia, are under construction and expected to open in advance of the Asia-Pacific Economic Cooperation (APEC) Summit in the autumn 2012.
The Hyatt Regency Vladivostok, Golden Horn will feature 217 guest rooms and suites, food and beverage outlets, a spa and health club and banqueting and meeting facilities. Located at the Korabelnaya Embankment in the city's central business district, the property will be situated along Svetlanskaya Street – the city's 'High Street' – with the back of the hotel directly facing the Golden Horn Bay. Guests will be within walking distance of the city's main government and business buildings as well as its exclusive shoreline.
Hyatt Vladivostok, Burny will boast 218 guest rooms and suites, as well as food and beverage outlets, banquet and meeting facilities, and a spa and fitness annex. The property, which will have a direct view of the Amursky Gulf, will be situated at Cape Burny on the western side of the city and will have quick access to the city's main thoroughfares. www.hyatt.com
A grizzled old man was eating in a truck stop when three Hell's Angels bikers walked in. The first walked up to the old man and pushed his cigarette into the old man's pie, and then took a seat at the counter. The second walked up to the old man and spit into the old man's milk, and then he took a seat at the counter. The third walked up to the old man and turned over the old man's plate, and then he took a seat at the counter. Without a word of protest, the old man quietly left the diner. Shortly thereafter, one of the bikers said to the waitress, "Humph, not much of a man, was he?" The waitress replied, "Not much of a truck driver either. He just backed his wagon over three motorcycles."