15 AUGUST 2011
BTN DISTRIBUTION
BTN also goes out by email every Sunday night at midnight (UK time). To view this edition click here.
The Business Travel News
PO Box 758
Edgware HA8 4QF
United Kingdom
+44 (0)20 8952 8383
info@btnews.co.uk
© 2021 Business Travel News Ltd.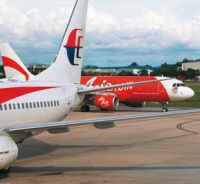 Malaysia Airlines (MAS), the national airline, and budget carrier Air Asia, together with long haul, sister operator AirAsia X, have entered into a comprehensive collaboration framework that will see the airlines exploring opportunities to co-operate on a broad range of areas.
AirAsia shareholders will hold 20.5% of Malaysia Airlines and in the other direction the interest will be 10%.
Many see the MAS-AirAsia partnership as a way to help stop MAS from plunging further into the red, while others feel AirAsia will benefit as much as the national carrier from the alliance. Whether Tony Fernandes, the British-educated Malaysian entrepreneur behind the partnership, can make it work remains to be seen. His foray into Formula One with Team Lotus has not as yet seen the cars anywhere near the front of the grid even with another venture, Caterham, blazoned on the cars.
Under the arrangement, rationalisation is expected especially in the domestic market. The airlines' networks overlap directly on 38 routes, while there are some indirect synergies in some markets. These include London, where Malaysia Airlines serves Heathrow and Air Asia X flies to Stansted (Gatwick from the end of October) and Paris with Malaysia Airlines to CDG and Air Asia X Orly. www.malaysiaairlines.com www.airasia.com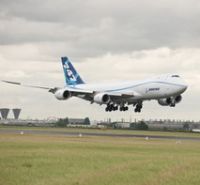 A major milestone for both freighter and passenger versions of the 'all new' Boeing 747-8 has been reached with the successful completion of the freighter variants flight test programme.
The first 747-8 Freighter is scheduled to be delivered to launch customer Cargolux in September after certification from the US Federal Aviation Administration (FAA).
The 747-8 Freighter has flown more than 1,200 flights and 3,400 hours since its first flight on 8 February 2010. During that time, the five-aeroplane test fleet was used to gather data for more than 1,700 FAA certification requirements. Boeing tested the capabilities of these aeroplanes far beyond what they are expected to encounter in normal service. The new aircraft is 18ft 4ins (5.6m) longer than the current 747-400 Freighter. The stretch provides customers with 16% more revenue cargo volume compared to its predecessor. That translates to four additional main-deck pallets and three additional lower-hold pallets.
The current order book stands at 114, including 78 of the freighter version, and 36 of the passenger version. Lufthansa, is expected to receive its first aircraft towards the end of the year or early 2012 and offer a three class format. www.boeing.com/commercial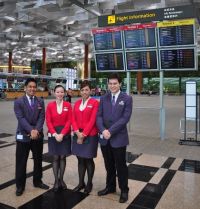 Service at Changi Airport Singapore is set to be further enhanced with the introduction of the Changi Experience Agents (CEA) initiative, where roving customer service officers are deployed airport-wide to help visitors and passengers with assistance, as well as the Changi Contact Centre, a 24/7 one-stop centralised call centre facility which consolidates all telephone lines for the airport into a common number.
Both brand-new initiatives are aimed at enhancing what is termed "The Changi Experience" and have been introduced to augment and strengthen the airport's efforts to provide a stress-free, personalised and positively surprising passage for passengers.
The task of the CEAs includes assisting passengers with special needs, and helping everyone with way finding at the airport. Locating missing luggage, facilitating passengers with check-in needs and assisting transit or transfer passengers with their onward connections also form part of the CEAs' duties. Working in shifts, 90 CEAs are deployed across all four terminals. They speak a total of more than 20 languages and dialects which include French, Hindi, Japanese, Tagalog and Thai, a reflection of Changi's top passenger markets. www.changiairport.com
The first Boeing 787 Dreamliner that will enter into service with launch customer ANA has rolled out of the paint hangar. The aeroplane bears a special livery signifying the core elements of ANA's service brand – innovation, uniqueness and the inspiration of Japan. The aircraft is somewhat late, it was supposed to go into service in time for the Beijing Olympics, nevertheless its introduction is being watched with bated breath by the whole industry.
"Our teams are making outstanding progress in completing the first airplane to be delivered and achieving certification of the 787," said Scott Fancher, Vice President and General Manager of the 787 programme. "We are inspired by the airline's enthusiasm for this airplane and look forward to the day when we make our first delivery to ANA."
ANA's first 787 features a short haul international interior design with Business and Economy Class cabins.
"ANA's passengers will be the first to experience the 787 Dreamliner's comfortable interior environment," said Mitsuo Morimoto, ANA Senior Executive Vice President and Member of the Board of Directors. "Combined with ANA's superior levels of service, passengers will enjoy a spacious interior, larger windows, comfortable seats and touch-panel in-flight entertainment screens." Current order book stands at 827 firm for the 787. www.ana.co.jp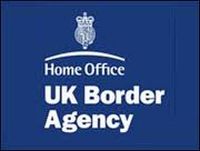 Endeavouring to make arrivals at Gatwick Airport a simpler task, officials have introduced, along with the UK Border Agency, new procedures to reduce queue times and provide better service for those with children or reduced mobility.
Geoff Williams, security chief at Gatwick said: "We understand that the return journey can often feel long and exhausting. This is especially true if you are travelling with young children and you just want to get back home as quickly as possible. That is why we have become the first UK airport to introduce lanes in the immigration halls dedicated entirely to families, and those who might need a bit of extra support. Staff who man these lanes have received extra training in customer service so that they know how to provide the right level of help."
The immigration halls now also have a selection of ePassport gates that enable EU passengers with biometric passports to get through passport control much more quickly and conveniently. The gates use facial recognition technology to compare a passenger's face to the photograph recorded on the chip in the passport. Once the checks are made, the gates open automatically. www.gatwickairport.com
AERBT would be delighted to hear from families who have experienced the new procedures.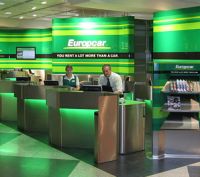 From September 2011 busy travellers will be able to benefit from seven-day opening at more than 60 Europcar locations across the UK, allowing them to pick-up and return hire vehicles on the day that suits them – even if that's a Sunday!
"Conventionally, the car hire market comes to a halt for the weekend after 1pm on Saturdays," explained Ken McCall, Managing Director, Europcar Group UK. "So customers either have to use an out of hours service or take another day's hire, which is not always convenient and adds to the cost. And this is pretty inconvenient for customers who are used to accessing most other consumer and retail services seven days a week. Therefore we are extending the opening hours of these key locations to make hiring a car even more convenient for our customers."
The new opening times included 22 airports and 38 city centre branches, as well as 24-hour opening at six major airports. Europcar's remaining 128 locations will be open six days a week, 08:00-18:00 Monday to Friday and 08:00-13:00 on Saturdays. Seven-day openings in these locations will be rolled out to respond to customer demand. www.europcar.co.uk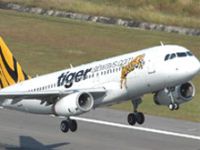 The Australian offshoot of Asian budget carrier Tiger Airways has been given the green light to resume flights after the enforced five-week grounding. However, the airline's wings have been severely clipped as it will be restricted to operating just 18 sectors a day (nine return flights) for the remainder of August. The budget carrier had its Air Operator's Certificate (AOC) revoked by Australia's Civil Aviation Safety Authority (CASA) on 2 July due to concerns that serious safety issues posed an imminent risk to air safety.
Tiger Airlines is an offshoot of the Singapore-based carrier of the same name, whose shareholders include Singapore Airlines.
The agency has confirmed a subsequent thorough investigation into safety issues within the carrier and said last week that it had developed a new set of conditions addressing key areas of operational importance. "To continue to operate, Tiger Airways Australia must comply with the conditions while they are in place," it said.
The airline is now operating what it calls "a simplified flight programme" initially between Melbourne (Tullamarine) and Sydney, with more to follow.
Prior to its suspension Tiger Airways Australia operated more than 450 weekly flights on 42 routes with a fleet of 10 Airbus A320s. www.tigerairways.com
It is not for AERBT to argue where is the centre of London but according to the UK Advertising Standards Authority (ASA) it could be London Bridge, that is on the south side of the Thames close by where HMS Belfast is moored.
Now knowledgeable readers may be aware that Shangri-La Hotels will soon be promoting the Shard as the middle of the universe but we are not so sure if most people would agree on Bermondsey as the centre of town.
In any event the ASA has now wrapped the knuckles of Gatwick Express for promoting their service from Gatwick Airport to Victoria as the quickest route to London. The ASA seem to think that Capital Connect's trains to London Bridge is shorter. Southern's Gatwick Express claim is 'misleading' according the agency.
At the end of the day the choice is yours but at least the Gatwick Express is a true non-stop express, unlike some other so-called expresses that stop twice on the way to an airport.