1 AUGUST 2011
BTN DISTRIBUTION
BTN also goes out by email every Sunday night at midnight (UK time). To view this edition click here.
The Business Travel News
PO Box 758
Edgware HA8 4QF
United Kingdom
+44 (0)20 8952 8383
info@btnews.co.uk
© 2021 Business Travel News Ltd.
A row is brewing between Air France and Airbus as to who was to blame for the disaster which overtook AF447 on 1 June 2009.
French accident investigators have appeared to say that the essential fault was down to crew error. The Bureau d'Enquetes et d'Analyses (Bureau of Investigation and Analysis) says the pilots failed to recognise that the aircraft, flying at +35,000ft, found itself in a stall condition. The pilots had not received any training for this state of affairs and did not apply the textbook remedies, which might have averted the tragedy. The cause of the condition was probably due to the icing up of an on-board icing indicator known as a pitot tube.
Air France said there were multiple probable factors behind the loss of the Airbus with all 228 people on board and that a chain of events had started with technical data problems. It said investigators had not found any reason to question the crew's technical skills.
What is clear is that the 'plane plunged for over three minutes, nearly came out of the stall and hit the ocean at 125 mph. Probably terrified passengers were never given any information nor a distress call made. A full report is expected to be published in several months' time. www.bea.aero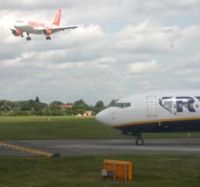 BAA's legal people may be feeling overworked with Chief Executive Colin Matthews indicating that it might challenge the UK's Competition Commission ruling forcing it to sell Stansted Airport, and its erstwhile client carrier, Ryanair, saying that it has instructed its lawyers to file a complaint for overcharging.
"The natural place for us to appeal (against) the ruling would be to the UK Competition Appeal Tribunal and we have until September 19 to do that," he said. "We won't wait until the last minute but we have some more work to do to scrutinise the report in more detail but as soon as we're done we'll get on with it."
Matthews also refused to rule out taking the matter to the Court of Human Rights if a judicial review fails.
In another development Ryanair, the world's most annoying airline, is putting its dispute over BAA charges to Britain's Civil Aviation Authority, not the actual airport, making clear that the figures supplied by the operator are over stated. The airline, which represents 67% of all Stansted traffic, noted in a press release that its complaint is regarding what it calls BAA's "monopoly position." It is the only carrier on the majority of its routes. www.baa.com www.ryanair.com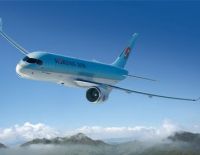 Korean Air is the latest carrier to join the Bombardier C class order book bringing the total commitments up to 133 (plus 119 options and 10 purchase rights).
The C Series aircraft, with accommodation of between 100 and 150 passengers, generally sits in a niche with the Embraer jets for the most part smaller, with both the new Airbus and Boeing single file 'planes offering more capacity.
Bombardier says that the C Series family will offer a 15% cash operating cost advantage and a 20% fuel burn advantage, greatly reduced noise and emissions as well as superior operational flexibility, exceptional airfield performance and a range of 2,950 nm (5,463 km). It will also provide passengers with wide-body-style seating in a single-aisle aircraft.
Other customers that have firm orders for C Series aircraft include Republic Airways (40 CS300), Lufthansa (30 CS100), Lease Corporation International (17 CS300 and three CS100), Braathens (five CS100 and five CS300), a well-established, unidentified airline (three CS100 aircraft), an unidentified major network carrier (10 CS100) and a further unidentified European customer (10 CS100). www.bombardier.com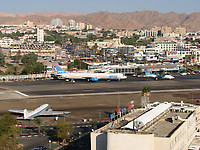 The Israeli Cabinet has agreed the go-ahead with the new airport for the resort city of Eilat, which borders the Red Sea. The current Eilat airport, which dates from the War of Independence, and is situated in the middle of the downtown area, only has a 1,900m long runway, suitable for a Boeing 757 on the short flight to Tel Aviv, but not on sectors to European destinations.
Just 20 miles north of the city, is to be called Timna, and will be capable of accepting long range aircraft from the United States and India, both potential large markets.
Announcing the decision Israeli Prime Minister Binyamin Netanyahu said: "It is part of the steps we are taking to change Eilat and the Negev, including laying a railway to Eilat."
The only negative issue from the development is that it will put paid to ideas of a joint Jordan/Israel cross border airport rather like Basle and now Gibraltar.
Under the plans when the new airport opens in three years' time the current Eilat operation will close. www.iaa.gov.il/Rashat/en-US/Rashot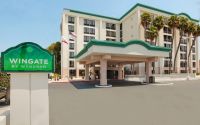 Once a Hampton Inn, and just two miles east of the terminals, the Wingate by Wyndham is the latest addition to Los Angeles International Airport's (LAX) increasing number of business traveller orientated hotels.
The 148-room property offers oversized guest rooms with ample living and working space; complimentary high-speed wired and wireless internet access; flat-screen televisions; in-room coffee makers; and safes.
A complimentary full breakfast features a variety of hot and cold items daily. Hotel facilities include a fitness gym; meeting facilities; 24-hour business centre with free computer access, copying, printing and faxes; complimentary parking; and courtesy shuttle service to and from LAX. As with all Wingate by Wyndham properties the hotel offers comfortable guest rooms that are designed to function both as a bedroom and an office with a large, well-lit workspace, in-room microwave and refrigerator. www.wyndhamworldwide.com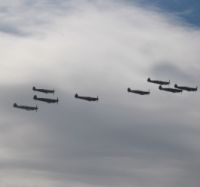 The Supermarine Spitfire, perhaps the greatest fighter aircraft of all times, will be seen en masse over Goodwood during the extremely popular "Revivals" event 16-18 September. The dozen Spitfires assembled for the 2011 Revival will be the most to take to the skies over Goodwood since World War II when the grounds of the historic house became RAF Westhampnett during the Battle of Britain.
The Supermarine Spitfire took its maiden flight in March 1936 at nearby Southampton Airport, and went on to become the backbone of the RAF Fighter Command as the key front line fighter during the war. The Spitfire was produced in greater numbers than any other British aircraft, with over 20,000 examples being built.
Highlights at the 2011 Goodwood Revival will include a Jaguar E-type-only race to mark 50 years of this important sportscar, plus a tribute to Juan Fangio, 100 years after his birth, and a daily track parade of British-built Ford vehicles to honour the century of Ford in Britain. www.goodwood.co.uk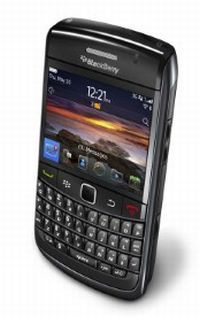 Whether the Brazilian airline TAM becomes the first carrier to offer wi-fi service across the South Atlantic remains to be seen but the Sao Paulo-based carrier has announced plans for a roll-out in the second half of 2012.
The go-ahead for the services, supplied by OnAir, follows nine highly successful months in which passengers on selected short haul flights have enjoyed the chance to make phone calls, send and receive text messages and emails, and access the Internet. With the new installations they will be able to use notebooks, tablets or other devices compatible with wi-fi to access the internet.

A total of 80 aircraft will be equipped with the services over the next few years. OnAir services operate over Inmarsat SwiftBroadband, providing global coverage. www.tam.com.br
An American Airlines' pilot was assaulted last week as a flight from Miami to Los Angeles was about to take off.
It seems that when asked to fix his safety belt a passenger was asleep and inebriated. A pilot and crew member attempted to de–plane him as he was clearly a danger. At this point the pilot was attacked by the passenger's brother and suffered a black eye.
The moral of the story.
The new security doors to the cockpit work both ways. If you are a pilot and have an unruly traveller stay up front. Let the cabin staff and helpful passengers sort it out!