27 JUNE 2011
BTN DISTRIBUTION
BTN also goes out by email every Sunday night at midnight (UK time). To view this edition click here.
The Business Travel News
PO Box 758
Edgware HA8 4QF
United Kingdom
+44 (0)20 8952 8383
info@btnews.co.uk
© 2021 Business Travel News Ltd.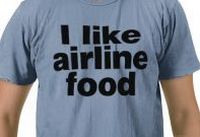 Airport Parking and Hotels (APH), the long-established travel extras experts, has put together a table telling us whether or not food and drink is included when flying and if not how much we can expect to spend onboard.
The research found the majority of airlines include a small snack and drinks on short haul flights. Cathay Pacific, Emirates, Qantas Group, Thai Airways and Virgin Atlantic provide a range of meal options, hot, cold and alcoholic beverages all inclusive in the price of a ticket. At the other end of the scale, bmi, easyJet, Flybe and Ryanair ensure that passengers pay for everything. Other carriers including Japan Airlines, Monarch and US Airways charge for snacks and meals but do provide complimentary coffee and tea.
On short haul Continental, Delta, easyJet and United include money saving deals in the form of snack boxes which typically include crisps, chocolate, crackers and cheese. Monarch offer an online discount if you order your meal online at least 24 hours before your flight. Vegetarian options are generally available.
All airlines that include a complimentary in-flight catering offer speciality meal options, for example: vegetarian, low fat, diabetic, halal, kosher and child meals. www.aph.com/airlinemeals
The Unite union has confirmed that a vote by British Airways cabin crew to end their long running dispute with the airline has overwhelmingly come down on the side of a peace deal. The 18-month row certainly had an effect on the carrier's commercial performance which in some cases did lead to unsatisfactory on-board service.
Unite said members voted 92% in favour with a turnout of 72%. Staff travel concessions will be returned to crew members from whom they were removed during last year's strikes.
In a two-year pay deal including productivity, staff will get a rise of up to 4% this year and 3.5% 12 months later. Lost in the dispute the initial cause of the industrial action was the removal of at least one crew member from most long haul flights. This has saved BA an estimated £63m per year.
Len McCluskey, Unite's General Secretary, who headed the final negotiations with Keith Williams, BA's new Chief Executive, said: "Unite always firmly believed that this dispute would be solved not through conflict but through negotiation. Thankfully we have reached an honourable agreement with BA."
With BA now focussed on recovery, rival UK carrier Virgin Atlantic faces disruption from its pilots with BALPA now mandated by its members to strike at a date not confirmed. www.ba.com www.unitetheunion.com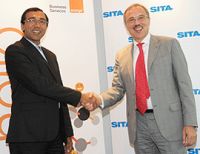 Emphasising "Cloud", and as predicted in AERBT, the SITA/Orange partnership grabbed the headlines at last week's Air Transport IT Summit 2011.
Celebrating ten years of partnership the two communications service providers are to build a global, high performance, managed Cloud computing infrastructure. Each will use their own system to deliver to the markets, with added global reach and reliability. Cloud, seemingly the way ahead in the world of IT, has been described as the use and access of multiple server-based computational resources via a digital network. Users in effect have dumb terminals. All processing and storage is maintained by the Cloud server.
With the case of SITA/Orange the computing infrastructure will be based on six seamlessly interconnected data centres in five continents, in Atlanta, Frankfurt, Johannesburg, Singapore, Hong Kong and Sydney. Each centre will cover their regional hemispheres and will be interconnected via Orange's high-speed MPLS network. Over this infrastructure, Orange Business Services and SITA will offer their individual portfolio of Cloud including the platform, infrastructure, and software all as services. Both Orange Business Services and SITA will continue to own the contract relationships with their end users.
Rollout of the infrastructure has already started with the data centres of Atlanta, Frankfurt and Singapore being fully operational in Q1 2012 and all six operational in Q3 2012. More from the Summit next week. www.sita.aero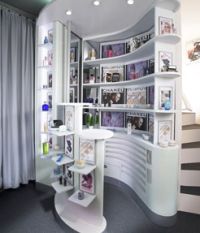 With their new Paris – Seoul route not due for introduction until September Korean Air was able to exploit an embarrassment for Airbus at last week's air show giving great publicity for the future service.
Instead of the Airbus-owned development aircraft taking part in the daily flight demonstration it was Korean Air's second A380 that took to the skies each afternoon creating a very favourable impression. We were told that the manufacturer's own A380 had 'technical problems'.
Each morning travel agents (and the media) were able to inspect what is the least dense A380 yet available, only 401 seats against Air France 538. The upper deck is given over entirely to Prestige Class (business class) just 94 lie flat seats. Also included are two lounge areas and Korean Air's unique airborne duty free shop (one on each deck). It is 2+2+2 upstairs the aircraft decorated in pastel colours with the accommodation divided into three areas including a pair of lounges. It exudes comfort and style.
Seoul to Tokyo and Hong Kong have already been introduced with Bangkok expected in July and New York for August. The Paris overture marks Korean Air's initial foray into Europe for the eagerly awaited aircraft. www.koreanair.com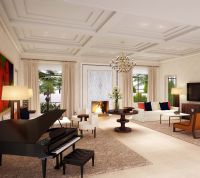 The iconic Hotel Bel-Air in Los Angles will re-open in October after 24 months of extensive refurbishment and redesign.
Part of the Dorchester Collection, which includes the nearby Beverly Hills Hotel, and The Dorchester and 45 Park Lane in London, it will offer 103 guestrooms and suites, featuring 12 new suites, built into the hillside offering sweeping canyon views, expansive sliding glass walls and spacious decks with private spa pools. There will also be seven individually designed speciality suites including the famed Grace Kelly Suite and a new Presidential Suite with 6,775sq ft of indoor and outdoor living space, offering private dining for 10, a chef's kitchen and a private pool.
New to the hotel is a 12,000sq ft Spanish mission style structure featuring a new bell tower, fitness studio, three unique 'Loft guestrooms' and a brand new 4,134sq ft Spa by La Prairie, set to be the biggest in LA.
All food and beverage operations will be overseen by Wolfgang Puck and the Wolfgang Puck Fine Dining Group. The restaurant, Wolfgang Puck at Hotel Bel-Air, will focus on modern Californian cuisine with European and Mediterranean influences. www.hotelbelair.com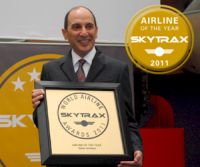 The Paris Air Show was the venue for this year's Skytrax Airline of the Year announcements, the actual location the Musée de l'Air et de l' Espace at Le Bourget.
Overall the most important and prestigious award went to Qatar Airways as the Airline of the Year. Most improved was China Southern, and for the Best Leisure Airline, surprisingly Thomson Airways took first place.
This year Star Alliance was considered the outstanding airline grouping.
In total there are 63 awards and we will not list them all here, suffice that Air New Zealand won the hotly contested Best Airline Premium Economy Class (which we can vouch for) and Oman Air for Best Business Class seats (which again AERBT would agree with). Asiana won for its Economy Class product. There is a class for most services and areas, JetBlue winning the category for Domestic Airline in North America.
Operating since 1999, the World Airline Survey is held in high esteem for the clarity of process and rigorously applied rules of complete independence. The survey operated between July 2010 and May 2011 and in this time 18.8m passengers from more than 100 different nationalities participated in the customer satisfaction survey. www.worldairlineawards.com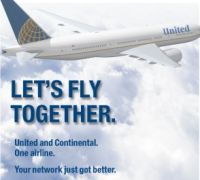 The combined Continental and United airlines operation is pushing ahead with a number of new routes. At the same time the usual Continental spot at last week's Business Travel Market became a total United Airlines sales pitch devoid of any mention of the space's former tenant.
Counted as a domestic sector, in spite of its five-hour plus duration and one of the world's longest internal flights, the very recently introduced daily Continental 737-800 Hilo – Los Angeles service now links for the first time the Hawaiian island with the United States mainland. Continental is also flying weekly San Francisco – Hilo. Other new San Francisco routes include Guadalajara (Mexico), a daily service operated by Continental Airlines. Also from 'Frisco, Idaho Falls gets a daily United Express operation flown by SkyWest Airlines.
On the international front from its New York Newark hub Continental now flies to Port-au-Prince (Haiti) and will on 1 July introduce its latest transatlantic European operation, a daily Boeing 757 flight to Stuttgart (Germany). www.continental.com www.united.com
Great show Le Bourget this year. The French have really got their act together. To a point!
Free bus from the station to the entrance way and new excellent routing.
But straight into the usual jam!
And for the media a preview briefing in London and electronic passes.
At the venue no list of exhibitors in the (useless) press pack, no programme of events (apart from a rolling screen that took 20 minutes to pass through) and if you wanted a show guide that was available, somewhere, at a cost of €50.
Full site maps were elusive although there were some splendid ones available for the public, if you knew where to look.
Other than that it rained on press day!