5 APRIL 2010
BTN DISTRIBUTION
BTN also goes out by email every Sunday night at midnight (UK time). To view this edition click here.
The Business Travel News
PO Box 758
Edgware HA8 4QF
United Kingdom
+44 (0)20 8952 8383
info@btnews.co.uk
© 2021 Business Travel News Ltd.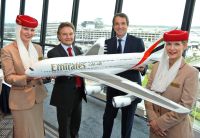 MANCHESTER AIRPORT will begin Airbus A380 services when Emirates Airlines replaces the Boeing 777 with the new superjumbo from 1 September. The airport is the first regional airport in the world to accept the A380 and will be the most northerly point for Emirates Airlines A380 services. The aircraft used for the flights includes a shower unit for First Class passengers, the upper deck given over entirely to premium class passengers. Last year Emirates opened its own lounge at the airport, virtually a mirror image of the facility it is introducing at all the points around the globe served by the 517-passenger aeroplane. www.emirates.com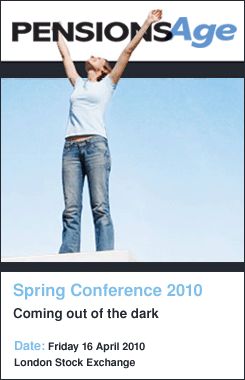 BRITISH AIRWAYS AND IBERIA have failed to meet their own self-imposed target date for the proposed merger. The Iberia board was supposed sign it off last week, was making the right noises, but for whatever reason postponed any action. BA has other matters on its mind but a spokesperson told Dow Jones the delay "is due to technical issues that need to be resolved and we anticipate that the agreement will be signed in due course." Interestingly the spokesperson added that those issues are not related to BA's pension fund deficit. The plan must be presented to the UK Pensions Regulator by June 30. Shareholder approval is also required. www.ba.com www.iberia.com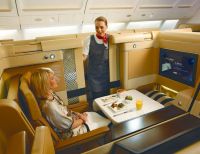 ETIHAD AIRWAYS, the national airline of the United Arab Emirates (UAE), has commenced non-stop flights from its home base in Abu Dhabi to Tokyo, a parallel service to that offered by Emirates, who fly from Dubai, just 70 miles along the fine dual carriageway costal road. Etihad will operate five non-stop flights per week to Tokyo, in addition to the services it offers to Nagoya. The services will be operated by three-class Airbus A330-200 aircraft and will feature in-flight services dedicated to the Japanese market, including a tailored menu, local in-flight entertainment content and cabin crew consisting of a number of Japanese speakers and nationals. Etihad's Tokyo services follow the commencement of the airline's flights to Nagoya in February this year and a code-share agreement ANA. www.etihadairways.com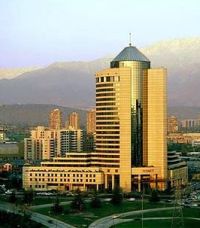 SANTIAGO GRAND HYATT, on the outskirts of the city in a quiet residential area, has resumed business after being inspected by structural engineers following the 27 February earthquake. The engineers have passed the hotel's structural integrity and all rooms, services, restaurants and spa are now available to guests. The nearby Santiago International Airport suffered internal and external damage. Essential repairs have been completed and the airport is once again accepting international and domestic flights. The port of Valparaiso, a popular cruising terminal, is about 80 miles away down a fine dual carriageway. www.santiago.grand.hyatt.com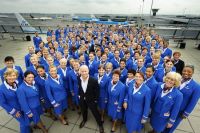 KLM, now a partnership with Air France, is going its own way as far as uniforms are concerned. Involving some 11,000 female cabin attendants, ground staff and pilots the uniform is being quickly rolled out. "It's great to see the wonderful outfit that has been created. I hope it will be worn with pride," said KLM President & CEO Peter Hartman. The design is completely new, but the uniform is still the same KLM blue originally introduced in 1971. "By introducing this new uniform in these challenging times, we underscore our faith in the KLM brand," said Mr Hartman. The uniform was designed by Dutch couturier Mart Visser. www.klm.com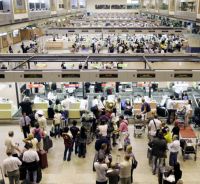 OAG (Official Airline Guide) scheduled database indicates that airlines worldwide will operate 4% more flights in April 2010 as compared to April 2009 with seats increasing by 6% as airlines ground more narrow bodies and A380s are introduced. However North America, the largest market by far, continues a worrying declining trend and remains the only major region to have negative growth. Frequency and capacity have reduced by 3% and 2% respectively. Flights to and from US/Canada have increased marginally by 1% and offered seats by 2%. The number of flights and seat capacity within Middle East is scheduled to rise by 13% and 15% respectively but this represents 45,000 flights, a token number compared with the 2.5m in North America. As compared to April 2009, flight operations within Europe have increased by 13,098 flights to 562,304, an increase of 2%. All these figures include non-IATA budget airlines. www.oag.com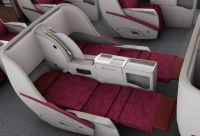 QATAR AIRWAYS is to introduce non-stop daily flights from Doha to Sao Paulo (and onwards to Buenos Aires) from 24 June. With an actual flight time of between 12 and 13 hours this is not the airline's longest sector, Doha – Houston scheduled 16 hours 20 minutes taking the record. A pair of brand new Boeing 777-200 LR aircraft will be used on the service kitted out with 42 lay flat Business Class seats (2+2+2) and 217 Economy (3+3+3). The flights will offer convenient connections from key markets across Asia and the Gulf to South America. They signal the completion of a busy period for the airline with new services introduced to Bengaluru (Bangalore) and Copenhagen very recently, Ankara today (5 April); Tokyo on 26 April; and Barcelona from 7 June. www.qatarairways.com
Morris and his wife, Esther went to the State Fair every year.

Every year, Morris would say,

"Esther, I'd like to ride in that helicopter."

Esther always replied,

"I know Morris, but that helicopter ride is 50 dollars and 50 dollars is 50 dollars."

A few years later, Esther and Morris went to the fair.

Morris said, "Esther, I'm 85 years old. If I don't ride that helicopter now, I might never get another chance."

Esther replied, "Morris, that helicopter is 50 dollars and 50 dollars is 50 dollars."

The pilot overheard the couple. He said,

"Folks, I'll make you a deal. I'll take the both of you for a ride if you can stay quiet for the entire ride and not say a word,

I won't charge you! But if you say one word it's 50 dollars

Morris and Esther agreed --- and up they went.

The pilot did all kinds of fancy manoeuvres.

But not a word was heard.

He did his daredevil tricks over and over again,

But still not a word.

When they landed, the pilot turned to Morris.

He said, "By golly, I did everything i could to get you to yell out, but you didn't. I'm impressed!"

Morris replied, "Well, I was going to say something when Esther fell out but 50 dollars is 50 dollars."