Saga Sapphire plus internet words

Business Travel News, and other publications too, have battled hard in recent years for free internet access at hotels. Largely we have won, although there are some ludicrous cases including a major London rail terminus where the adjoining hotel charges and the train station is free. The coffee is more expensive in the hotel too.

Cruise ships should make available free wi-fi.

Virtually every ship has the guest facility. It is true that courtesy internet is offered by a select few but the charges levelled by some operators are over the top. Cruise ships' technical and management staff are linked continuously on-line via satellite. Nothing extra is required. The passenger requirement will be small and not a problem from a practical point of view. We are talking about text and perhaps social media, but certainly not downloading films and the like. Wi-fi is one of those things people like to have available but will in fact make little use of. It is a facility.

The latest to offer courtesy internet is Regent Seven Seas on particular grades of cabin and for returning guests meeting a certain criteria. It coincides with the completion of a multimillion-dollar upgrade to its fleet's internet systems.

These entail a doubling of available bandwidth to increase internet speed and reliability, and an expansion of the wi-fi system to provide connectivity throughout the entire ship, including all public spaces, outdoor decks and suites.

Saga, as you will see below, offers free wi-fi as part of the package.

Saga Sapphire – The ship, like its clients, is mature


Founded back in 1959, its name synonymous with retirees, Saga now is a London Stock Exchange listed company. Perhaps the only notable point highlighted in a recent Business Travel News inspection of the Saga Sapphire cruise ship was the news that the company is looking into acquiring further tonnage in the not too distant future. Whether that means new-new, or new to the cruise line remains to be seen. Saga caters for the over 50s. No children on Saga expeditions. And no bunk beds either. There are 44 single cabins.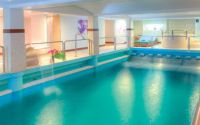 Saga takes in just two ships Saga Sapphire (37,301/1447/706/1.7 - see below for our rating system) and Saga Pearl II (18,951/1348/456/1.8). Your Editor was invited for an overnight at Dover on Sapphire, the occasion a special ship visit opportunity to give prospective clients a "hands on experience" if they're nervous first time cruisers for example or have concerns that cruising is not for them. Guests paid from £129 each but that included 'full board' from lunchtime until after a very extensive breakfast including showtime and a 'one off' captain's cocktail party. You could even take a swim in the indoor pool, not many ships equipped thus these days. Make a booking and the ship-stay comes off the price of your cruise.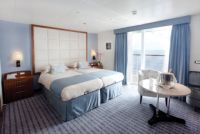 Saga Sapphire, just like its clients, is mature. Built in 1982 to the exacting standards of Hapag-Lloyd Cruises as Europa (the current Europa II tops the Berlitz list), it was for many years the pride of the German cruise industry. Acquired by Saga in 2010 it underwent an extensive refit and joined the fleet in 2012.

For the most part the cabins are very generous space-wise and most have bath tubs. Your Editor (and wife) were accommodated in the Wellington Suite, compete with genuine Jacuzzi, bedroom and lounge/dining room. Guests on the overnight also took a ship's tour. The Wellington Suite was included!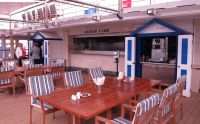 A one day ship's visit, and also an overnight, are always a rushed affair, impossible to take in the ambience of the vessel, or understand its nuances. We took in most of the ship including spa, sauna and steam rooms, various lounges, and the outdoor pool and Veranda buffet area.

The Saga package includes chauffeur driven travel to and from the port (or free parking), no onboard gratuity or service charges, and the bar prices, in Sterling of course, seemed very reasonable. There is one sitting for dinner (if our evening meal was anything to go by the catering is first rate), and those with special dietary requirements are also looked after. The East to West is a no-charge option as is The Grill. There is 24-hour room service too.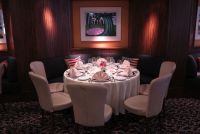 For the balance of this year Sapphire is based at Southampton with a variety of cruises to the Mediterranean and Canaries planned. A 32-night day Atlantic sojourn starts on 29 October "West to the Windwards" visiting the islands after which the cruise is named. For 2015 the programme for the most part is new. Saga is keen to welcome back previous customers, and unvisited ports are a big attraction. Once berthed free shuttles are provided where possible. http://travel.saga.co.uk/ocean-cruises


CRUISE INTELLIGENCE

Readers can get reduced price advanced tickets for the forthcoming Autumn cruise shows at Glasgow, Manchester and Birmingham. At £4 per person it is a saving £6 off the door price. To claim this offer quote 'BTN' when booking online at www.cruisingshow.com or when calling 0871 620 4024. (Calls cost 10p per minute plus network extras.) www.cruisingshow.com

National Cruise Week starts 27 September. Look out for bargains. www.cruiseexperts.org

LATE CRUISE DEALS

Over the next three months, up until the period just before Christmas there are some amazing cruise deals available. The specialists (and even your local travel agent) have block booked cabins and need to fill them. Or you can talk to a cruise company direct.

The prices shown here are per person for double occupancy. An 'on board' service charge is added with some cruise lines. We show the tonnage, Berlitz rating (easily the best source for an informed unbiased ship review), passenger numbers, and passenger/staff ratio in that order. The overseas embarkation ports are all Fly-cruise. There is a selection of quality and size.

Cruise & Maritime Voyages Marco Polo (22,080/1082/848/2.3) has a 12-night trip from London Tilbury on 15 October visiting Copenhagen, Warnemunde, Tallinn, St Petersburg, Helsinki, and Nynasham (for Stockholm). Prices start from £699 www.cruiseandmaritime.com

Crystal Cruises Crystal Serenity (68,870/1714/1,090/1.7) Called a "Historic Harbors" cruise from Quebec to New York, Serenity travels the routes of famed explorers John Cabot, Jacques Cartier and Samuel de Champlain to harbours renowned for their dramatic beauty and historic importance. The trip starts with an overnight in Quebec City on 26 October and visits Sept-Iles, Magdalen Islands, Halifax, Bar Harbor, Boston and Newport before finishing with an overnight in New York. £3,587. www.crystalcruises.co.uk

Cunard Queen Elizabeth (90,900/1585,2,092,2.0) is a cruise ship disguised as a magnificent 21st century art deco ocean liner. 'Pearls of the Adriatic' visits some outstanding ports en route from Civitavecchia (Rome) via Corfu, Koto, Dubrovnik to Venice (where you can stay on for a few extra days). 3 October. £1,069. www.cunard.com see also BTNews 7 July 2014

Fred. Olsen Cruise Lines Braemar (24,344/1256/930/2.3) is off on a very simple eight-night trip 19 October from and back to Southampton with three overnight stays in Antwerp (right in the middle of the city), Amsterdam and Rouen. £599. www.fredolsencruises.com (see also BTN 26 September 2011)
Holland America MS Veendam (57,092/1359/1348/2.2) You need to fly to Toronto for this one but it is included in the fare. Seven nights, 4 October, Quebec to Boston via Charlottetown on Prince Edward Island, Sydney, Halifax, and Bar Harbor. A one night pre-cruise stay is included. £1,899 www.hollandamerica.com

MSC Splendida (137,000/1530/3274/2.4) departs Genoa 9 November Naples, Messina, La Goulette (Tunis), Barcelona, Marseille and back to Genoa. It is from £499 for an inside cabin / £649 for a balcony cabin. www.msccruises.co.uk

NCL Norwegian Getaway (145,655/1430/3998/2.5) takes the big ship theme to another plateau. There is plenty to do on this giant. Covering the end of year holiday period on offer is a nine-night Eastern Caribbean cruise from Miami to Phillipsburg, St Maarten, St Thomas and Nassau. £1,736. Norwegian Getaway is the largest ship sailing year-round from Miami to the tropical islands of the Eastern Caribbean. www.ncl.com (See BTN 29 July 2013)
Noble Caledonia Island Sky (4280/1567/122/1.7) travels from the Seychelles to Chennai (Madras India) on 24 February on an 18-night Indian Ocean trip that also includes the Maldives, Cochin & Colombo. Noble Caledonia also charters in ships that meet its exacting standards but 'Sky' is their own and the boutique operators flagship. £7,995. www.noble-caledonia.co.uk
Oceania Riviera (1682/66,048/1258/1.5) is domiciled in the Caribbean for the winter. On offer is a 14-night cruise outbound 29 November Miami to Miami via Santa Marta (Colombia), Oranjestad (Aruba), Kralendijk (Bonaire), El Guamache (Isla Margarita – Venezuela, St George's (Grenada), Fort de France (Martinique), Pointe a Pitre (Guadeloupe), Basseterre (Nevis), Gustavia (St Barts). Free gratuities, bottled water and soft drinks are included. £2,269. www.oceaniacruises.com

P & O Ventura (116,017/1464/3110/2.4) has on offer a two-week Caribbean ex-UK from 6 December with prices from £1,499. Departing from Barbados, ports of call include Grenada, St Lucia, Dominica, St Kitts, St Maarten, Tortola, Curacao, Bonaire and an overnight in Barbados with an opportunity to see some of the delightful island. Not a lot of children on this trip. www.pocruises.com/n425a (See also BTN 4 August)

Princess Cruises Emerald Princess (113,561/1442/3114/2.5) panders to American passengers but is based in Southampton to the end of the season. On 14 October it departs on an 11-night trip visiting Funchal, Las Palmas, Santa Cruz de Tenerife, Arrecife, and Vigo. £1,149. www.princess.com/go

RCCL Independence of the Seas (154,0657/1396/3634/2.6) cruises out of Southampton until the end of next month. On offer is a 12-night Canaries voyage on 13 October from £899 (plus a US$100 per person credit to spend onboard. She calls at Vigo, Lisbon, Lanzarote, Gran Canaria, Tenerife, Madeira and La Coruña before returning to Southampton. www.royalcaribbean.co.uk

Saga Pearl II (18,591/1348/456/1.8) She leaves Dover 27 September and returns to Southampton 33 days later visiting Gibraltar, Cagliara, Athens, Istanbul, various Black Sea ports, Iraklion, Valletta, Tunis, Almeria and Lisbon.£3,799. saga.co.uk/cruises

Silversea Silver Spirit (36,009/1762/540/1.4) is very much upmarket and whilst it is some way off a five-day trip next Spring (2 May 2015) might be a nice introduction. Barcelona to Civitavecchia (Rome) visiting Saint Tropez, Monte Carlo and Portovenere (Cinqueterre). £1,450. www.silversea.com

Swan Hellenic Minerva (12,892, 1455/380/2.1)is a delightful specialist ship for those interested in cultural tourism. Tours are included. Departing from Singapore she visits some tiny ports in Malaysia, Cambodia and Vietnam on a 16 day holiday time trip, flying back from Hong Kong. £2,999. See BTN 16 December 2013 www.swanhellenic.com

The Majestic Line's Glen Massan and Glen Tarsan has availability on 11 and 18 October from Oban for six nights 'The Castles and Clans of Mull and Glencoe' including Duart Bay/Duart Castle, Tobermory, Shuna Island for Castle Stalker, home of the Stewart Clan; Glencoe and the infamous MacDonald Massacre by the Clan Campbell; plus Inverscaddie Bay near the magnificent Ben Nevis mountain. Not Berlitz rated and just 11 passengers. £1,692.00 www.themajesticline.co.uk
OUR READERS' FINEST WORDS (All times and dates are GMT)
All comments are filtered to exclude any excesses but the Editor does not have to agree with what is being said. 100 words maximum
---
No one has commented yet, why don't you start the ball rolling?
---