Queen Elizabeth is the star of the July review, but it is the real liner, not the new warship. We review Douglas Ward's "River Cruising in Europe". This month's "Cruise Intelligence" follows with some unusual stories.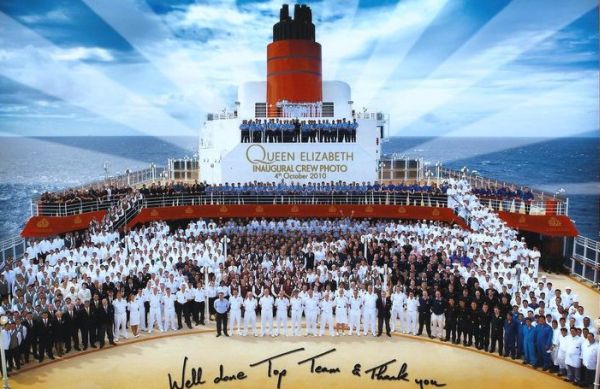 DANUBE OR RHINE ? - John Ward's new book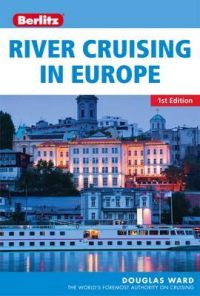 Douglas Ward has built up a tremendous reputation over the last 30 years for his "Cruising & cruising ships" guide, without doubt the 'Bible' when it comes to detailing ocean going passenger ships. True each edition is repetitious in that typically each of the Grand Princess series is more or less the same, but they all gain an individual entry. The current book lists 285 ships, has 752 pages and costs £17.99. It is very comprehensive.

Ward's new "River Cruising in Europe" is a mere 256 pages, costs £14.99, and lists 280 vessels, 'lists' being the operative word in that within the constraints of the river regulations, that is 135m x 115m , it is not that easy to vary what is on offer.

If the next edition expands to cover "the world" he will be able to incorporate river boats operating in Australia, China and North America, some of which are considerably larger.

Each boat review consists of a short descriptive paragraph, technical specification and the Berlitz rating of hardware, accommodation, cuisine, service and miscellaneous. AmaPrima comes out top but even here the standards set with the deep sea ships are not adhered to with the number of cabins with proper balconies never listed, a 'French Window' being nothing more than a floor to ceiling window with a railing. A major typo error is the ship's length which is assumed in metres although listed as m/yards. Ward takes eight river boats and gives a proper review but this does not include for example Scenic, Australian-owned and one of the best. Scenic does not get a high rating in the ship by ship section either and its well-conceived new offspring Emerald is too new to be rated but is considered to be 4-star by the company as against 5-star for its established brand. Ward's next edition will presumably sort it out.

Some 22 canal cruise providers are listed but the guide does not say if they charter ships from others, or are self-operated. All are described but typically Viking, with perhaps the largest fleet, is given not that much more space than a brand with only a few chartered boats. Whilst the book talks about 'plastic seating' for a particular brand this is not in the individual ship description and there is not even a boat index.

It is difficult to work out whether a river cruise is comprehensive (which takes in off boat tours), charges extra for service, has wi-fi, or is inclusive of drinks.

Perhaps the book's greatest virtue, and at the same time biggest failure, is the river descriptions, which of course include the Danube and Rhine, and lesser waterways such as the Douro in Portugal. However one of the most popular of European river cruise trips is missed out altogether, St Petersburg to Moscow via the Volga Baltic Waterway. With its fascinating history surely John Ward and his team could have explored the Russian riverboat scene and visited the Port of Moscow, strangely named and somewhat inland. But it is the home of a large number of riverboats!

We look forward to a much improved second edition. www.insightguides.comberlitz.com


IN THE MEDITERRANEAN ON QUEEN ELIZABETH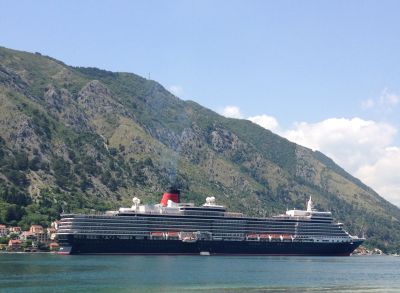 Ocean cruise or cruise ship? How do you describe Cunard's latest embodiment of Queen Elizabeth. In truth there is no argument. It is a cruise ship disguised as a magnificent 21st century art deco ocean liner.

Your Editor has just spent two luxurious weeks on board, pampered on a truly British floating luxury hotel. A very quiet and regal ship, with only the midday announcements, no karaoke, and no bingo. The Golden Lion pub proved popular for those who wished to watch the World Cup. Children are welcome but the numbers will never be that high.

The original Queen Elizabeth was fast with a top speed of over 30 knots, and the QE2 was much loved by its band of regulars but neither had balcony cabins, nor the enormous range of facilities on this latest waterborne extravaganza. QE is extremely manoeuvrable due to her hybrid propulsion system which includes bow thrusters and a pair of AZipods at the stern. She can access ports never considered possible by her distinguished predecessors. Queen Elizabeth retains the famous 'White Star' service delivered by around 1,000 crew members looking after just 2,000 passengers, as high a ratio as any large ship.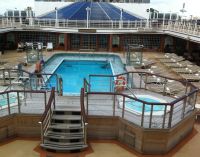 As a cruiser it is possible to survive very happily for two weeks without spending an extra penny on your holiday (that is except for the service charge clearly marked in the brochure). There is an extensive 24-hour courtesy room service menu, tea/coffee/soft drink stations open all the time, and even gratis ice cream whenever the fancy takes you.

Queen Elizabeth operates a US Dollar domain for any extra spending which currently works very much in the favour of the British except for the 15%, American style, service charges for your bar items. There are plugs for most electrical appliances including British three-pin.

Off-ship Cunard tours are an extra but certainly at the moment the costs (US$) compare favourably with competition from tour operators and local offerings. And you are guaranteed QE will wait in case of problems.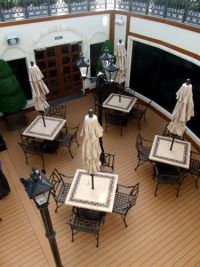 Some might describe Queen Elizabeth as a two-class ship and to a certain extent it is. Grill Class passengers have their own dining room and sun deck, larger staterooms, priority for boarding, disembarkation and tender use when needed, but all mix together in the main passenger areas, and in the swimming pools and Jacuzzis it is impossible to tell anyone apart! Grill Class passengers can dine lunchtime in The Courtyard, a well-protected area adjoining the Grill's lounge, and take afternoon tea on the sun deck. The rest, poor souls have to make do with the Queen's Room, served by white suited waiters with quiet live background music provided.

For the 2014 season Queen Elizabeth is Mediterranean-based until the end December. Previously she generally worked out of Southampton. Guaranteed sunshine days were not always the case at either end of the cruise. With a 'fly-cruise' package you are welcomed at your arrival airport (in our case Rome) and chaperoned from that point onwards, the luggage taken care of too, arriving quickly once we were on board. Likewise at disembarkation. You can take a seven- or 14-day cruise.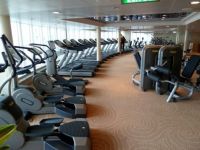 The ship is very well equipped for keep-fit enthusiasts and for those who feel that with all the food being consumed some exercise is required. The sports activity area is high up over the bow above the delightful Commodore Lounge. On offer is a pair of lawn bowl pitches, a croquet pitch, and shuttle tennis court. There are also two driving ranges and neatly positioned two table tennis tables plus an outdoor games court towards the stern. A large gymnasium within the Spa complex is very well equipped with TechnoGym supplying a whole range of their latest equipment. Two decks down from the outdoor sports complex it also overlooks the bow and you can work out whilst watching a personal TV, and when finished retreat to the hydropool for relaxation. The Spa is run by Steiner and offers a huge variety of services. Pamper yourself for once! Two sensibly sized swimming pools are provided and the well protected Promenade Deck is continuous with three laps to the mile.

On Queen Elizabeth the children's facilities are divided into The Playzone (2-7) and The Zone (8-17), with both available from 09:00 through to 23:00 with two 'feeding breaks' during the day. The very little ones from six months upwards can be looked after in the evening allowing parents to dine and relax. All part of the package.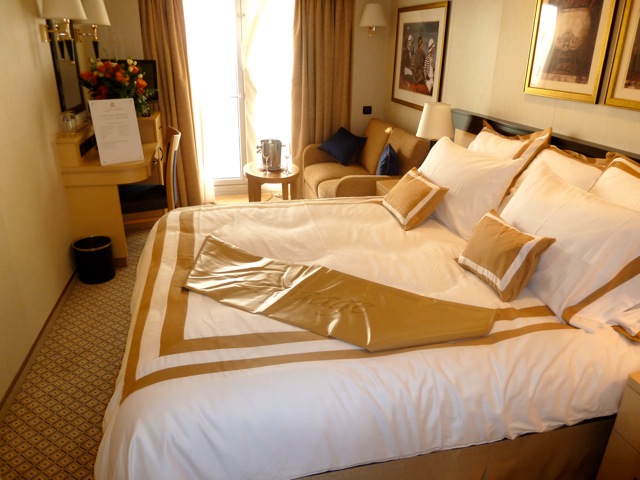 A new 4 minute video tells the story of a very recent multi-million pound refit that took place at Hamburg creating nine new single staterooms, laying over 25,000sq metres of carpeting, replacing over 3,000 mattresses, installing 1,200 flat screen TVs, adding new awnings on the sun-decks, re-modelling the Lido self-service restaurant and Royal Arcade shopping area, and on the technical side, replacing a 65-tonne alternator. And whilst mentioning cabins, of which there are just over 1,000, they are for the most part that bit larger than generally found on cruise ships, the 154 interior offerings reasonably spacious.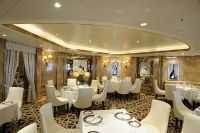 Dining is an important part of any cruise and here Cunard is traditional with 18:30 and 20:30 sittings in the galleried Britannia Restaurant and 18:30 until 21:00 in the Grills and Club Britannia eateries. Jackets please and two formal nights per eight-day cruise. The catering standard is of very high quality with the basic canon that the more you pay the greater the selection. The casual Lido Buffet is 24 hours and is themed on certain nights and also offers each evening an alternative (US$10) menu with typically Indian, Far Eastern and Mexican themes. The Veranda Restaurant takes its name from a similar offering on the original Queen Elizabeth, the Restaurant of the Stars. A distinctive French carte du jour provides a repertoire in which to indulge plus the Degustation Menu, classic dining (charged at US$35 or say £20, extremely good value compared with top quality London prices). The wines are mostly French too, and at the top end not cheap!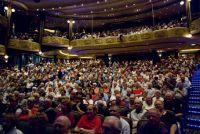 The 850-seat Royal Court Theatre would have made the great playhouse designer Frank Matcham feel at home. Designed purely as an entertainment centre it offers unobscured views from any seat, and even has 16 private boxes. The stage has a lift and every technical aid possible. It doubles as a cinema for wide screen projection of the latest releases every afternoon.

There is a live show nightly, featuring individual cabaret acts and well known TV celebrities plus a top quality two-boy, two-girl singing/dancing foursome backed on one occasion by an 18-piece orchestra, quite sensational. It is true you can't go wrong finishing with Les Misérable.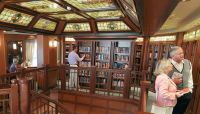 For those who want a quiet life there are plenty of nooks and crannies to relax, but if your idea of a holiday cruise is action Queen Elizabeth has a lot to offer. Trivia quizzes are all the rage, there are port lectures to attend, and Cunard's educational 'Insight' series, introductory computer lessons, watercolour art, needlework and dance classes. Music is provided to suit all tastes in the many lounges until late. For those interested in the nostalgia of the sea large scale models of all three Queens are to be seen, as well as memorabilia from the original Queen Elizabeth, her well-loved successor and of course HM The Queen, and her interest in the current ship. Cunard's fine photo library showing the stars of yesteryear is used most effectively.

Finally some domestic points. Returning to the ship at hot Mediterranean ports, cold water and fresh cold towels are provided prior to regaining the ship. Loos are in abundance on both sides of the vessel and on every deck.

Cruising in the Med on Queen Elizabeth will be featured in a future ON TOUR. Ten distinct ports in 15 days.

CRUISE INTELLIGENCE

Cunard Line's flagship Queen Mary 2 will return to Liverpool, on 4 July 2015 to celebrate the departure exactly 175 years earlier of Britannia, the first ship built for the company's revolutionary new scheduled Transatlantic Crossing service. "Exactly one year from now, we're looking forward to creating a piece of living history as Cunard's Queen Mary 2, the grandest ocean liner ever built, sails from Pier Head to Halifax and Boston, just as Cunard's first ever ship, the little paddle-steamer Britannia, did 175 years ago," said David Dingle, CEO of Cunard Line. "It's a moment that will bring a lump to the throat of all those who have shared in the Cunard story over the generations since the company first chose Liverpool as its company base back in 1840, and where it built its magnificent headquarters, the Cunard Building last century. Liverpool has been, is and always will be our spiritual home."

And as a "warming up" event Queen Mary 2 will arrive in Liverpool on Sunday 24 May and make her first-ever overnight stay in the city, berthed in sight of the Cunard Building. The following morning, on Monday 25 May, Queen Elizabeth and Queen Victoria will sail into the city, and for a time all three Cunard ships will line up on the Mersey in a spectacle that is expected to draw huge crowds. Over a million people saw QE2 sail into Liverpool for the first time in July 1990. www.cunard.com

Princess Cruises will be featured weekly on ITV from 11 July. Entitled 'The Cruise Ship', the show will air on consecutive Friday evenings at 20:00, in between the Coronation Street double bill. It will show unprecedented behind-the-scenes footage of crew and passengers on Royal Princess, launched last year by HRH The Duchess of Cambridge. The documentary will give an insight into what life is really like on board for the 1,600 crew members and how they work together to give guests a first-class customer service. From preparing a glittering welcome on board party to cooking a barbeque for all guests on Princess Cruises' private Bahamas island, the programme offers a bird's eye view of the ship as it sails through the Caribbean. BTN plans to review the series, rather like BBC's BA 'A very British Airline'. www.princess.com

Titanic II is now scheduled to take place in 2018 rather than 2016 as originally envisaged, according to Clive Palmer, owner of Blue Star Line Pty Ltd, the Australian company that plans to build the ship in China. "The first project development phase has been completed," said Palmer, owner of Blue Star Line. "Currently the focus is on the evaluation and the project master plan development and more information will be available once this phase is completed. Titanic II is scheduled to be launched from its construction base in China in 2018, before her maiden passenger voyage retracing its original journey from Southampton to New York," he said in a statement. http://bluestarline.com.au

Variety Cruises – one of the largest small ship cruise lines in the world – is offering exclusive charters of its collection of mega yachts, sail cruisers and private luxury yachts. Available for up to 30 passengers, guests will "own" their ship for the period of their holiday and can seek Variety Cruise's council on an array of experiential itineraries and excursions around the world – from the tropical Seychelles to hopping around the historic Greek islands where the family run cruise company first launched their holidays. It is all inclusive and charters are available from £99,000 per week on a full board basis. www.varietycruises.com
OUR READERS' FINEST WORDS (All times and dates are GMT)
All comments are filtered to exclude any excesses but the Editor does not have to agree with what is being said. 100 words maximum
---