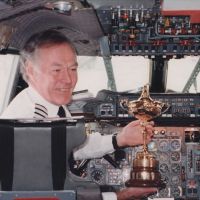 Business Travel News continues with its series of ON THE SOAPBOX SPECIALS putting forward different views regarding airport capacity which is being examined by the Davies Commission.

Captain W.D. (Jock) Lowe Ph.D first flew Concorde in 1975 and became synonymous with the project, eventually promoted Commercial Manager, whilst still being an active pilot. Jock's flying career started at the Oxford Air Training School as a BOAC trainee, finally retiring from British Airways Executive Board in 2001. Captain Lowe is working with Mark Bostock, a former Director at the engineers Arup, who has developed a plan for a new railway station at Heathrow that could also serve as an airport terminal. SEE ALSO 'Davies Commission date'


HEATHROW RUNWAY CAPACITY – THE SIMPLE SOLUTION

The political message seems to be "no third runway at Heathrow and no new people to be affected by noise".

Could it be that the Politicians are cleverer than we thought. The application of these conditions point to a quick, cost effective solution to the problem of providing additional runway capacity.

By simply extending one or both of the main existing Heathrow runways the available slots could be doubled. The new runways would be sufficiently long enough to be able to use the first part for landings. After a sterile safety area the second part can be used simultaneously for take-offs.

In the first instance runway 27R which is already very long could be extended westerly up to the M25. This would provide the same capacity boost as the original proposed short third runway. This extension could be done very quickly, only the perimeter road and one minor road need to be dealt with.

The next step would involve a small change to the M25 either tunnelling or diverting for a short distance. This would allow 27R and 27L to be extended to well beyond 20,000ft long. This length is adequate for simultaneous landings and take-offs of the largest aircraft along with an adequate safety and over run area between the two sections.

The cost of this additional capacity would be a fraction of those of any of the other current suggestions and would retain and use more efficiently the huge investment which has already been made at Heathrow. Only a small number of homes and businesses would be adversely impacted and the extensions could be done in a seamless manner without disrupting airline operations.

Road transport and NOx issues surely can be overcome not least by connecting Heathrow to the mainline railway system which already passes just to the north of the airport and perhaps HS2 should link into the hub so creating a genuine transport interchange on the scale seen at Heathrow's competitors in Europe.

Noise mitigation will be crucial, however the additional capacity provides a range of opportunities. Not all the additional slots need to be used for aircraft movements. An obvious change would be to the opening hours. Instead of the present first movement being at approximately 04:30 in the morning this could be moved to 05:30 or even 06:00.

Whilst mixed mode is important to this proposed concept, planned gaps and alternations could be accommodated and airlines and Air Traffic Control would be able to adopt much quieter two-stage steep approaches and use MLS/GPS to fly curved approaches superimposed over, for instance, the departure routes. At the moment the precise distance needed between arriving aircraft makes the introduction of such manoeuvres much more problematical.

Many opponents of expansion on noise grounds seem to assume that if they prevent extra capacity nothing will change. Whereas the reality is that airlines will gradually swop small aircraft for larger ones to make better use of the limited capacity. As large aircraft will almost certainly make much more noise than smaller aircraft success by these opponents may well prove to be a pyrrhic victory.

In summary, extension of both runways at Heathrow could provide more than the required additional capacity for many decades to come. The work could be completed quickly with minimal disruption and be much more cost effective than other proposals.

Add in a station to the north of the M4 and a true transport hub would be created and the competitive position of the UK protected.
JOCK LOWE
April 2013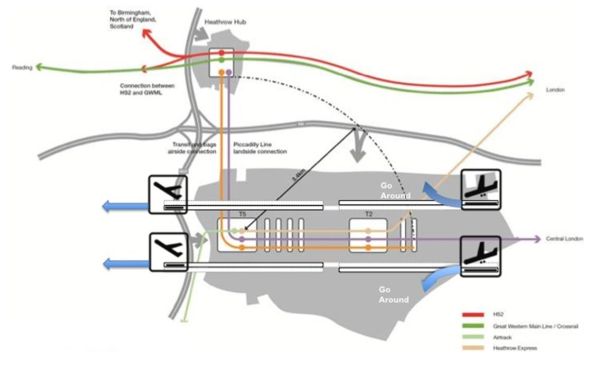 Daniel Moylan for The Mayor of London www.btnews.co.uk/article/6145
John Redwood – Independently minded MP for Wokingham (near Reading) www.btnews.co.uk/article/6039
Colin Matthews – Chief Executive Heathrow Airport Ltd www.btnews.co.uk/article/5984
Mike Carrivick for the Progressive Airline Group www.btnews.co.uk/article/6208

The Maplin Story www.btnews.co.uk/article/4405
OUR READERS' FINEST WORDS (All times and dates are GMT)
All comments are filtered to exclude any excesses but the Editor does not have to agree with what is being said. 100 words maximum
---