Cruise lines, including Royal Caribbean, Carnival, MSC and British operator CMV have announced cancellations and introduced precautionary measures following the outbreak of the coronavirus. At Civitavecchia, the port of Rome, Costa Smeralda, remains in quarantine. The Cruise Lines International Association (CLIA) announced that all of its members will be taking precautions typified by SAGA who used Spirit of Discovery medical staff to check passengers boarding at Venice for flu-like symptoms.
Plus there is a very big ship on the Danube; also river cruise bargains.

https://cruising.org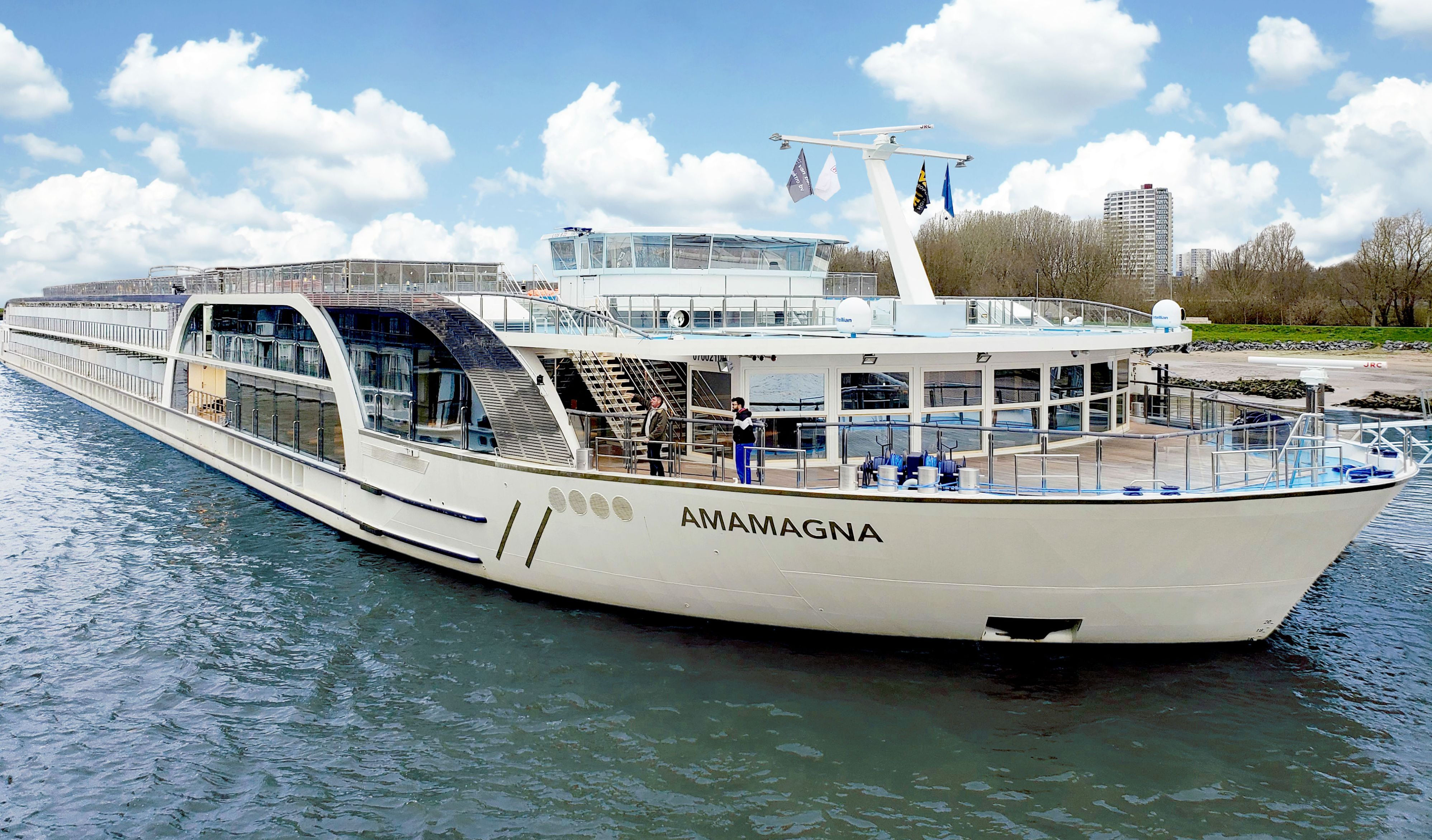 When Douglas Ward publishes his next Berlitz river cruising guide there can be only one winner – AMA.

In lead place with AmaKristina last year, the US-based river specialist mainly serving Europe has now introduced AmaMagna.

The only 'wide-bodied' Danube cruise liner is a breakthrough when it comes to travel on one of Europe's most important waterways. It is AMA's 23rd river ship.

Operating on the stretch between Vilshofen and Budapest, its programme for this year will be extended in the spring with a series of three cruises to Giurgiu for Bucharest.

In simple terms, Magna is twice as wide as any other of its ilk but the same length and the same number of cabins. The Danube programme is limited by the size of the locks, but with a maximum of 196 holidaymakers, the same as many other narrow river ships, there is a feeling of space the moment you arrive on board.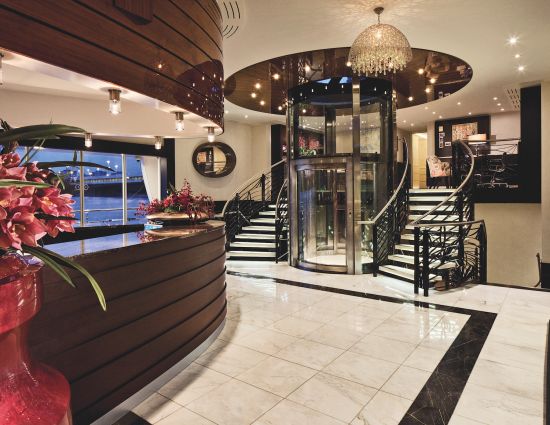 The reception area is huge, a proper atrium and a lift that can take clients with disabilities on to the top deck.

The service on board is impeccable from the mostly European English-speaking staff. Nothing is too much and they very quickly adapt to the new group of passengers, their names and their requirements. The offer of free postcards (including postage) to family and friends backed up by the receipt of a hand-written welcome card from ship's staff when reaching home is a nice touch. A lot of time was spent writing them all out. Great PR.

Magna is something special. Construction was interesting, the ship's evolution taking nearly seven years. How much did it cost? No one is quite sure but a lot! The hull was constructed at the Vahali shipyard in Serbia, floated to the Black Sea, then lifted on to a specialist Korean transport ship before arriving in Rotterdam for fitting out. Then it went back the same way, through the English Channel, into the Mediterranean and finally the Bosporus. The cost? A million dollars each way.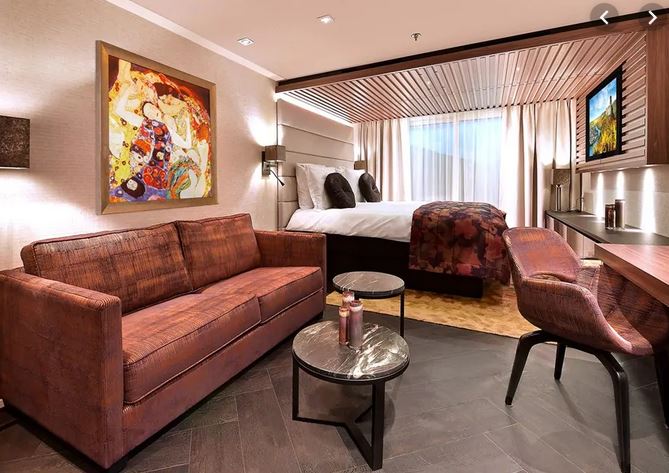 Besides being far the largest contemporary river cruise ship in Europe, Magna is also the most technically advanced in the sector. Just two engineers are required to look after a vessel carrying up to 260 souls including crew. It operates a 10-engine hybrid system that allows it to use less fuel and is noticeably quieter than previous ships. A 20% reduction is claimed with reduced environmental output. Four rudder propellers move the vessel along at a steady eight knots and supply the manoeuvrability for docking.

Magna incorporates energy-saving LED lights throughout, as well as insulated windows to reduce the need for heating and cooling. As with many travel brands, the ship is replacing plastic straws with more eco-friendly paper ones. It also has power locks to plug into a port's supply instead of running generators, and a water purification plant supply with 420 tons onboard capacity. A newly-designed freshwater storage system reduces chemical usage. There is solar heating.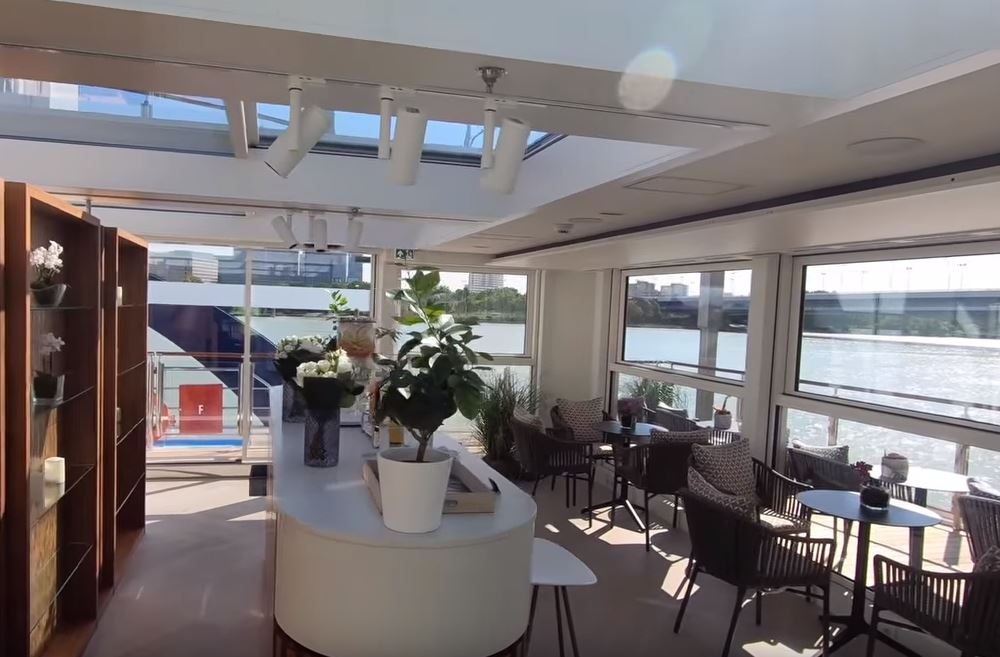 The Daily Cruiser publication arrives in your cabin early evening and if you want to keep up with the world outside there is a selection of TV channels which also offer a choice of films. On board is a cinema, doubling as a conference centre/meeting room if needed, and here the enormous screen is linked to the ship's system, providing the latest from Hollywood. A special daily newssheet from a number of countries (including the UK) is available and in various languages. The ship's shop, on the Piano Deck mainly below the water line is much larger than the norm for a river ship

The ship feels completely different from any other river cruiser, with AMA making the most of the double width. Al Fresco, looking out over the bow, provides for a light breakfast, informal lunch and afternoon tea, plus evening dining by reservation. The menu is innovative and often dictated by the actual area you are passing by. All four dining areas are served by one large kitchen which makes for great flexibility. A lunchtime Al Fresco request for something on the full restaurant menu can be easily taken care of.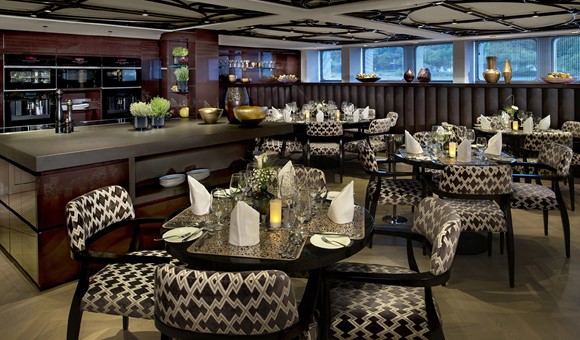 The accommodation on board is on three decks with more than half of the 98 staterooms designated as suites measuring between 355-710sq ft. Except for 10 on the Piano Deck, all accommodation has full outside balconies, open seating areas and bathrooms with double sinks and walk-in showers. Six Grand Suites (474sq ft) and an Owner's Suite (710sq ft) also offer separate seating areas and sizable bathrooms with spa-like bathtubs.
One complaint was that the beds were too high off the ground and the bedside tables too low. Hopefully this is being attended to with the ship at this date taking a well-earned rest with a team from the shipyard swarming all over it. AMA invests as it goes along.

Complimentary wi-fi is provided and there is an abundance of plugs and USB connections. The heating (and lights) can be controlled from a single panel. Plenty of storage space is provided. Suite users are offered a free laundry service, fresh fruit and the soft drink refrigerator is kept well stocked up.
Gratuities are not covered, nor drinks except for a 'happy hour' before dinner, although the cruise director was always dreaming up events for which he would offer champagne and other liquids. Port after dinner was available as a courtesy. Bottled water is however free (and also on the coaches used for the off-ship tours, part of the holiday package). Ama provides personal audio "Quietvox" devices to use on tours.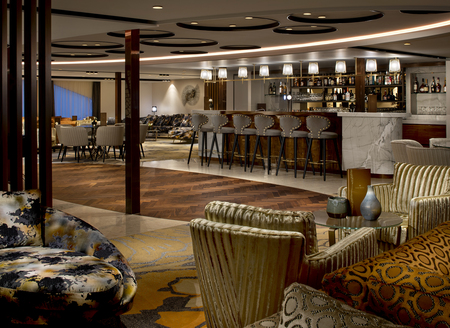 The hub of the ship was the main lounge, spacious but homely and able to accommodate with ease all guests for briefings and entertainment. The ship's resident pianist had a fine repertoire ideally suited to a largely American crowd. Dress was daytime comfort, with many men wearing jackets in the evening, particularly for the captain's dinner.

Two 10-year olds were on board and seemed very happy although there were no obvious special facilities for them; the tv had some good children's films. Smokers are conceded to with a small area outside on the top deck.

AMA provides enhanced entertainment offerings and onboard amenities, including the Zen Wellness Studio, which has a large exercise area offering group classes focused on stretching, cardio and core strengthening led by the enthusiastic Rumanian Damiana Bialkowski, a professionally trained host who seems to be active all the time and also lead the off-ship cycle tours.
There is a juice bar and two massage rooms for on-board pampering, along with manicure and pedicure services. Magna has the latest machines from Technograph for clients to use as they take in the stern view. Elsewhere is a hairdresser's salon.
On the sun deck is a proper heated swimming pool, not the biggest but much larger than on other river ships. There is a relaxing whirlpool and pop-up sky bar (spring and summer only), as well as a water platform at the stern, where complimentary tours are offered on a Sundowner sports vessel.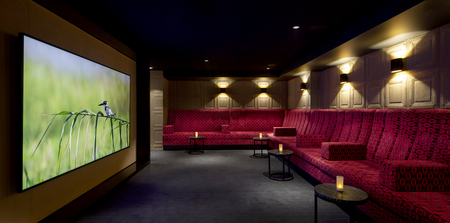 The main restaurant is called just that, "The Main Restaurant. Well laid out, it offers two-, four- and circular table seating. There was never a queue, even with a virtually full ship. Breakfast and lunch are self-service, unless you request a hot dish from the extensive menu. In the evening, it is waiter service, four courses, or even five if you are that way inclined.
AMA is renowned for its cuisine (all the ships meet the standard set by La Confrère de la Chaine Rotisseurs, a prestigious international society for the culinary elite) and with the kitchen space that Magna affords, executive chief Dicky Hermanwan is able to conjure up some extraordinary dishes plus a varied vegetarian output. The trick was to sound him out the day before and make a request if 'what's on' was not to your liking.

The alternative restaurants are all bookable.

Distinctive on a river ship was Jimmy's Wine Bar, (named in honour of the late Jimmy Murphy, one of AmaWaterways' original co-founders) rather different with bench tables, a little noisy and particularly successful if dining as part of a crowd. No need to choose from a menu. Instead, a variety of appetisers, main courses and great desserts are delivered to your table on large shared platters. It all makes for a fine evening with the complimentary wine and beer.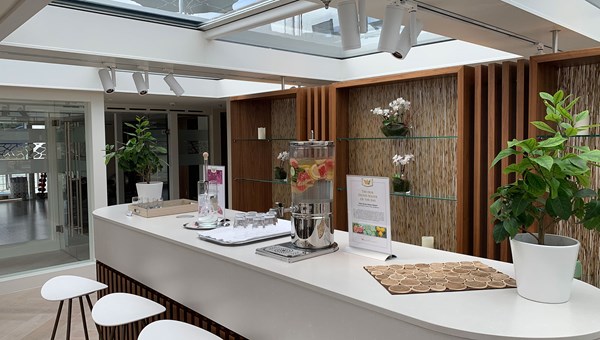 The Chef's Table, unlike on the other ships in the AMA fleet, is at the front with Magna, and, like Jimmy's, deep down on the Piano Deck. Here the dress is smart casual to elegant, a seven-course tasting menu provided, again with complete flexibility regarding the courses. It works just as well for a couple or as for a group.

Your room key card also serves for getting off and returning to the ship.

The real problem is that Magna is very good and taking a river trip on what might be termed 'a narrow-bodied ship' might seem as downgrading, which it certainly is not. The comparison is flying the Atlantic with BA's Boeing B787, and the carrier's Airbus A318 out of LCY. A different product.

Will AMA build another Magna class ship? Or can the Danube's locks be widened? That is the question. BTN has learnt the only other wide Danube ship, which dates from 1987, although re-built in recent years, has been withdrawn from service.

(please read in conjunction with ON TOUR: The Danube in winter published 6 January)
www.amawaterways.co.uk
RIVER CRUISE BARGAINS
Here is a small sample of current river cruise bargains available in the coming months. If a company is not mentioned, it is because the marketing/PR people have failed to respond to our request for information. Prices are for a shared cabin and are no more than a guideline. All meals are normally included. Consult your river-cruise specialist or look at the operators' websites for an up-to-date quotation and river selection.

For March, we will be highlighting an exciting new deep-sea ship and also running a 'deals' section. Sales people please respond by 4 March in the (new) format below .

AmaWaterways

Ship: AmaMagna
Douglas Ward rating: Not yet rated
Date: 22 March 2020
Length of cruise: 7 nights
River: Danube
Itinerary: Vilshofen (via Munich), Passau, Linz, Spitz, Krems, Vienna, Bratislava, Budapest.
Price: From £2,361 per person all inclusive virtually all costs including tours and drinks plus pre-dinner cocktails. Not included are gratuities and air travel.
Notes: With 17 ships in Europe, one of the most interesting bargains available this time is 19 March on AmaDolce from £2,436. It is similar to BTN ON TOUR 5 August 2019.
www.amawaterways.co.uk


Crystal River Cruises

Ship: Crystal Mahler ****
Douglas Ward rating: 402

Date: 2 May

Length of cruise: 7 nights

River: Danube
Itinerary: Budapest via Vienna (overnight), Durnstein, Melk, Passau and Vilshofen (overnight).
Price: From £3,780 per person. Excursions and service included, plus wines and cocktails. Cruise only.
Notes: Crystal can arrange flights.
www.crystalcruises.co.uk


CroisiEurope

Ship: Cyrano de Bergerac
Douglas Ward rating: 336 ***

Date: 1 April

Length of cruise: 5 nights
River: Garonne
Itinerary: Pauillac, Blaye, Libourne, Saint Emilion.
Price: Wines and cocktails. Not included: Air fares, service and excursions. From £707.
www.croisieurope.co.uk


Emerald

Ship: Emerald Radiance
Douglas Ward rating:378 ****
Date: 4 April 2020

Length of Cruise: 11 days including three days in Lisbon, and eight days on the river
River: Duoro
Itinerary: Porto – Pinhão – Vega de Terrón – Vega de Terrón – Salamanca – Pocinho – Régua – Porto

Price: Including drinks at meal times; single accommodation is available. Your fare includes flights - rail is offered as an alternative. From £3,160 or £2,345 for just the Douro.
Notes: Uniquely, there is an indoor swimming pool.
www.emeraldwaterways.co.uk


Hebridean River Cruises
Ship: Royal Crown
Date: 1 April 2020
Length of Cruise: 7 nights

River: Rhine

Itinerary: Amsterdam, taking in Keukenhof Gardens, Schoonhoven, Kinderdijk, Rotterdam, Bruges and Antwerp.
Price: From £3,210 fully inclusive of all drinks, flights from the UK or Eurostar with the Amsterdam mooring point a short walk (or transfer) from Central Station.
www.hebridean.co.uk


Scenic River Cruises

Ship: Scenic Sapphire
Douglas Ward rating: 372 ****

Date: 30 April 2020
Length of Cruise: 7 nights
River: Rhône
Itinerary: Scenic is the upmarket division of Emerald.
Price: Includes butler service and very much all inclusive.
Notes: BTN ON TOUR: The Scenic Rhône.
www.scenic.co.uk/newyearsale


TUI River Cruises
Ship: Isla
Douglas Ward rating: Not yet rated
Date: 29 March 2020
Length of Cruise: 7 nights
River: Moselle Valley – Vines & Views
Itinerary: Koblenz, Bernkastel-Kues, Trier, Piesport, Traben-Trarbach, Cochem, Boppard and Oberwesel.
Price: £900 per person. Wiyh departures from Gatwick, the price includes flights, transfers, £120 excursion credit, tips and service charges.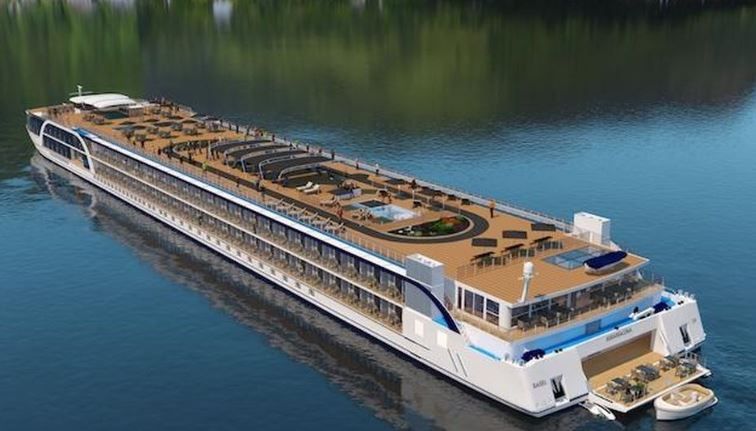 OUR READERS' FINEST WORDS (All times and dates are GMT)
All comments are filtered to exclude any excesses but the Editor does not have to agree with what is being said. 100 words maximum
---
John Davidson, France
My experience with Ama Waterways was on a Seine cruise, both starting and ending in Paris, my home base of 40 years. It was absolutely great. We cruised straight up to Le Havre in a day, and then came slowly back to Paris, with shore adventures at each stop. Most of them were not new to me, so I stayed on board and chatted with the crew, mainly from Eastern Europe and very fluent in English. A Portuguese gym instructor was great, giving a "wake-up" stretch class, and then other types all day long. The captains were French, and one evening included an invitation to dine at their table. On-board barber! Maybe 100 pax. Highly recommended.
---