BTN has reported on cruising for more than 25 years. Editor-in-chief Malcolm Ginsberg is something of a guru, claiming to be the world's oldest cruiser, a passenger on RMS Asturias from Tilbury to Sydney in 1949.
With a significant birthday at the time of this booking it seemed a good idea to introduce the family to the concept. Here he reports on an August trip on P&O Ventura, 11 strong, fine for a single table at mealtime. It was not compulsory, but everyone joined. See also in this issue ON TOUR and Emergency at sea. French marines to the rescue.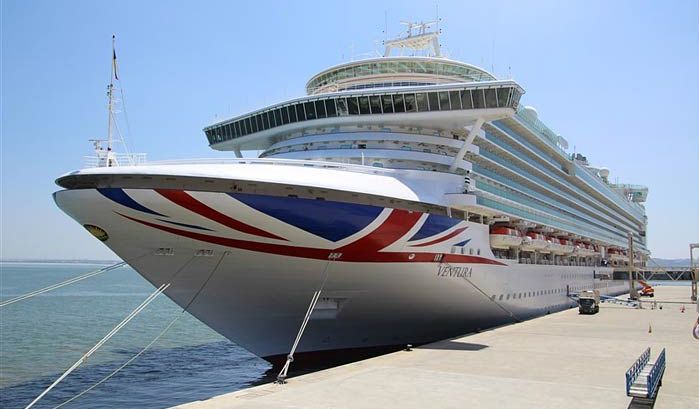 My first cruise on Ventura dates from 2012 when she was relatively new, built in 2008, and at 115,000 tons a 3,000-passenger (3,500 with children this time around) addition to the world's oldest cruise company fleet. Please see BTN 25 June 2012 A Short History of P&O.
Today's operator is nothing to do with the ferry company of the same name and has been owned by Miami-based Carnival Corporation since 2003. Ventura, and sister ship Azura are one of 11 similar 'Grand Class' vessels built by the highly successful Italian shipbuilder Fincantieri.
Just before the London Olympics P&O had on offer, at very attractive prices, four nights away on Ventura, described as a family friendly ship. This was to be an economy trip essentially to find out what Ventura was all about. Wife Linda and I decided on an inside cabin, always a subject of debate. There are those who say that they offer such terrific value they should not be turned down. With no natural light coming in they are ideal for a good night's sleep. The size of the actual accommodation is the same as with a balcony but you cannot slide the door and go outside and quietly read a book. Smoking was banned years ago. The washroom/shower unit is the same, compact but more than adequate. We have never taken an inside cabin since!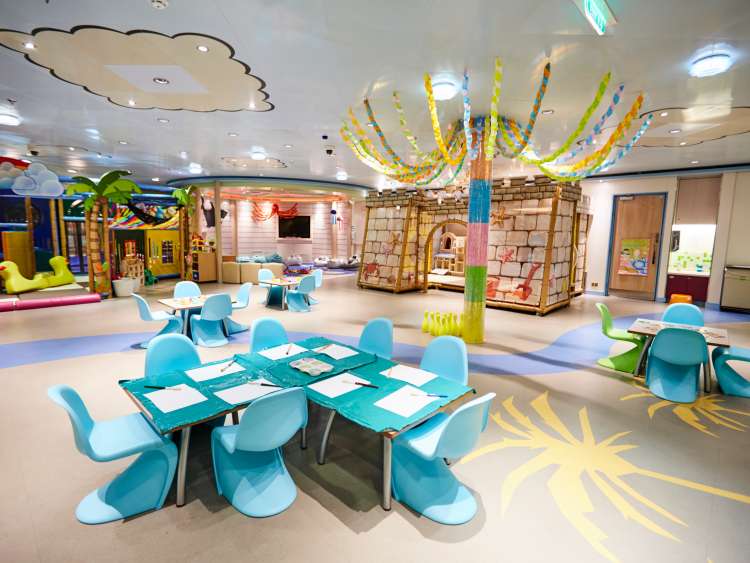 Two years later we were back on Ventura again but this time as guests of the cruise line. They were clearly pleased with the report (which appeared elsewhere as well) and follow-up interview (BTN 30 July 2012). With an 11-year-old in tow the Southampton-based company was keen to promote a fly/cruise package which started with the check-in at Gatwick and finished with P&O staff saying goodbye at Genoa Airport.
This was a seven-day trip with a lesson to be learnt. If you have children in your cabin don't book at the front of the ship. Called 'The Reef', the area for youngsters is divided into three age groups, those 12 and under requiring checking in and checking out. It is a long walk if you are at the bow end of the ship.
Following a 16-day dry docking at Brest in the spring of 2018 Ventura has now been re-branded to follow the style introduced with Britannia when she was named by HM The Queen. Sadly P&O does not have a media web site these days, nor press releases, but we did glean that the suites were completely refreshed with an elegant new design scheme that includes new sofa beds for extra accommodation, armchairs, coffee tables and headboards as well as various soft furnishings and decorative items including curtains, bed cushions and lamps. It seems that most were re-carpeted and whilst the bathrooms were updated the plastic shower curtains remain. A cynic might say that whilst the balconies on the lower decks can be viewed from above in order to be fair to all passengers the net curtains have been withdrawn from the staterooms, which means no privacy when docked. You have to draw the heavy curtains.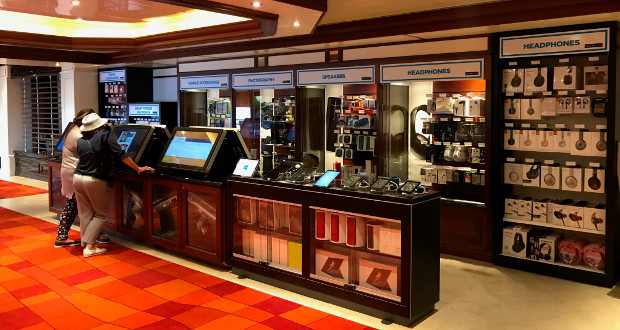 Ventura's retail areas on decks 6 and 7 have been upgraded with a range of products and brands well suited to the clientele. The Photo Gallery has been re-carpeted and the Dixons Travel outlet increased in size with all the latest gizmos products at prices less UK VAT, minus a bit more. Well done Dixons.
The Waterside and Beach House daytime buffet and evening speciality dining restaurant also received a full makeover, as did the anytime Saffron and Cinnamon dining rooms. The Saffron dining room also served as the venue for an excellent English afternoon tea, introduced we are told by Anna, Duchess of Bedford in 1840. It became fashionable with Victorian society.
Updated also was The Glass House by Olly Smith, the wine specialist, with a Tasting Menu including appropriate vino (£30) in the evenings. Also available is a selection of speciality dishes. One of his team is on board every cruise to give expert advice. In for a makeover was Ventura's Cuban-themed nightclub Havana, the Oasis spa, the Atrium and the Red Bar.
Major investment has been made in the two-deck Arena theatre which has been fitted with an LED wall similar to that found on Britannia and Azura. With 890 seats it is one of the best show lounges at sea, the second tier nicely raked, folding tables provided, and plenty of legroom. Two shows every evening. On the final night Headliners Theatre Company, an 18-strong ensemble, offered 'Astonishing' a magic and illusion presentation which really did bring the house down. Entertainment was also provided by first rate comics, musicians and vocal groups.
Ventura is well laid out with four swimming pools (one with a retractable roof for winter cruising) plus a small kiddies pool open to the family on this trip. Unlike Azura there is no on-deck cinema but current releases are shown morning and afternoon in the main theatre or in one of the lounges. There is plenty of deck space.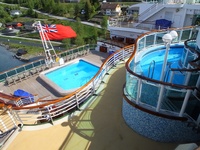 For us the reason for choosing this cruise was P&O's highly renowned children's facilities branded as 'The Reef'. Our 14-year-old pair spent much time in H20 for 13-17-year-olds. They could come and go as they pleased whereas children under the age of 13 must be signed in and out. The divisions are 'Splashers' 2-4, 'Surfers' 5-8, 'Scubas' 9-12, and 'H20'13-17. The programme runs from 10:00 to 23:00 with two one hour breaks (the staff need it!). There is also an evening sleeping for the very little ones from six months upwards enabling parents to have a quiet relaxed dinner and see a show. Every night until 02:00.
Provided are 'pool patrollers', trained younger staff who can supply emergency services if needed but are really around to ensure good behaviour at all the swimming pools on board. "No jumping into the pool please". It works.
Taking with a young guest means planning the day, even the eating. They can get in and out of the cabins without parental control but not from their dedicated 'club' area. Any person with a cabin door card can charge up 'extras' but if you do not trust your child you can literally 'black list' them. Your money is safe.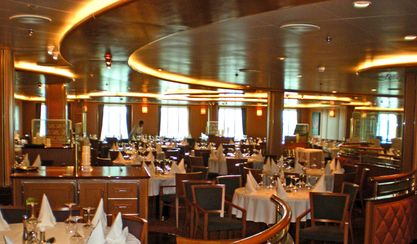 Dining is an important part of a cruise for most people and Ventura looks after its clients very well, with the outstanding Epicurean at the White Room setting exceptional standards. There is a charge (£25) but nothing like what it would cost at his establishment at Wheelers of St James's in London. Try and get a table on the balcony high over the stern if the weather fits. Let the child take one course (free) and then deposit it in the nearby children's quarter. The celebrity chef is occasionally on board but the sous chef gives an informative morning demonstration.
All reports were positive, no invitation this time around but we preferred to dine with the family in any event in the Bay Tree at 18:30 which suited us and is timed for the 20:30 show in the Arena theatre, or alternative 20:45 at the Havana lounge. For the later 20:30 dining the performances are at 22:30 and 22:45. When we were just two with the previous cruise the anytime option suited us best, always aiming for the same table!
Even on a seven-day cruise the same waiter soon gets used to your preferences. On the second night our waiter served a black coffee for myself and a mint tea for my wife without any prompting. The staff were exceptional.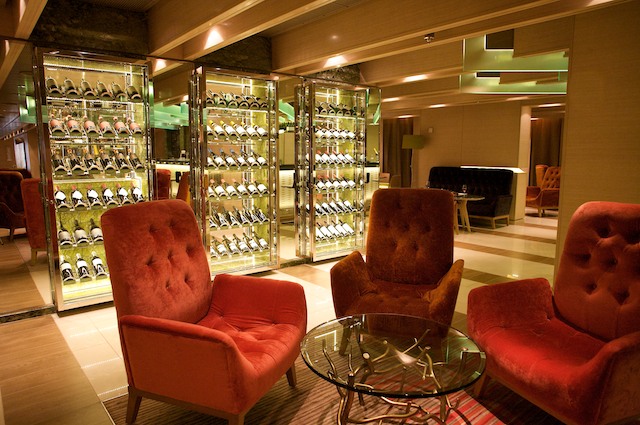 Special dietary dishes come as standard with vegan and vegetarian menus and with low-sugar and gluten-free dishes available. Speciality requirements can be dealt with at no charge.
Sindu at East says what it is on the package. The Beach House is a buffet by day and waiter service in the evening.
On our seven-night cruise there were two formal nights when jackets were required for men in the main dining rooms. Those without were politely turned away, or you could hire.
There are no service charges, nor for the bar but the wines can work out expensive and a can of beer starts out at £4.50.
Metropolis sits high over the stern. It also serves as a nightclub. The massive gym overlooks the bow, offers various workouts and is part of the spa complex.
TV in the cabins brings you information on the ship's tours and a daily Ventura update, plus the rolling international news from the usual providers and some free films. No financial update on the screen, provided by some operators. A daily UK newsletter is available to collect near reception.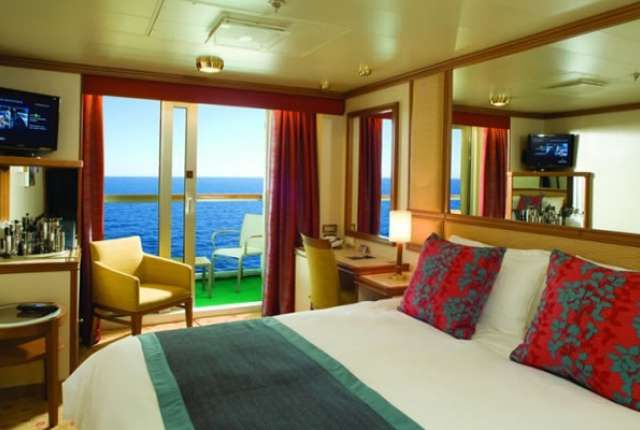 There are 18 single cabins. Ventura is more than just a family ship, it is a floating holiday home covering many markets.
Wi-fi on the ship is effective in all the cabins and is now priced at a daily rate.
P&O Cruises has for this year rolled out four different drinks packages which has had repercussions (see BTN 5 August). Our seven nights were entirely peaceful with not the slightest chance of rowdiness except perhaps when a goal was scored in the popular Exchange Bar.
The packages start at £10.95 for hot drinks; £19.95 for non-alcoholic drinks and £39.95 for 'Ultimate Drinks'. There is also a children's drinks package at £7.95 per day, which includes draught soft drinks (Pepsi, lemonade, tonic and soda); selected long life juices; hot chocolate and fruit squash/cordial by the glass.
Certain cruises are themed including 'Strictly', the Food Heroes already mentioned, Music Festivals and Christmas and New Year. The Discovery Cruises call at more obscure locations but selling off-ship tours is a major focus on board. Excellent sales briefings are given on the destinations but even on a short cruise with only two sea days why not a lecture on Cherbourg on its role in WWII, and Guernsey for that matter, perhaps the Peninsular Wars. It can be fitted in. I am available!
There is a whole department at Southampton that deals with disabilities of all types, the ship itself having a limited number of cabins with large doors and extra room to accept wheelchairs.
P&O is an American owned cruise line that pretends, very successfully, to be British. There are square pin plugs in all the cabins and all extras are charged in sterling.
I was an overnight Britannia guest of P&O for the Queen's naming but have not set foot on her since. She has a 3,647 normal capacity. Iona is set for May 2020 with fixed berths for 5,200 but seemingly only one proper swimming pool. No slides or gimmicks but plenty of deck space for sunbathing and ship's sports.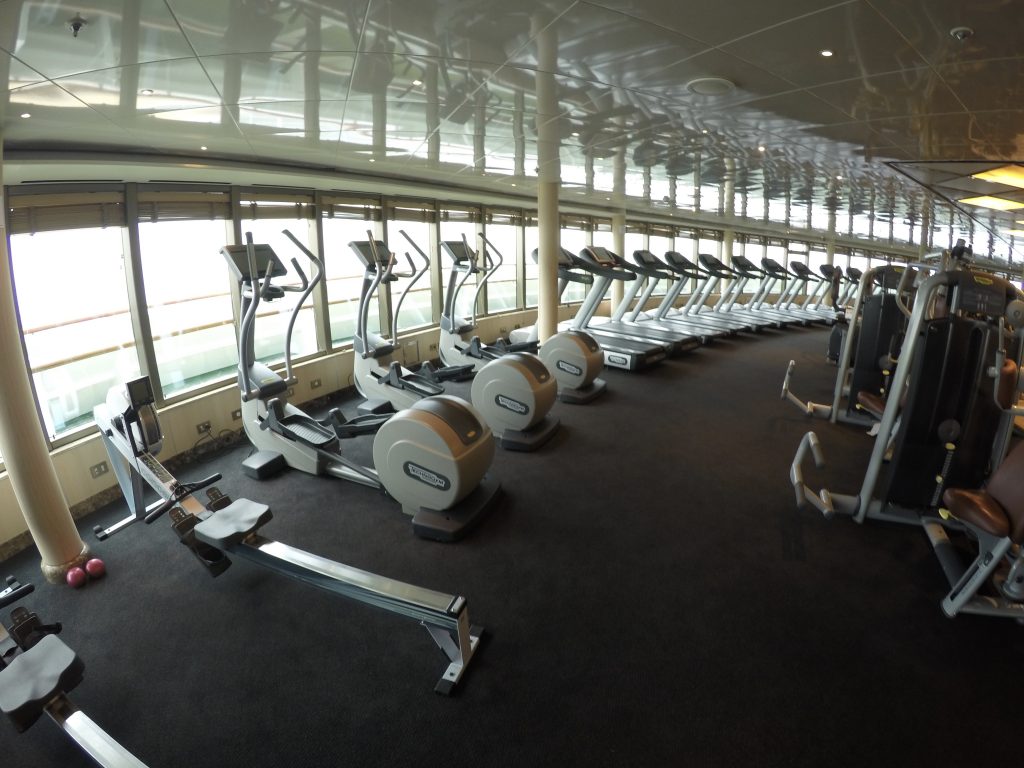 Whilst the nearly 2 to 1 passengers/crew ratio on Ventura offers a very fine friendly service in all departments P&O need to sort out its booking arrangements for large groups. The website proved impossible to use and confusing. The so-called on-board credits (not credits as you have already paid – and not redeemable) could not be transferred to the single paymaster. It all got very complex. Perhaps we should have booked via a cruise specialist.
The current 170-page P&O brochure is very comprehensive and far easier to use than the web site. The new brochure into 2021 is due out in October. Visit your local travel agent and my popular "Cruising is a Complex Business" talk will be delivered at several venues this winter. Then is the time to ask questions.
Would we go again?
Yes.
With the children? That depends!
See AND FINALLY in this issue.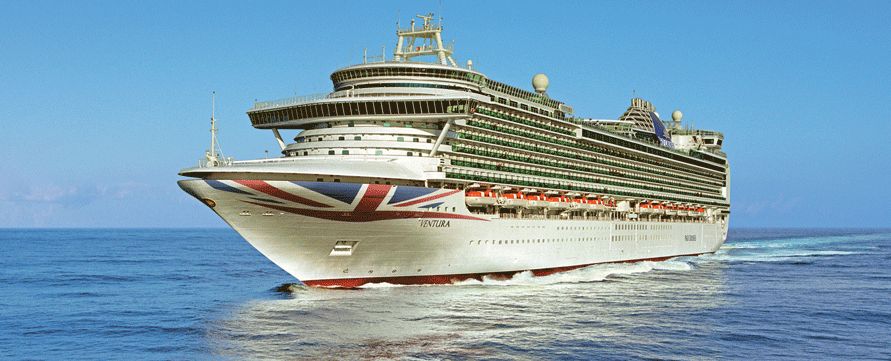 OUR READERS' FINEST WORDS (All times and dates are GMT)
All comments are filtered to exclude any excesses but the Editor does not have to agree with what is being said. 100 words maximum
---
Harvey Beaver, Cheshire
I wish to dispute Malcolm Ginsberg's claim to be the oldest cruise passenger. I was on a P&O cruise round the Mediterranean in 1939 & remember stopping in Venice on September 1st. & my parents being worried that we would not get home before the war started. Since then I have done in excess of 150 cruises & my wife & we still feel that it is the best type of holiday. Harvey Beaver.
---