BTN has reported on cruising for more than 25 years, editor-in-chief Malcolm Ginsberg something of a guru and claiming to be the world's oldest cruiser, a passenger on RMS Asturias from Tilbury to Sydney in 1949.

While we cannot comment on the specifics of P&O's recent Britannia fracas, having only experienced the ship for its naming by the Queen, we can reflect on the event as reported.

With P&O chief executive Paul Ludlow his usual completely anonymous self, it was left to a Michele Andjel to supply The Times with a comment that "cruise ships had crime rates one 25th that of a city of the same size". Can she substantiate this? Britannia's full complement is around 5,000, which includes the crew, about the same as average EFL League 2 club home game. To call over-zealous drinking "a crime" is hardly reasonable. It's not the drinking that is a crime, it's that some people behave anti-socially when they drink too much and do not recognise when they reach that point.

The American-owned cruise line offers a £40-a-day "ultimate drinks package" which allows anyone over 18 up to 15 wine or spirit drinks in 24hr. This is just asking for trouble on a ship which caters for the whole of the social spectrum. With P&O for the most part, the senior officers are not seen around, and if there is a melee, typically in this case concerning a busy restaurant, it takes time to bring the situation under control. P&O seems to be in denial, quoted in Metro that there was "no evidence to suggest any link between drinks packages and the brawl that broke out".

P&O and other cruise lines have an alcohol consumption problem, but so do airlines, pubs and other social gatherings.

Andy Harmer, director at CLIA UK & Ireland, the trade organisation, said: "In terms of security on-board, cruise passengers are protected by a comprehensive system of security. Safety staff on-board and onshore are well-trained and experienced; some are former law enforcement officers and full-time security personnel are on the job 24/7. While precise security details for each vessel are confidential and vary based on size, configuration, passenger demographics and other factors, cruise lines have experienced, well-trained staff and protocols in place to protect passengers and crew, including closed-circuit cameras to monitor ship activity".

Towards the end of August, BTN's editor-in-chief Malcolm Ginsberg is hosting his family (11-strong) on sister ship Ventura to celebrate a significant birthday. It was not BTN's intention to report on the cruise, but a journalist is a journalist. Read the next edition of BTN's CRUISE NEWS Monday 1 September. P&O might feature.

If you are not sure about river cruising, Douglas Ward's Berlitz River Cruising in Europe and the USA gives not just a list of what is available in terms of ships but some valuable guidance for those who have not taken this form of waterborne holiday cruise previously.


BORDEAUX, THE GARONNE AND AMADOLCE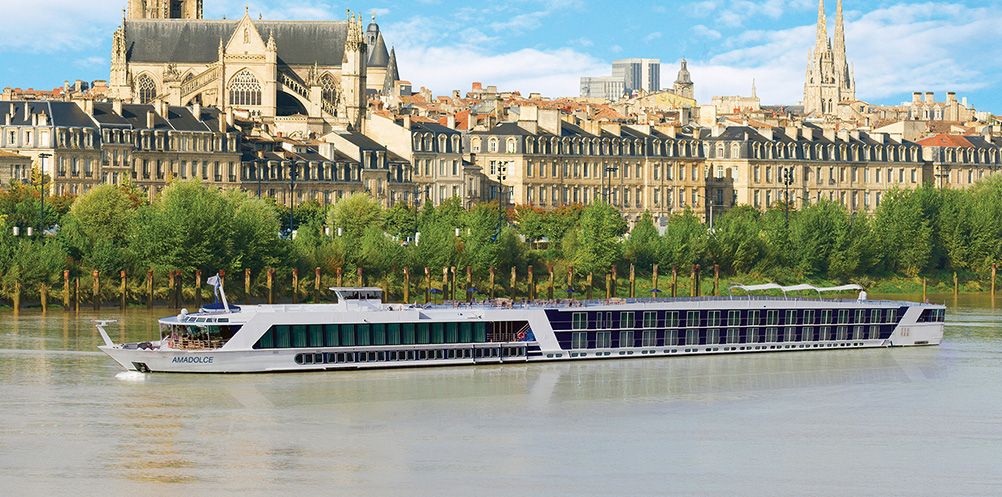 River cruising continues to expand with new ships and new markets. Since its creation in 2002, AMA has set the sort of high standard that others have tried to emulate and copy. It is still the leader in the market.

AmaDolce sits in the middle of the 16-strong European fleet in terms of capacity, capable of carrying 144 passengers. The new 'wide-bodied' AmaMagna can handle up to 198 guests. The appropriately-named AmaDouro has room for just 102 clients for the Portuguese river. Sister ship AmaKristina is the highest-rated European river cruise ship in Douglas Ward's Berlitz guide.

Built in 2009, AmaDolce has been continually updated and today looks as fresh as ever. We joined her in Bordeaux for a seven-night trip on the Garonne and Dordogne (see ON TOUR). Our fellow holidaymakers ranged from 20-somethings to those over 80, who paced themselves for all the off-ship activities. Advice was always to hand regarding how strenuous each visit might be.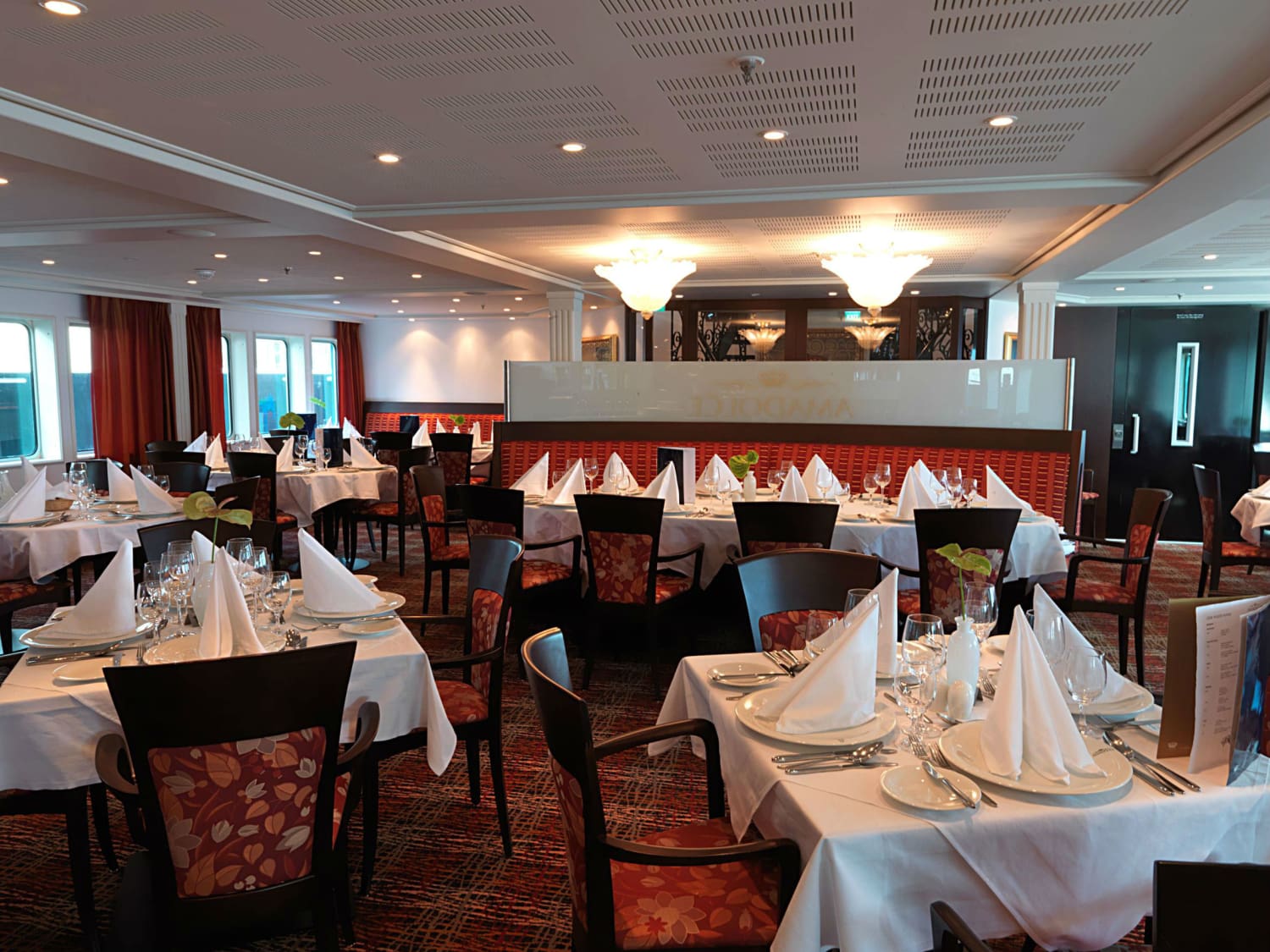 BTN has said it many times – a river cruise is a totally different concept from a seaborne trip. It is best to compare with a coach or car holiday, a new destination every day, with the same accommodation each evening and no need to repack every morning. With a new hotel every night, the quality of housing and dining can vary. Not so on a river boat. With AMA, and other quality operators, you are getting a consistent quality product. One can add that the staff will grow to know you and deal with your preferences.

On this cruise, AmaDolce mainly meandered from riverside town to riverside town overnight, with occasional daytime cruising. It was a very quiet ship. At Bordeaux, the Garonne is a tidal river. No locks to negotiate.

River cruising is an ideal holiday if you are into cycling. AmaDolce has 20 pedal bikes on-board and on this cruise the always-helpful Romanian Erni Buhazi, who doubled as the fitness instructor and early-morning 'stretching coach', led the two-wheeler party on a planned tour. Helmets are a must and supplied and the wine was taken generally on the return.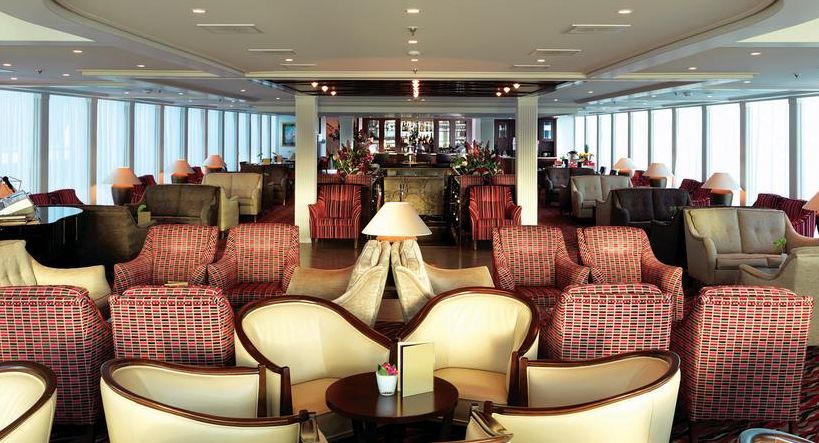 On all tours, walking or otherwise, personal audio devices keep guests in touch with the local expert guide. You can lag a short way behind to take a photo and still hear the commentary. Tour manager Reka Piros, from Budapest, normally briefs everyone the previous evening and she, or one of her colleagues, stays at the rear of every group.

AmaDolce is typical of a European river ship and previously operated on the Rhine. She is the standard 11.5m wide required for the locks on the European rivers but at 110m is shorter than some, hence her lower capacity of 146 passengers looked after by 46 crew. Perhaps for the future AMA might consider something the size of the double width AmaMagna, recently introduced for parts of the Danube, for the Garonne, which is capable of taking ocean liners.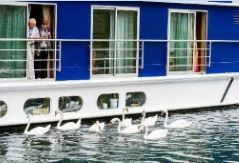 AMA takes over as soon as you arrive at the airport with a welcome sign, always something of a relief once luggage has been collected, with a chauffeur to the ship. The cabins are not supposed to be available until 15:00 as they are deep-cleaned from the previous occupants but in our case we arrived very early, deposited our luggage in a storeroom and went off for our own short Bordeaux tour, returning for lunch, and the accommodation ready.

Everything on to the ship looked bright and cheerful. As you enter, there is a spacious atrium and reception area, shop, elevator and a library-cum-lounge, with the staterooms on three decks towards the stern, each along a single corridor.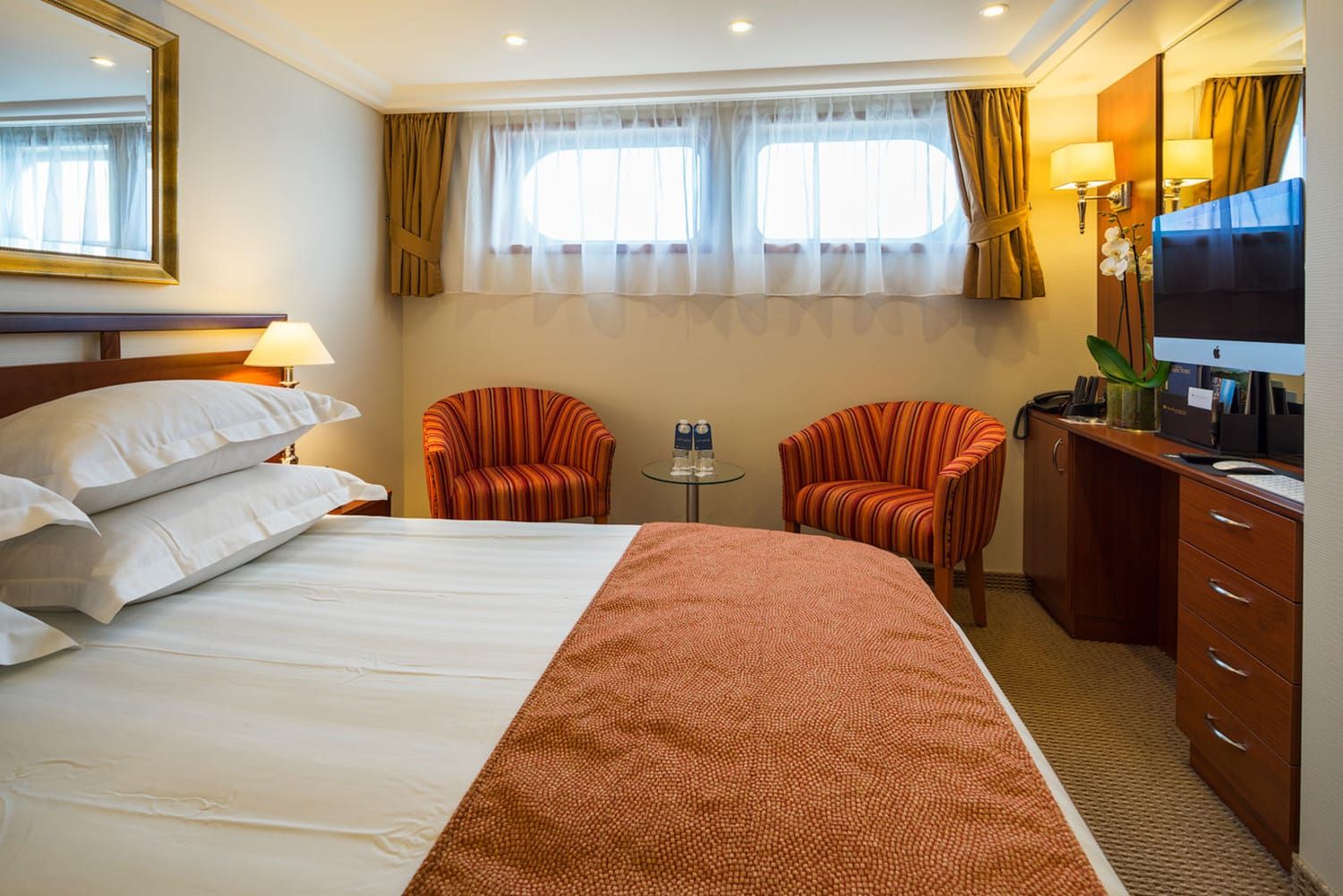 At the stern is a small gym, beauty salon and the Chef's Table speciality restaurant, featuring a paired tasting menu, the same every night so all passengers to sample the exquisite French fare prepared in the open kitchen. With large glass windows, and the ship under way, it really is a pleasant way to spend an evening. If you are not happy with the menu, vegetarians for instance, advise 24hr in advance. The chef is more than happy to offer alternative suggestions.

The great majority of the cabins are the same size, 170sq ft with the so-called French Balcony, not a balcony at all but just a sliding window. It works very well and is better than the balcony offering on some ships that takes away the floor space. Waiting for us was a cap (for men – and very useful when the sun was at its strongest) plus a lady's shawl, ideal for chilly nights.

For a one-week cruise, there is plenty of cupboard room, the latest Apple TV with keyboard and mouse for free wi-fi connection and a dressing table that doubled up as laptop space. The bathroom is nicely turned out in marble with a glass enclosed multi-jet shower.


No cabin dining service as such. It is not really needed, but there is an evening 'turndown' visit.

You get a choice of pillows. Cabins on the waterline level are the same size as those above with a narrow high-level window. However, if you think of your room as just a sleeping area, these are very good value for money.

From the reception and central stairs, towards the bow is the main lounge for a drink, snacks or a light meal at appropriate times, ship's talks and on certain nights regional entertainment. There is a resident piano player.

Every evening there is a courtesy 'sip and serve' cocktail hour. As one would expect from a member of La Chaîne des Rôtisseurs, the exclusive international culinary society, the locally-inspired cuisine is top quality served by a well-trained team.

The menus are varied and occasionally themed but always offer vegetarian, striploin steak, salmon and chicken breast. As you would expect with a cruise centred in the Bordeaux region, the wines are carefully selected and generous over dinner. French wines are included at all mealtimes, plus beers and soft drinks.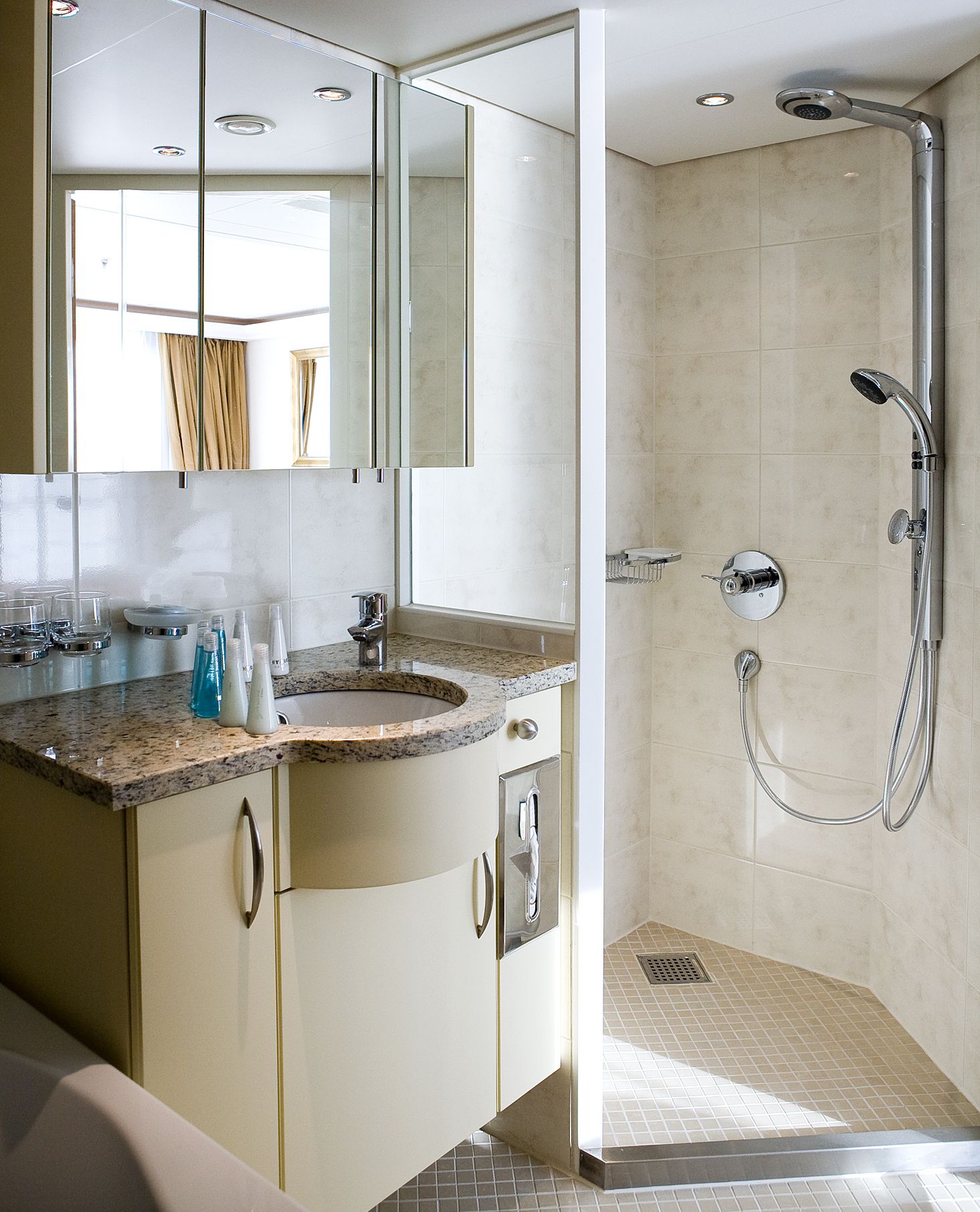 With a busy daytime schedule, most evenings are spent quietly and the (pay) bar is open late if needed. There is always a variety of courtesy teas and coffees available.

The top deck includes a hot tub, walking track, a one-hole putting green, giant-size chess set and an area for the wellness director to brief his regulars every morning.

A daily printed newspaper is available with UK, US, and German versions.
The tours are all included but on offer are the occasional (and chargeable) specialised visits. With AMA, it is suggested you give an overall tip to the crew, and also the local expert guides.
A nice touch is a free postcard service. People don't send them these days, but as a guest of AMA you can write to the family. On the shorter cruises it may arrive after you get home, but is still received with gratitude.

www.amawaterways.co.uk


RIVER CRUISE NEWS

We are in receipt of a fascinating video which shows the building of Emerald Waterways' brand-new Mekong River Star-Ship, Emerald Harmony. The one minute time-lapse film is worth the view. https://we.tl/t-9OUfDbCeiA

Coming into the river cruise market for summer 2020 is TUI with three ships. Chris Hackney, managing director of Cruise for TUI UK &I, said: "We're incredibly excited to be moving into the river cruise market. We're always looking for new opportunities to offer our customers even more variety when it comes to choosing the perfect holiday and our river cruises will really take this to the next level as customers are able to personalise their package whether that's board type, cabins, excursions and even cocktail choice." Details in the coming months.


RIVER CRUISE DEALS

Discover Egypt
Ship: The Jaz Yakouta Dahabiya is similar to the Dahabiya featured on Channel 5 with Historian Bettany Hughes.
Start date: 25 November 2019.
Departure point: Luxor.
Arrival point: Aswan.
Visiting: Valley of the Kings, Luxor Temples, Edfu, Kom Ombo, Aswan, Abu Simbel.
Length of trip: Seven nights.
Includes: Flights, transfers in resort, all meals on-board (plus tea, coffee and soft drinks). High tea with snacks and cakes is provided every day. Plus 10 shore excursions with a guided Egyptologist.
Alcohol cannot be served on-board due to licensing restrictions. However, guests are welcome to bring alcoholic beverages with them, and the staff will provide mixers and ice at no additional cost.
Cost per person: £1,995.
www.discoveregypt.co.uk/nile-cruises


AmaWaterways
Ship: AmaKristina.
Start Date: 28 October 2019.
Maximum passenger numbers: 156.
Berlitz Douglas Ward rating: 427 of a possible 500 (AmaKristina takes the number one spot as the Highest Rated Ship in Europe in most recent Berlitz guide).
Departure point: Amsterdam.
Arrival Point: Basel.
Length of trip: 7-night cruise.
Includes: Complimentary flights and transfers, all onboard meals with unlimited fine wine beer and soft drinks with lunch and dinner and a choice of complimentary excursions in each port of call.
Cost per person: £1,451 per person if booked by end of August.
www.amawaterways.co.uk


CroisiEurope
Ship: MS Elbe Princess, one of CroisiEurope's unique electric driven paddlewheel ships which, unlike classic propulsion vessels, can cruise the shallow waters of the Elbe from Berlin right into the centre of Prague.
Start date: 20 October 2019.
Maximum passenger numbers: 79.
Berlitz Douglas Ward rating: 356.
Departure point: Berlin.
Arrival point: Prague.
Length of trip: Eight nights.
Includes: All meals and drinks on-board, port fees and wi-fi.
Cost per person: £1,407 but does not include air fare.
www.croisieurope.co.uk


Crystal River Cruises
Ship: Crystal Debussy.
Start date: 26 October 2019.
Maximum passenger numbers: 106. One of the most highly rated ships on the European rivers.
Douglas Ward rating: 424.
Departure point: Basel.
Arrival point: Amsterdam.
Length of trip: Seven nights.
Cost per person: £2,442.
www.crystalcruises.com/experience/river


Scenic River Cruises
Ship: Crystal.
Start date: 25 September 2019.
Maximum passenger number: 167.
Douglas Ward rating: 388.
Departure point: Budapest.
Arrival point: Nuremberg.
Length of trip: Seven nights.
Includes: Suite with butler service with all meals and drinks on-board, a selection of shore excursions in each port, overseas transfers between airport and ship, port taxes and gratuities. Also includes the 'Best of The Sound of Music and Salzburg Show' based on the timeless movie of the same name and an enchanting private Viennese evening concert featuring the timeless music of Strauss and Mozart.
Cost per person: From £3,095.
www.scenic.co.uk/river-cruises
OUR READERS' FINEST WORDS (All times and dates are GMT)
All comments are filtered to exclude any excesses but the Editor does not have to agree with what is being said. 100 words maximum
---
No one has commented yet, why don't you start the ball rolling?
---