This month's BTN Cruise News is all about the rivers of Europe and its ships with AMA Waterways stealing the headlines and introducing two outstanding new vessels. Also see British holidaymakers lose cruises in this issue.
Whilst not a true cruise news story can we also highlight Venus Clipper sails into London in this issue.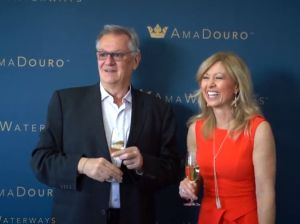 AmaKristina was rated top of the 332 river ships reviewed by Douglas Ward's River Cruising in Europe & the USA (published by Berlitz). Even if you are not into river cruising do purchase this book. Not only does it take a look at all the vessels available but also reviews in some detail the rivers and destinations on offer. River cruising is a totally different product to its sea-going cousins if only for the fact that you will be joined by a maximum of 180 other holidaymakers. A nice sensible number.

AmaMagna is the first purpose-built 'new generation' river ship, 72ft wide rather than the traditional 38ft river cruiser. She made her public debut at Vilshofen an der Donau, Germany, yesterday (Sunday 5 May) for a seven-night Danube cruise to Budapest followed by one in the reverse direction. AmaMagna clearly sets new standards for spaciousness and facilities on the European rivers. She has even a water sports platform at the stern. BTN will be taking a close look once Magna settles down on a programme which includes calls at Bratislava, Vienna, Linz and Passau.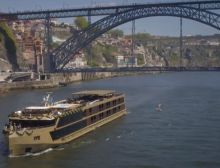 The big AMA party was on Friday 12 April with the christening at Porto of AmaDouro hosted by company co-founders Rudi Schreiner and Kristin Karst who later in April were inducted into The British Travel & Hospitality Hall of Fame during a glittering ceremony at the Four Seasons Hotel in London. Honorary guest, Advantage Travel Partnership CEO and AmaDouro Godmother, Julia Lo Bue-Said, was joined by respected travel industry partners, international media and other guests for the celebration.

ON TOUR features Porto, home port for AmaDouro and a UNESCO World Heritage site. AMA berth their ships on the south side of the Douro making for particularly easy boarding with a whole variety of attractions on the promenade including the Gaia Cable Car offering access to the Serra do Pilar and its monastery.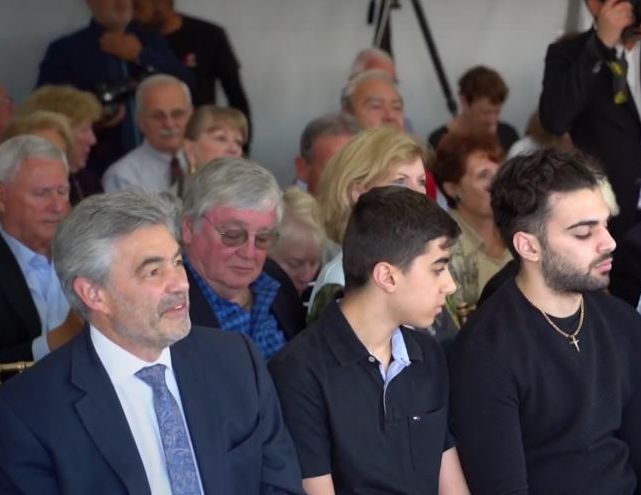 "The arrival of every new ship is exciting for us at AmaWaterways, but we are particularly thrilled to be adding AmaDouro to this spectacular region that we proudly helped introduce when sister ship AmaVida was first launched in 2013," said Schreiner. "We are very happy to have our friends and partners join us here today as this 21st addition to our fleet marks the beginning of a banner year for our company."

In its distinctive gold paintwork AmaDouro offers 51 very spacious and elegantly designed staterooms. Additional amenities include the Panoramic Lounge for nightly entertainment, a heated Sun Deck swimming pool, fitness room, massage room and the award-winning company's renowned cuisine at the Main Restaurant, serving regionally-inspired dishes and hand-selected wines. A novel feature is a terrace at the bow of the ship, making full use of the 260ft lock limited length of ships on the Douro.

AmaDouro sales on a series of 7-night return cruises between Porto and Vega Terron on the Spanish border from where holidaymaker passengers can join a day trip to Salamanca, a historic university city. With its steep terraced winegrowing hillsides the Douro Valley is one of Europe's most picturesque waterways with a mass of fascinating locations and vineyards to visit and learn all about the wines of the river.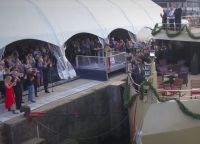 The established AmaVida cruises are different in that they are one way along the Porto and are ten nights either starting at Madrid or Porto. Inevitably they are more expensive and include two full days in Madrid before joining the dedicated AMA coach to Salamanca and on to Portugal. The actual voyage on the Douro visits much the same riverside moorings perhaps at a little more leisurely pace and you will pass through the locks evading four mighty dams including the Carraptelo at 115ft, one of the largest in the world. It was the building of these dams in the 1980s that introduced the modern river cruise ships to the Douro, the once torrid river reduced to a tranquil lake set in spectacular scenery.

All AmaWaterways' voyages include full board, drinks with meals (including wine and beer), a choice of excursions and unlimited wi-fi.


RIVER CRUISE NEWS

Brand new for summer 2020 TUI is setting sail into the river cruise industry with the purchase of three passenger ships and will offer adults-only packages.

Chris Hackney, managing director of cruise for TUI UK & Ireland said: "We're incredibly excited to be moving into the river cruise market, we're always looking for new opportunities to offer our customers even more variety when it comes to choosing the perfect holiday and our river cruises will really take this to the next level as customers are able to personalise their package whether that's board type, cabins, excursions and even cocktail choice".

MAY AND JUNE RIVER CRUISE DEALS

These river cruises are only a guideline and prices generally per person for a standard double cabin and including tips, dinner wine and ex-UK flights and transfers. They are a sample of what is available. (And if your company is not noted it is because there has been no response to our round robin "cruise deals" email. (Contact info@btnews.co.uk)


AMA WATERWAYS
www.amawaterways.co.uk

AmaDouro
Berlitz not yet rated but expected to be around 400.
102 guests.
Douro River Portugal.
Departure and final port Porto.
7 nights.
6 July 2019 departure.
Includes choice of excursions in every port, wine and beer with lunch and dinner, complimentary daily Sip & Sail cocktail hour, wi-fi, tea, coffee, bottled water.
25% saving per person when booked before 31 May 2019.
From £2,135 per person.

AmaKristina
Berlitz highest rated river ship in Europe 428.
158 guests.
Main River Rhine.
Amsterdam to Basel.
7 nights.
8 July 2019 departure.
Includes choice of excursions in every port, wine and beer with lunch and dinner, complimentary daily Sip & Sail cocktail hour, wi-fi, tea, coffee, bottled water and the services of an on-board Wellness Host.
25% saving per person when booked before 31 May 2019.
From £2,030 per person.


CROSSIEUROPE
www.croisieurope.co.uk

Symphonie II
Berlitz rating 285.
106 guests.
Danube.
Round trip from Vienna visiting Esztergom, Budapest, Bratislava, Dürnstein, Melk and Linz.
7 nights.
25 June 2019 departure.
Includes all meals and drinks on board and port fees.
From £891 per person excluding flights.


CRYSTAL RIVER CRUISES
www.crystalcruises.co.uk

Crystal Mahler
Berlitz Rating 423.
106 guests.
Rhine, Main and Danube.
Amsterdam to Budapest visiting Bratislava, Vienna, Durnstein, Melk, Passau, Regensburg, Nuremberg, Bamberg, Wurzburg, Miltenberg, Koblenz and Cologne.
16 nights.
23 July 2019 departure.
Includes all meals and drinks onboard, overseas transfers, gratuities and a choice of shore excursions in each port.
From £7,230 per person excluding flights.
FRED OLSEN
www.fredolsencruises.com/river-cruises

Brabant
Berlitz rating 323.
156 guests.
Romantic Rhine and Moselle Marvels.
Basel to Düsseldorf.
7 nights.
27 June departure.
Includes fine dining, all services charges, tours and gratuities.
From £999 per person including flights and transfers or £699 cruise only.


EMERALD WATERWAYS
www.emeraldwaterways.co.uk

Emerald Harmony
Berlitz only rates Europe and the USA.
84 guests.
Majestic Mekong.
Siem Reap and calls at Prek'kdam, Kampong Tralach, Phnom Penh (all Cambodia), Long Khanh, An Long, Hong Ngu, My An Hung, Sa Dec and My Tho, arriving in Ho Chi Minh City (all Vietnam) where guest disembark for the flight home.
14 nights (7 nights on board).
7 nights deluxe hotel stay.
21 July 2020 departure.
Includes return flights, transfers, 14 shore excursions.
From £3,245 per person.


Emerald Liberté
Berlitz rating 383.
138 guests.
Ship built specially for French waters.
Marseille to Lyon.
7 nights.
27 July departure.
Includes guided walking tours of Avignon and Viviers, visit to Hospice de Beaune, city tour of Lyon, Provençal dinner hosted by Chef Fabien Morreale complete with wine pairing, wine masterclass, Q&A sessions and tastings hosted by international wine experts, visit and wine tasting at the Chateauneuf-du-Pape wine cellars, cheese and olive tasting on board.
From £1,795 per person.


SAGA RIVER CRUISES
https://travel.saga.co.uk/cruises/river.aspx

Saga does not itself operate any river craft but "Sagaries's" other cruise ships which meets it standards, and offers it complimentary door to door chauffeur service and its own representative on board selected cruises.


SCENIC
www.scenic.co.uk

Scenic Crystal
Berlitz rating 388.
169 guests.
Gems of the Danube.
7 nights.
169 passengers.
29 July 2019 departure.
Includes return flights, airport transfers, fine dining, free bar, butler service, all services charges, tours and gratuities. Also includes a private Viennese evening concert at Palais Liechtenstien and a visit to Regensberg Old Town.
From £1,895 per person.


VIKING
www.vikingrivercruises.co.uk

Viking Forseti
Berlitz rating 393.
190 guests.
Explore Bordeaux.
7 nights.
15 June 2019.
Discover the ports, vineyards, farms and forests of Aquitaine. See Bordeaux's fountains and cellars and a region synonymous with fine wine and finer living. Honoured as a city of art and history, Bordeaux is a "Little Paris" of beautiful boulevards, stunning churches and green parks and gardens. Set on the Garonne River in southwestern France, Bordeaux's graceful port is a UNESCO World Heritage Site.
From £1,995 per person.


EUROPEAN WATERWAYS
www.europeanwaterways.com/barge-cruise/book-now

La Bella Vita hotel barge
Not rated by Berlitz but the guide devotes a whole chapter on this form of river trip.

European Waterways has reintroduced its popular "Opera Cruise" as part of its newly-enhanced programme for the La Bella Vita hotel barge in Italy. This stylish, 20-passenger vessel operates a cruise itinerary which also gives guests the opportunity to visit three of Italy's most iconic Renaissance cities and offers a complimentary gondola ride in Venice.

The "Opera Cruise" programme begins on August 10 in Venice and continues to Verona and the ancient Roman amphitheatre of Arena di Verona, where they will enjoy an 'al-fresco' performance of Puccini's 'Tosca' and overnight. Next is a 6-night barge cruise, with guided excursions which will include a guided tour of the world-famous Gran Teatro La Fenice, and a visit to Rigoletto's House, the very setting for Verdi's opera of the same name.

From £2,775 per person.
OUR READERS' FINEST WORDS (All times and dates are GMT)
All comments are filtered to exclude any excesses but the Editor does not have to agree with what is being said. 100 words maximum
---