21 NOVEMBER 2011
BTN DISTRIBUTION
BTN also goes out by email every Sunday night at midnight (UK time). To view this edition click here.
The Business Travel News
PO Box 758
Edgware HA8 4QF
United Kingdom
+44 (0)20 8952 8383
info@btnews.co.uk
© 2021 Business Travel News Ltd.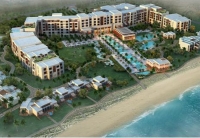 Completed (just) in time for the Grand Prix, the Park Hyatt Abu Dhabi Hotel and Villas is the first Hyatt-branded property in the UAE capital.
Located on the prestigious natural island of Saadiyat along a more than five-mile stretch of environmentally protected white sand beach it is within minutes of Abu Dhabi's prime business district and Corniche.
The island property has 306 luxuriously appointed rooms, suites and villas, and a first class array of dining. Resort activities include four generously sized swimming pools, a range of water activities, the beautiful Atarmia Spa with nine spacious treatment rooms, outdoor private terraces, fitness facilities, a tennis court and Camp Hyatt children's club. Park Hyatt Abu Dhabi also offers guests an impressive range of meeting venues for any occasion, from exclusive board meetings to large conferences and social gatherings.
Meeting venues are located on the ground and lobby levels of the hotel and the majority offer natural daylight and access to individual outdoor terraces. All meeting rooms feature the latest multimedia technology and wireless internet connectivity. www.abudhabi.park.hyatt.com
Jakarta-based Lion Air announced last week one of the largest ever orders in the history of civil aviation. The airline plans to take 201 of the new 737 MAXs and 29 Next-Generation 737-900ERs worth US$21.7bn. The deal includes the purchase rights for an additional 150 aircraft.
Lion Air was established in 2000 and is privately owned by Rusdi Kirana and family. Along with many other Indonesian carriers, Lion Air (including its Wings Air subsidiary) is on the list of air carriers banned in the European Union due to safety concerns as of June 2011. It currently has a fleet of around 70 aircraft which should be all Boeing 737 series by the year's end except for a pair of high density Boeing 747-400s, used on the Jeddah pilgrim routes. The airline has applied for membership of IATA but that will not be pursued until the safety problem is sorted out.
No dates for delivery have been given but presumably the 900s will follow on under the present order for the new MAX aircraft sometime from 2017 powered by the CFM LEAP engine. www.boeing.com/commercial www2.lionair.co.id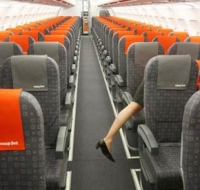 Allocated seating may be the way ahead for easyJet and with it a charging system for where you sit on the aircraft. Ryanair already has very limited reserved seating on 22 routes.
Currently, easyJet operates an unreserved system whereby passengers simply choose which seats to occupy as they board the aircraft with those having purchased speedy boarding or travelling with young children boarding first and thus having the first choice.
On trial flights, all passengers will be allocated a specific seat.
easyJet expects demand for certain seats such as the front row seats and seats with extra leg room like those on the over wing exit rows. Those passengers who wish to guarantee one of these seats – or any other they prefer – will be able to purchase them in advance.
Carolyn McCall, easyJet CEO, said: "This is another example of easyJet trying to do all it can to make travel easy and affordable for our passengers. We look forward to seeing how our passengers respond and how the trial works.
We will roll it out further only if it works operationally, from a revenue perspective and increases passenger satisfaction. If it doesn't, we won't." www.easyjet.com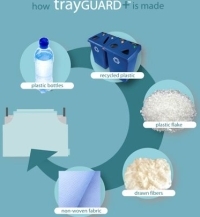 Following media attention focused on germs and travel, and personal experience with a lack of cleanliness of shared surfaces while travelling, a US company has created an antimicrobial tray table cover for personal use.
"With quick turnarounds and budget tightening, I was not surprised to read that on average, many airlines only deep clean their cabin interiors every 30 days," said frequent flier and company co-founder Jason Drebitko.
Drebitko and industrial designer Alexys Wilbur, have teamed up to launch trayGUARD™+, which blends antimicrobial performance with environmental consciousness, to allay germaphobic travellers' fears.
The concept for trayGUARD was born from Drebitko's desire to have an antimicrobial cover that could slip over an airline tray table, cover it completely, and be disposed of or ideally recycled when leaving the plane. The fabric used in the product is made from 100% PET recycled bottles and employs natural silver and copper ion technology. In addition, the fabric from which it is made is the same as used for face masks used by health-care professionals to protect against microorganisms, body fluids and particulate materials during a medical emergency. www.trayguard.com
With hopefully strike action finished and operations back to normal Qantas has announced it will extend its A380 network to include Hong Kong from January.
Qantas CEO, Alan Joyce, said that Hong Kong was a key market for Qantas and launching new product on the route was important for both the business and leisure market.
"Qantas will operate four return services per week between Sydney and Hong Kong from 15 January 2012," Mr Joyce said. "Our A380 fleet has continued to generate extremely positive feedback from our customers since its introduction, and we are pleased to now add another destination to our A380 network".
Qantas will receive its 11th and 12th A380s later this year, providing the capacity required. It will also mean A380 services between Melbourne and London (via Singapore) will increase from six flights per week to daily, and flights between Melbourne and Los Angeles will up from four flights weekly to daily.
The airline is also in the middle of a goodwill campaign in an attempt to win back business after the three-day shutdown. Passengers directly affected by the grounding have been offered the choice of a free return domestic flight, or one between Australia and New Zealand. www.qantas.com.au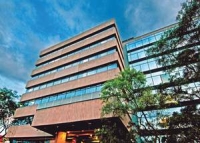 Wyndham Hotel Group, which claims to be the world's largest hotel company based on number of hotels (IHG makes the claim for rooms), has introduced the TRYP brand to Central America, with a 98-room property in the heart of San José, Costa Rica. There are 14 TRYP by Wyndham hotels open and operating in South America.
The new hotel is conveniently located just 20 minutes from Juan Santamaria International Airport and 10 minutes from downtown San José.
Guests at TRYP San José Sabana can utilize the hotel's on-site fitness centre, business services, complimentary wired and wireless high-speed internet access throughout its public spaces, a gift shop and free private parking. The hotel offers 500sq m (nearly 5,400sq ft) of flexible meeting and event space that can accommodate up to 280 people. Each meeting room is equipped with the latest in audio-visual technology, including high-speed internet and video projection systems.
The TRYP by Wyndham brand will continue its expansion in the Americas with the opening of its first location in the United States, the 173-room TRYP New York City Times Square South, later this year. Additional properties are scheduled to open in Panama City (Panama) and Bogotá (Colombia), in early 2012. www.tryphotels.com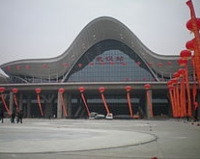 Starting on 11 April 2012, Air France will begin operating scheduled service between Paris-Charles de Gaulle and Wuhan Tianhe International Airport. Air France is the first airline to offer direct flights between Wuhan and Europe.
Situated at the crossroads of central China and at equal distance from Beijing, Shanghai and Guangzhou, Wuhan is a transportation hub for air, railway and ferry traffic. It is the fifth Chinese mainland destination to be linked to Paris.
Capital of the Hubei, with a population of 9 million inhabitants, Wuhan is a commercial centre for finance, industry (especially automotive), trade and science, with many international companies located there. The city is also an intellectual hub with scientific, technological and educational institutions such as Laser City and the Wuhan University.
The new service will be operated three times a with Boeing 777-200ER equipment, which can seat up to 309 passengers: 35 in Business, 24 in Premium Voyageur and 250 in the Voyageur/Economy cabin.
During the winter 2011 season, the Air France KLM Group is operating 80 flights a week to eight destinations in Greater China (Beijing, Shanghai, Guangzhou, Hong Kong, Chengdu, Hangzhou, Xiamen and Taipei). www.airfrance.com
After having a hefty meal at the restaurant on the top of the World's Tallest Building in Dubai… you excuse yourself from the table and head to the W.C…and without even thinking about it, you flush the toilet. "Where does it all go?
We wish we could take credit for being the first to ask of the world's tallest building: "Where does it all go?" But we can't. Terry Gross from America's NPR radio station did that for us. Actually, before her, Kate Ascher from Columbia University's Graduate School of Architecture wrote everything you ever wanted to know about skyscrapers in a book called "The Heights: Anatomy of a Skyscraper." All due credit aside, did you ever wonder what happens when a toilet is flushed on the 100th floor of a high-rise? And where it lands up when it finally makes it back down to earth? If so, read on…
After having a hefty meal at the restaurant on the top of the World's Tallest Building.
You make a visit.
Your number one and two then travels 160 floors at breakneck pace, gravity interrupted by a sophisticated system of bends in the pipes that slows it down. These pipes are soundproofed by the way, because nobody wants to listen to travelling waste all day.
Anywhere else the waste would land in a septic system and then slowly make its way to the municipal wastewater treatment plant. In greener buildings, it might even go through a network of filters so that it can be re-used for landscaping or flushing more toilets. But this is not what happens at the Burj Khalifa.
Ok, what then?
Well, since the Burj Khalifa was built in such haste nobody thought about where it would go. There is no underground waste disposal for the building. In London we might complain about Thames Water, but the Victorians put in a brilliant sewerage system.
Some unfortunate soul – mostly likely several actually – collects the waste in trucks. It is estimated that at full occupancy it could amount to a good 13 tonnes of human excrement every day, but the Burj isn't operating at full occupancy, so let's reduce that number. Let's cut it down to 8 tonnes – a very conservative number. You have to admit, that's still a lot of sh#t.
Dubai has 63 buildings that stand taller than 656ft. What happens with them we don't' know, but our advice is to keep away from the poop wagons. Try the new Metro.