24 JANUARY 2011
BTN DISTRIBUTION
BTN also goes out by email every Sunday night at midnight (UK time). To view this edition click here.
The Business Travel News
PO Box 758
Edgware HA8 4QF
United Kingdom
+44 (0)20 8952 8383
info@btnews.co.uk
© 2021 Business Travel News Ltd.
Korean Air has announced that its A380 launch schedule between Seoul and Tokyo and Hong Kong will start on 1 June. The tickets are now on sale. AERBT reported in its issue of 10 January that the airline will become the first carrier to offer the upper deck solely dedicated to a Business Class offering.
The daily utilisation of the aircraft includes a 10:30 departure from Seoul/Incheon, to Tokyo/Narita and then an evening/overnight service to and from Hong Kong.
The airline will gradually expand its A380 service to Bangkok in July, once the second A380 arrives. The third A380 will launch to New York from August, and fourth A380 to Los Angeles in October.
The airline's A380 will have a total of only 407 seats making it the least crowded of all A380s. On the lower level there is 12 First Class seats 301 Economy Class seats with 94 Prestige Class on the upper deck. Korean Air has ordered 10 A380 aircraft with the first five to be delivered by the end of 2011 and an additional five by 2014.
Separately Airbus has announced its 10,000th order with a firm contract from Virgin America for 60 A320s, including 30 A320neo aircraft. This is the first firm order for the A320 new engine option. www.airbus.com www.koreanair.com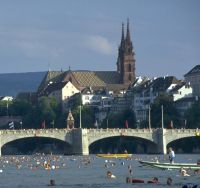 British Midland International (bmi) is to serve Basel from both Heathrow and Manchester from the start of the summer season 27 March 2011. The routes will be operated in partnership with Swiss, and offer three flights per day on weekdays between Heathrow and Basel, with two services on Saturdays and Sundays, and a daily weekday flight between Manchester and Basel. Both airlines are owned by Lufthansa.
Services will be flown by bmi using an Airbus A319 aircraft offering a Business Class and Economy cabin. The airline faces stiff competition, the route already served from London by BA (Heathrow), Swiss (London City) and easyJet (Gatwick).
In the meantime bmi is known to be reviewing its loss making UK domestic services with all eyes on the five times daily Glasgow route said to be the most likely for the axe. This could open up the airport to an operation from London City both British Airways and CityJet offering frequent flights to Edinburgh but not its rival Scottish city. www.flybmi.com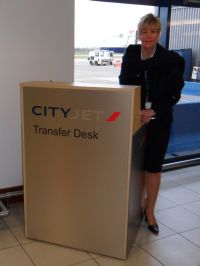 Travellers to and from Ireland have now at last a proper fast connecting facility at London City Airport a service expected to attract passengers from alternative gateways.
Following an initiative by CityJet, passengers on a through ticket from any of the 15 possible European connections on the airline at London City can check-in at the departure airport, and also their luggage, in the knowledge that they will be met by a representative of the carrier at a new designated stand just before immigration at City Airport. They will then be personally escorted through a new 'fast track' arrangement and straight into the departures lounge and if necessary, the gate.
Both airline and airport are claiming that this is now the fastest connecting procedure of any major airport in Europe (a claim hard to dispute – Editor) with 30-minute connecting times easily possible. www.londoncityairport.com www.cityjet.com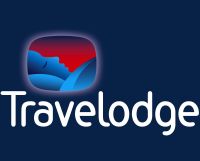 Travelodge, which claims to be the UK's fastest growing hotel company, is to build 35 new hotels (3,667 rooms) this year boosting the company's estate to 495 hotels and 35,841 hotels. It has also announced an increase in its growth targets and plans to operate 1,100 hotels totalling 100,000 rooms by 2025.
Over half of the Travelodge hotels being built this year are situated in major UK cities. There are eight hotels being built in London, with three opening this year – this will mean Travelodge will become the largest single hotel brand in the capital this spring.
Three hotels are under development in Birmingham, one at the NEC and two city centre locations (Carrs Lane and Bullring). In Manchester Travelodge is opening at the MEN arena and at the University. There are also city centre hotel openings in: Bristol, Cambridge, Canterbury, Cardiff, Hull, Lancaster and Liverpool.
Under construction is a new Travelodge in Valencia (Spain) offering 116 rooms and sited close by the airport. The company is known to be considering the construction of two new additional hotels in Barcelona and Seville. www.travelodge.co.uk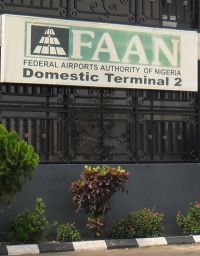 Arik Air, the Nigerian airline, tells AERBT that its domestic fares are now available for sales in the UK through Amadeus (1A), Galileo (1G) and Sabre (1S) global distribution systems. (see last week's AERBT)
Customers can purchase e-tickets for connections from Arik Air's Lagos and Abuja hubs to 16 domestic points within Nigeria, including Calabar, Kano, Port Harcourt and Warri. The airline currently operates a daily schedule from Heathrow T4 to Lagos with a two-class Airbus A340 and five times weekly service to Abuja, the Nigerian capital, this route flown by a Boeing 737-800, also two-class. www.arikair.com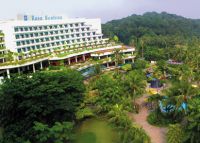 Singapore's Shangri-La's Rasa Sentosa Resort, has re-opened after completing a 10-month, extensive refurbishment. The resort, which is the only beachfront hotel in Singapore, now offers additional room options that are designed specifically to suit the different needs of the traveller.
Rather than picking from a traditional room category list, guests with children can choose to check into a larger family room instead of having connecting facilities rooms, and honeymooners can ask to stay in the Panorama Room, which offers romantic views of the South China Sea.
Shangri-La's Rasa Sentosa Resort features seven dining options. Corporate guests can look forward to holding meetings in newly refurbished function rooms, each featuring intelligent lighting systems, soundproof double walls and the latest audio-visual equipment. With an eye for family business Cool Zone is the largest children's club provided by a hotel in Singapore.
Sentosa is located 15 minutes from the main shopping and business district of Orchard Road and 25 minutes from Changi International Airport. Shangri-La's other properties in Singapore include the award winning Orange Grove Road, and the Singapore Traders. www.shangri-la.com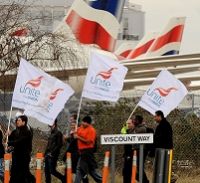 British Airways faces yet further industrial action later this year after some cabin staff who are members of the Unite Union voted in favour of strikes. The actual numbers make for interesting reading with union members now said to be only 10,200 out of a total complement of 13,500. 5,751 were in favour of walking out, that is 43% of the cabin crew.
In what is seen as a deliberate attempt to unsettle senior management Unite chose last Friday (21 January) to announce the figures, a "rest day" for both British Airways and Iberia shares, with IAG Plc, the combined operation, due to start trading on the London and Madrid stock markets today. The company is hosted in London with Willie Walsh and his retinue based in the Compass building on the Bath Road actually overlooking the northern runway.
The airline has said that if a strike takes place it would expect to operate 100% of long haul and most European flights at Heathrow, as well as full schedules at Gatwick and City airports. In the last rumpus volunteer staff and leased in aircraft and crew kept the schedules operating. The overall effect this time around should be less with the public not so wary when looking at commitments far ahead, knowing that fares will rise unless booked and the alternative carrier not acceptable. www.ba.com www.unitetheunion.org.uk
A guy was on the side of the road hitchhiking on a very dark night and in the middle of a storm. The storm was so strong he could hardly see a few feet ahead of him. Suddenly he saw a car coming towards him and stop. Without thinking about it he got into the back seat, closed the door and then realized there was nobody behind the wheel!
The car started slowly but as he looked ahead he saw a curve coming his way. Scared, he started to pray begging for his life.
Suddenly just before the curve, a hand appeared through the window and moved the wheel. Paralysed in terror he jumped out of the car and ran!
Wet and in shock, he came to a pub and started telling everybody about his horrible experience.
A silence enveloped when they realized the guy was serious.
About half an hour later, two fellows walked in the same pub. They looked around for a table when one said to the other, "Look John, that's the guy who got in the car when we were pushing it."