14 DECEMBER 2009
BTN DISTRIBUTION
BTN also goes out by email every Sunday night at midnight (UK time). To view this edition click here.
The Business Travel News
PO Box 758
Edgware HA8 4QF
United Kingdom
+44 (0)20 8952 8383
info@btnews.co.uk
© 2021 Business Travel News Ltd.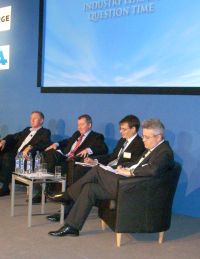 BRITISH AIRPORT OPERATORS ASSOCIATION (AOA) were treated to a rare get-together last week when British Airways Chief Executive Willie Walsh, his opposite number at Virgin Atlantic, Steve Ridgway, BAA's Colin Matthews and Birmingham Airport's Paul Kehoe sat together on a panel. They faced a series of questions dealing with the future of air transport. The event was boosted by publication of the Committee on Climate Change report that morning which, surprising some, favoured a Heathrow third runway. The previous day MPs had also called for Heathrow expansion (see last week's AERBT). Walsh was emphatic in attacking current Conservative party policy and warned that it will make the "biggest mistake ever" if it blocks a third runway at Heathrow. Theresa Villiers, the latest Shadow Transport Minister, is particularly vehement in her opposition but has yet to come up with a practical alternative. www.aoa.org.uk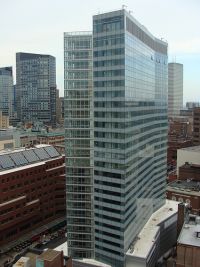 W HOTELS has opened a new property at Boston (USA), its 35th hotel globally. Located in the heart of the city, just by Boston Common and virtually on the "Freedom Trail" it features 235 guest rooms and 123 W-branded residences. There is an underground bar and lounge called Descent. The opening comes just after the soft introduction of another W Hotel in an equally significant port city, Barcelona (see AERBT 12 October).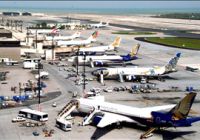 OAG has published flight and passenger seat numbers for December, the figures including all scheduled airlines, whether members of IATA or not. The OAG database indicates that the world's airlines will operate 1% more flights in December 2009 as compared to December 2008 and offer 4% more seats. The number of flights and seat capacity within the Middle East is expected to rise by 19% and 23% respectively. North America continues to show a decline with 2% drop compared to December 2008 and seats down 3%. Europe flight operations has reduced by 2% but there is a marginal increase of 1% in the offered seats. www.oag.com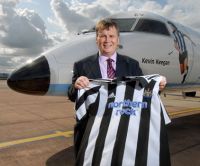 FLYBE is to introduce a three times daily service from Newcastle to Hannover from the start of the summer season 31 March 2010. Operating with Bombardier Q400 aircraft the route will also link both ways from Exeter, offering for the first time ever a direct through route from Devon's capital to Germany. The flights will operate on Monday, Wednesday and Friday. www.flybe.com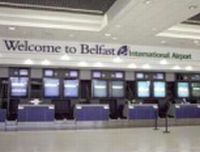 BELFAST CITY AIRPORT (formerly called Sydenham and then Harbour, and now George Best) is the subject of intense speculation regarding an extension of the current 1800m runway by a further 500m. This would make it viable for long range and wide bodied aircraft. It is possible that a public enquiry would not be needed but any expansion could cause serious problems at Belfast International Airport, already suffering from airline relocations. Surprisingly Mike Rutter, Commercial Director of Flybe, the airport's largest operator opposes any changes: "We believe the runway extension will change fundamentally the character of the airport which will make it less attractive for people to come and visit Belfast as a place to do business," a claim which hardly stands up to scrutiny. www.belfastcityairport.com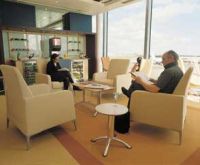 SERVISAIR has exchanged contracts with Go-Ahead plc to acquire their regional ground handling business at 11 airports in the UK. The agreement encompasses Aviance operations at Aberdeen, Belfast City, Belfast International, Birmingham, Cardiff, Edinburgh, Glasgow, Luton, Manchester, Southampton and Stansted airports. The package includes the Aviance lounges at Birmingham, Gatwick and Luton airports. The Servisair umbrella now covers 24 UK airports. Dubai's DNATA, a unit of the Emirates Group, is acquiring Plane Handling, also part of Go-Ahead, and its passenger and ramp handling operations at Terminal 3 and 4 at Heathrow. www.servisair.co.uk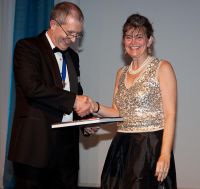 THE ROYAL AERONAUTICAL SOCIETY (RAeS) was established in 1866 and is still very much around today as a professional body with an international network of 63 branches. Its prestigious headquarters are in Park Lane, next door to the Intercontinental Hotel. In 1909 Wilbur & Orville Wright came to London to receive the Society's first two Gold Medals. Orville Wright (Wilbur died in 1912) always had an affinity to London, the original Wright Flyer on display at the Science Museum London from 1928 until 1948 after a row with the Washington's Smithsonian. To mark this 100th anniversary the Society invited Amanda Wright Lane, family keeper of the Wright name, and great grand niece of the brothers, to this year's ceremony held last week. A Gold Medal, this time around, was awarded to Emirates President Tim Clark. Ms Wright Lane brought with her the original medal which is now on display at the RAeS together with the Silver Medal awarded to Samuel Cody in the same year. An American by birth Cody was the first man to conduct a powered flight in Britain, on 16 October 1908. www.raes.org.uk
An off-duty police officer, familiar with radar guns, drove through a school zone within the legal speed limit when the flash of a camera went off, taking a picture of his licence plate. The officer, thinking the radar was in error, drove by again; even more slowly. Another flash. He did it again for a third time, at an even slower speed. Same result. "This guy must have screwed up the settings," the off-duty officer thought. A few weeks later, when he received the penalties in the mail, he discovered three traffic tickets: Each for not wearing a seat belt!