7 SEPTEMBER 2009
BTN DISTRIBUTION
BTN also goes out by email every Sunday night at midnight (UK time). To view this edition click here.
The Business Travel News
PO Box 758
Edgware HA8 4QF
United Kingdom
+44 (0)20 8952 8383
info@btnews.co.uk
© 2021 Business Travel News Ltd.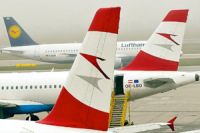 AUSTRIAN AIRLINES is to become part of Lufthansa (LH) "sometime in September" following the European Commission finally approving LH bid for the loss making carrier. Certain conditions have been met including service reductions and the giving up of slots on routes from Vienna to Brussels, Cologne, Frankfurt, Munich and Stuttgart, although under the present economic conditions this is unlikely to have much effect. €500m of so-called "restructuring assistance" from the Austrian government is involved. LH says it plans to operate Austrian as an independent subsidiary as part of its strategy of becoming a "system of independent airlines" with multiple European power bases, a sister company to Swiss. www.aua.com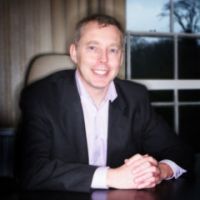 BMI has implemented its first changes since the take-over by Lufthansa just one month ago. Out go Peter Spencer, Managing Director Mainline and also Commercial Director, Martyn Bridger. Spencer's role is taken over by Dominic Paul, who was Commercial Director at Go before its takeover by easyJet. For the bmi Group Nigel Turner remains as Managing Director with Tim Bye as his deputy, both based at Donnington Hall, East Midlands. www.flybmi.com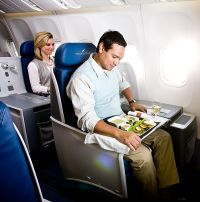 DELTA AIR LINES has launched its new BusinessElite class on all services out of Heathrow to Atlanta, New York JFK and Detroit. Operating Boeing 767-400 the much improved cabin features a 77-82 inch, 180-degree full-flat beds in a one-two-one configuration, the new seat gives every passenger in the cabin direct aisle access as well as a choice of single seats for added privacy. The novel layout has been designed in such a way to give the single window seat customers even more table space by alternating the actual seats (see picture). Heathrow to Minneapolis will be added by September 2009. Amongst other enhancements BusinessElite now includes full-size pillows, quilted duvet comforters and new dinnerware. Also upgraded is the Delta on Demand digital entertainment system which has also been extended to Economy Class. www.delta.com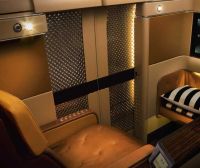 ETIHAD, the State airline of Abu Dhabi, has not only upgraded its executive lounge at Heathrow, but has also introduced the first of its highly-anticipated new First Class suites on to the Airbus A340-600 route between London and the Emirates. A second aircraft joins the fleet later this month and the product will also be provided on a further five Airbus A330-300s progressively being delivered. The airline will also retrofit nine Airbus A340 aircraft that are currently in service by December 2010. The state-of-the-art suite provides First Class customers with a private cabin including an 80.5" flat bed. Within the First Class cabin there is also a large and luxurious changing room with a full length mirror, wash basin and leather fold-down seat allowing customers to freshen up at any time during the flight. The new Heathrow lounge will open when the airline moves from T3 to T4 on 30 September. www.etihadairways.com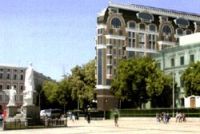 KIEV now has an InterContinental hotel following the opening of a 272-guestroom property in the Ukraine capital last week. Situated in the heart of the city the 11-storey hotel offers five Ambassador Suites and two Signature Suites - a 212-sq-metre Royal Suite and larger 314-sq-metre Presidential Suite, both overlooking St Michael's Square. The Presidential Suite has enhanced security features with exclusive private lift access, and has been specifically designed to host visiting heads of state and high-level dignitaries. All guestrooms and suites are classical in style and are equipped with the latest business and entertainment technology including high speed wireless internet access, Philips plasma tvs and iPod docking stations, and Cisco IP telephones. The InterContinental Kiev is also home to the capital city's largest and most technologically advanced pillarless Grand Ballroom, for receptions of up to 450 guests. The hotel also has a state-of-the-art conference centre, a spa and health club plus indoor swimming pool. www.ichotelsgroup.com/intercontinental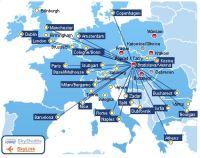 SKYEUROPE, the Bratislava (Slovakia) based low cost carrier, has filed for bankruptcy following months of concern as to its financial situation. In June the airline went into administration having been granted protection from its creditors. According to an announcement by the Vienna Bourse (stock exchange), the trustee of SkyEurope has filed to open proceedings due to the airline having insufficient funds to continue operating. With regard to the UK the airline flew into Luton and Manchester. The SkyEurope website confirms the position and states that passengers who have paid direct for their seats are unlikely to get their money back. www.skyeurope.com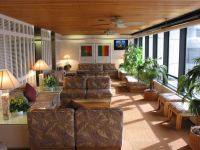 VIRGIN ATLANTIC (VS) is to close its Gatwick Clubhouse temporarily from 1 September until the end of November. When it re-opens later in the year passengers will be provided with the ultimate pre-flight pampering experience, complete with a brand new Cowshed Spa. Cowshed is the Soho House spa brand where VS Upper Class and Gold Card passengers are able to treat themselves to a selection of exclusive treatments. During closure of the Gatwick facility eligible passengers will be offered alternative lounges at Gatwick Airport, including the use of the Virgin Holidays V-Room. Virgin Atlantic currently flies from Gatwick to Antigua, Barbados, Grenada, Havana, Kingston, Las Vegas, Montego Bay, Orlando, St Lucia, Tobago and, from 7 November, to Puerto Rico. www.virgin-atlantic.com
The shipwrecked mariner had spent a number of years on a deserted island. Then one morning he was thrilled to see a ship offshore and a smaller vessel pulling out toward him. When the boat grounded on the beach, the officer in charge handed the marooned sailor a bundle of newspapers and told him, "Read through these and let us know if you still want to be rescued."