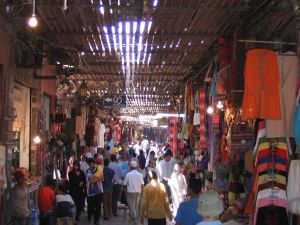 "'We certainly do get around.

Like Webster's Dictionary we're Morocco bound."

That was Bing Crosby singing in 1942. The "Road to Morocco" was one of the most popular of the Road series films which also included Bob Hope and Dorothy Lamour.

Things have changed. But not that much.

Let's do the negative first.

The taxi drivers look like US State Department photo-fits of terrorist suspects, but don't get alarmed.

And on the positive front King Mohammed VI, like his late father Hassan, is a friend of the West and his subjects love him. He is a golf fan.


About Morocco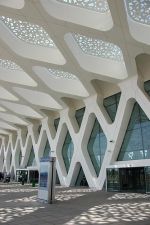 Just as close to Luton Airport as Athens, and a lot nearer than Tenerife, Marrakesh is as far removed from the UK as Lhasa, Lima or Luanda. Morocco's most tourist-filled but traditional city contradicts in itself on every street corner to the western eye. These are not reasons not to go, but compelling reasons to go. The place, the people and the culture are far more accessible than you imagine.

Marrakesh is suited for a weekend and also offers ample sights and sounds to keep visitors busy for a week or longer, if you wish to trek or even ski in the Atlas Mountains. The climate offers enough sun to satisfy ardent sunbathers throughout our damp spring and autumn months, but given that summer temperatures hit 50ºC, the peak season is the cool but not cold Christmas and New Year. Thinking of hiring a car? Think again, in this part of the world, off-road is probably safer than on-road.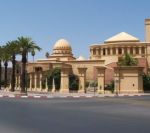 Getting there has never been easier. Marrakesh has had much investment with a modern travel infrastructure, a new railway station, airport terminal and a motorway is under construction to Morocco's other key tourist destination, the Atlantic beaches of Agadir. The capital Rabat and commercial centre Casablanca are now only a three-hour train ride away and Marrakesh's Menara Airport, which is amply served from the UK by scheduled, charter and low cost airlines, has to be the most downtown of all airports in the Ryanair network, just a ten-minute taxi or coach ride into the city centre. It is actually where it says it is!

Marrakesh covers the cultures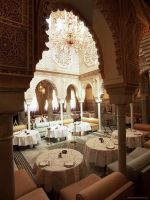 Over the last decade the city's tourist accommodation has expanded dramatically. At the top end is Marrakesh's iconic Mamounia hotel, a favoured halt of Winston Churchill, Yves Saint Laurent (and my mother-in-law), which will re-open on 29 September after three years of renovation. For the first time ever, The Mamounia will have competition at the top end of the market from Lucien Barrière's Naoura. The luxury hotel group also owns a casino and racecourse, and this is their first venture outside France.

To get a taste of the city avoid the few real and the many less real five-star hotels grouped around the city and in the Palm Grove to the North, and head to the "Medina", the old walled town. This complex of narrow man, moped and mule packed streets is filled with the bustle and chaos that represents a centuries' old way of life. A street map is a necessity here, but may not actually be useful.

As well as its maze of streets the Medina is a bewildering complex of doorways, and behind many lies an adventure. It could be a palace, art gallery, carpenter's workshop, mosque or even the synagogue. Similarly a stairway can lead to a ruin or a lavish roof top restaurant. In the media, tourists quickly learn not to judge a book by its cover. The old city is complex and a Sat Nav is not an option.


Behind many doors you will find Riads (private houses), converted to restaurants or small hotels, some simple, many luxurious, but all hidden away from the non-stop activity outside. Service can sometimes be slow, this is not rude or a lack of attention, that's just the way it is. The best are real oases of cool, calm and charm. Fitting of this description is the Riad Chergui. Picked out by some UK broadsheets a few years ago as one of the top ten places to stay in Marrakesh, it probably still is.
Chickens and ducks

The Medina culminates in the main square of Djemaa El Fna with its snake charmers, acrobats, story tellers, musicians and food stalls. This is not Disneyland but a real living culinary and performance culture, an increasing rarity and a privilege even for seasoned travellers. Butchers seem to abound in the bustle. They look exactly that, and every part of a sheep is used, from head to toe and everything in between (especially in the case of the males). Perhaps it is not too hygienic but people survive. Chickens and ducks run around.

If you stay for a day or a month no visit to Marrakesh is complete without one 'square meal' in Djemaa El Fna. Go to where the locals are queuing and you will not be disappointed. Depending on your appetite you may have to move around a bit to get a full meal as each stall specializes. However no feast is complete without a 25p bowl of Harria or Chorba soup to start and a 25p glass of fresh orange juice to finish.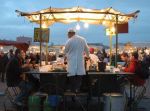 The other 'must do' in the Medina are the souks, given exposure in the last of Alan Sugar's "The Apprentice" series, when the UK's favourite business guru described the business acumen of the souk traders as "the best in the world" he warned his apprentices.

In your hunt is for the perfect souvenir from Marrakesh's traditional leather, metal, ceramic, jewellery or wood artisans, AERBT's hint is to go to the fixed price government run "Ensemble Artisantal" near the Town Hall before venturing into the souk. You will then get an idea of what the real price should be, and you can enjoy your bargaining and in true Mr Bean style bring back at least one piece of Morocco for your mantle piece.

Marrakesh may not be for everyone, but it is fun.
HOWARD DAVIS
OUR READERS' FINEST WORDS (All times and dates are GMT)
All comments are filtered to exclude any excesses but the Editor does not have to agree with what is being said. 100 words maximum
---
No one has commented yet, why don't you start the ball rolling?
---