After 45 years – Roskill reported in 1971 – we may have finally arrived at the point when a new runway for the London area is about to happen? (See BTN 23 January 2012 The Maplin Story).

All the indications are that the report of the Airports Commission, an initiative by the Prime Minister, and headed by Sir Howard Davies, will publish the results of its deliberations this week, possibly Wednesday. We wait with baited breath, as does the global air transport industry. Heathrow is that important.
Many will not agree with its results, including those closely involved in the airline business (maybe even BTN), but for the good of the country we must all bite the bullet and get behind whatever scheme the Commission suggests.
Robert Goodwill, MP, Parliamentary Under-Secretary of State for Transport, says that the Government will be decisive. See in this issue.

The losers should not get involved with dirty tricks to promote their clearly attractive but deselected schemes, and those against the runway project must accept that we live in a democracy. Do not believe what you read in newspapers regarding the strength of the opposition. Most would have moved into their present homes knowing of the airport's existence. They would have lived through the noisy (and dirty) Boeing 707 and the equally ear-splitting VC10. No comparison with the Airbus 320.

Foolhardy projects, such as the preposterous Thames Estuary schemes need to be utterly consigned to the rubbish dump of history. Too much public money has been wasted in that direction. If the promoters wish to proceed with something that has been discredited at least twice they should put their hands in their own pockets. Lord Foster, presumably, spent his own money on his project.

The Airports Commission has faced a nearly impossible mission, but at least with Sir Howard the Government chose a Chairman of fortitude and strength, with a fine track record, and a real interest in the task assigned to him.

The case for Gatwick is very strong. It desperately needs a second runway. It is tagged with a title it does not want – The world's busiest single runway major airport. If something goes wrong and 08/26 has to be closed, however trivial the problem, there is potential chaos. Diversions are the order of the day.

Heathrow is the airport that the world's airlines want, confirmed time and time again at Miami's IATA gathering and last week's Star Alliance Chief Executive Board Meeting (CEB – see in this issue) in speeches and networking.

Of the two schemes, Heathrow's own Bath Road enterprise, or the extended runway project, both have their professional proponents. One is a straight forward piece of tarmacking which will probably mean the demolition of British Airways Waterside headquarters, whilst the other is experimental, but we are told by the experts, safe and practical.

In a proper commercial world there would be no problem. Both airports would be offered an extra runway. In fact that is what BTN would prefer. We would then see who has the financial muscle to move ahead, without government funding, as with the old BAA and Stansted.

And just as a further thought. Is Michael O'Leary deliberately waiting for Davies to report before he decides on Aer Lingus? It has 25 slot pairs at Heathrow.

We need to move ahead now. More delays are not the way forward.

May the better project win.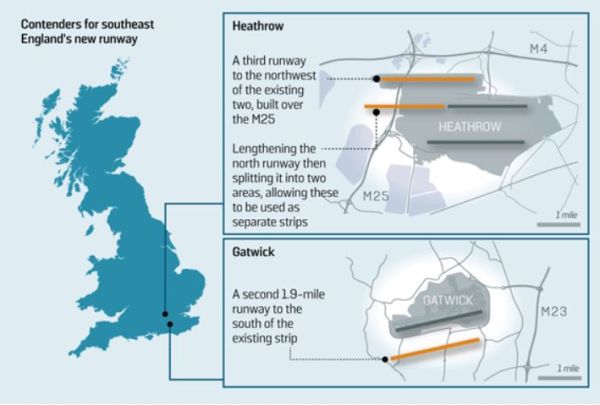 Our thanks to the Sunday Times for the maps
OUR READERS' FINEST WORDS (All times and dates are GMT)
All comments are filtered to exclude any excesses but the Editor does not have to agree with what is being said. 100 words maximum
---
Terry Spruce, UK
When Boris becomes PM, this decision will now not matter, as Boris Island will be back on the table. My other view is for a new airport on the coast of Northern France, London Calais International using Eurotunnel as main way of getting there
---
Geoff Moore, Portland UK
I think the case for Gatwick is a pretty clear and an easy one, it needs a new runway that is obvious I would find it hard to see Sir Howard Davies not coming up with that conclusion too. Heathrow, well a third runway or and extended second? For me it surely has to be the third runway option and not the extended second one. I look forward to the 'Runways' conference next week in London to question the experts even more if Sir Howard does go for the extended second runway option. I am not fully convinced that option is workable and safe!
---