Game Changer at London City Airport?
The historic first flight of the highly anticipated Bombardier CSeries aircraft last week (See First Flights) could herald the start of a game changer in the London business travel market.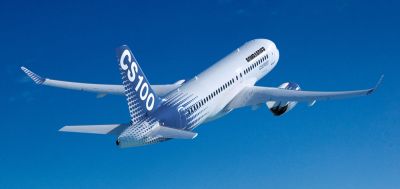 With detailed planning permission now being sought following approval of an increase of aircraft movements (See East London airport plans in this issue) the CS100 model would be able to service the airport not just on the traditional banking routes to major centres in Europe but it would also open the airport and business travel market to non-stop medium haul routes to the Middle East and parts of Canada and the United States in 2016.

The expansion of the city-centre airport located in East London would permit larger aircraft like the 110-125-seat Bombardier CS100 to use the airport without requiring a runway extension. According to Bombardier, the aircraft is well suited for smaller urban airports that have short runways and require steep take-offs and descents which restrict the size of aircraft capable of operating from such airports. At present the largest aircraft in terms of passenger capacity using London City Airport (LCY) is the elderly Avro RJ and British Airways Embraer 195, both with just under 100 seats. Versions of the CSeries are planned with up to 140-passenger capacity. One of the reasons for the LCY planning application is that the airport was originally designed for the pioneering Bombardier Dash 7 short landing and take-off aircraft, but with only 50 seats. Current gate capacity is very restricted and the airside departure lounge, nice as it, is now too small.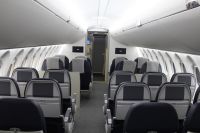 Other airlines around the world are already making plans for the CSeries to service routes in and out of their urban hubs.

Malmo Aviation of Sweden intends to use the five CS100 aircraft it ordered at Stockholm Bromma airport located just 8kms west of the city centre. This will be a dramatic improvement for business travellers who presently face a 40kms commute to Stockholm's main gateway, Arlanda Airport, for travel to major centres in western Europe and beyond.

Canada's Porter Airlines has announced its intention to use the CSeries to connect passengers at its Toronto City Centre Airport hub to points on the west coast of Canada and the United States. But Porter faces a much steeper hurdle to climb as those plans involve a runway extension and an exemption for jets to service the airport. If approved, the plan would have a significant impact on the business travel community who will now have a new option for medium haul travel along with the choice of utilising the much smaller and quicker to navigate terminal at city centre airport rather than Pearson International Airport, Canada's largest airport. The option of travelling from the smaller city centre airports adds great convenience and reduces travel times for business travellers.

For London City Airport, the planned expansion doesn't come without its opponents.

Families that live under the flight path across East London are accusing the airport of broken promises. When the airport originally opened in 1987, it was intended for quieter turbo-prop aircraft with a restriction of up to 30,000 flights for year. But 25 years later, the airport serves nearly 70,000 flights per year hosting a combination of much more modern jet and turbo-prop aircraft. The planned expansion would see the number of flights rise to 120,000 per year. However a closure of the airport is unforeseen, even Ken Livingstone, an arch opponent ((SEE), admitting to its success.

Currently, the largest jet aircraft currently to operate scheduled service from London City Airport is the British Airways Airbus A318 which offers twice daily service to New York City via Shannon as the aircraft does not have the range to fly non-stop. It also only carrier 34 passengers, not an economical load, but a very good flag flyer for British Airways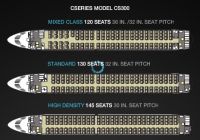 In spite of the response of critics, Bombardier says not only will its aircraft be able to service New York non-stop but it will also be able to with better fuel efficiency, lower emissions, and much less noise. According to Robert Dewar, Bombardier's Vice President and General Manager of the CSeries programme, noise tests show that the CSeries also dubbed the whisper jet, will perform comparatively to the Bombardier Q400 turbo-prop which currently serves London City Airport.

At least two airlines have already announced their intention to utilize the CSeries from London City Airport including Swiss International Airlines, a subsidiary of Lufthansa, which will use the aircraft to replace its fleet of Avro regional jets on routes to Zurich, Geneva, and Basel. It was also indicated in other reports that Odyssey Airlines, a new start-up carrier intends to launch non-stop London to New York service from the airport competing directly with British Airways' one-stop service. But Bombardier says Odyssey's aircraft will primarily be used on services to European centres.

While the performance of the CSeries remains to be seen, it holds a lot of promise for London's business travel community and future service from the city airport.

London City Airport currently has the highest proportion of business travellers of any airport in the United Kingdom and the CSeries will undoubtedly be a welcome addition. With the prospect of non-stop flights to financial centres in parts of Canada, the United States, and the Middle East, the CSeries will indeed be a game changer introducing a new level of convenience for both business and luxury travellers. Such convenience will provide greater flexibility and efficiency to business travellers along with added perks. The addition of new routes and new airlines will no doubt come with incentives to lure the frequent business traveller.

As for the local residents of East London, if what Bombardier claims regarding noise is true, they might just also welcome the CSeries as it replaces much older and noisier jet aircraft with a noise similar to that of a turbo-prop.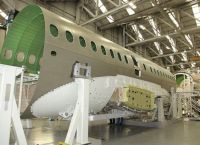 The CSeries aircraft programme has significant UK content – in particular, the complete advanced composite wings, which have been designed and are being manufactured and assembled in Bombardier's Belfast operation, formerly Shorts.

Around 200 suppliers across the UK are directly providing material, systems hardware, parts, equipment and services for the CSeries aircraft programme, with many more throughout the supply chain tiers.

The CSeries aircraft wings are the largest and most complex composite structures manufactured and assembled in the UK using a unique Resin Transfer Infusion (RTI) technology, which has been developed and patented by Bombardier Belfast. The use of this particular technology to produce aerostructures of this size is a world first.

At present about 25% of London City movements are made by 50-seat elderly Fokker turboprop aircraft. Swapping these for 70-seat plus ATR and Bombardier planes, and the replacement of Avro for CSeries, will significantly increase the average passenger number per flight. Embraer has a brand new larger E series aircraft under development too.

The future looks bright for London City. But surface access has to be improved too.
http://cseries.com/category/first-flight
OUR READERS' FINEST WORDS (All times and dates are GMT)
All comments are filtered to exclude any excesses but the Editor does not have to agree with what is being said. 100 words maximum
---
No one has commented yet, why don't you start the ball rolling?
---