Hebridean Princess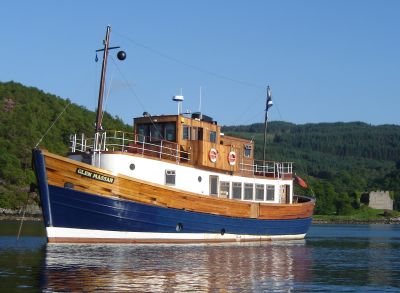 Our ship review for this issue is not the one originally planned, nor is it in the style that AERBT is now establishing, but when the news leaked out that HM The Queen was once again taking a cruise holiday it was well worthwhile changing our schedule around somewhat.
Queen Elizabeth and family are at sea as AERBT is published, aboard Hebridean Princess the subject of our ship review below.
It is a private cruise, and the operator Hebridean is not allowed to comment, but the Royal family is following statistics which, according to the Passenger Shipping Association, indicate that two thirds of cruising is repeat business. For her 80th birthday Her Majesty chose Hebridean Princess around the Scottish islands and for the birthdays of Princess Anne (60) and Prince Andrew (50) four years later the Family is back again. Clearly Britannia is sorely missed.
It must be pointed out that seagoing holidays are very much in the Windsor blood. Victoria and Albert was the Royal Yacht of 100 years ago, and whilst certainly no holiday the Queen's father served his time in the Royal Navy participating in the Battle of Jutland. Princess Elizabeth married Lieutenant Commander Philip Mountbatten RN, who had wartime seaborne service and her honeymoon was taken in Britain's last battleship HMS Vanguard.
This month's CRUISE NEWS also includes a story of another even smaller 'cruise' ship The Majestic Line's Glenn Massan. Room here for only 12 passengers, and the cost is somewhat less too.
OUR TEN STORY NEWS ROUNDUP
(followed by A SHIP REVIEW: Hebridean Princess)

AmaWaterways has expanded its fleet of custom-designed vessels with the launch of the 162-passenger MS AmaBella, bringing the size of the fleet up to 12 vessels, with the construction of the new AmaLotus on the Mekong and AmaKatarina on Russia's waterways currently underway.
The newly-built AmaBella's features include staterooms averaging 214sq ft (larger than those on many ocean-going ships) and exclusive double balconies, continuing the line's tradition of innovative luxury on Europe's great waterways.
AmaBella's exclusive features include an intimate chef's table restaurant that seats just 24 and has its own private chef; a library with fireplace; and a swimming pool. The vessel also features AmaWaterways newly-upgraded 'Infotainment' system, offering complimentary high-speed internet access, complimentary first-run Hollywood movies, classic films and computing options for those maintaining email contact or even blogging during their holiday. The entire vessel, as with all the AmaWaterways vessels on the Danube, Rhine, Main and Mosel, has complimentary wi-fi. www.amawaterways.com

Dover is busy promoting its latest arrival Holland America Line and no-fly cruises. The UK's busiest port may be in the far South East but it is motorway virtually all the way and it now has the advantage of high-speed Javelin train to St Pancras which takes just 1hr 9mins. Kings Cross for the east coast lines is literally across the road and Euston less than five minutes in a taxi.
Holland America is basing two of its ships at Dover, MS Eurodam one of its latest 'Signature Class' vessels and MS Ryndam on its first ever visit to the UK. Nine round trips are planned between May and August which include visits to the Baltic, Scandinavia and the Norwegian Fjords. http://www.portofdover.co.uk

Engine emission regulations are now affecting cruise ships. New rules approved by the International Maritime Organization (IMO), will force cruise lines to dramatically cut the level of sulphur in their fuel when they are within 200 miles of shore. The low-sulphur zones, known as Emission Control Areas, came into force in the Baltic and North Sea this month. By 2012 they will be introduced in North America, where the impact on cruising is expected to be greatest.
It has been estimated that using low-sulphur fuels could cost some vessels an extra £10,000 a day. Cruise ships travelling along the east and west coasts of the United States would normally be within the controlled zones for the duration of their sailings. One way to cut costs would be to use fuel from separate tanks when in different areas, but it would be very difficult to monitor.
The general consensus is that, just like aircraft tax, clients will just have to grin and bear it, and that it will not effect the growth and popularity of cruising. www.imo.org

MSC Fantastica is the name of MSC's latest superliner due to join the fleet in June 2012. The Italians do like flamboyant ships name and it is an improvement on Favolosa which was the original selection for this vessel. At any rate a deal has now been concluded for construction of the new ship to commence at STX Europe shipyard in Saint-Nazaire (France).
Measuring just over one thousand foot long and with a 125ft beam (too wide for the Panama Canal) Fantastica will have a total of 1751 cabins of which 1,250 will have balconies. She should come in at 135,000 tons. www.msccruises.co.uk

Oceania Cruises is not going to charge for bottled water and soft drinks in 2011. If one as a passenger actually tots up the amount of non-alcoholic drink taken it probably does not add up to much but it is a good psychological selling point,
not likely to bring in any new clients but is seen to be adding value. The company continues with its policy of not charging any extra for the specialty restaurants.
Next year's brochure is now out and introduces the brand new 65,000 ton Marina which debuts in Barcelona next January. Also new for summer 2011 is Alaska, Canada and New England. www.Oceaniacruises.co.uk

The Majestic Line is nothing to do with another cruise operator based in Scotland and featured in this week's AERBT. And the money involved is vastly less than the £200,000 reputed cost of HM's charter. Majestic Line will hire you a small cruise ship for just £10,000 for a week's cruise in late August.
A major benefit of hiring your own ship is that the itinerary and route can be arranged to cater for individual groups. Should you fancy a leisurely sail around the Argyll coast, a route can be tailor-made to fit in the attractions you want to see and visit. Or perhaps a trip around the rugged islands of North West Scotland may appeal or even a trip through the Caledonian Canal and Loch Ness.
Whole boat charters now account for about 25% of the Majestic Line's business and are generally booked by groups wanting something absolutely unique and exclusive. There is a crew of 4, including a chef on board to ensure everyone's needs are catered for. www.themajesticline.co.uk

The SS United States, still the holder of the westbound transatlantic speed record in three days and ten hours, could be saved. Launched in 1952 as the American competition to the Cunard Queens on the North Atlantic (and built to Navy standards as a potential troopship following the success of the Cunarders during World War II) for the last 14 years the essentially aluminium ship has languished in a Philadelphia dock whilst its various owners, the latest being Norwegian Cruise Lines (NCL), dithered as to its future. NCL had plans to use the ship in Hawaiian waters but they never materialised. NCL also owned for a period its erstwhile competitor, the SS France (later Norway).
NCL have now sold the ship to a group called the SS United States Conservancy, backed by philanthropist H. F. Gerry Lenfest, who will contribute up to US$5.8m to fund the purchase and associated costs. According to the Philadelphia Inquirer, Mr. Lenfest will be covering the US$60,000 a month docking fees for the next 20 months, while the conservancy develops a restoration plan – which may be to transform the vessel into a waterfront hotel or multi-use development, according to the Journal. www.ssunitedstatesconservancy.org

Turkey is being highlighted by Celebrity Cruises who are basing the newly refurbished 2,034-guest Celebrity Constellation at Istanbul for a short season in September and October 2011. Experience has shown that this is a particularly temperate time of the year weather-wise, by UK standards late summer rather than autumn. www.rccl.com
There are three new 12-night roundtrips out of Istanbul including stops at Bodrum and Marmaris (Turkey) and Chania (Souda) new ports of call for Celebrity Cruises. The itineraries include an overnight stay onboard at Istanbul, a splendid historical city that sits astride the Bosphorus, and calls at Ephesus (Kusadasi), Bodrum and Marmaris (Turkey), Rhodes (Santorini), Athens (Piraeus), Mykonos and Chania (Souda) and Crete (Greece), before returning to Istanbul. Celebrity Constellation was refurbished in May 2010 to feature highlights of the new Solstice-class ships including the Tuscan Grille steakhouse; the creperie, Bistro on Five; a new ice-topped Martini Bar; Café al Bacio and Gelateria plus the Cellarmasters wine bar. www.rccl.com

Windstar Cruises has introduced what it calls a gourmet sandwich bar in the Yacht Club on Wind Surf. Guests can dine on an assortment of delicious specialty sandwiches, fresh fruit and cookies onboard or they can take them on shore in a Windstar insulated cooler bag for enjoyment in port. You know exactly what you are getting for lunch and it is easy to make for that secluded beach. Eight signature sandwiches are available and we list here just a few examples, all of them with a European flavour. The Italian Sandwich made with salami, mortadella, provolone cheese and pesto; The Greek Sandwich composed of feta cheese, tomatoes, lettuce, red onions and olives; The French Baguette with brie cheese, sweet onion confit, walnuts, tomatoes and lettuce.
The other big advantage is of course that you know the bread very freshly baked. We dare not comment on what sometimes is offered on shore. www.windstarcruises.co.uk

Winter in England means summer in Australia where the cruise market has really taken off, not only for Aussies but also Europeans and even Americans who find the trip relatively easy in modern long haul aircraft.. Princess has released details of its largest ever back end of the year Australasia programme with three locally based vessels in Sydney (Sea Princess), Melbourne (Dawn Princess) and Brisbane (Sun Princess).
Spanning a total of 48 voyages the new programme will include more New Zealand cruises than all of the other visiting cruise lines rolled into one, with a total of 27 departures on offer. The South Pacific will see a great deal of Princess Cruises and the ships will venture as far north as Japan, to Singapore and Hawaii to the east. www.princesscruises.com
SHIP REVIEW: Hebridean Princess
(In the Footsteps of the Royal Yacht)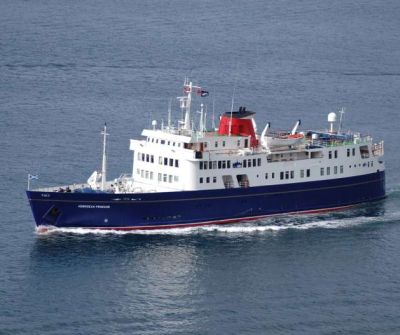 This report was originally written (with the headline as above) in 2003 following a fine trip on one of the world's most unique cruise ships, Hebridean Princess.
Maybe someone at the Palace read the piece but in any event Her Majesty The Queen chartered the vessel for her 80th birthday family cruise.
She was following a tradition of the Royal Family who, in the not too distant past, used the Royal Yacht Britannia every summer for a quiet private cruise often to the Western Isles and the North of Scotland.
Clearly it was a success and as you read this piece many of the Royal family will be at sea celebrating this time around Princess Ann's 60th and Prince Andrew's 50th birthdays. This review is an update.
If your requirements are an 80,000 ton luxury liner at discounted prices and 2,000 other passengers Hebridean Princess is not for you. However if what you want is something totally unique, restful but invigorating, and the height of old fashioned luxury and service she might just fit your requirements. A sort of travelling stately home or large country house with discerning company, many of advanced years but with the mind and vigour of youth. Hebridean is now part of the All Leisure Holidays Ltd which includes Voyages of Discovery and Swan Hellenic.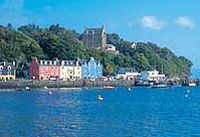 Essentially Hebridean is based at Oban and leisurely cruises the inlets ands bays of Ross and Cromarty, the Western Isles, past Cape Wraith and the Orkney Islands. In 2011 she will also be visiting Scotland's east coast, East Anglia, English Channel ports, Normandy, and the Scilly Isles. Most cruises are eight days, although these are interspersed with four night taster trips. A bus will meet you at Glasgow's airport or railway station. It's a lovely run to Oban.
Hebridean cruises follow a simple pattern that has evolved since the former Caledonian MacBrayne car ferry first put to sea as the world's smallest luxury liner back in 1989. It is a very relaxed break but you have to enter into the spirit of it. Truely country house with everyone soon on first name terms. You will normally find quite a few widows and other elderly singles (all of whom sit at the captain's table and appear to have a terrific time), bird watchers, walkers, those interested in history, and also the less mobile who prefer to stay on the ship whilst others get off. Half the guests have been before, often many times before. Some are a lot younger but all seem to mix in well together.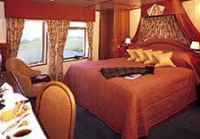 The quality and distinct individuality of what is on offer does not come cheap. Forty-eight 'guests' at the most, looked after by 38 crew. Prices start from a fully inclusive £1,800 for a week at the beginning of the season in the lowest priced cabin, but even here the furnishings are outstanding, a private bar is provided and there is TV, video, coffee and tea making facilities plus ironing board, trouser press and hairdryer. A decanter of Sherry is provided too. It is that sort of cruise. And you don't have to go far to catch your ship. And no art auctions nor gambling rooms either. In July and August the minimum price is £4,000. Tasters start at just under £1,000. Terrific value. Single cabins are available and the prices reasonable, except during the peak periods.
The fact that Princess was called Columba in her former life must not be held against her. As a ship she was perfectly designed to enter the small ports and lochs that are a feature of the Western Isles, places that other vessels cannot even look at. The conversion all those years back was first class and sumptuous, but innovations are still being made. If you want to know where you are take a look at the satellite navigation system in the lounge, a recent advance. The ship has simply matured over the years like a fine wine. There is a mock coal fireplace in the main lounge complete with brickwork. The awards Hebridean has picked up over the last decade testify to excellence.

The daily routine normally consists of an eight o'clock breakfast (and use of the keep fit equipment for those who want to partake) followed by a morning visit, either down to the quayside, if the ship is docked, or via the ship's tenders when moored in a sheltered bay or loch. The ship's professional guide takes over, often augmented by knowledgeable locals. Usually lunch is back on board whilst the ship makes her stately way to the next port of call. Sometimes a barbeque is organised ashore. She might move to another island or Loch whilst a buffet is taken.
In the early evening it is cocktails in the lounge followed by dinner and then a talk on the next day's programme. If the ship is tied up you can get off and take a walk, borrow a bicycle stowed on board, or perhaps visit a local pub. Some of the tiny waterside hamlets only have just one shop, whilst others, such as Tobermory on the Isle of Mull are busy tourist traps made famous via TV. Balamory, set in Tobermory, is a popular programme for tiny tots.

A cruise on Hebridean means not putting your hand in your pocket at all. Tipping is positively frowned upon and all alcoholic drinks are included including a fine selection of wines for lunch and dinner. There is a specialist cellar for those with particular tastes and for this you pay. And there cannot be a better range of whiskies available at sea? All the planned off ship visits are taken care of. If a coach is involved the ship makes sure the refreshments hamper goes with, otherwise it is into a local hostelry where Hebridean plays host. Each cruise is designed to satisfy a different market. Some are for walkers whilst others concentrate on Scottish heritage and, in a season that runs from March to November, nature lovers are not forgotten. Depending on the trip you have chosen your itinerary might include a visit to an uninhabited island, 5,000 year old dwellings or a famous cathedral.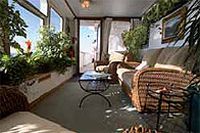 The fact that the ship is small makes for a much less tiring time. No cabin is more than two or three minutes from the restaurant, the Sky Deck bar over the stern, or the main Tiree Lounge. Queuing just does not exist and when you finally have to leave there is none of the packing of suitcases and leaving them outside the door the night before that one gets accustomed to on big ships. A steward will collect your items once the ship has docked, and will even help you pack if need be. Cabin keys are not provided (although you can really have them if you so wish). Every suite has a safe.

Evening entertainment is very low key, limited to useful talks on the next day's activities and local entertainment. But if you are up to it the ship has a 45-knot eight-seat speedboat which is great fun and used both as an alternative ship's tender and for getting around some of the better protected lochs. Never thought of yourself as a marksman or used a rod and line? Clay pigeon shooting is provided and fishing trips can be organised. Sir Jackie Stewart, a world champion at clay pigeon in his time, chartered the whole ship after trying Princess out on a short cruise. For smokers they have their own lounge which also leads on to an open veranda

There is no sophisticated computerised boarding system on Highland Princess. Each of the 30 individual cabins has a name (and its own personality), replicated on a board laid out with one or two tags. As passengers get off at a port or landing point they just need to collect a tag and make sure they put it back when they return. There is no doctor on board, just a trained first aider although when on the rare occasion a physician has been needed there has always been one amongst the clients. No hairdresser either. If that is your concern book ahead at the larger ports such as Kirkwall, where such facilities are available. On a seven-day cruise Officers will wear dress uniform on three occasions including the last night. Passengers tend to follow suit with dinner jackets for men and cocktail dresses for ladies, but very understated.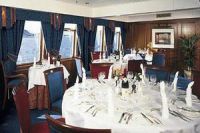 The cuisine can best be described as classic English. Beautifully presented four/five course meals are offered for lunch or dinner with a selection of starters and the main course offering either fish or meat. A typical selection could be grilled asparagus and artichoke salad with parmesan and lemon croutons, cream of mushroom soup with snipped chives, roast rack of peppered lamb carved into a ratatouille of vegetables with roasted garlic and basil scented sauce, chocolate and ricotta pavlova, followed by Irish cheeses and a glass of vintage Port. The menu can be seen at least one meal in advance and if there is nothing that you fancy the chef will come up with an alternative. Vegetarians are catered for very well and if a big lunch is not your style sandwiches or a light meal are always available. The bread (and rolls) are particularly good. Breakfasts are positively Scottish, porridge (with a wee dram if you like) kippers and haddock (smoked haddock risotto topped with a poached egg accompanied by a tomato, lemon and chive dressing) are available, as well as the chef's special. There is a light buffet on hand, or you can just have coffee.

One can of course charter the ship. A certain gentleman once the leader of the Royal Bank of Scotland has been a customer, and we have already mentioned another Scottish Knight. It is somewhat pricy, but not so out of season and providing you can take a chance with the weather, can be the greatest waterborne holiday ever taken at a very realistic cost. http://www.hebridean.co.uk top

Malcolm Ginsberg
For the future AERBT would welcome ship reviews which will be published with full acknowledgement. These must be written in the style and layout of the June review Diamond Princess. Please send to info@aerbt.co.uk
OUR READERS' FINEST WORDS (All times and dates are GMT)
All comments are filtered to exclude any excesses but the Editor does not have to agree with what is being said. 100 words maximum
---