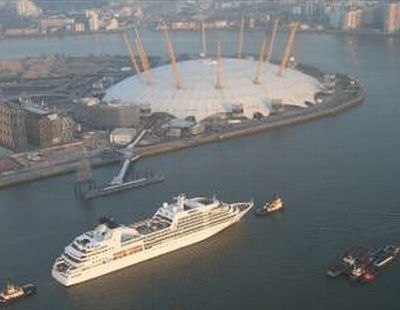 THE YACHTS OF SEABOURN'S highly anticipated new Seabourn Sojourn squeezed its majestic way through the Thames Barrier and past the O2 arena at the beginning of June to moor majestically at Greenwich, close by the meridian line, and short of Tower Bridge. London-born model and film star Twiggy named the ship, the second of three 32,000 super 'yachts' ordered by the luxury brand of the Carnival Group.
Cllr Chris Roberts, Leader of Greenwich Council, announced that what in the first Queen Elizabeth's reign was the headquarters of the Royal Navy, is making a maritime waterborne comeback. "In Greenwich we are working to secure berths for two international cruise liner terminals so that we can welcome more visitors from all over the world to our borough, particularly during the Olympics. We hope Greenwich will be a regular destination for Seabourn Sojourn".
Sojourn, with its 225 suites, claims to offers an extraordinary travel experience, Seabourn notable for its relaxed, sociable ambiance and highly personalized, intuitive service. The vessel offers the highest space per guest ratio in the industry, accommodating no more than 450 guests in spacious, ocean view suites, 90% of which have private verandas. The ship offers what it call a 'culinary experience' in four dining venues. Fine wines and spirits come with Seabourn's compliments. www.seabourn.com

OUR TEN STORY NEWS ROUNDUP
(followed by A SHIP REVIEW: Diamond Princess)

Cunard's largest ever winter series of voyages will go on sale on 15 July featuring two World Voyages and a series of Exotic Discovery Voyages. Longer Winter Voyages and full World Voyages continue to prosper despite tougher economic times and with the Cunard ships ideally suited to longer journeys.
Later this year Cunard will have a three-ship fleet, Queen Mary 2, Queen Elizabeth and Queen Victoria. Mary and Elizabeth will feature completely different around the world voyages whilst Queen Victoria will offer a full winter season of exotic voyages taking in the Panama Canal, Caribbean and her first ever Hawaii Christmas voyage. www.cunard.co.uk

Dubai is heavily promoting its cruise port claiming to be the only destination in the region providing a complete turnaround facility. It is proving popular not only for the bulging ex-patriot community, but also for the airlines, bringing in passengers from both east and west.
Over 325,000 cruise tourists are expected to visit the Emirate during 2010; hosting 120 ship calls. Costa and Royal Caribbean are both operating from the port this year, and most ships on Northern Hemisphere around the World cruises find that Dubai is a popular stopping off point. A new terminal, spanning an area of 3,450 square metres, can handle up to four ships simultaneously. www.dpworld.com

Dunkirk may be just another Channel port to later generations but to those who can still remember the Second World War, or were brought up in its aftermath, it means one of the largest seaborne gatherings of all time.
From disaster came victory.
To celebrate the 70th anniversary of Operation Dynamo, the codename for the Dunkirk evacuation in May 1940, Norfolkline's 'Maersk Dover' sailed from its name port to Dunkirk with the Lord Lieutenant and other dignitaries and school children on board. At Dunkirk it greeted the arrival of the Little Ships with a commemorative ceremony. It was a moving experience for all involved. www.norfolkline.com

Epic, Norwegian Cruise Lines (NCL) latest, and by a wide margin, largest ship will be somewhere in mid-Atlantic on AERBT publishing date. It has acquired the 'graffiti' style paintwork of it smaller sister ship. French-built it embarrassed its owners by being late for its inaugural showing at Southampton, delayed for five hours at Rotterdam's cruise terminal by what was called "technical difficulties".
At 153, 000 tons Epic is to a completely new and novel design with 2,200 cabins and a passenger capacity, of around 5,000 when children are doubling up with parents. All the 1415 outside cabins have a balcony, the balance within the ships vast interior.
The majority of the accommodation has what is described as a "new wave" concept with curved walls, LED aircraft lighting, and an shower/toilet arrangement described by one observer as "less than private". Epic will be christened by country music mega-star Reba McEntire and will sail in alternate weeks from Miami to the Eastern and Western Caribbean itineraries until April 2011 before crossing back across the Atlantic and a European programme.
NCL has always in the past offered a high standard and very good value cruising. Epic takes head on RCCL and its larger fleet of mega liners with a vessel bristling with innovation and new sea going concepts. Hopefully it will be the subject of an AERBT SHIP REVIEW at a later date. www.ncl.com

London Cruise Terminal, Tilbury, part of the Port of London, plans to provide accommodation to teams and delegates throughout the 2012 Olympic games. Two berths have been reserved for the period. At present, Cruise & Maritime Voyages 'Marco Polo' and Holland America's ms 'Prinsendam' are the only current users of the easy to get to Essex port.
Cruise ships up to about 30,000 tons can make it up the Thames to Tower Bridge (and certain ships past the bridge too, mooring next to HMS Belfast. Passenger access problems and the use of only licensed tenders have proved an obstacle in turning the Pool of London into a regular cruise destination. www.pla.co.uk

Oceania Cruises, in many ways the successor to Renaissance Cruises, has started construction of a second 1,258-guest 66,00 ton up-market ship called Riviera and a sister ship to Marina, which makes its debut in February 2011. Both will feature ten dining venues – six of which are open-seating gourmet restaurants – including one by Master Chef Jacques Pépin. Facilities will also include a Canyon Ranch SpaClub® and gym, Bon Appétit Culinary Centre, swimming pool and hot tubs and suites furnished exclusively in Ralph Lauren Home style. Renaissance Cruises and its purpose-built fleet of R class ships failed soon after 9/11. However the vessels themselves were very successful and quickly found new homes (and identities). Oceania currently operates Regatta, Insignia and Nautica, all once part of Renaissance. www.oceaniacruises.co.uk

Onair, which claims to be the world's leading provider of airline in-flight communications, has introduced full mobile phone connectivity – including GSM & GPRS – for Hapag-Lloyd Cruises flagship ms EUROPA. The Geneva based company, part of SITA, the airline IT operation, is pushing hard to gain a foothold into the cruise line business, most current systems slow, users having to be patient.
OnAir is already offering passengers of more than 25 airlines and VIP and Governmental operators voice, email, text services and internet access, on flights over four continents by using the latest SwiftBroadband Inmarsat L-band technology.
Technological partners for the service is Siemens IT Solutions and Services and TriaGnoSys, who have developed expertise to enable passengers and crew to use their own mobile phones and Smartphones (iPhone, Blackberry©, HTC, etc). The GSM service uses satellite communications, making connectivity possible regardless of the ship's location.
The installation, which uses the ship's existing Ku-band satellite antenna, is a simple process that can be carried out during a routine maintenance stop between cruises. The software developed by Siemens and TriaGnoSys uses compression technology to make very efficient use of the available bandwidth. www.onair.aero

Portsmouth (once again a rival to Southampton) is to become the home port for the All Leisure Group in 2011 coupled with an expansion of its "no fly" cruises. The port is the home of HMS Victory, HMS Warrior and the Mary Rose. Under construction is a brand new cruise terminal which will compliment the spectacular Spinnaker Tower.
First in is Swan Hellenic's Minerva (the original ship) which will operate a series of regional cruises where even the off-ship excursions are included in the price, as well as staff tips. The lecture programme is top quality but one thing for certain, the ship is not suitable for children.
With the second of the All Leisure brands, Voyages of Discovery's the summer 2011 season will commence with a short series of cruises from introducing the ship to a wider audience than previous. Discovery will re-position back later in the year to Harwich where she will operate a longer programme of "no fly" cruises and continue her association with that port.
The company's third ship, Hebridean Island Cruises Hebridean Princess, will be joining her fleet colleagues in 2011, also offering a small dedicated programme from Portsmouth. Hebridean Princess is no stranger to this location as she has visited this historic port in previous years.
News is awaited on All Leisure's latest acquisition 'Alexander von Humboldt' which is also due in service in 2011, the Group yet to disclose whether it gets a new name or remains with its current title. www.allleisuregroup.com

The Yachts of Seabourn gets a second mention in the June issue of AERBT Cruising News with the announcement of a change of deployment for the popular, 208-guest Seabourn Pride in the summer of 2011. The ship will reposition from its winter Southeast Asia season in the spring and sail a series of 12-day Baltic and Russia cruises between Stockholm and Copenhagen, along with two 15-day round trip cruises from Copenhagen to Norway's fjords and the North Cape.
Pride's schedule will complement that of its larger sister-yacht, the 450-guest brand new Seabourn Sojourn, which will be sailing shorter, seven and nine day voyages of the Baltic and Norway.
The company had previously announced that Seabourn Pride would remain in Asia for the whole of 2011, sailing in China, Korea and Japan during the summer months. The decision to move the vessel back to Europe is a response to the popularity of the destination. En-route voyages are for sale too. www.seabourn.com

TUI Cruises, a cruise brand established in 2008 through a joint venture between Royal Caribbean Cruises Ltd. and TUI AG is to acquire Celebrity Mercury in early 2011. Named Mein Schiff 2 she will join Mein Schiff (the former Celebrity Galaxy) to become the second ship in the fleet, tailored for the German market.
From an operational point of views things could not have worked out better.

Celebrity Cruises President and CEO Dan Hanrahan explains."With the rapid growth and momentum of the Celebrity brand, and the fourth member of our five-ship Solstice Class fleet, Celebrity Silhouette, introduced in July 2011, we have abundant opportunities for the fine crew on Celebrity Mercury to transfer to another Celebrity ship?"

Celebrity Mercury joined the Celebrity Cruises fleet in November 1997, and was built by Meyer Werft in Papenburg(Germany). The 77,713-ton ship carries 1,898 guests (double occupancy) and 909 crew. www.tuicruises.com

A SHIP REVIEW: Diamond Princess
Diamond Princess is one of a pair of ships built in Japan (the other is Sapphire Princess) for Princess Cruises, for many years the American arm of P&O, and whilst still very much a sister company, now part of the much larger Carnival Group.
Diamond Princess entered service in 2004 and is essentially a modification of the highly successful Grand Princess design which includes Grand Princess itself, Golden Princess, Star Princess, plus, with an extra deck, Caribbean Princess, Emerald Princess and Ruby Princess. P&O's Ventura and new Azura are essentially to the same design, although each ship differs in detail. She is 116,000 tons gross and carries a nominal 2,600 passengers plus 1,250 crew, an excellent ratio of just over two passengers for every crew member.
Unlike the initial Grand Princess series Diamond Princess does not have what looks like a wing projecting out over the stern, and used as a nightclub. A more traditional, and practical, arrangement is now built around the rear of the funnel.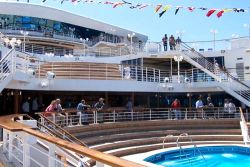 At the present time Diamond Princess lacks Movies Under the Sky, the outdoor cinema first seen on Caribbean Princess. That together with an adult-only retreat (The Sanctuary) will be rectified when the ships goes in for a major refurbishment in November.
On boarding there is a welcome drink and guests are shown personally to their cabin. Whilst the ship is always keen to sell you water when disembarking this is provided on the quay for free when at a port, or using the ships tenders.
The overall impression is that Princess is not money grabbing, unlike some operators, and if you want to it is possible not to spend virtually any extra money. Where the docking is not convenient to the local town for the most part Princess provide transport. It is essentially a quiet ship, announcements, in English, kept to a minimum, normally at 09:00 and 12:00 from the bridge followed by the entertainment staff giving a resume of activities.
To save the embarrassment of tipping Princess adds per person per day to your shipboard account, and also 15% to extras.
In General: The public areas of the ship are confined to the top three decks, and a further three decks deep down in the bowels of the ship. All flows rather nicely. Each of the six accommodation decks has a self-service laundrette.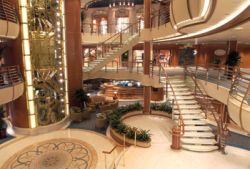 Such is the layout of the ship moving around is very easy, with two notable exceptions.
The promenade deck, which is lovely and wide and ideal for sitting out on the teak lie-flat seats, and for deck games, is not continuous. For those taking a one-third of a mile lap walk or running tour, at the front of the ship you have to mount a series or steps, pass the staff swimming pool in the bow, and go down the other side. Exhausting! Or you can jog to the steps, turn around, and do the same when you reach the same obstruction opposite.
The other complication is the double sitting international dining room in the stern. It is on the same deck as the other two main restaurants with the kitchens in-between. Easy enough to get to if you are coming from your cabin, but if you are partaking in pre-dinner drinks in the Grand Plaza area it is an up and down exercise. Infuriating (and overcome with cocktails at the gallery level).
Accommodation: Just over half of Diamond Princess cabins have balconies (easily large enough for a twosome breakfast) and the ship has a very limited number of suites.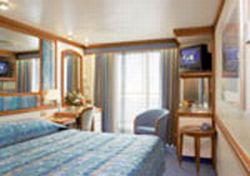 The standard veranda cabins are some of the best at sea, well thought out, the lounge area very acceptable and the beds nearest to the services. Nice linens, bath robes and slippers are there to use. The cabins have a mini walk-in hanging area too, saving the problems associated with swinging doors.
There is a turndown service plus chocolates every night and fresh fruit on request. A 24-hour courtesy room service is provided as well as tea and coffee making facilities. The fridge offers drinks at bar prices. If you book a lower deck balcony cabin please note you might be overlooked from above. The inside and window cabins are normally much the same size as the standard ones with balcony.
Dining: The cuisine aboard all the Princess ships is to a fine standard and you are served by an attentive multi-national staff, all of whom for the most part speak acceptable English, with many long term contractors (unlike the management the majority of the hotel/public contact staff are on contract to contract). If you want something special ask at the previous mealtime and you will usually get it. Dietary requirements are dealt with. It's best to contact the cruise line beforehand, who are very helpful. The kitchen team are most experienced and will emerge from their hidden areas to discuss.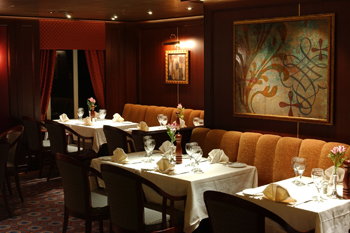 There is a choice at both breakfast and lunchtime of dining casual or silver service, which can be 'anytime' when you dine to your timetable, or fixed, first or second sittings. Surprisingly this traditional style of eating seems to be making a comeback Princess now offering two restaurants with set timings. Unlike the other ships in the class the amidships dining room on both Diamond and Sapphire have been divided in two along the centre of the ship. This gives for a better ambience and more intimate surroundings.
For a small premium Sabatini's offers multi-course traditional Italian cuisine deep down in the ship and the Sterling Steakhouse, a bar area during the day converts in the evening. It is high up on the ship and partially overlooks the stern. The meat cuts are delicious. Both dining areas are to the highest standard.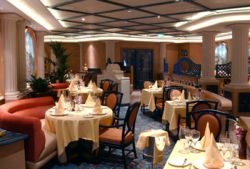 An innovation this year for premium suite clients and Captain's Circle Platinum members is the opening of Sabatini's for breakfast. It has cost Princess virtually nothing and is a more intimate venue for breakfast. And the doors don't close at 10:00 sharp. If you are little late they will still let you in.
Princess now offers courtesy ice-cream during daytime hours (it used to be free at mid-afternoon only) and the English tea still continues at 16:00. This includes scones with clotted cream and jam, and a harpist threesome entertains in the restaurant. English tea time not only finds favour with the British but the Japanese like it too, and those from North America.
Entertainment: Showtime on Princess is a proper live West End quality variety performance, no miming by grinning dancers to pre-recorded music. There is a large (900+) pillar-less theatre on board and the very well equipped alternative venues, but with not so many seats and a full bar service. The theatre also doubles up as a cinema, films another Princess tradition. The programme even manages to fit in with the cruise, 'The Last Emperor' playing to nearly afull house on the way into the port of Beijing. The orchestra also pops up all over the place, on deck, and in the other entertainment venues.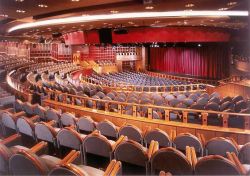 The actual entertainment programme is mixed, with the Cruise Director acting as MC. Good Cruise Directors make for a cruise, full of energy and charm. Princess is lucky that it has some of the best. All the cruise lines need pay special attention to what they have to offer as cruising can often be more than twice a year and clients do need variety and not the same show over and over again. Also the US seems to be the last resting place of forgotten British comics. They need to update their acts.
Princess offer a proper port lecture series which can also be caught on the in-cabin TV. In the Mediterranean and other popular places these can be sparsely attended, most clients knowing the popular ports of call, but the Far East is new territory for most, and a quality lecturer, it is standing room only.
Diamond Princess has two pool areas, one with a sliding roof. In practice this stays in place all of the time providing a air conditioned open deck area, and a fine venue for lunch barbeques and the occasional evening show time.
Children: British cruise ships have always had on offer splendid facilities for children (and continue to do so with Cunard and P&O leading the way – although with P&O some ships ban under 18 all together) and Diamond, with its UK heritage no exception. The number of children on board depends on the time that you take your cruise. There can be anything up to 900 during the school holidays but experience has shown that they are normally well behaved and really have no effect on those whose experience of parenthood is long gone.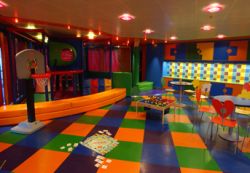 The younger people have their own well laid out area at the stern of the ship including a dedicated pool and outdoor play areas. There are computers galore and electronic games. Parents have to look after the actual feeding of the younger ones, but once that job is over but they are supervised until late into the night. This goes for the crèche too. All the staff are registered and go through Princess own training programme.
On Board Services: Princess does not offer daily international newspapers (but they can be purchased at a price) although BBC World and CNN is available on the cabin TVs. There is what is thought to be the largest Internet Café at sea, which always seemed busy during normal hours, with a pay for coffee bar. It suffers, as with all ships at the present time, with an intermittent service, which can be very slow. There is also a wireless system on board, but it does depend on where your cabin is situated.
The medical facilities are top quality and like everything else on board, chargeable to your cabin account. The reception is open all night.
What Else?: The gym on board Diamond Princess is comprehensive and is incorporated into the spa. Massage on deck is on offer too when the weather suites. There is a 9-hole putting course and simulator. There is a good range of shops on board covering evening needed (and useful when your luggage does not keep pace at the airport) and whilst the daily "sale" offerings on the balcony of the atrium can be somewhat over the top, it is easy enough to keep away from that area. It all normally packs up around five.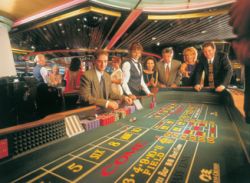 Diamond is traditional with few gimmicks, but that is what the Princess clients demand. The casino is huge, the art sales are well attended (and presumably make money), the dance class, scholarship@sea (self enrichment), bridge and cooking demonstrations all attract their devotees. Trivia can get quite exciting, but at the end of the day the quiz master's word is final. You can take in as much as you can, or relax, or perhaps find some midway point.
In Conclusion: Don't be put off by the sheer size of Diamond Princess and her sisters. When Grand Princess entered service she was the largest cruise ship afloat by some margin. Things have moved on. We've mentioned already that the flow within the ship causes no problems, and getting on an off at the various ports is easy. Not everyone wants to at the same time. Princess is well organised and their agents at the various ports top quality. Up to 100 coaches waiting for the ship might sound a great number but the staff seem to cope without problems. Everyone smiles, customers and workers alike. This augers well for Princess new arrival in 2014, 141,000 tons and 3,600 passengers. We await.
All in all Princess serves up a fine middle of the road product. In the Far East Americans made up just under a half of a full ship, with a large contingent of British, followed by Brazilians, and then Germans (and don't worry there are more than enough deckchairs to go around). A friendlier crowd you could not have found.
OUR READERS' FINEST WORDS (All times and dates are GMT)
All comments are filtered to exclude any excesses but the Editor does not have to agree with what is being said. 100 words maximum
---