Willie Walsh officially became Director General of International Air Transport Association (IATA) in April 2021. In Doha on Monday (20 June) he will chair his second Annual General Meeting (AGM) as the head of the world's leading airline association. This is a speech delivered at the Changi Aviation Summit 17 May 2022. The essence of it remains the same. The last AGM, at Boston, was not a true IATA, some airlines not physically represented. At Doha all 290 member airlines, a true networking event. And the FIFA World Cup. It is a pity it did not follow straight on. That is for later in the year. We wish IATA every success (and the football).
Malcolm Ginsberg
Editor-in-Chief

See BTN 10 January ON TOUR: The World Cup 2022 Qatar
Willie Walsh Keynote Address
at Changi Aviation Summit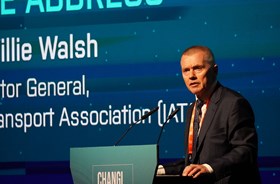 It is a great honour to be with you in Singapore in person for this important summit. I look forward to joining you in dialogue over the next two days on these critical issues at this time of recovery in our industry.

It has been a brutal two years for airlines. But we are seeing signs of recovery now. International travel in 2021 stood at only 25% of where we were in 2019. But in the first quarter of this year, it has recovered to 48%. And indeed some parts of the world including Europe, North America, and Latin America, the recovery has reached around 60%.

Regrettably, Asia continues to lag the recovery in 2021. International travel was only at 7% of where we were in 2019. And although it's improved to 17% in the first quarter of this year, there is still a long way to go. And to put it into context, international travel within this region, one of the biggest and most important international markets in the world, is only at 6% of where it was in 2019.

Things are improving, but they will not improve fast enough unless countries follow the initiative of countries like Singapore and remove the requirements for tests and quarantine for vaccinated travelers. The science supports these initiatives. We now have two years of rich data to support new decisions by governments and I believe, indeed, in IATA, we're convinced that this science supports the removal of testing and quarantine for unvaccinated travelers from areas of high population immunity, including many parts of this region. We also believe that where mask mandates are removed for indoor environments and public transport they should also be removed for air transport.

It's been a very difficult two years and we are beginning to see some positive signs. But all segments of the industry now need to work together to ensure that we can capitalize on this strong underlying demand. Airports need to be ready for the increase in passenger numbers. And we would ask governments to support airlines and airports as we try to recover our network.

And despite obvious headwinds such as the brutal war in Ukraine, high oil prices and increase inflation, I remain very optimistic about the recovery this year and into 2023. Unfortunately, Asia-Pacific region will lag this recovery as China continues to pursue zero-COVID. But it would be great to see countries like Japan take a bold decision and to remove restrictions on international tourists and rebuild the fantastic work that that country did in growing their tourism industry.

As you have heard, sustainability remains a key focus for the industry. I'm pleased that the airline industry has committed to achieving net zero in 2050. And we welcome the initiative of governments in this region to support airline industry in achieving that goal. I think the excellent initiative by Singapore with the International Advisory Panel on sustainable aviation hubs, is an example of how we can work together to ensure that this important target is met. This part of the world should see the move to sustainable aviation as an opportunity.

And finally, ladies and gentlemen, we are in a battle for talent. And as we try to rebuild our industry, it's important that we become more attractive, particularly more attractive to women. This industry has always been seen as a male dominated industry, we need to change that to ensure that we can, not just attract but also to retain the best talent in the industry so that we can build on the progress that we've made, and ensure that we have a sustainable financial business and a sustainable environmental business for the future.

Thank you.
OUR READERS' FINEST WORDS (All times and dates are GMT)
All comments are filtered to exclude any excesses but the Editor does not have to agree with what is being said. 100 words maximum
---
Susan Ellis, Willesden
Walsh is good at pontificating, less so running an airline. And now a Spaniard is telling the British government off! Doyle is clearly keeping his head down.
---