Now for something completely different.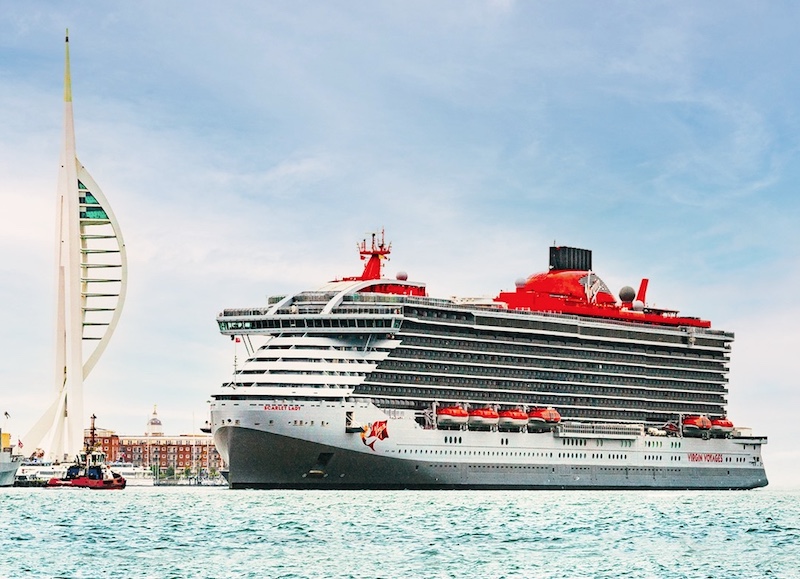 BTN first came aboard the latest Virgin franchise in February 2020 at Dover. Our report at the time covers much of what the ship has to offer and we must point out that joining the first commercial sailing Virgin Voyages still has not put deck information in the lifts. Perhaps the American management does not know that word (elevator to them).

It is true that much of the language on board is in jargon slightly alien to the more senior guests (and perhaps some younger ones too – Open-Heart Slow Flo Yoga means a functional fitness class). And maybe a few ship deck plans strategically placed might help some!

In simple terms no-one had ever launched a major cruise line from scratch, virtually every current operator an evolving process over many years. Viking had been in the cruise business a long time, admittedly on rivers. Disney Line 22 years ago was a development of a long-established hospitality venture specifically aimed at children. Virgin Voyages is strictly 18+.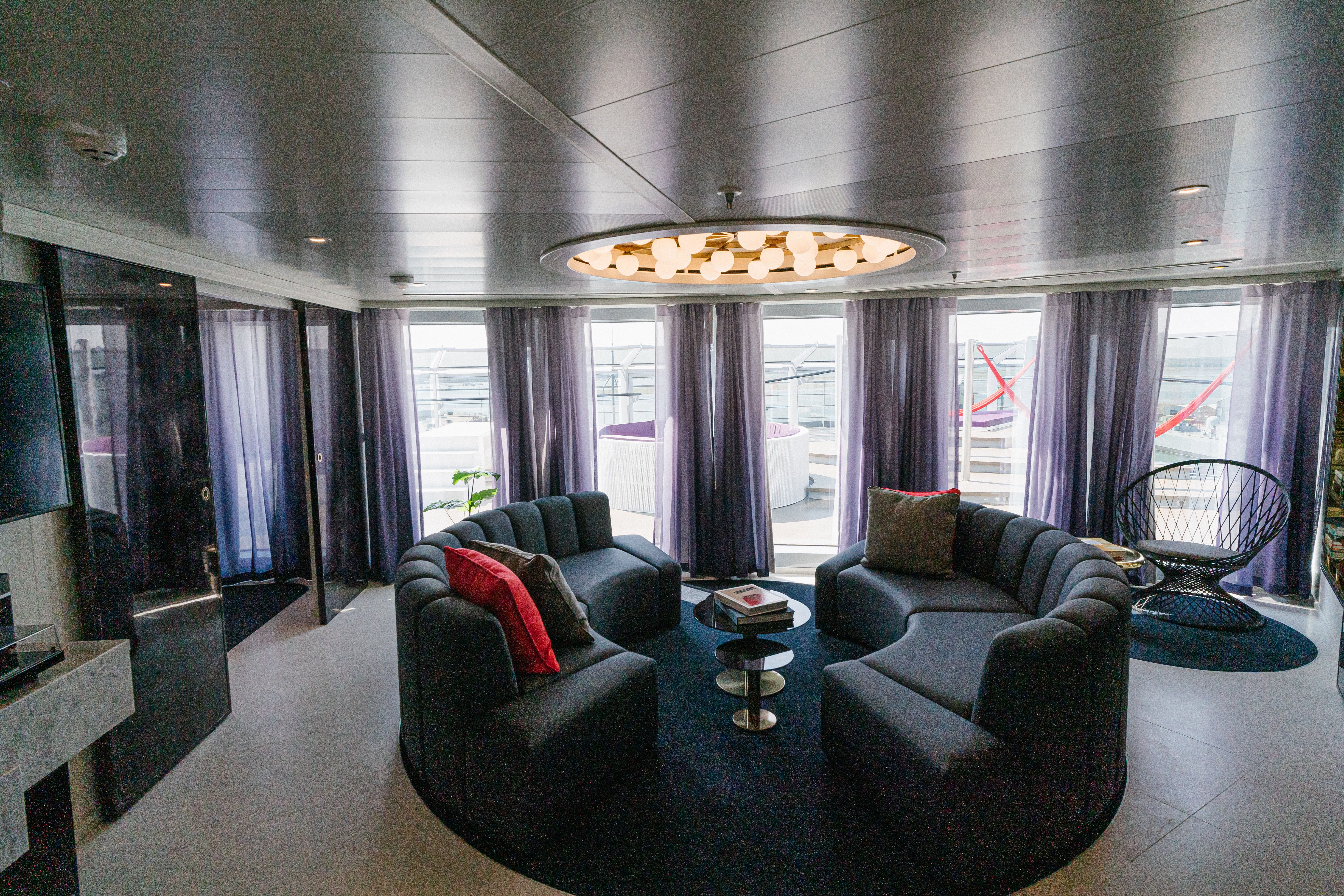 Dover was an exciting day, Sir Richard Branson gave a briefing, and we all looked forward to the future of Virgin Voyages with great expectations. A proud Tom McAlpin, President and CEO, grinned from ear to ear. Nobody could have foreseen what was to follow.

The Virgin Voyages' investors were looking for a different market from the traditional 50-year-old-plus cruise passenger. They envisaged something in keeping with the times and a seagoing holiday product – large, but not too large – adaptable ships that could be used to entice both US and European clientele. A relaxed holiday experience with no dressing up for dinner, soft drinks included and no tipping.

The money involved was huge, $550m for each vessel with four planned.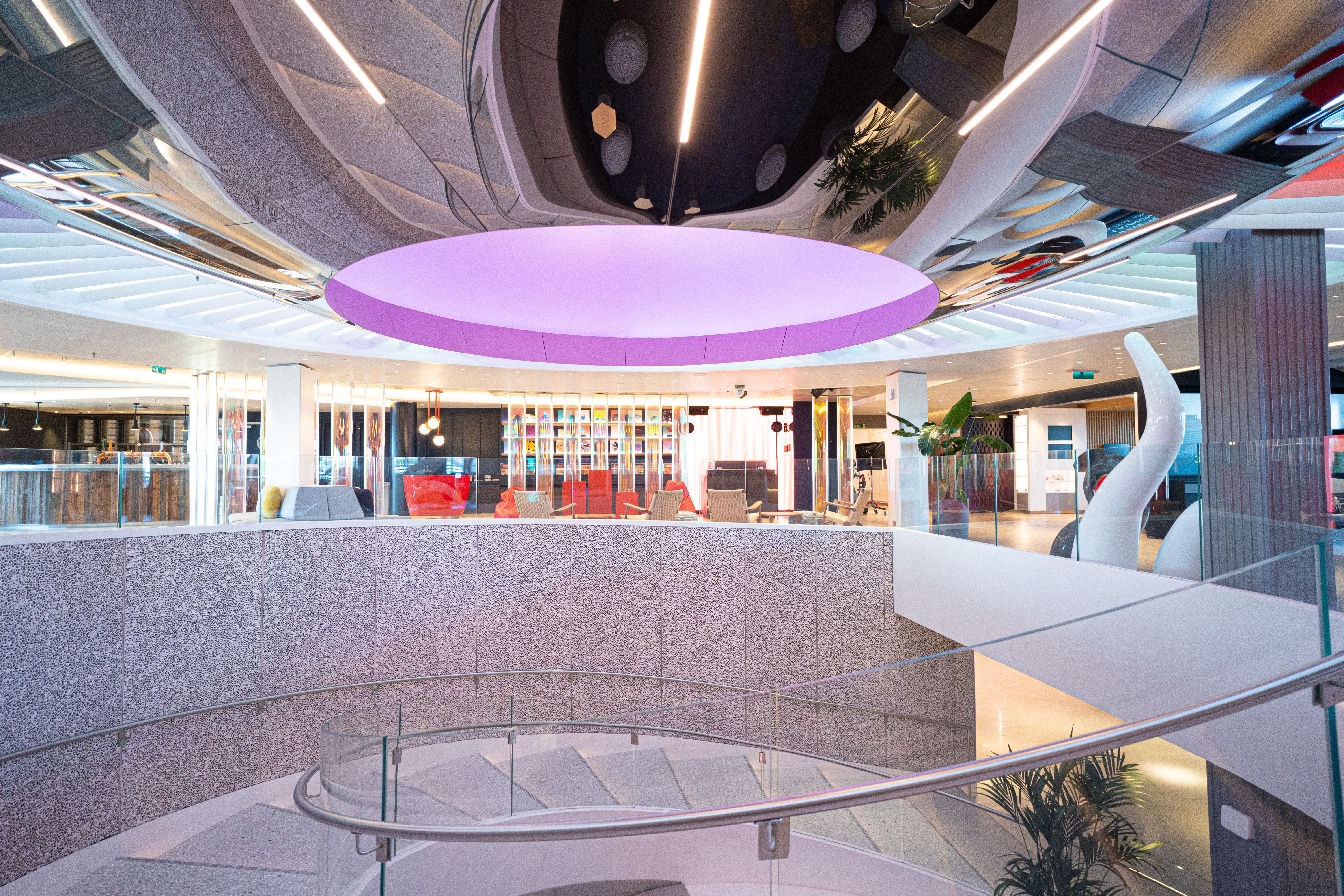 The first public showing at Dover was the end result of years of market research, planning, and the design and construction of a 110,000-ton megaliner with 1,300 cabins and 78 RockStar quarters on board.

And just as vital, finding 1,150 crew, some recruited with skills gained from previous employment at other cruise lines, others completely new. Just like Disney, the Virgin name was a real attraction. They needed to become quickly part of the Virgin Voyages family and were put through a rigorous training programme. Attractive wages and the promise of excellent staff facilities was a further enticement. But for the time being no seeing the world as things stand. The Virgin Voyages ships were going to be based in Miami and the Mediterranean with the UK a bonus for this year and next spring.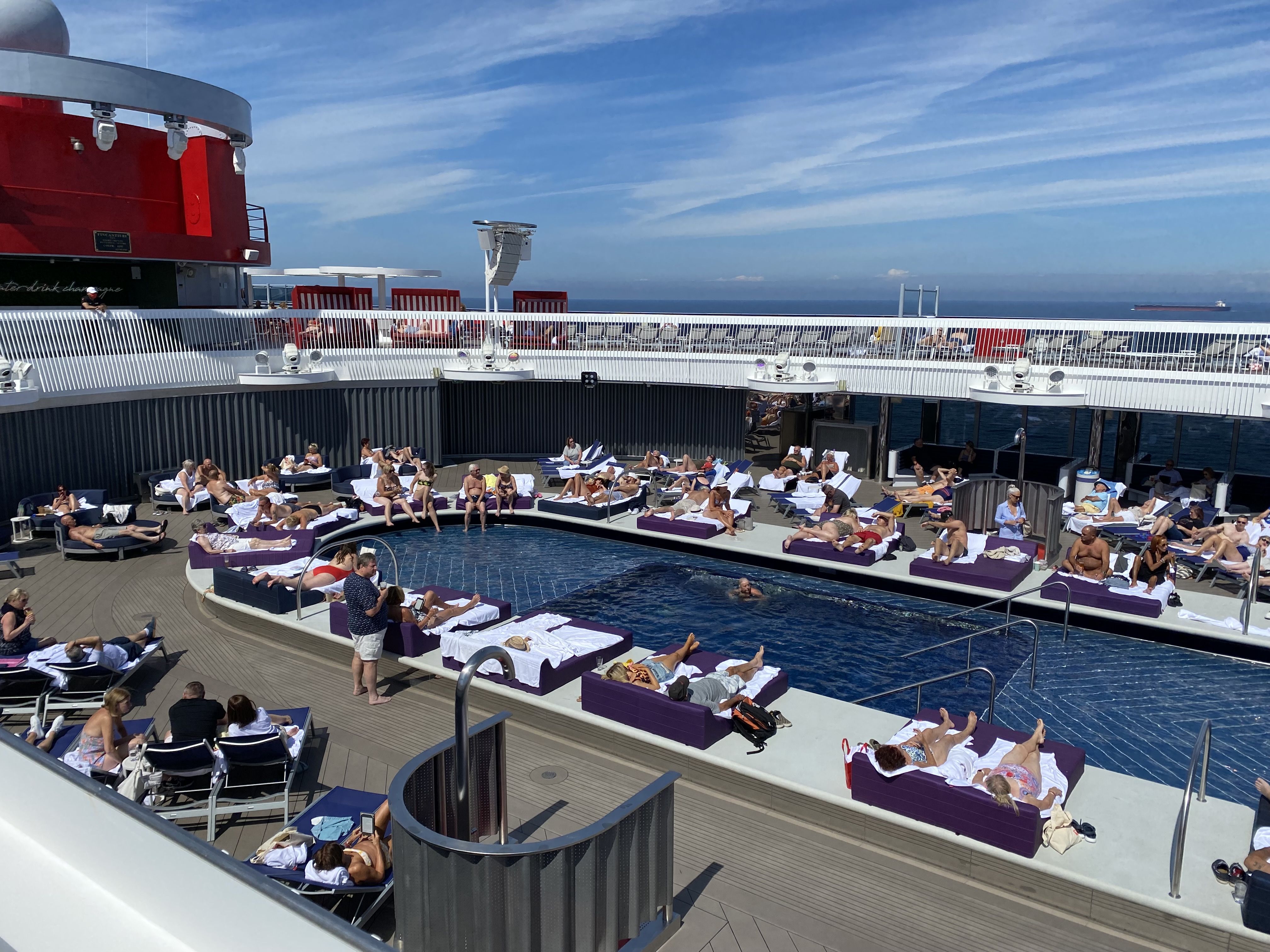 What we did not know at the time was what was ahead of Scarlet Lady, it was an experience nobody could have dreamt up. What we all thought was going to be something of a test would work out to be a real challenge.

Scarlet Lady departed for Liverpool, struck out towards New York, learnt about the pandemic, and completed its journey at Miami. It was then back to Genoa where it had been built. With no real end of Covid-19 in sight the Italian port was to become her residence for the next 12+ months. The crew were sent home except for key staff, and earlier this year brought back to Italy, 80% more than happy to return.

BOARDING PLUS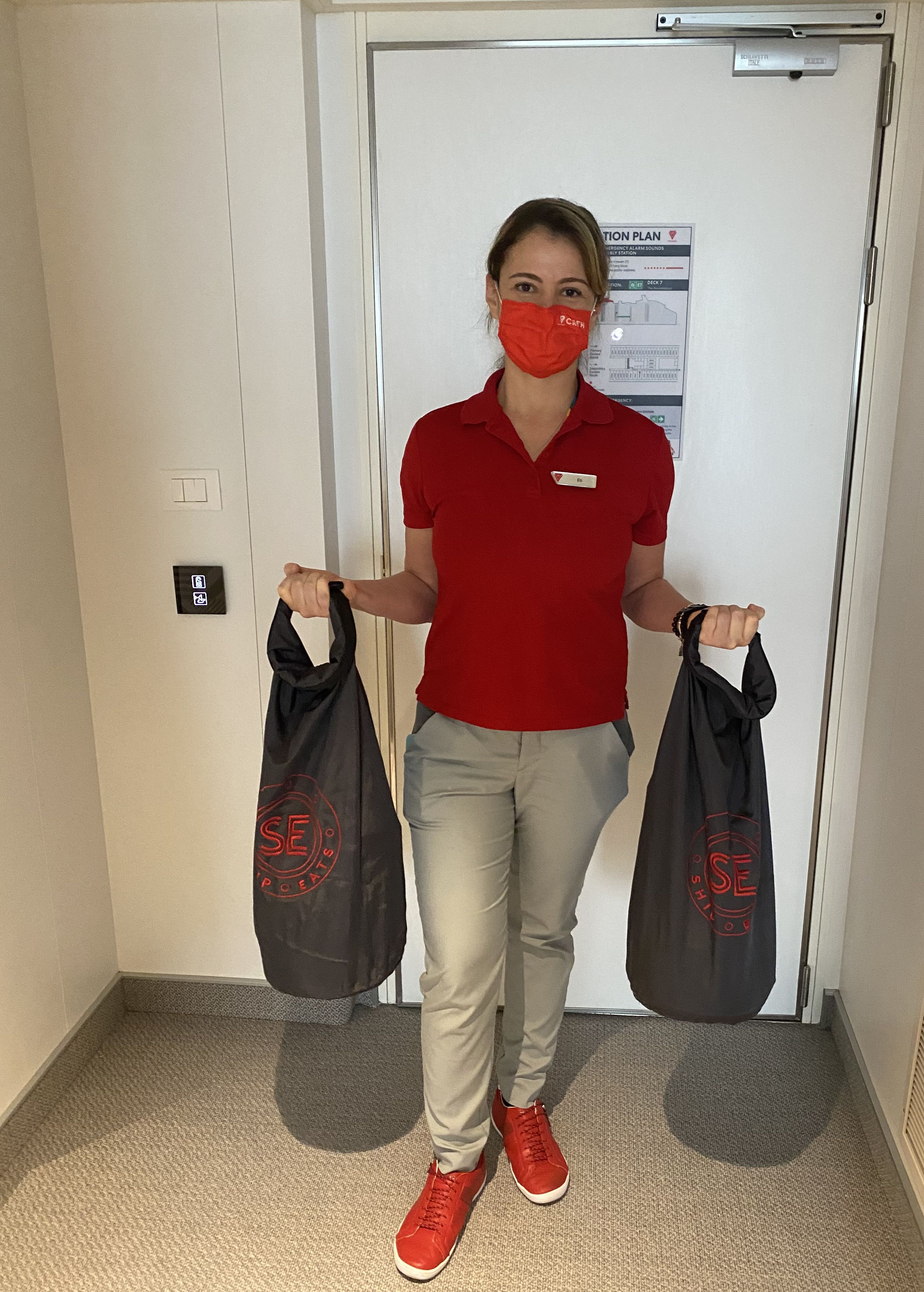 Roll on to August 2021 and the causeway into Portsmouth Harbour, with the massive 17-storey high Scarlet Lady dominating the horizon. You have got to be impressed.

Away from the harbour there was a well-organised lateral flow test, and then on to the terminal and the provision of a bracelet serving as a virtual wallet and electronic cabin key.

Previously in the week prior to departure there had been a succession of information emails regarding the Virgin Voyages experience and a variety of (sometimes) helpful notes plus the usual data requirement. No cabin luggage labels to print. It was going to be (more or less) a paperless experience, the ship already had your passport details, image and a credit card number for any on-board purchases. (See BTN 9 August – Virgin Advanced check-in.)

It also meant that your smartphone would be your guide for the next four nights whether it be the ship's programme, restaurant booking, spa offerings or some other bookable activity. On hand was to be numerous (young) staff well versed with the intricacies of the system. For dining, in the many bars, and the spa, you could download via a QR code or request something printed.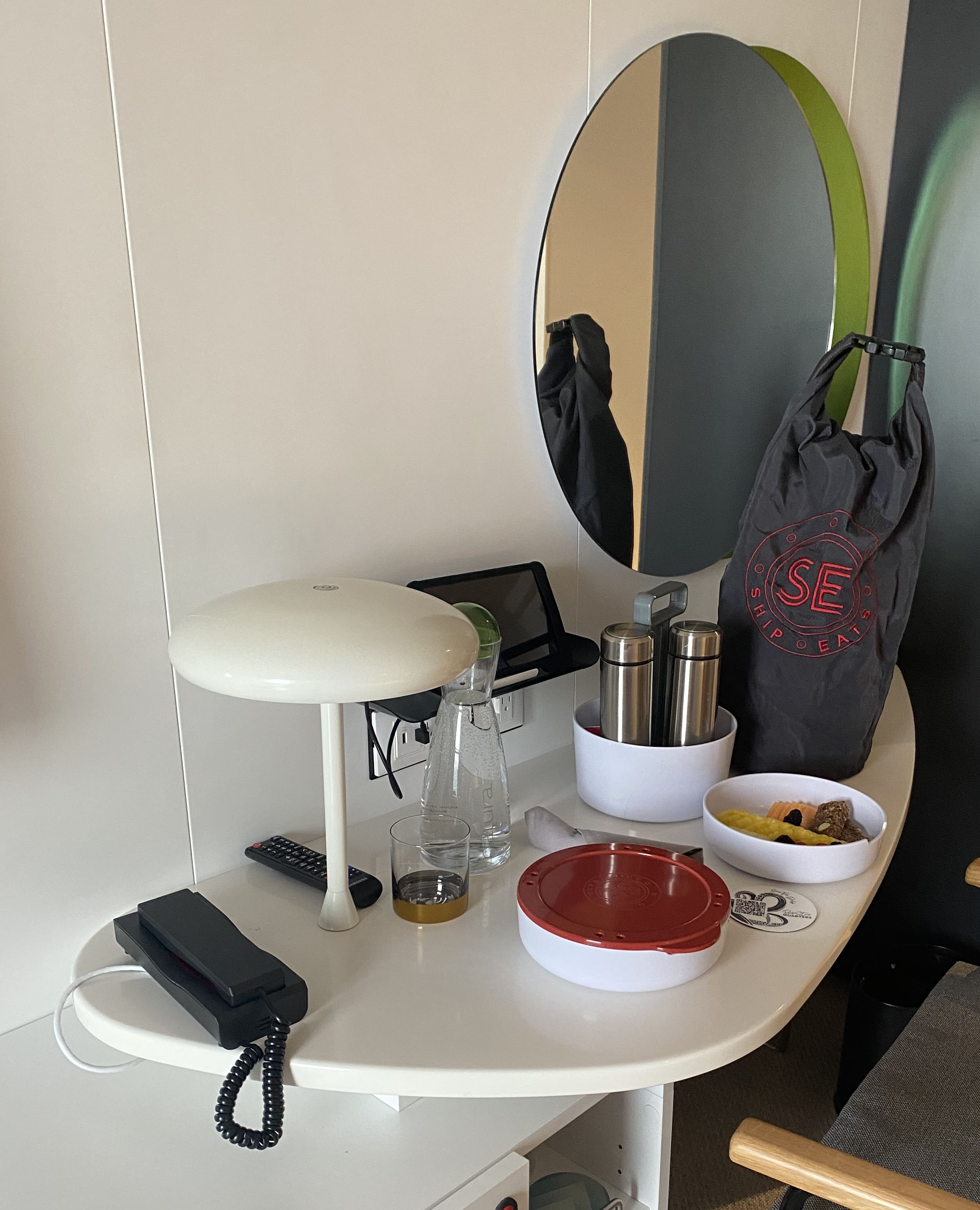 Payment for non-inclusive items was made by zapping your bracelet onto the crew's smartphone after you gave your cabin number. The item was shown to you with a price and a photo of yourself to make sure the right person was being charged.

Scarlet Lady is a very quiet ship with no announcements (except for the excellent Virgin mandatory and individual emergency briefing). The cabins are labelled A (port) and Z (starboard). The cabin number is related to the traditional frame system that goes back to wooden ships. These numbers are also used as a design feature at points all over the ship.

She is a very easy ship to find your way around with decks 6 and 7 offering 'facilities', including a range of quality stores, 'stubble & groom' a barber shop, a place for tattoos called 'Quib Ink' and on deck 5, Redemption, a spa with hot pool.

Deck 15 consisted of The Galley (buffet) with its various components, food hall style plus the swimming pool, a pair of whirlpools and a weird large circular water splash.

Deck 16 includes numerous sports activities including an adaptable basketball mini-stadium.


We didn't try the bungee jump, or for that matter the tattoo parlour. And with a four-night cruise the use of the outboard cabanas was not taken up. No photographers pestering you every minute. Each balcony cabin has an easy to get into hammock. No images. Your scribe opted out!

After about 36 hours of being aboard hardly any passengers were wearing face masks. All the crew were, but the holidaymakers, for the most part, feeling comfortable with the safeguarding protocols the cruise line had put in place. There was table service at all the dining facilities and bars, except for the ice cream stand with a number of varieties available. All displayed eating fodder was glass protected, clearly a design feature from day one.

You have to get used to an American (presumably) use of the English language a 'Holiday Matchmaker' in fact a Future Sales Representative.

What is particularly impressive are the facilities available for the disabled, the sea view large terrace cabins offering a proper wet/shower, electric bathroom doors and controls, a ramp on to the balcony and plenty of storage space. Even the self-closing cabin entry door could be disengaged to make access easy.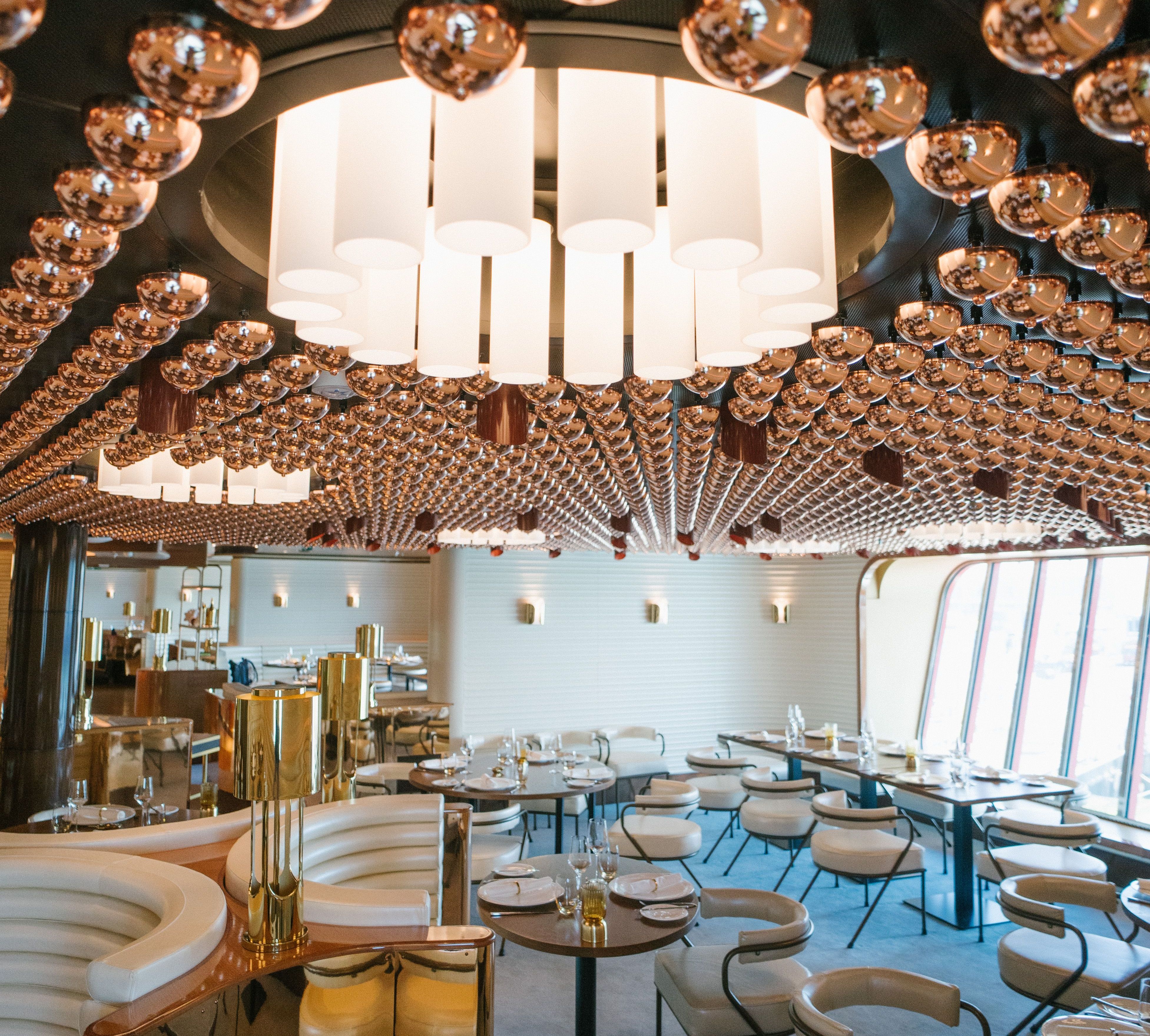 The star of the whole enterprise is the eating. That is what you pay for and if you are a serious slimmer there's plenty of healthy food available, but you have to be very strong-willed.

The six major dining rooms are all designed for around 200 guests and each has their own dedicated kitchen attached. The food and beverages are always served hot.

The first question your server will ask is "do you have any allergies or special diet requirements." And if you do not like what is available the chefs will go out of their way to satisfy your eating needs.
The descriptions did not always fit. 'The Wake' a design not dissimilar to 'The Wolseley' in London served brunch from 08:00 until 13:00 and in the evening some classic dishes. Sited in the stern it is a very well-designed restaurant and makes the huge eateries on other cruise ships look very dated and far too big.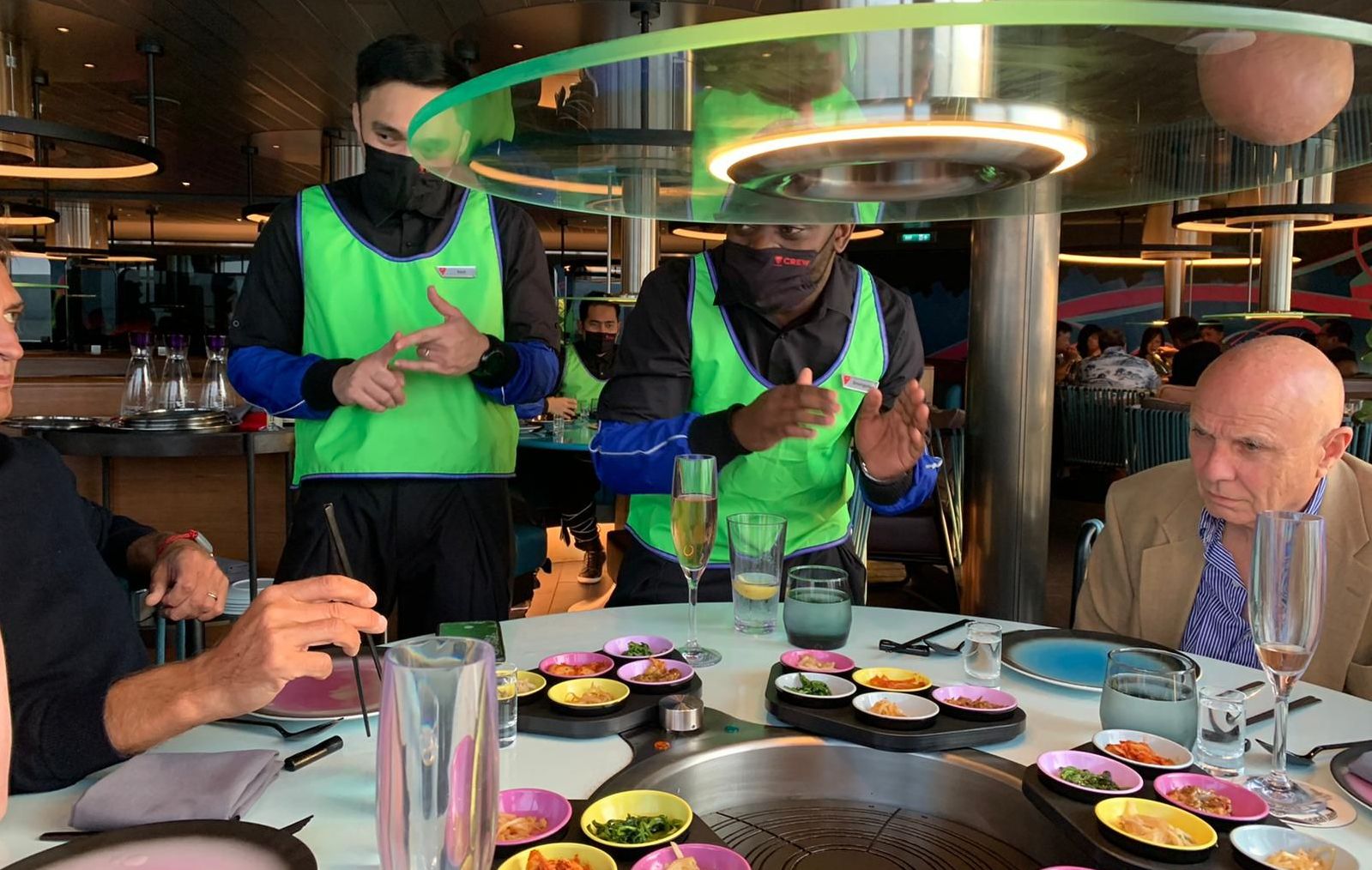 BTN covered the alternative dining in the preview but worth mentioning is Gumbae (Korean), The Test Kitchen (six tasting courses) and Extra Virgin (Italian), by which time they must have run out of names. Sit outside and enjoy a burger at the Sun Club Café or better still try Pizza Place, inside and outside plus more salad style eating.

Finally, we must mention Razzle Dazzle, a fine eatery open for breakfast, lunch and dinner in the deep bowels of Scarlet Lady, the name appears to come from the camouflage applied to WWI ships trying to avoid chasing submarines. They were depicted in the entranceway!

There are two gym areas, on each side of the ship, high up, the 'B-Complex' with the latest Technogym machines including a smartphone self-charger, and 'Build and Balance', bicycles and more. Each offers throughout the day variations on the keep-fit theme called the 'Wellness' programmes.


With the initial cruise the ship was not anywhere near full. The open areas can only be described as mammoth. Deck 17 has a six-laps-to-the-mile 'Runway' enclosing 'The Perch', acres of space sitting over the stern.

Towards the bow are the 78 sumptuous hosted Mega Rockstar Suites with their own dedicated staff, private dining and access to 'Richard's Rooftop.'

The Red Room, the main theatre on the ship, is completely unique, firstly a traditional auditorium seating around 450; what is best described as an arena (they call it an alley) with seating on both sides taking up to 500 and finally a large 900-capacity dance hall with no obstructions. The changeover takes about 20 minutes. It's a fine way to make maximum use of the ship's largest space.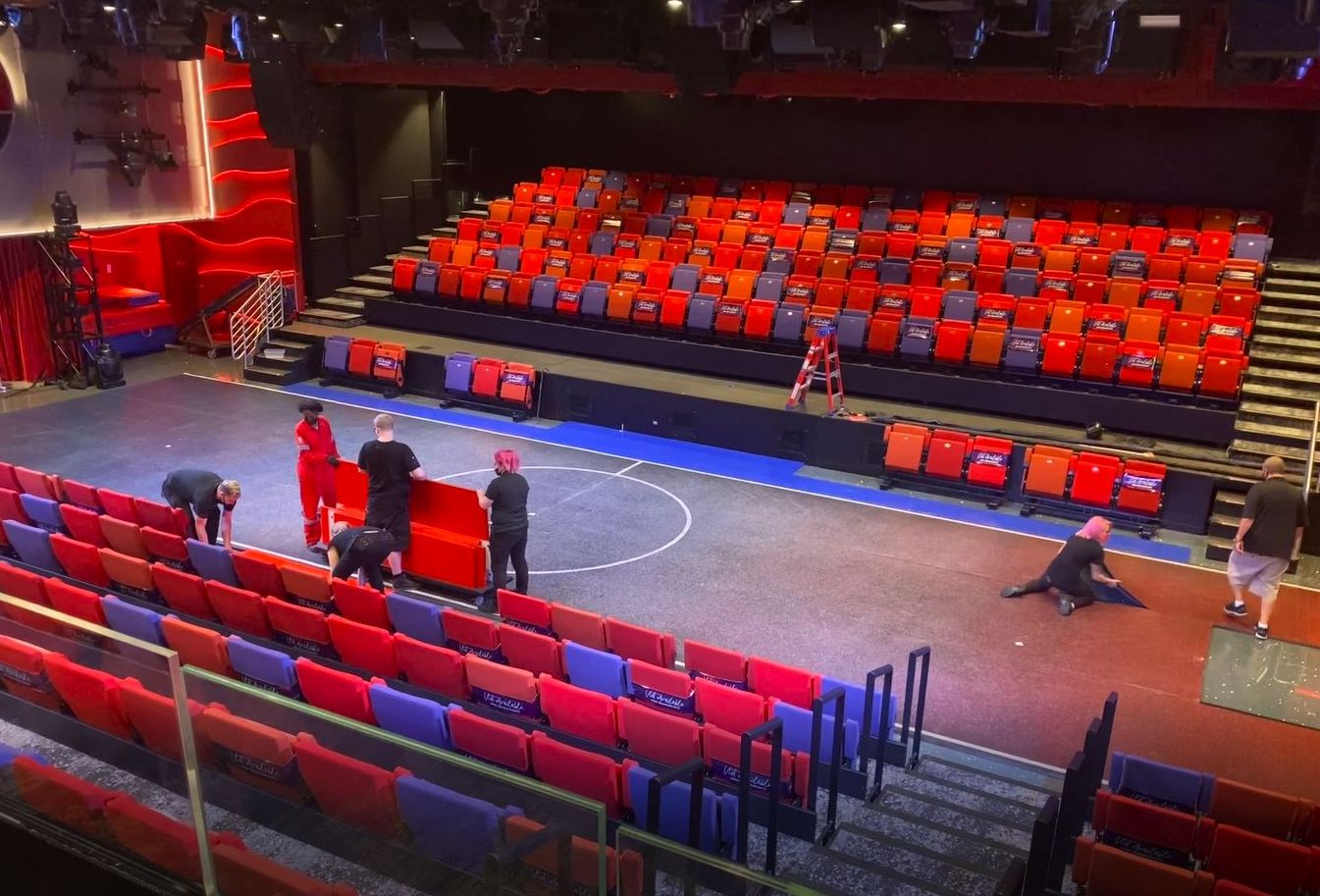 Also very much worth mentioning is The Manor, named after Richard Branson's retreat at Kidlington, Oxford, and the ship's nightclub. Acclaimed sexologist Dr A. dispensed her unique brand of fearless and playful advice in an interactive late-night cabaret called 'Never Sleep Alone'. You will be safe in the balcony. (See AND FINALLY in this week's BTN.)

One final word and that is praise for the crew on a brand-new ship that they were still discovering. Time and again they went out of their way to use their initiative when it came to enhancing the experience of passengers.

The limited passenger UK programme for September is now sold out and her official US programme begins at Miami on 22 September with a series of 3-, 4- and 5-night trips.

It could be that the Manhattan Cruise on the Hudson in New York will see Scarlet Lady around 1 September. Will Sir Richard be in attendance? He quietly made a Portsmouth visit a few weeks ago.
Valiant Lady, fresh from the builder's yard, will arrive at Portsmouth next February. We can't wait to get aboard.

www.virginvoyages.com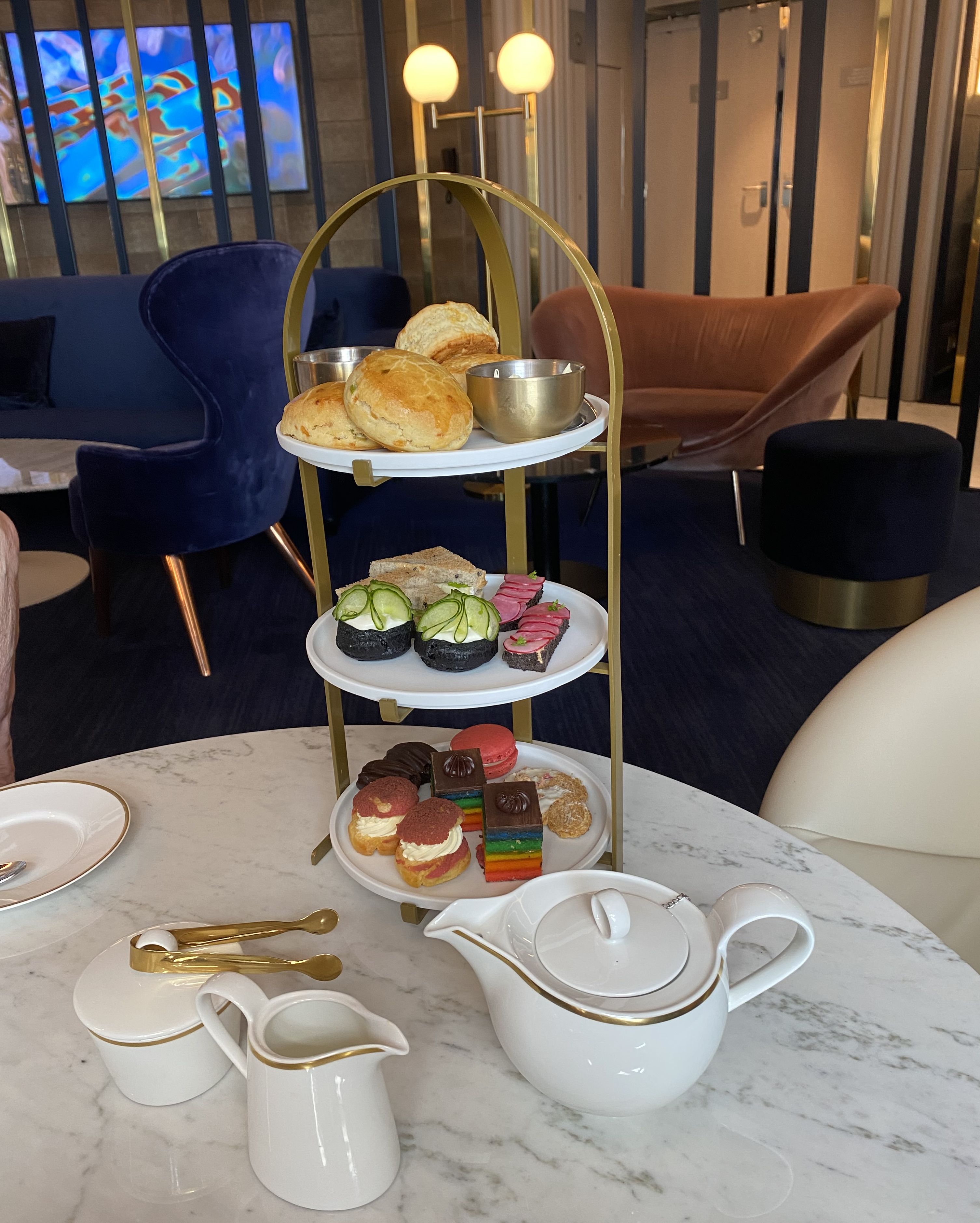 In retrospect Scarlet Lady was not perfect and most of the small problems associated with what was in many ways a shakedown cruise were eliminated straight away or put on the 'to do' list, typically the wi-fi, no high-speed streaming at present but promised for Miami.

For next year's European programme with Valiant Lady a more ambitious daytime programme would be appreciated by many.

Whilst the cabin TVs have an extensive film programme The Red Room could easily be made available at certain times for wide screen showings. Perhaps a little more live music around the ship especially during the cocktail hour.

When in UK waters BBC News, rather than BBC World News which are poles apart in content, would be welcomed, and perhaps Sky News too. And the Champagne Tea served from 1 till 4, does not suit the Brits whose teatime is 3 till 5.

And put signage inside the elevators of what's on each floor.

OUR READERS' FINEST WORDS (All times and dates are GMT)
All comments are filtered to exclude any excesses but the Editor does not have to agree with what is being said. 100 words maximum
---
Gill Jones, Guilford
I too was on the Virgin ship but rumours did spread, and I missed her act. The dining was classic but if you are not porting on a cruise more of a programme please.
---
James Scribe , Southampton
Having been on Scarlet Lady I am glad it is for over 18ís only. Dr A, or whatever she is called, was pushing it a bit!
---