Just a week ago at a breezy Dover (England) Virgin Voyages introduced to a disbelieving gathering its first ever ship, Scarlet Lady, all 110,000 tons of her.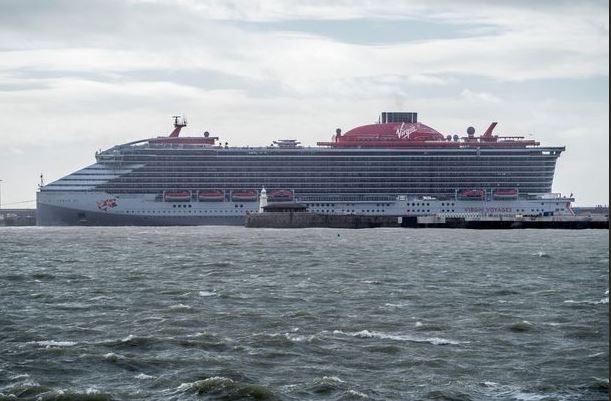 She is more than twice the size of the Titanic and has a stylish exterior and beautifully cut away bow. Scarlet Lady is a really good looking ship. Having visited Liverpool she is well on her way to her home port of Miami.
Sad to say we are not quite sure where she is. The bridge equipment is fully serviceable (as it should be), but the public positioning monitor, rather like some of the other gadgets is not yet working. We are told it will all be done for the maiden voyage, a three-night cruise on Thursday 26 March to Virgin's private oasis The Beach Club At Bimini. It will be the ship's first tendering and we suspect a lot of fun.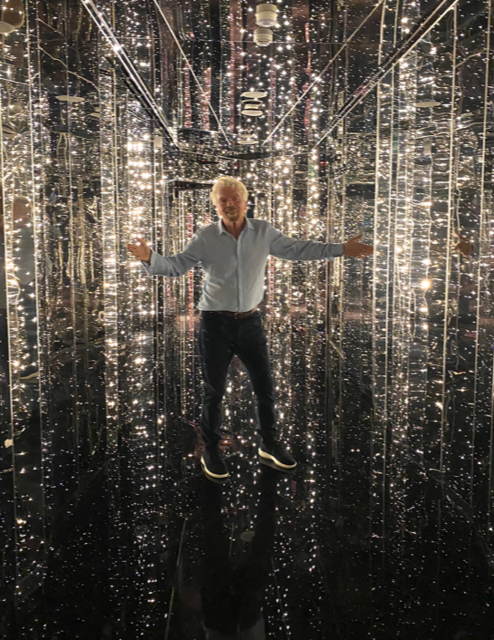 BTN's Malcolm Ginsberg and Alison Chambers, plus their other halves, were invited to an overnight sojourn which also included 250 press, bloggers, and another vague bunch called influencers plus a number of top Virgin Atlantic flyers. One thousand more "Ship Mates", Virgin speak for the travel trade, joined the ship the next day. The average age must have been about 25 and we were told that Virgin Voyages focuses on 30-60 year olds. You need to be over 18 to be what Virgin calls "a Sailor", or guest. To complicate matters further American law forbids those under 21 to put alcohol on their cabin account.
This critique is put together by Alison, who has never been on a cruise ship, and Malcolm, first at sea at the age of ten.
"We didn't just build a cruise – we have built an experience".
The words of Dee Cooper, senior VP design of Virgin Voyages, who has worked with Sir Richard Branson since she was 24, (with the cabin design and Upper Class of Virgin Atlantic). She cites that the brief from him was to "design a cruise ship that I would enjoy." She and her team started with a clean sheet – because Virgin hadn't designed a ship before.
According to Virgin Voyages company president Tom McAlpin this lack of experience works both ways. He pointed out that 80% of his team have been recruited from other cruise lines. "They were attracted to our ground-breaking offering. Our package offers freshness to what can be a demanding job."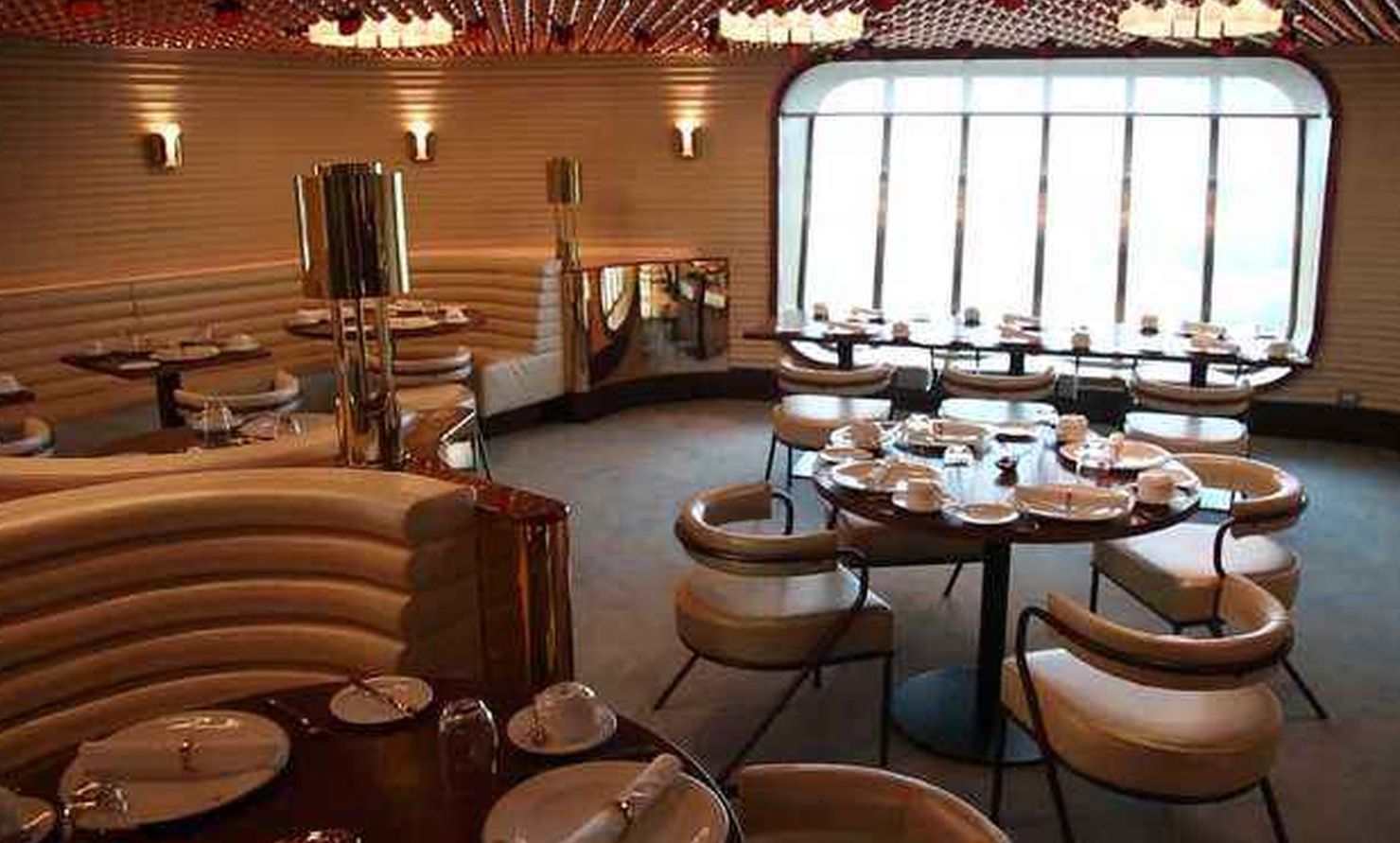 The hull of Scarlet Lady, 17 decks high, is steel grey with the signature Scarlet Lady emblazoned as a mermaid on the side. Inside blue and red dominate – the port side lighting and lifts were red – starboard blue.
Let's face it there were lots of glitches, which is to be expected on a ship straight out of the yard in Genoa. Even trying to get on in the heavy winds and rising tide was a problem, safety of course paramount. Safely behind the sea wall, and steady as a rock, the huge waves and high winds were spectacular – But bravo to Branson and his team for inviting the press for an enormous inaugural in every sense of the word. With most cruise companies they have done it many times before.
In what is virtually an all balcony ship, "Sea View" cabins are in the majority. These feature an L-shaped sofa which turns into a very comfortable bed with fine linens.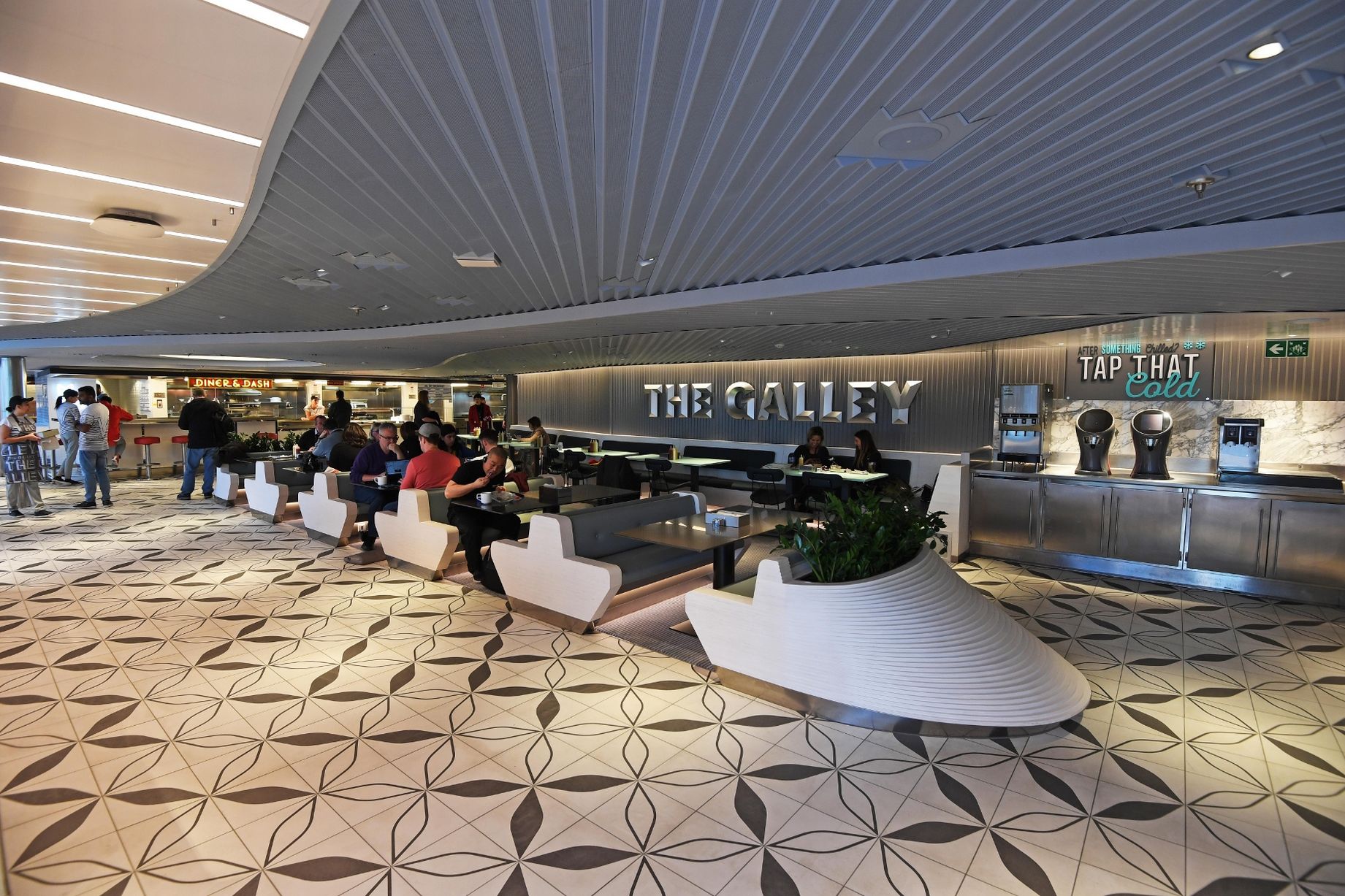 For traditional cruisers one of the most innovative additions is a wristband functioning for the cabin door lock, any purchase on board, and also enabling the air conditioning, cabin lights and electric window blinds. It will (we are told – It was not working for our stay) integrate with an iPad, part of the cabin offerings. Courtesy room service is provided and free wi-fi (which did work well) likewise. Hopefully it will be sorted by Miami. Likewise, the free laundry service called "The Wash".
Having a cabin that could convert into a lounge was deliberate "to make the space more social", according to Dee. But you have to question whether 'Sailors' want to stay in what is basically a room. The plan surely is to get out and spend money at the various bars and experiences, or eat. All dining comes for free and tipping is not required. "We expect our staff to offer the best service imaginable," said McAlpin.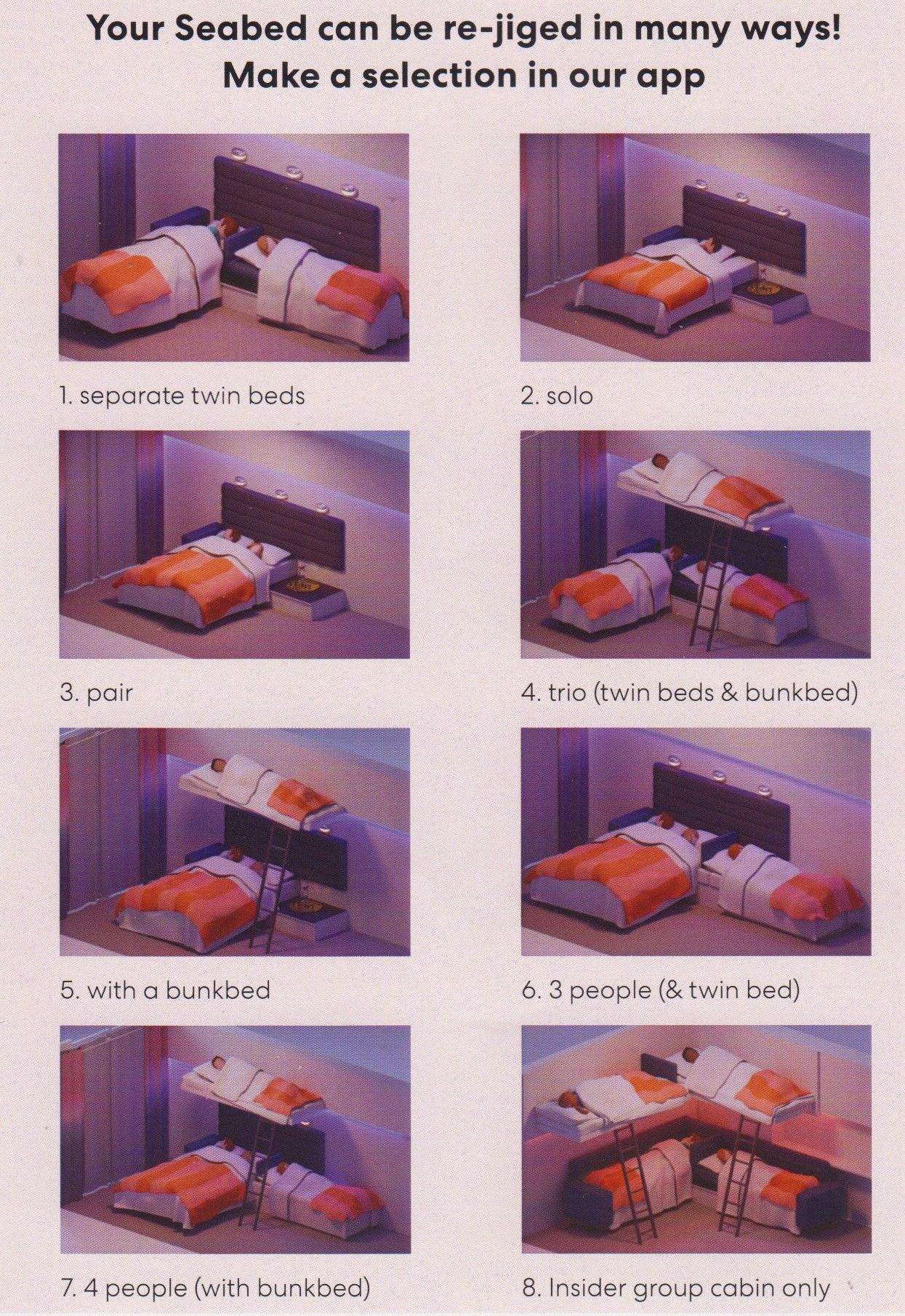 The cabin space is average for a modern cruise ship. Mood lighting is well thought out with nautical shaped lights above the bed. But you need long arms to use. And as for the multi-purpose bathroom suite it does everything required of it, but large Americans might find difficulty getting into the shower room. Red hammocks hang outside on the spacious balcony. They will be lovely in the still and sparkling blue water of the Caribbean. In the voracious winds and grey port of Dover they merely blew about in the wind!
Also available are 78 Rock Star Suites which are much bigger and feature their own retro record turntable – there is also a vinyl music shop on board, a nod to Virgin Records. As you would imagine on a Virgin ship, music is playing everywhere.
The whole ship is reminiscent of the Virgin Atlantic experience when it launched 35 years ago – bold and daring. Different. There is even a tattoo parlour called Squid Ink on board. Extravagantly glam drag acts serve as the ship's hospitality ambassadors. We met a few of them on the Friday evening, resplendent in their gold sequins.
The entertainment is edgy. One was a highly talented Cirque du Soleil type group who by the end of their set are down to tight black underwear – the writhing dancing became quite hedonistic.
"I have been waiting to do this since I was 40. Now I am pinching myself and can't quite believe it – but it is not a dream – I have woken up in the Rock Star Suite of the Scarlet Lady", said Sir Richard. He congratulated the 1,500 strong team who helped in the culmination of five years' hard work. And especially to Dee for a guiding hand on the design. "Dee is extra-ordinary," he enthused.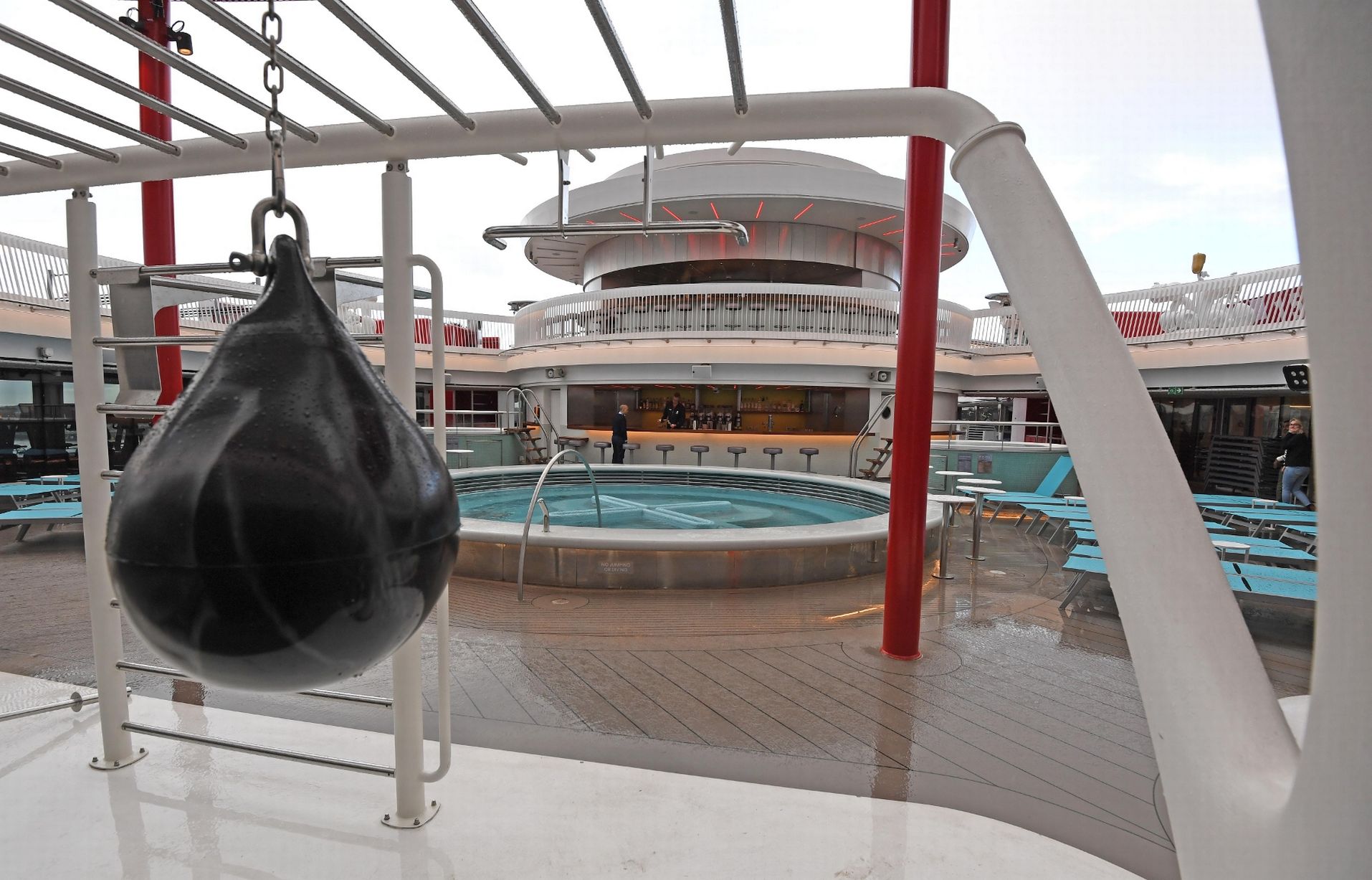 Virgin Voyages is an attempt to turn the cruise market on its head as it brings in the glamour of a boutique hotel – emphasis on wellness; healthy eating; modern contemporary spaces / a place for foodies. It is a sea change. "We are saying no kids because we believe the market we are targeting want a break from their children. It is bold of us, because other cruise lines don't do it", said Branson. That did not stop him bringing his own grandchildren on board the day before, he acknowledged.
"Our ethos on this cruise is chill, relax, be glam, be casual – get rid of the traditional stuffiness of the cruise with its formal dining – we say bring on your inner child – we have giant seesaws / swings / a roundabout / a huge jacuzzi / spa and salt room – and on the top deck a proper running track. (We didn't brave that in the Dover gales – the bends looked too sharp – not for Usain Bolt at 25mph).
Deep down in the ship, Deck 5, is the impressive spa and large hydro pool.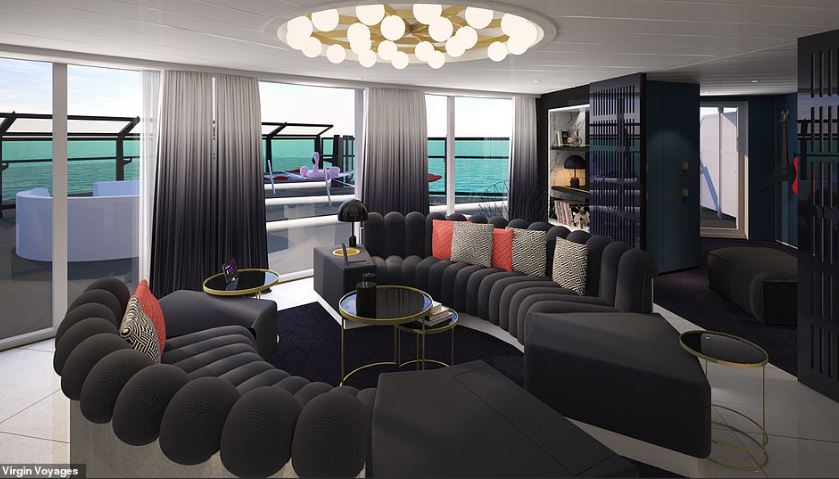 Deck 15 is likely to become the nerve centre of the ship with "The Galley", a mainly self-service food complex and the Gubae Korean BBQ. It is also the home for some of the largest suites on board plus a small swimming pool. No space for lengths but lots of deck space for posing, making new friends, and open-air dining.
On the same deck there is an athletic club with outdoor gym equipment, a boxing ring and an enormous sun lounger for multiple sailors. Richard Branson himself introduced the idea of catamaran netting across the top of the ship so people can chill on it like a vast hammock and admire the ocean below – fine for the Caribbean of course.
"Wellness is important for keeping youthful," says Branson who practises what he preaches – "I can work three hours more in a day if I'm feeling great. The ship is certainly for youthful people. "Try Razzle Dazzle, a bright red and white striped diner specialising in healthy and plant-based food," he tells us.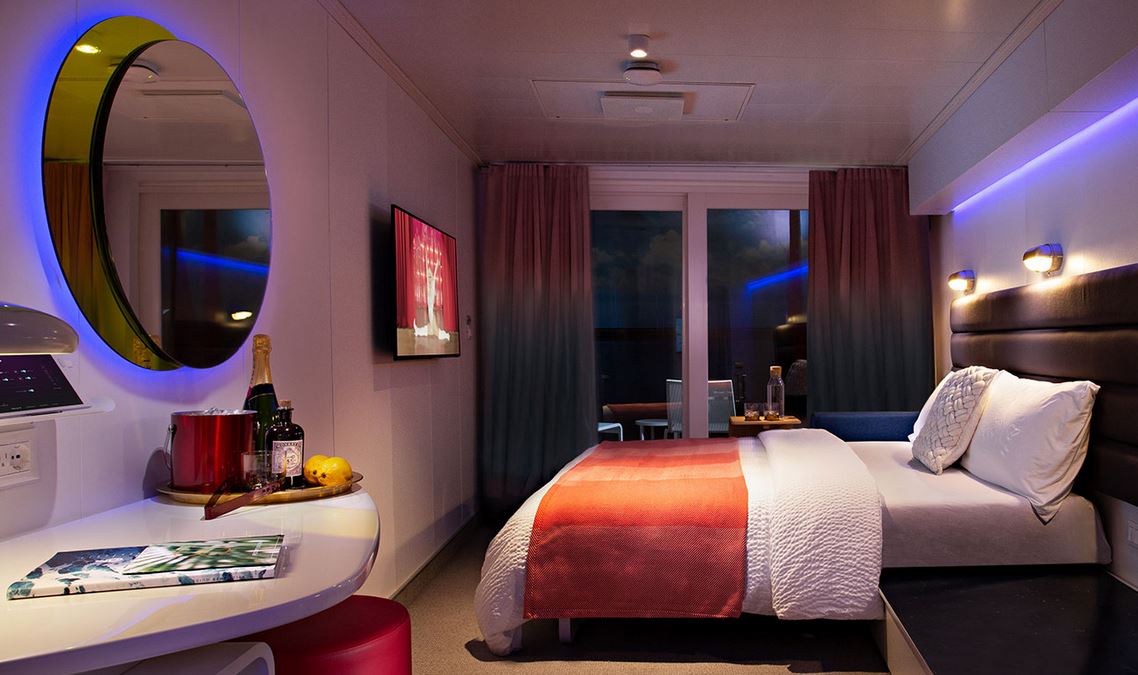 There is late-night noodle bar; all night breakfast; and all agreed the best burger tasted yet at sea. Drinks you pay for at sensible seaborne tax-free prices (in dollars). The Wake is the largest restaurant on board and is in the stern with a really outstanding design, a 5-star restaurant with a sea outlook.
Scarlet Lady is now on sale for cruising from Miami including on every sailing a full day at Bimini Island in the Bahamas.
For 2021, sister ship Valiant Lady will offer seven-night cruises from Barcelona. Virgin Voyages has stolen a march on its competitors with the use of the World Trade Centre terminal, a short walk to the city centre.
For a five-night cruise prices for one of the limited number of inside cabins start at £1,280 and around £3,000 for a Sea Terrace. The Rock Suites come in at £5,000 upwards and these prices are for a cabin. Virgin Atlantic can take care of the flights from the UK and Virgin Holidays has some attractive packages.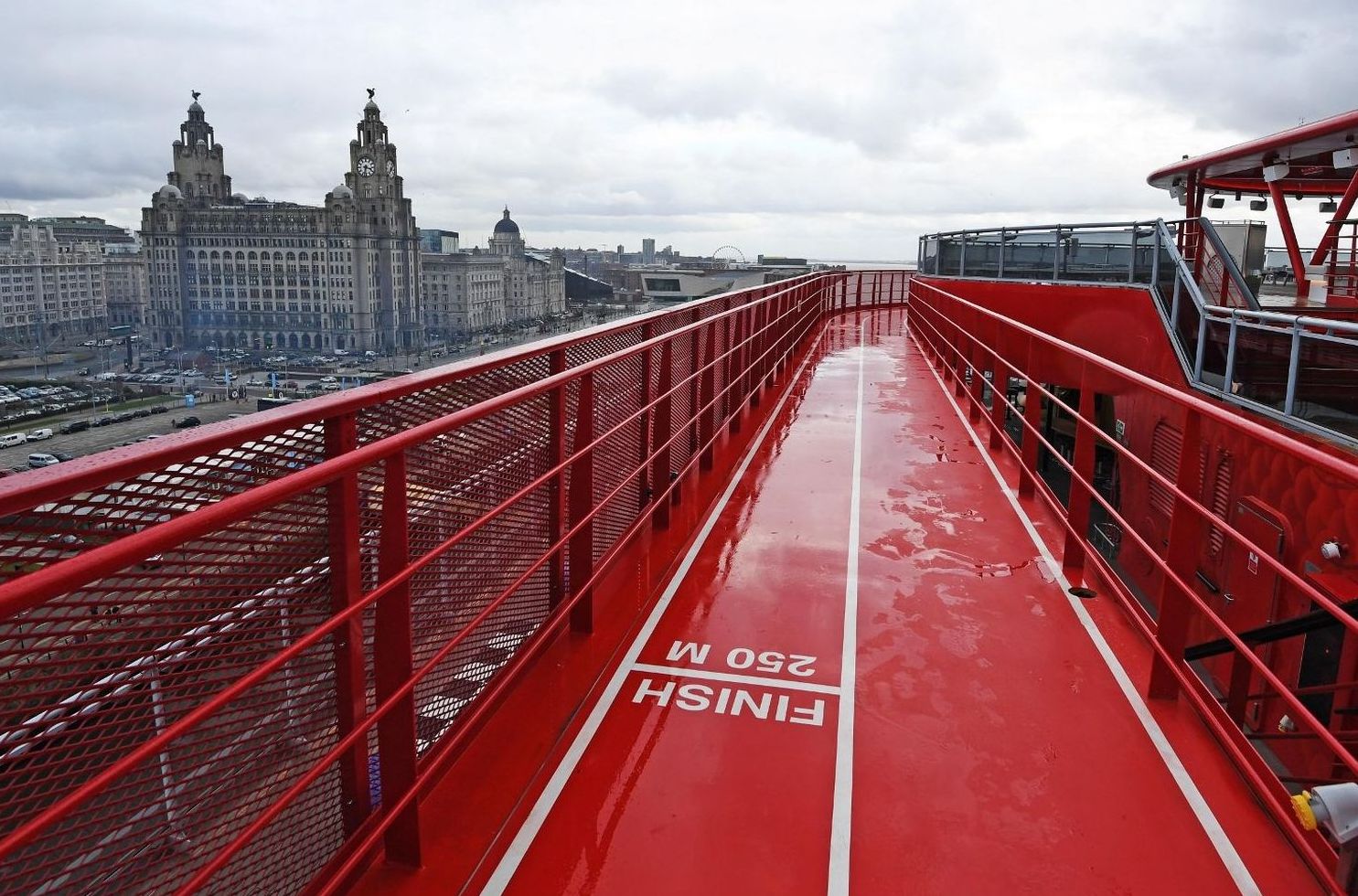 It is a big ship nearly 1,000ft long and three sets of lifts. More signage please Sir Richard and electric opening doors on the social decks. And the Crew did you proud, even if some of them were also lost.
No Godmother has been announced for Scarlet Lady yet but the formal naming ceremony is being planned for 19 March 2020.
It does seem a long time ago (29 February 1984 – 36 years) that the then youthful Richard Branson, together with the late Randolph Fields, introduced British Atlantic Airways at Maxim's then in London's Fetter Lane. According to Branson you could not have two "BA's and by the time of the first flight, in June of that year, it had become Virgin Atlantic. BTN's current scribes were at both events. More later on.
AND FINALLY
We had trouble with the caption. On the left is a virgin ambassador. To the right is Liz Moscrop, GearUp Media.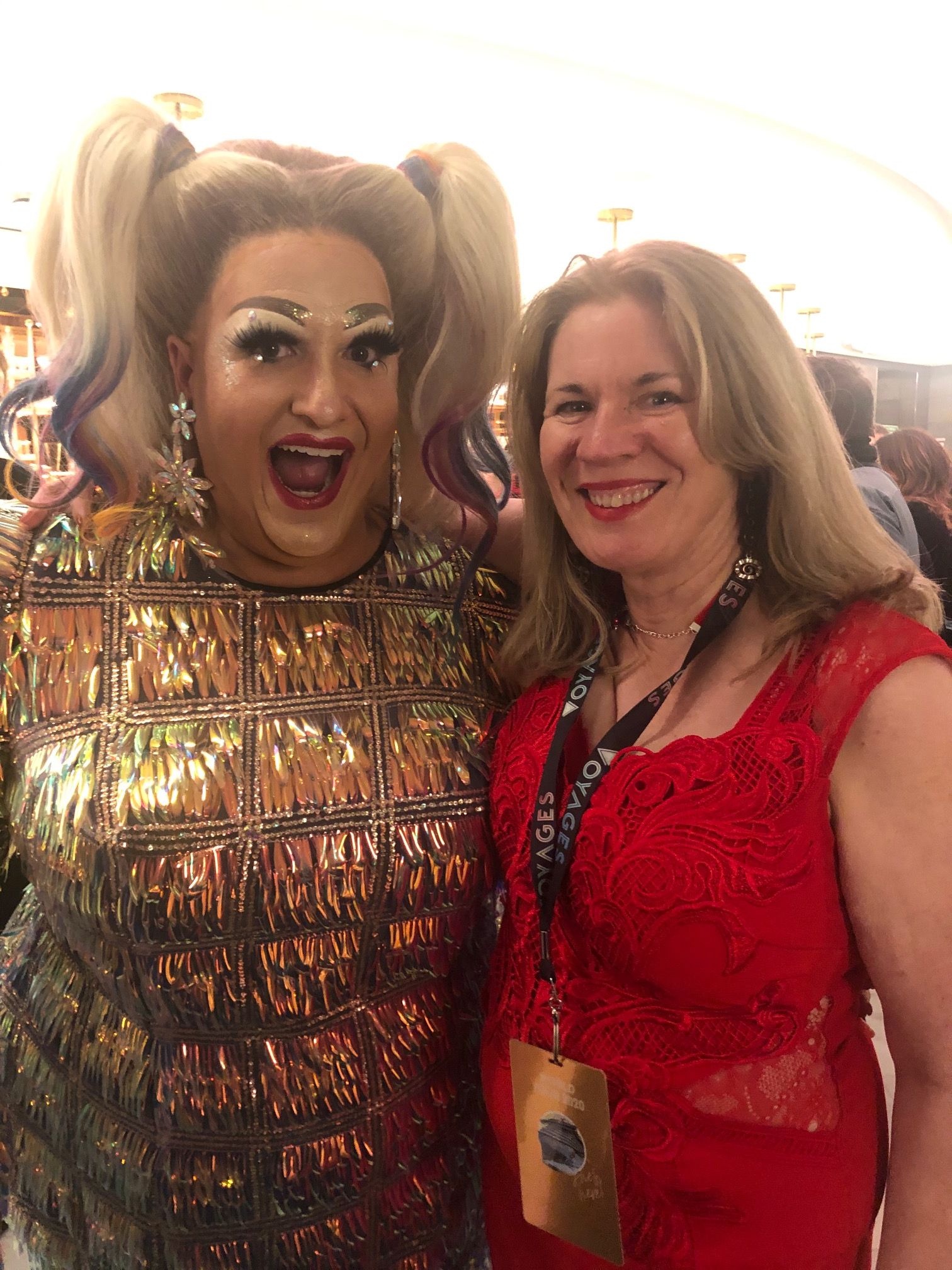 OUR READERS' FINEST WORDS (All times and dates are GMT)
All comments are filtered to exclude any excesses but the Editor does not have to agree with what is being said. 100 words maximum
---