Business Travel News is in receipt of Douglas Ward's enormous tome Berlitz Cruising and Cruise Ships, now in its 35th year and published today. It is 760 pages of small, but readable print.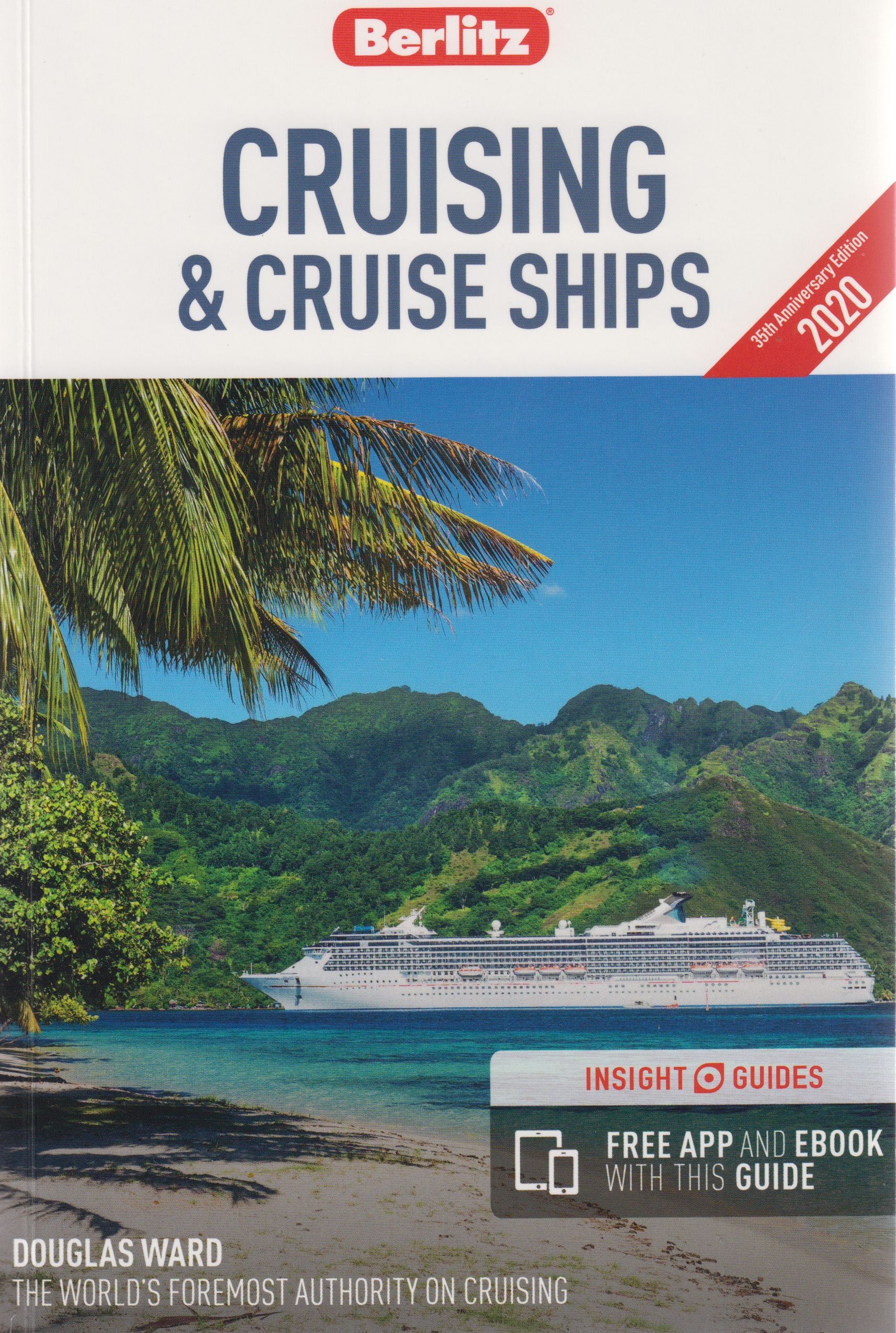 Cruising and Cruise Ships 2020 is up to the normal very high standard, but not perfect. BTN cannot justify the outright winner, Hapag Lloyd Europa 2, an otherwise splendid ship but not disabled passenger friendly. It may have a special ramp for wheelchair users to the pool but when it was last visited by BTN, electrically-operated doors in the public areas were lacking. They are a "must" these days with even distinctly old ships, such as the CMV fleet, offering this facility.

Ward is fine on what he calls "cuisine" dining but does not mention requirements such as kosher and halal, paying lip service to this part of many cruise lines' marketing efforts and particular diets. If you require special catering, and your operator provides, you will find the maitre d' and his staff very helpful.

Like a bottle of good wine, the Berlitz cruise guide has matured over the years and is really two books in one, the second, really a reference section, 562 pages describing in some detail 310 ocean-going ships, many portrayals just a repeat of a similar design in another part of the book, inevitable since, once a company has settled on an outline for a class of vessel, the economics of scale are paramount.
Mind you, the original Renaissance R series, one of the best designs of all time, although the original company sailed into oblivion, now includes Azamara Pursuit (1,483 Ward ratings) and Pacific Princess (1,353), essentially the same ships but a different operator and vastly different rating.

Especially for first-time cruisers, and also for old hands, it is the 182-page front section that is in many ways the most valuable within this latest edition. The top 20 ships in each category (Large Resort, Mid-size, Boutique and Small) are highlighted in the extended "Star Performers" section. The book has added 44 pages, with a new "Ship as a Destination" chapter and several others expanded – Cruising Uncovered, Expedition Cruising, Choose Where to Cruise, and Cuisine. The "Top of the Range" chapter has also been revised, with extensive insights into what to expect from luxury cruise experiences.

The varied needs of couples, families, seniors and solo travellers are explored, with vital information for first-timers, innovative ideas for ways cruise-goers can enhance their experiences, and a fascinating piece on what's ahead for the industry. In addition, purchase of this book gives access to a free app and eBook, which contains the same invaluable content as the print edition.

Ward goes into some detail with "The Cruise Companies", sub-divided in "Major Cruise Lines" and "Smaller Cruise Lines", which might upset P&O, the largest UK operator, even if American-owned, and cause hurrahs with Holland America, sister company with similar ships. Both Cunard and Hebridean count as "Smaller Cruise Lines".

Well over 2m under-18s went on a cruise in 2018, easily justifying a 10-page section on "Family Friendly Ships". For the most part, the minimum age limit is six months but several operators including Disney allows families bring along those as young as three months. At the other end of the scale, Saga is for 50-year-olds and upwards (with the provision a partner can be 45), certain ships have a minimum 21 limit, while the number of adult-only ships is growing.

Sections of the book include details that no other guide covers, including the private islands some companies have on offer, casinos, new expedition ships and USA coastal vessels, a specialist category.

Douglas Ward first went to sea in 1965 on the RMS Queen Elizabeth, at that time, at 83,000 tons the world's largest passenger liner, actually working on her, including the final transatlantic crossing in 1969 before transferring to QE2. The Queen Elizabeth was destroyed by fire in Hong Kong harbour January 1972.

The first edition of the book was published in 1985, Ward personally reviewing, testing and evaluating 120 ships. Now esteemed as the world's top authority on cruising and cruise ships, he has completed more than 6,200 days on ships and river ships on well over 1,100 cruises, 159 transatlantic crossings, and countless Panama Canal transits, shipyard visits, ship-naming ceremonies and maiden voyages. He spends up to 200 sea days each year, examining everything from the fluffiness of the towels and quality of the silverware, to the welcome aboard and disembarkation process.

According to Ward, the Europa and Europa 2, Hapag-Lloyd Cruises' two luxury ships, are the only cruise ships to receive the coveted distinction of 5-star-plus in this latest edition of Berlitz Cruising & Cruise Ships. As such, they have defended their top rankings as the best ships in the world in the "Top 20 Small Ships" category.

Says the author: "It is wonderful to cruise on both ships, which are slightly different from one another. The hallmarks of the ships are the generous amount of space per passenger, public areas with high ceilings, an exclusive selection of restaurants with a wide range of culinary specialities and their attentive, friendly and yet discreet service."

The brand new Hapag-Lloyd Hanseatic Nature was named best boutique ship in this expanding category, awarded a 5-star rating.

When it comes to large resort ships, Queen Mary 2 takes first place, a true liner sometimes misconceived as a two-class vessel. While it does have separate dining rooms called Queens Grill and Princess Grill, for the superior accommodations and a small private lounge, generally speaking passengers mix, unlike NCL's Haven product and the MSC Yacht Club, superior, fully comprehensive private areas.

With Ward terms "Mid-size", Viking reigns supreme with the two, now elderly Crystal ships not far behind. With the next category, Small ships, Hapag-Lloyd again is the winner with Europa and Europa 2, followed by Silver Muse and Silver Spirit and then the Seabourn ships. As mentioned, Hanseatic Nature takes first place in the Boutique ships category.

What is strange is that the guide does not have an award for family-style resort ships, but how do you choose between Royal Caribbean "Harmony of the Seas" and NCL's Breakaway class? Skating or a Kart track? Which do you prefer? Or P&O with its more British style restrained product? Not easy.

If you have not been on a cruise and considering doing so, buy the book. You will find the time spent reading it very worthwhile. If you are based in the UK, then take a short cruise, three or four nights typically, out of Dover, Edinburgh, Liverpool, Southampton or Tilbury with CMV, Fred Olsen and P&O to find out what it is all about.

Even if you have spent 100 nights at sea, or much more, still keep yourself current with the 2020 edition. Ward comes up with little gems every year. He says in this edition that if you choose a cabin of less than 180sq ft (17sqm), you will feel cramped. We disagree. The idea is not to use the cabin as a home. Get out and use what's on offer. That is what you have paid for and at the end of the day a cruise is literally a 'full board' floating hotel including entertainment. Terrific value.

760 pages with FREE eBook and app

ISBN 9781785731389
UK: £19.99
US: $27.99

http://cruiseberlitz.com
Also see AND FINALLY
OUR READERS' FINEST WORDS (All times and dates are GMT)
All comments are filtered to exclude any excesses but the Editor does not have to agree with what is being said. 100 words maximum
---
Theodore Scull, New York
Hapag Lloyd is always Numero Uno.
---