BTN editor-in-chief Malcolm Ginsberg has been involved with London City Airport (LCY) since its very conception in 1982. He has written the authoritative history, "London City Airport – 30 Years Serving the Capital". The last page "AND FINALLY" (see below) was replaced by an advertisement after being initially approved by the then CEO. In this SOAPBOX SPECIAL, Ginsberg attempts to bring the book up to date and considers the future.
London City Airport is highlighted in Business Travel News SOAPBOX spot for a variety of contentious reasons, none of which takes away from the fact that it is a great success, particularly after a worrying 2017 where growth was flat. For this year, while tantalisingly short of a 5m passenger throughput, it is expected to show a not-insignificant increase of 6.5% in airline customers. It is an established part of the European airline scene, the business gateway to London.
A £480m development programme is under way. Work is progressing on pile-driving for an extended apron and parallel taxiway with about 10% of the work complete (see video below). The rebuilt terminal will be available in the early 2020s and the UK's first NATS digital tower operational in 2020. Currently 46 airports are served from LCY by ten airlines, with LOT due to arrive from Warsaw next February.
In 1988, its first year of operations, just 133,000 passengers used the LCY terminal, which has hardly changed since, except for more departure space on the first floor.
However not everything is as rosy as it seems. Access from central London is not that easy (which the Elizabeth Line would deal with). There is an airline monopoly on one of its busiest routes and also whilst new carriers are being attracted, LOT and TAP for example, major routes such as Munich and Paris Charles de Gaule are not exploited.. A fresh chairman is being sought, who will be required to be resolute in delivering a top-quality transport package for London, satisfying the international group of investors who own the property, and ensuring that LCY fits into the community while supplying a fine workplace for the staff.
Mayor of London Ken Livingstone opposed London City Airport and delayed the coming of the DLR. Nothing changed with his successor, Boris Johnson, doing all that he could to stop any expansion only for his replacement, Sadiq Khan, to give the go-ahead for the airport's development within days of his appointment.
What happens next depends greatly on Mayor Khan and how he deals with the leftover of Boris Johnson's reign, the deliberate ignoring of the Silvertown community and the loss of its railway station.
The DLR, with its limitations, serves LCY well, but what is needed is a fast direct connection to ExCeL, Canary Wharf, Central London and Heathrow. If the airport is to sell itself to new carriers, who will require specialist aircraft, it needs Silvertown for London City Airport and the Elizabeth Line. (See Air Baltic in this issue).
The news last week of a major delay with the completion of Crossrail suggests that this station concept should be urgently reviewed by Transport for London (TfL) with the backing of the airport. The construction of a rail halt in the next 12/18 months will cost less than £20m. The bill for one in the 2020s is likely to be well over £100m and very disruptive in production.
Last week's issue of Business Travel News highlighted the resignation of Sir Terry Morgan as chairman of London City Airport and the postponement of the Elizabeth Line opening. The railway debacle was an acute embarrassment to Sir Terry as he tried to defend the issues at a public debate in City Hall. He is also to step down from Crossrail to chair HS2.
It now seems that the Mayor of London Sadiq Khan was not made aware of the problem until 48 hours before it was announced.
While it was wrapped up with the usual eulogies, Sir Terry's departure in some ways is as controversial as his appointment in the first place. As chairman of Crossrail since 2008, he oversaw the deliberate ignoring of London City Airport for the project that has become the Elizabeth Line. It could be that his political master, the Mayor of London, Boris Johnson at the time, used his influence to disregard the fact that a Silvertown for London City Airport station existed when that section of the new railway was part of the North London Line. He was never going to allow the station to be built, as the success of London City competed with his own ideas for an estuary airport, funded by the GLA.
Johnson's attempt to refuse planning permission for the LCY development was overturned by the courts and quickly followed with the change of local government, allowing Mayor of London Sadiq Khan to give the go-head.
Another problem has arisen with Crossrail, lost with all the other difficulties.
London Assembly Transport Committee leader Caroline Pidgeon says non-standard height platforms on the central section of the new line will make journeys "unnecessarily complicated and burdensome" for those with disabilities. It seems the platforms have been built to a height of 1,100mm in order to offer step-free access to board the Bombardier-built trains. However, the national standard for platform heights is set at 915mm! Reading to Abbey Wood will not have consistency.
London City Airport will expand in passenger numbers in four ways: By an increase of movements that the improved taxiway will allow, a higher route frequency, new destinations and an increase in aircraft size. The first three are self-explanatory and might include additional carriers.
The new Embraer E2 series has the same passenger capacity as its precursor. The Airbus A220-100 opens up possibilities assuming a full 130-passenger load can be flown from the airport, Swiss to date being cautious with its numbers. This aircraft opens up medium-range non-stop routes such as Moscow, the Gulf States, New York, or even Chicago, but the frequency probably will be limited. All good news for the airport if they happen.
BA has supported LCY since day one, as the majority shareholder in Brymon Airways. Four additional Embraer E190 aircraft will join the BA CityFlyer fleet during 2019, making a total of 26, adding nearly 20% more seats to enable the launch of new services. With the departure of CityJet, BA/IAG will have a monopoly on the Dublin route. At present it carries just over 50% of LCY passengers.
London City does win with British Airways. The travelling public cannot differentiate been Mainline (the New York operation) and the rest (Cityflyer). Regulars know you get a full service in the back cabin of Cityflyer, but infrequent flyers are bemused by the fact that instead of whatever M&S offering is for sale from Gatwick and Heathrow, out of London City the traditional Economy fayre is still in place. It is a real plus for LCY.
The single daily weekdays business class only A318 flight to New York via Shannon flies the flag for the airport and presumably loses money. Will someone else come in with an A220 but direct? Airbus is capable of a marketing deal, with BA (or CityFlyer) taking in the single A318 and using LCY and the A220 as a showpiece for the potential routes already mentioned. Delta, an A220 customer, would also be a possibility. Swiss would require a bilateral deal. JetBlue (See ON TOUR) and Porter Airlines from Toronto are other potential operators?
So where does this leave London City Airport?
Sir Terry Morgan has departed and also leaves Crossrail £600m over budget and a year late. For him, HS2 is hardly going to be an easy ride. One could question whether he is the right man for the job.
If common sense prevails and Sadiq Khan takes a personal look at the London City Airport station situation, asks for an independent review and comes down in favour of its immediate implementation, the airport (and Silvertown) will be happy. If it does not happen, the airport will continue to expand but will not reach its full potential as quickly as the shareholders would wish.
This could be a great year for LCY due to factors outside its control – a new chairman with an open mind, the Bombardier C series revitalised as the Airbus A220, and a Silvertown for London City Airport station on its way.
VIDEO: https://youtu.be/pzRZFw4sJe0
LONDON CITY AIRPORT – 30 Years Serving the Capital
ISBN 978-1-900438-07-0
AND FINALLY
The Elizabeth Line
In December 2018 the Elizabeth Line (Crossrail) is due to open between a new sub-surface station at Paddington and Abbey Wood. It will surface just by the London City Airport Private Jet Centre and dives under the Thames stopping at North Woolwich before completing its journey. Through trains will run from Abbey Wood to Heathrow Central. A fence hides a view of the Terminal from the line.
Being considered (now 2021 at an enormous cost) is an extra station named Silvertown for London City Airport with the best way of implementing this halt now under scrutiny.
An alternative suggestion is to stop and turn around the trains at Canary Wharf when the line opens and complete the extension six months later. Customs House and Woolwich would not suffer as they already have DLR services. Custom House station is 1.5 miles from London City Airport. No public transport available. Sir Terry Morgan is both chairman of Crossrail and London City Airport.
| | | | | |
| --- | --- | --- | --- | --- |
| Customs House (for ExCeL) | 2 minutes | | Canary Wharf | 5 minutes |
| Liverpool Street | 12 minutes | | Farringdon | 14 minutes |
| Tottenham Court Road | 17 minutes | | Bond Street | 19 minutes |
| Paddington | 22 minutes | | Heathrow Central | 47 minutes |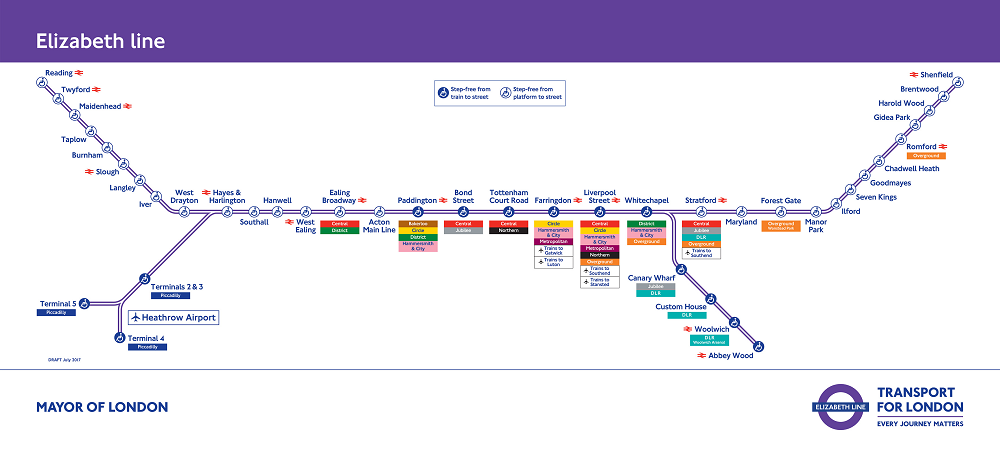 OUR READERS' FINEST WORDS (All times and dates are GMT)
All comments are filtered to exclude any excesses but the Editor does not have to agree with what is being said. 100 words maximum
---
David Gurtler, London UK
Another paragraph that appears to be factually incorrect: "Johnson's attempt to refuse planning permission for the LCY development was overturned by the courts and quickly followed with the change of local government, allowing Mayor of London Sadiq Khan to give the go-head." It was not the courts that overturned Johnson's 'direction' to Newham to refuse LCY's most recent expansion, it was the two Secretaries of State (DCLG and DfT) following the planning inspector's recommendation. It was not Sadiq Khan that gave the go-ahead to development, but again the two Secretaries of State. The cost of Boris opposing the LCY planning application was over £500,000 leading up to the public inquiry and then Newham applied for an award of costs against him since they had recommended approval but Boris' unreasonable actions resulted in a costly planning appeal. Newham were successful with their costs application and will have received at least £500,000 to cover the costs that they incurred.
---
David Gurtler, London, UK
The following paragraph is not accurate: "Mayor of London Ken Livingstone opposed London City Airport and delayed the coming of the DLR. Nothing changed with his successor, Boris Johnson, doing all that he could to stop any expansion only for his replacement, Sadiq Khan, to give the go-ahead for the airport's development within days of his appointment." The Mayor (Boris) directed Newham to refuse LCY's expansion plans. A planning public inquiry was held before Sadiq Khan became the new Mayor. Sadiq Khan did not give the go ahead, rather the Planning Inspector recommended that the appeal be allowed and two Secretaries of State (Department of Communities and Local Government as well as Department for Transport) approved the development. Sadiq Khan's role was to no longer oppose the application for the compulsory purchase of land associated with the proposed development - reversing the decision of Boris, the GLA and TfL
---