The annual LONDON CRUISE SHOW takes place at Olympia 18-19 February.
One company that will not be attending is All Leisure, now in administration, with Swan Hellenic amongst its cruise subsidiaries. Former chairman Roger Allard is to head a resurrection of Hebridean Princess, formerly part of the group, whilst the Swan Hellenic brand has been acquired by the international Canadian Group G Adventures. The popular Minerva is back with its owners. Hopefully a new operator will take over this fine ship.
All Leisure is bound to be a major topic of conversation at the show, although it is essentially a public sales event rather than an industry get-together. If you are completely new to cruising and intrigued to discover what it is all about, or you are a seasoned cruiser, to spend a few hours at Olympia is well worth while. Readers can purchase reduced price tickets for £4 (on the door price is £10) by mentioning 'BTN' when booking tickets online or when calling 0871 620 4024. (Calls cost 13p per minute plus network extras). www.cruisingshow.com
On the news front The World has broken the record for the most southerly navigation reaching 78°43•997´S and 163°41•421´W at the Bay of Whales in Antarctica's Ross Sea. First introduced in 2003, The World, which describes itself as a (large) private yacht, comes in at 43,000 tonnes, has 165 residences and a crew of around 250. Later this year it will be in Monaco.

CRUISING IN 2017
The Cruise Lines International Association (CLIA) has released the 2017 State of the Cruise Industry Outlook, detailing a steady pace of cruise travel interest and significant investment in the industry.
Increase in cruise travel is expected to continue throughout 2017, with an estimated 25.3m passengers expected to sail in 2017, a strong surge from 15.8m just 10 years' prior (2007). More ships will set sail in 2017 as well. CLIA reports that cruise lines are scheduled to debut 26 new ocean, river and speciality ships in 2017 for a total investment of more than $6.8bn in new vessels From 2017-2026 the industry is expected to introduce a total of 97 new cruise ships totalling an estimated investment of $53bn through 2026.
"The cruise industry is responding to global demand and we are highly encouraged by both the short-term and long-term outlook," said Cindy D'Aoust, president and CEO, CLIA. "From technological advancements and deployment of new ships to new ports and destinations around the world, the industry continues to respond to the desires of today's travellers resulting in steady growth and strong economic impact around the world."
Cruise industry expenditures generated $117bn in total output worldwide, supporting 956,597 full-time equivalent employees who earned $38bn in income in 2015.

PORTUGAL AND RIVER CRUISING – See also ON TOUR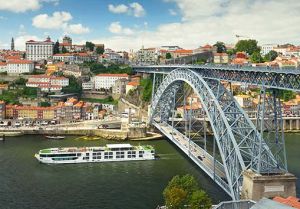 The Scenic story began in 1986, when founder Glen Moroney began operating coach tours throughout Australia, quickly expanding into New Zealand, Norfolk Island, and South Africa. By the end of the decade Scenic was hosting tours to Canada and Alaska, and in 2008 launched its unique Space-Ships and began sailing the rivers of Europe. There has been steady expansion ever since with new ships every year now totalling 12 in Europe. This latest ship was built at Viana do Castelo (Portugal) to Glen's and his wife Karen's demanding standards.
In 2016 Scenic introduced Porto and the Douro River into its European river cruise itinerary. The single ship operation has proved to be a great success, and sister company Emerald, 4-star compared to 5, getting into the act later this year with its own vessel. Scenic offers something extra with butler service for all passengers, a fully inclusive 24-hour bar and as a standard, large, 19 sq m balcony suites. Even its brochure is a work of art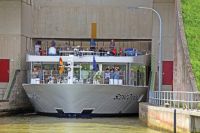 For the Douro there are special requirements due to restrictions caused by the size of the dams.
Generally on most European cruise ship rivers the vessels are 135 metres long and carry up to 200 passengers (with Scenic it is just 169).
On the Portuguese river the length is limited to 80m and Scenic carries 96 guests looked after by 36 crew. It is a very intimate top notch operation.
In 2015 BTN took Scenic Emerald down the Rhône from Chalon-sur-Saône to Avignon. (See 2 November https://www.btnews.co.uk/article/9544) The ships are very similar except this time BTN booked the mid-passenger deck with a balcony, rather than the lower deck offering daylight only from a large window. Whilst the bedroom size (and the service) is much the same the window only cabin was found to be slightly claustrophobic. Pay for upstairs. It is well worth the extra.
The other big difference is that on the Douro all the competing ships offer so-called swimming pools with Scenic deciding to add one too. For 2017 Emerald Radiance also has one. It is probably wonderful in mid-summer but had no takers (except your Editor in Chief) in October when this river cruise was taken. In truth it is more of a large whirlpool and hopeless for actually swimming. It should be described as a serenity pool. There is no room for the electric bikes which Scenic normally carries. Dining is the same with the two alternative restaurants optional on a couple of evenings, plus the main dining room with both Portuguese and international cuisine. It is buffet lunchtimes unless you do want service.
Scenic is very much 'all inclusive' from the moment you step off your aircraft (or arrive by train) and it is very easy to finish up with a zero extras bill. Most drinks are free, there is no tipping, and the tours are included. If you visit the hairdresser or Wellness Centre that will cost. Wi-fi works very well. Every evening there is low key entertainment and just before dinner a briefing on the next day's activities.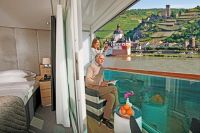 The Douro is one of the great rivers of Europe, not that well known, and whilst over 500 miles long is navigable for just 130 miles. It is a river of wineries, which stretch up the escarpment for as far as one can see. Traditionally, the wine was taken down river in flat-bottom boats called rabelos, to be stored in barrels in cellars in Vila Nova de Gaia, across the river from Porto itself. It was here the British merchants from places such as Bristol established themselves from the 16th century onwards.
Scenic's eight-day cruises start at Porto with Scenic Azure moored on the north bank of the city and a very short walk to the downtown areas. The established competitors are based on the south (Vila Nova de Gaia) bank, much less convenient for the main points of interest. River cruise regulars should note that there is no night-time navigating and the suites are blissfully quiet, any evening musical activities taking place in the upstairs Panorama lounge towards the bow.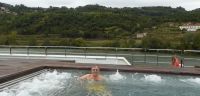 During the 1970s and 1980s the Portuguese Douro was changed for ever with the building of five massive dams, the Pocinho, Valeira, Régua, Carrapatelo and Crestuma-Lever. Vessels with a maximum length of 83 metres (272ft) and width of 11.4 metres (37ft) pass through the five locks with the Carrapatelo Dam the largest and a maximum lift of 35 metres (115ft). It is very impressive.
BTN has covered Porto in the past (see BTN 6 July 2015).
Arriving via easyJet on an early flight one was collected and quickly hosted on board. And then there was time to see parts of the city new to us.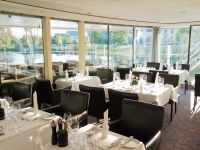 On our first river day it was casting off Porto at 07:15 and on to Regua an important small town on the river, the Museu do Douro providing a showcase for the wine-making industry. Naturally sampling was included. Pinhoa was the night-stop.
Unlike any other river (or indeed sea) cruise the on-board staff were made up entirely of Portuguese nationals. They were a great team. At every stop where a drive was required to the point of interest a pair of Scenic branded buses were ready for us. They followed the ship all the way up the river and even took us across the border (just a roadside sign) to Salamanca (Spain), the most easterly point on the trip.
At Pinhoa, the next stop a visit to the Mateus Palace was selected, a fine baroque mansion but although depicted on the unique flask-shaped bottle is nothing really to do with the wine.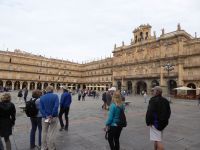 Salamanca is a long two-hour drive from the river across what one can only describe as rather boring Spanish farming country. But once you get to the city it is visually striking and historically intriguing, the Moors arriving in 712. In 1812 it was the scene of one of Wellington's great victories. It is a UNESCO World Heritage Site. Today it is Spain's main seat of academia with 30,000 students. Salamanca has two churches, the Old Cathedral, of the 12th century and of Romanesque style, and the New Cathedral, much larger, built in the 16th century of Gothic style and completed in the 18th century, joined seamlessly. The Scenic guests enjoyed a fine lunch and an energetic Flamenco dance performance.
Our return voyage included the remarkable hilltop village of Provesende, showcasing the Portugal of yesteryear. Wander the atmospheric streets of this quaint village with the locals as they proudly introduce you to their way of life – including their local bakery, and the bar with its wonderfully eclectic collection of regional wares. This is a specially choreographed experience only open to Scenic guests. We enjoyed a wine tasting at the restored manor house of Morgadio da Calçada. What better way to immerse yourself in the local culture.
The trip finished with two nights at Porto, the first a celebration dinner at the Burmester Cellar by the famous double decked Dom Luís I (or Luiz I) Bridge and Fado music. The captain reminisced on our last night on board after a tiring but enjoyable day visiting the fishermen of Afurada and Guimarães, the seat of the first King of Portugal and dominated by the impressive Ducal Palace, which dates back to medieval times.
Many of the guests took a flight to Lisbon to continue their Portuguese holiday. We went by train at a bargain price. Nothing in it when it came to journey time and the taxi ride to the hotel at the other end was less than five minutes. (see ON TOUR in this issue)

SOME RIVER CRUISE BARGAINS
Please note that these tours may or may not include travel to the port of arrival/departure. Some cruise lines include tipping and wine for the main meal, at least. Tours are usually included. Please check carefully. With these bargains BTN has been careful to select cruises from different European rivers in order to give a choice of itineraries and operators.
CroisiEurope has been established since 1976 and now operates 45 ships in Europe and two on the Mekong in China. If you are looking for something unusual on offer is an eight-day Loire cruise on-board the Loire Princesse, a modern-day paddlewheel ship that is able to navigate the shallow waters of this iconic river. The cruise is round-trip from Nantes and visits St Nazaire, Ancenis, Bouchemaine, Angers and the Châteaux of the Loire. There are two departures on 16 and 28 April with cruise-only prices from £1,002 per person including all meals and drinks on-board, and excursion to the Châteaux of the Loire. www.croisieurope.co.uk
Crystal River Cruises is but one year old and whilst a river cruise can never offer the amenities available on a sea-going vessel it has the Crystal reputation to uphold. Available is a10-night Danube cruise round-trip from Vienna on-board Crystal Mozart. The cruise starts with an overnight in Vienna on 2 April and visits Durnstein, Melk, Linz, Passau (overnight), Bratislava and Budapest before finishing with another overnight in Vienna. All-inclusive fly/cruise prices from £2,852 per person including return scheduled flights, overseas transfers, all meals and drinks, a selection of shore excursions and gratuities. www.crystalcruises.co.uk
Emerald offers a similar programme sister company Scenic with a slightly slimmed down product. The river Rhône runs from Switzerland to near Marseilles with the 8-day cruise starting at Lyon and finishing at Avignon, where there was a Pope in residence for a short period in the 14th century. This trip through rustic France takes in some of the great wine country including Beaujolais. On offer from £1,745 is both the 1st and 15th April from Lyon. Both Lyon and Avignon are on the Eurostar services direct from London. www.emeraldwaterways.co.uk
Scenic is running a short 'Tulip' time programme to Amsterdam with availability 1 May from £1,720. The voyage takes in Hoorn, where a uniquely Dutch dinner is celebrated, and the sleepy towns of Edam and Volendam, where you'll get to sample world-renowned cheeses of the same name. Rotterdam is a port of call, as well as Delft for its blue pottery. www.scenic.co.uk
Viking has been cruising on the Russian rivers for many years and Moscow to St Petersburg is one of the great river trips. In the other direction it is the same, seeing an inland Russia that most in the west have no perception of. In a 13-day package you will spend three nights in the current Russian capital and the same in the former senior city. Besides the Hermitage Museum, Red Square, and the Kremlin the trip includes a wealth of smaller treasures to enjoy such as Uglich and Yaroslavi. There is space on the 10 June departure from £3,395. www.vikingrivercruises.co.uk
OUR READERS' FINEST WORDS (All times and dates are GMT)
All comments are filtered to exclude any excesses but the Editor does not have to agree with what is being said. 100 words maximum
---