Last month, BTN was a guest of the SMMT (Society of Motor Manufacturers and Traders) for its southern regional driving day at the impressive Oakley Hall estate near Basingstoke. Not so much fun as the Millbrook Proving Ground event with its high-speed track and off-road facilities, but a fine opportunity to get behind the wheels of cars not normally available. It was public roads all the way and, with the local police clearly watching closely, good behaviour the name of the game.

See 'One up on Clarkson' BTN 13 June for the Millbrook Test Day and also London Historic Motor Sport Show in this issue.

We cheated somewhat with AND FINALLY 26 September. The Aston Martin DBS was at Oakley Hall but is owned by one of our scribes, but not the editor-in-chief.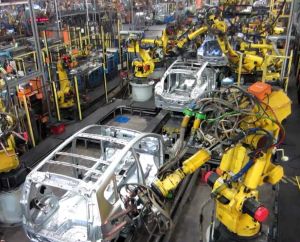 The line-up of 60 different models from 29 brands was a timely demonstration of the UK new-car market's vibrancy and diversity. Consumers have never enjoyed so much choice, be it over make, model, body type, powertrain or technology. And that choice extends to how they pay for them, too, with a wide range of low-interest and flexible finance deals adding to the appeal and affordability of buying a new car.

Announced at the same time, there was good news for the UK's car manufacturing sector with SMMT data showing production at the highest level in August for 14 years. Significant investments made over recent years continued to deliver the high levels of quality and productivity for which the UK has become renowned, with production volumes growing by 9.1% in the month. With UK engine production also up by a considerable 19.8% and CV output remaining strong, even with the expected decline in volumes following a very strong 2015, the numbers all point to a thriving industry.

The editor-in-chief and his sidekick Edward Dee (see Flying at the Front End BTN 3 October) were at the Hampshire estate.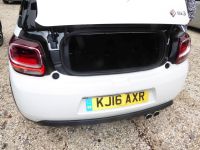 DS 3 Performance Cabrio THP210
Fancy a real performance sort of convertible 2+2 with light steering and very comfortable sports seats? Not a Citroen, but it is, the DS3 Cabrio flies up to 60mph in 6.5sec and has a claimed top speed of 143mph. A speed limiter needs to be kept on for British 70mph roads. A tidy cabin offers the impression of a black plastic dashboard, but the biggest problem is the rear view. With the roof down, you cannot see anything, never mind the auto-dimming mirror. If you need to fold the electrically -perated door mirrors, you must keep the car really straight when passing through road restrictions. Or raise the roof.
The test car came in at £12,385. www.dsautomobiles.co.uk/ds-models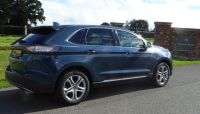 Ford Edge
Ford is Britain's most successful motor retailer, although producing no cars at all in the UK. Engines for Europe are built at Bridgend and Dagenham, and transmissions at Halewood. It also operates a large research and development facility in Dunton, Essex, which employs more than 3,000 engineers. It is a bit mean with its range at the SMMT events but it was an opportunity for a brief drive of the "Edge" AWD crossover (SUV) five-seater assembled in Canada. Prices start at £29,995 for a very comprehensively equipped car but having no sat nav is crazy. Make sure your dealer throws it in for £300. Ford was once considered at the bottom end of the market (just above the Japanese and Koreans), but not any longer. The Edge, as a capacious family road car, is a pleasure to drive, with a published combined fuel consumption of just under 50mpg for all models and a 0-60 under 10 seconds. www.ford.co.uk/cars/edge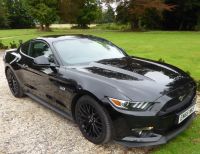 Ford Mustang GT Fastback 5.0 V8 Compared to the last model, this felt like a completely new car. Handling has been improved dramatically by numerous upgrades to the suspension and handling systems. The Ford engineers have really got this 5-litre, 6-speed manual brute absolutely on spec; it is a real joy to drive, especially with the latest right-hand-drive option. As you might expect, the low rumble and throaty roar of the V8 engine really gets heads turning and at about £38,000, with a number of extras thrown in, the value – and the thrill – are hard to beat. We would love to try the convertible, which we hope will be coming soon. www.trustford.co.uk/new-cars/all-new-ford-mustang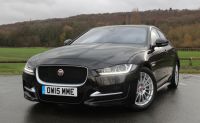 Jaguar XE R Sport
The new-style Jaguar was launched with the XF in 2007 and while it is totally different underneath, the smaller XE range looks very much part of the family. Introduced in April 2015, it has sprouted a number of derivatives including the 2-litre All Wheel Drive (AWD) version available for a short country tour around the Basingstoke area. In terms of the superb ride and office layout, it is very much Jaguar/Land Rover with the push down 8-speed auto-box a joy to use once acquainted with its virtues. The car in question came at £49,465 very comprehensively equipped with a 180kW diesel engine, but the petrol starter model is just £26,990 and the pick-up is smoother. The head-up display should be a standard kit on all cars with sat nav. It makes driving so much safer. www.jaguar.co.uk/XE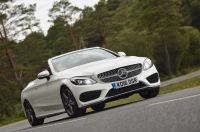 Mercedes-Benz C 220d Cabriolet AMG
This is a great mid-sized two-door coupé with all the usual refinement you would expect from the AMG Mercedes stable. The engine purrs away with no sign of it being a diesel-powered option. Mercedes really has got this technology just right and performance is super-smooth and crisp. The hood folds very rapidly and everything in the car is controlled from the centre armrest cluster, with great infotainment and good navigational displays. Boot space is somewhat limited due to the foldaway fabric hood but should take a full bag of golf clubs plus. At around £50,000, the version driven is a little pricey for a middle-ranking cabrio-coupé but the quality and ride comfort are exemplary. www.mercedes-benz.co.uk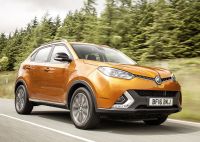 MG GS 1.5 Turbo Exclusive
Great to see the MG name out there in the market again, and this was a surprising car to bear the marque, a mid-sized two-wheel drive SUV, with a GM-designed 1.5 turbocharged petrol engine. Manufactured in Shanghai, the build quality is very good, the car is well equipped and about the same size as a new Discovery Sport, though with a smaller boot. It is available in manual and automatic, and pricing is the real eye-opener. With a range from about £15,000 up to £20,000, this is truly amazing value on a good old British brand. All that, plus a five-year 80,000 mile warranty to boot. www.mg.co.uk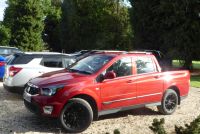 SSangyong Musso pick-up
When you get an Indian-owned Korean-built car serving a British audience, sometimes the vehicle naming can be odd.
It is very clear how they arrived at SsangYong Musso (meaning rhinoceros in the language of its birth, but muscles elsewhere) and it does describe the pick-up. It looks a brute but in fact is not. However, unless I was something in the farming or construction industry, I would keep ownership to myself. It can be used as a family car, has a fine ride and all the toys, and is nimble. But you have to climb up to get into. No good for taking grandmother home after some babysitting. It has a one-tonne payload and a 2.04sq m load bed to carry a Euro pallet. Prices start at £15,995 excluding VAT. www.ssangyonggb.co.uk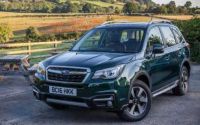 Subaru Forester 2.0D CVT
An engaging all-wheel-drive SUV with plenty of zest from the 2.0 petrol or diesel engine allied to a 6-speed gearbox with plenty of towing capability. The seating position felt reassuringly high, adding to excellent overall visibility. We tried the special-edition 'Hunter Green' version with nearly £2,000 of extras thrown in for a price of about £30,000, though the range starts nearer £25,000. A five-year 100,000-mile warranty will certainly give you peace of mind for a while. Head for the hills in this solid off-roader, the kids and dogs will love it. http://subaru.co.uk/vehicles/forester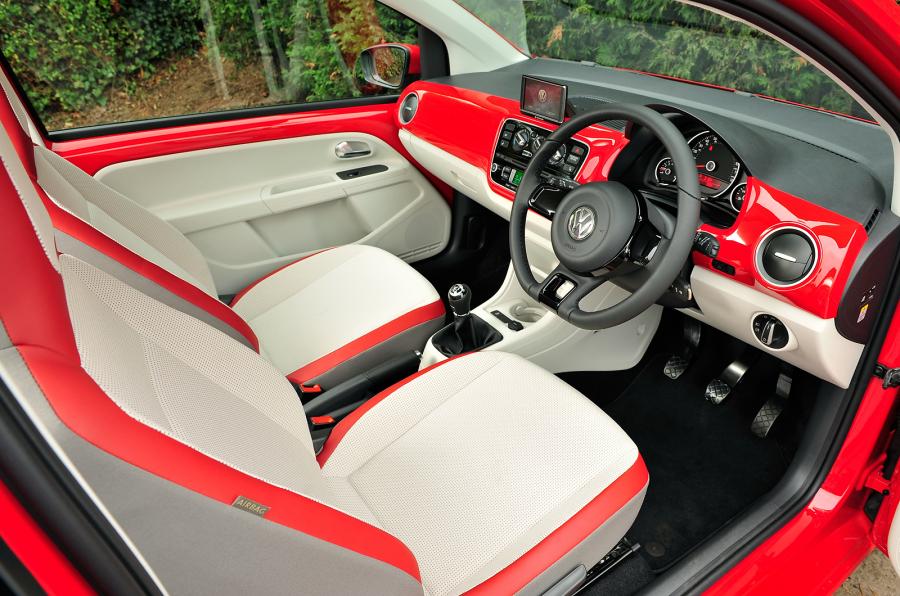 VW Up
For the VW Up, also read SEAT Mii and Škoda Citigo, which come in cheaper. While it does get rave reviews in some quarters, it is not a car BTN gets excited about, sluggish (0-60 13.5sec) and the test car with a red/white interior. Prices start at £8,975 for the basic two-door model, the manual test car coming in at £12,465 including sat nav. Its big claim to fame is interior space, but the lack of power is its main failure. On the Hampshire roads, no pace was evident and what you need in a city car is something small, nippy and manoeuvrable. There is a new Kia Picanto coming also, bound to be more expensive but with a five-year warranty and if you are looking for something funky the latest Smart (Mercedes) Forfour is being seen about. VW make some great cars but not this one. www.volkswagen.co.uk/up
OUR READERS' FINEST WORDS (All times and dates are GMT)
All comments are filtered to exclude any excesses but the Editor does not have to agree with what is being said. 100 words maximum
---