Edward Dee takes a look at British Airways World Traveller Plus.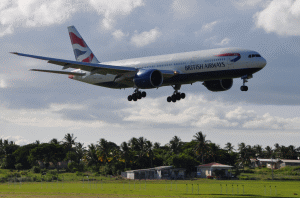 The check-in area at Grantley Adams International Airport is so typical of the lovely island of Barbados, it's open to the elements but is well sheltered from inclement weather by a vast roof and subtly air-conditioned.
The British Airways check-in desks are a few steps away from the taxi drop-off point and couldn't be more convenient but it is surprising that there is no separate desk for World Traveller Plus. Simply put, this means that I had to queue for some considerable time and didn't feel that I was being treated any better for my elevated status. Whereas just around the corner I noted the clearly posted signboard welcoming Virgin Atlantic Premium Economy passengers to their own dedicated check-in desk. First impressions do count and this initial experience marked the BA service level down several notches.

Once at the desk, after a 40-minute wait in a balmy 30degrees, I was greeted by a very efficient agent who proceeded to check me in rapidly and with a minimum of fuss, though I did notice another World Traveller Plus passenger being told he had been offloaded due to a 'very busy flight'. It seemed odd that a 'premium' passenger would have to suffer such inconvenience as I assume there would be plenty of other passengers or staff perhaps, who might have been chosen. I saw him later and he mentioned they kept him waiting for 20minutes and then gave him the seat he thought he had in the first place. I had the impression he might be trying Virgin's Premium Economy next time.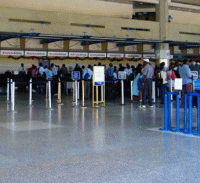 Passport control and Security is all very efficient at Grantley Adams so I was through the formalities in no time and then had a chance for one last Banks beer before picking up my compulsory bottle of Mount Gay rum and Tortuga rum cake and making my way to gate 13. The gate lounge was rather busy and so I waited in a short line that had gathered near the boarding desks and then heard the welcome announcement that asked premium passengers to step forward. I did as was instructed and showed my boarding card to the smiling member of ground staff, only to be told that I was not a 'premium' passenger but rather a World Traveller Plus passenger. Again the lack of a separate line meant a further wait until an attentive member of staff, having noticed the conversation I'd had, directed me to board ahead of the rest of the 'non-premium' passengers. I was told firmly to board at the second set of steps and knew then that there'd be no turning left on this flight.

The charming crew at the door of the Boeing 777 pointed out where my seat was located and I found myself in the rather intimate World Traveller Plus cabin in which I counted only 40 seats in a 2+4+2 configuration. 23J was an aisle bulkhead seat so very convenient for my fairly frequent perambulations and there was a surprising amount of legroom. The seat itself had a small leg-rest with a built in foot-rest which folded out. I found it comfortable enough, being of average height, though I noticed a rather taller neighbour had 'knee in the air' problems with the foot-rest deployed and so folded it back and just used the leg-rest which worked for him.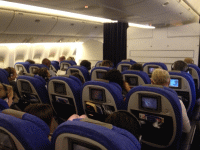 Once settled into my seat, the stewardess offered a choice of drinks, I opted for the champagne but was told it was 'sparkling wine', in fact it was Prosecco which was slightly under chilled but very good never the less, and a welcome refreshment to start the flight. Boarding was mercifully quick and punctual and we were taxiing along in no time, well ahead of the Virgin Atlantic flight leaving around the same time. So the race across the Atlantic between the two rivals ensued and we won by a short margin, as I noticed the red tail following us upon arrival into Gatwick.

Back to the inflight experience and I must say that overall it was more than satisfactory. The entertainment was delivered through a fold up screen due to the bulkhead position of the seat. The screen size was adequate and the content of the entertainment system, though limited provided enough choice with some recent films, a small film archive and some well selected TV episodes, including the iconic first outing of the Office, very topical given the new film, David Brent, continuing the fine art of cringe.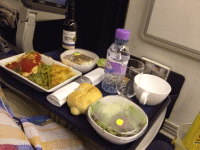 The drinks service was soon in full swing with a good range of wines and beers including Tribute Pale Ale from St Austell together with Amstel Light, Heineken and Tiger, plus plenty of soft drinks and mixers for the good selection of spirits which included Tanqueray gin as well as Gordon's. It was nice to see Fever Tree tonic on offer as well.
There was just time to visit the toilets to wash one's hands ahead of dinner and I was surprised that these were located in the World Traveller cabin but I suppose the small 'Plus' cabin limited the layout for these facilities. It did mean that there was a bit of a queue but I was back in my seat before the dinner service was in full swing. A starter of green salad was enlivened considerably by a tasty dressing and the fresh rolls worked well with starter and the cheese course completing the meal. The choice of main course was chicken stuffed with spinach or a tomato pasta, both of which were well presented and I must say the chicken was very tasty and complemented by a fully flavoured Tempranillo which would also have worked with the pasta. Desert was a variation on tiramisu and complemented by a fairly robust Chardonnay from South Africa.

Following this full meal I reclined my seat fully as I noted the passenger behind me had already done so. Using the eyeshades, ear plugs and blanket supplied, I slept for about three hours, testimony to the comfort of the seat and only awoke because the crew had begun the breakfast service with a slight jangling of glasses on the trolley.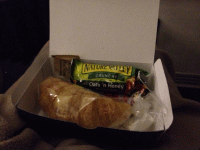 We had about 90 minutes to go so the timing was ideal and we were offered tea and coffee, a selection of juices and a box. This was something of a let-down, although somewhat replete from the extensive dinner, I had expected something more eye catching than the box pictured. Again it was a key detail that fell short of the 'premium' positioning of the 'Plus' product and consisted of a snack bar and chewy croissant with accompanying butter and jam. In my experience many people dispense with the dinner service on an eight-hour flight and opt for maximum sleep time and look forward to a breakfast to wake them up. A box with minimalist contents just doesn't fit the bill in a premium cabin.
Arrival was efficient. However the least said about the North Terminal the better. When British Airways eventually move early into the new year I am sure the arrangements will work fine. To start with connection to the rail station will be very easy. To sum up then, as the World Traveller Plus brand name implies, British Airways only delivers an enhanced economy product, it is not a true premium product as yet. Apart from separate check-in, which is a must, an enhanced gate experience would be ideal and an upgraded meal service, especially a proper breakfast, could really make this a true premium experience. On the Caribbean routes the introduction of the new Boeing 787 fleet will no doubt provide a refreshed cabin ambiance and hopefully a newer seat more akin to the Airbus 380, which would be big plus. It can only be hoped the move to South Terminal will mean rather better treatment for British Airways passengers on arrival into Gatwick. The BA website seen below shows the 2+3+2 Boeing 787 layout, not this elderly 777.

www.britishairways.com/en-gb/information/travel-classes/premium-economy/world-traveller-plus
OUR READERS' FINEST WORDS (All times and dates are GMT)
All comments are filtered to exclude any excesses but the Editor does not have to agree with what is being said. 100 words maximum
---
No one has commented yet, why don't you start the ball rolling?
---