Business Travel News was in July 2014 somewhat critical of new river cruising guide published by Berlitz and edited by Douglas Ward.

Over some 31 editions, Ward's Cruising and Cruise Ships has built up an inevitable reputation as "the" guide to sea-going cruise liners, its ratings not really to be argued with. Each year it is updated and is a fine publication (now available online as a e-book and as an app).

Sad to say Berlitz's first 2014 attempt at a river-cruise guide was not received with complete enthusiasm by BTN, with the summary speaking for itself: "We look forward to a much improved second edition." If anything, the new volume literally 'misses the boat' but even more so.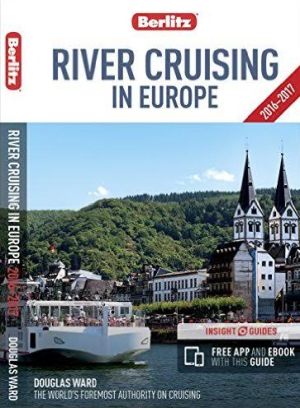 Last time around, there was at least a short, if not very informative, description of each boat. This has been dropped, the ship listing little more than a spotters' guide listing a few salient facts such as the year of build, construction number (why?), passenger beds, and whether there is a balcony. Even here the narrative is incorrect in many places with one item called "sit outside (real) balcony". Scenic and Emerald have the most innovative of balconies, but the book says "no". Noted of real value is the listing of a lift (elevator), these ships not suitable for persons with movement restrictions unless thus fitted.

The name of the operator is given for each individual ship but does Luftner Cruises mean anything to anyone? In fact it is the highly-rated Amadeus cruise operator!

In the past few years, several river-cruise companies have introduced alternative dining. It has not been easy due to the limited galley space available and with none of the European ships longer than 135m due to river restrictions. This is actually mentioned with the introductory narrative, but if you want to find out if the ship you fancy offers the choice, you cannot.

It would also be nice to know if an operator is able to secure riverside moorings at most stopovers. Having to climb across up to five boats can be tiresome.

All Douglas Ward has done with the book is give ratings for various aspects of the ships. It is explained within the pages, but for the casual reader who wants a reference, it is far too vague. Most cruise operators include the port tours, some include gratuities, alcoholic drinks and wi-fi, and even butler service, but, while these do get vague mentions in the body of introductory editorial, this is not shown for the individual ships. If you want to see how it done properly, take a look at Berlitz' Cruising and Cruise Ships.

On the positive side, the book offers a fine guide to the main river-cruise ports and routes of Europe, with maps and top sights. New to this second edition, for the delight of culture vultures, are the French rivers of the Dordogne, Garonne, Gironde and Loire. While most chroniclers include Russia as part of Europe, not so this book. St Petersburg to Moscow is one of the best trips available but you will have to look elsewhere for a guide. No mention of the United Kingdom at all. Ward has made up his own mind.

The book profiles 310 European vessels.

Ward has this to say: "No rivership has yet reached the sought-after 5-star rating, although as a cruise provider, AmaWaterways does stand out, particularly for service, cuisine and hardware (the ship's condition). And Viking has come out on top as far as accommodation design is concerned, though Scenic and Emerald are not far behind."

Ward warns potential cruise-goers: "With European rivers, cruise-goers tend to choose their cruise by destination and river, and then consider the company and the rivership afterwards. Although there is less to differentiate between river-going vessels when compared with ocean-going cruise ships, choosing your ship can be a make-or-break decision when it comes to holiday enjoyment."

If you have never been on a river cruise and want to learn more of what to expect and the pros and cons, it is in fact a fine book. But if you are an 'old hand', do not bother. You will know about the hidden extras (there are very few with most good operators) and will be aware that there are no doctors on board (you are never far from a proper hospital). Some ships offer a very limited gym and most usually a spa/hairdresser, but remember that the product and experience is entirely different from a deep-sea ship, more akin to a European car or coach tour where you do not have to change hotels every night.

RIVER CRUISE BARGAINS

CRUISE & MARITIME VOYAGES – Signature River Cruises offers a selection of scenic cruising holidays on the Rhine, Danube, Rhône and Saône, in association with sister company TransOcean Kreuzfahrten. All river cruises include house wine, house beer and soft drinks with lunch and dinner and two selected half-day city tours. All cabins have river views and fares start from £1,259pp for a seven-night Rhine cruise (16 October). www.cruiseandmaritime.com
CRYSTAL CRUISES, known for its '6-star' ships, is bringing 'true luxury' to the river-cruise sector with the launch of Crystal River Cruises, with ships boasting the largest guest suites and public spaces, the highest crew-to-guest ratio and Crystal's award-winning service. The first ship in the fleet, Crystal Mozart, is designed to fit into the wider locks of the Danube River from Passau in Germany to Budapest in Hungary, and is the biggest river cruise vessel on European rivers. Due to its impressive width and size, Crystal Mozart features public areas that span a single level and exclusive yacht-like amenities including multiple dining rooms, a wrap-around promenade, a luxurious spa and fitness centre, an indoor pool, beauty salon and library. Depart 2 October on an 11-day Danube cruise round-trip from Vienna with all-inclusive cruise fares from £2,897pp. www.crystalcruises.co.uk
DISCOVER EGYPT is a long established specialist for year round, weekly classic Nile cruises. A new addition to the fleet is the 5-star Mayfair with £300 off the usual price for a seven-night cruise starting from £899 (brochure price £1,199) for departures 5 and 12 December and January 2017. The price includes return flights from Heathrow and full-board cruise with 10 guided excursions visiting iconic sites such as the Valley of the Kings, the Valley of the Queens and the Temples of Luxor, Karnak, Edfu, Kom Ombo and Philae. Passengers also have the opportunity to do an optional excursion to Abu Simbel to see the four colossal statues of Ramses II, which for many will be a highlight of the cruise, either by land or by air. Abu Simbel is a temple complex that was created during the reign of Ramesses II in the 13th century. www.discoveregypt.co.uk
EMERALD is the sister company of Scenic and offers very similar itineraries and even has an indoor swimming pool (more of a dip in truth) on board that converts to a cinema at night. Typical of what is on offer toward the end of the year is seven nights mainly on the Danube from Nuremburg to Budapest on 8 October from £1,795 including Economy flights from Birmingham, Edinburgh, Glasgow, London and Manchester with transfers. All tips are included but the drinks are down to you, perhaps giving an excuse to try some of the splendid hostelries en route. All the cabins on the upper two decks have unique full balconies that convert to give you even more space at night. www.emeraldwaterways.co.uk

FRENCH AMERICA LINE is to introduce America's only deluxe boutique river-cruise product. Beginning in August, the company will launch the intimate and elegant 75-stateroom Louisiane. Sailing six of America's legendary waterways, she will define the next generation of river cruising in North America. Passengers can experience the rich cultures of America's hidden gems by participating in the included Traveller Collection shore excursions in every port of call. All voyages include complimentary free-flowing wine, beer, soft drinks, coffee, and loose-leaf teas throughout the sailing. Voyages start at £1,337 per person, gratuities included, for 4 nights/5 days departing 9 November. Flights are not included but pre-cruise accommodation is taken care of. +44(0)20 7723 2450. www.frenchamericaline.com

SCENIC, long established, is among the highest-rated river-cruise operators in Douglas Ward's book, with virtually no extras to pay for and even a butler service including garment pressing and shoe cleaning. There are three restaurants on board and, for the more semi-active, bicycles are provided, but electric powered. On offer for 23 June is "Jewels of Russia", 15 days from St Petersburg to Moscow, a real experience of a lifetime taking in the massive Lake Ladoga, the Volga – Baltic canal, and Uglich, a place of pilgrimage for many Russians where the 10-year-old son of Ivan the Terrible was murdered. Prices start from £4,195. www.scenic.co.uk

VANTAGE TRAVEL, which operates five deluxe river cruise ships in Europe, has launched its 2017 river cruise programme, featuring 11 new itineraries, multi-generational cruises with family-friendly activities, excursions and select departures where kids sail free, some of the best values for solo travellers, special-interest cruises, new Signature Journeys with shorter, more convenient itineraries, and the option to combine two or more trips on Vantage Travel's new Grand Journeys.

The new, shorter Signature Journeys optimise the best of the rivers Seine, Rhine, Main, Danube and Moselle and include a return seven-night sailing from Paris and a new seven-night Christmas market sailing in December 2017. These and longer itineraries can be booked back-to-back to create Grand Journeys, with a seamless transition between itineraries, with the opportunity to build a cruise of up to 30 nights throughout Europe.

Among the new itineraries included in Vantage Travel's 2017 programme are: Paris & the Heart of Normandy, a seven-night sailing from £999; Passage to Eastern Europe, an eight-night sailing from £1,099; Grand European Sojourn, a 22-night sailing from £2,099. www.vantagetravel.com


IF YOUR OPERATION IS NOT FEATURED HERE, WE WOULD BE PLEASED TO HEAR FROM YOU WITH THE NEXT DEDICATED RIVER CRUISE SUPPLEMENT DUE FOR PUBLICATION MONDAY 7 NOVEMBER. Info@btnews.co.uk
OUR READERS' FINEST WORDS (All times and dates are GMT)
All comments are filtered to exclude any excesses but the Editor does not have to agree with what is being said. 100 words maximum
---