23 MAY 2011
BTN DISTRIBUTION
BTN also goes out by email every Sunday night at midnight (UK time). To view this edition click here.
The Business Travel News
PO Box 758
Edgware HA8 4QF
United Kingdom
+44 (0)20 8952 8383
info@btnews.co.uk
© 2021 Business Travel News Ltd.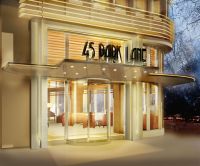 The Dorchester Collection has confirmed that 45 Park Lane, sitting opposite the grand hotel of the same ownership, is scheduled to launch in September this year following a soft opening period in August.
45 Park Lane will offer 45 contemporary rooms and suites all with views of Hyde Park, and a further penthouse suite with panoramic views across London. The small number of rooms will allow for an unprecedented level of guest service, with a 24-hour host team offering a dedicated point of contact for guests, managing all requirements from arrival to departure. This superior level of guest interaction will enable the hosts to deliver bespoke services.
The opening of the new property follows the September 2010 launch of Coworth Park country house hotel and spa in Ascot, Berkshire. Guests at Dorchester Collection's hotels in the UK will enjoy the ease of seamless bill signing privileges when using any of the three hotels' outlets. The Dorchester Park Lane is part of the group.
A short film featuring hotel manager Marie-Laure Akdag reporting on plans for the hotel from within the development site is available. www.45parklane.com/film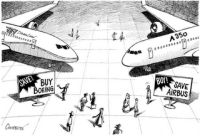 On Wednesday of last week, two press releases arrived in the AERBT office, virtually simultaneously, from Airbus and Boeing, both claiming legal victories. The only real winners were the aviation lawyers.
In two separate findings the World Trade Organisation (WTO), the referee, found firstly that the US defence budget could not be used as a vehicle to subsidise the civilian aerospace industry and Boeing must repay US$5.3bn of illegal subsidy. Secondly, the WTO partly overturned an earlier ruling that European Governments' launch aid constituted unfair subsidy. Part of the US$18bn in low interest loans received would have to be repaid eventually but no pressure was applied regarding a date.
Airbus Chief Executive, Tom Enders, said that Airbus could and would continue to partner with governments to build its aircraft. "We now can and will continue this kind of partnership on future development programmes." However, it is clear that low interest rates are from the past. The WTO still has to rule on an appeal on a separate report earlier this year that found Boeing had benefited from at least US$5.3bn in US subsidies.
Concluding their 645-page report, WTO judges voiced some frustration that the dispute remains unresolved. Costs are thought to be US$100m. www.airbus.com www.boeing.com/commercial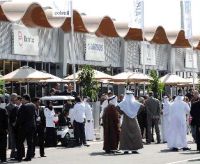 Farnborough International (FIL) and the Bahrain Civil Aviation Affairs Directorate have confirmed that the second Bahrain International Airshow (BIAS) will take place 19-21 January 2012 at the Sakhir Air Base, which adjoins the Formula One Grand Prix circuit.
75% of chalet space has already been sold. Amongst the latest companies to join the existing list of participants are BAE Systems, Bell Helicopter, Boeing, GE Aviation, as well as Bahrain-based Comlux Middle East.
Amanda Stainer, Exhibitions & Events Director for FIL, commented: "Industry feedback after BIAS 2010 was extremely positive and undoubtedly the chalet sales to date reflect our client's enthusiasm. With so much of our chalet space now sold, still six months from the show, we are looking at new ways of accommodating those companies who wish to have a representation at BIAS 2012. We are exploring a number of innovative ideas, additional to existing sponsorship opportunities, which will fit within the BIAS brand model to accommodate this increasing demand, whilst at the same time retaining our very high level of exclusivity." www.farnborough.com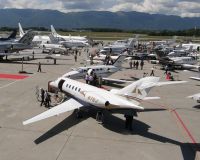 European (and Middle East) executive aviation types met at Geneva last week for the 11th annual EBACE show. Housed at the impressive Palexpo complex adjoining the terminal, visitors could also walk straight onto the apron where display aircraft competed for visits from prospective buyers, operators and users.
This year's event smashed the 2008 record with 12,673 visitors over the three days, more than 500 exhibitors and 62 shiny aircraft out on the static display. As business aviation in Europe starts to lift again highlights of the show included Dassault's announcement of a new mid-size cabin Falcon S2000; Piaggio moving closer to its first light jet, dubbed the P1XX and a return to nine-digit orders – from European operators VistaJet and Comlux. In the halls there were strong showings from Malta – where some 100 business jets are now registered; Al Bateen Executive Airport in Abu Dhabi, which used the occasion to announce its new DhabiJet FBO brand and Eurocopter, which presented a luxury Mercedes-Benz EC145 designed helicopter. Alison Chambers and Jane Stanbury of Emerald Media will report next week. www.ebace.aero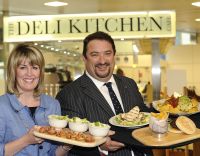 A stylish new £1.5m food hall and contemporary café bar has opened its doors at the BAA operated Glasgow Airport.
The new development, which cost £1.5m has transformed the airport's landside food and beverage area, with bars and restaurants that would not look out of place in a busy city centre. The refurbished units are located on the first floor of the main terminal – opposite the entrance to security search, and on the ground floor international arrivals hall. They seat around 324 and 78 customers respectively.
The new retail food concepts are the creation of Delaware North Companies (UK), the British division of the global hospitality and food service provider. Other outlets include the hospitality services at the Emirates and Wembley stadiums, both venues have won numerous awards for hospitality and catering excellence. www.glasgowairport.com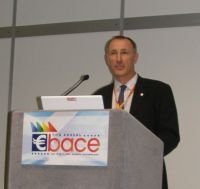 As previewed in last week's AERBT Philip Dykes of the UK Department for Transport Aviation Directorate said at EBACE (see above) that general aviation movements would be allowed in a restricted zone around London during the 2012 Olympics. From 13 July 2012 to 12 September 2012 flights would only be allowed for aircraft if they could comply with a set of requirements defined by aircraft type. Other than scheduled services, operations into a central area are prohibited.
Mr Dyke said that slots would be bookable from autumn of this year and that early reservation was essential. "People will be disappointed if they don't get in quickly," he said.
Estimates are that there will be 700 extra charter operations during the Olympic period and 10,000 GA movements. 240 State flights are anticipated.
Whilst a number of small aerodromes are in the restricted zone no problems are envisaged with club and light aircraft movements. These include Denham (for which special arrangements have been made), Elstree, Fairoaks, North Weald and Stapleford.
The Department for Transport has published a 62-page book detailing 26 airports in SE England suitable for Olympic operations. It is also available on the web. www.dft.gov.uk/pgr/regional/london2012/airportoptions www.airspacesafety.com/olympics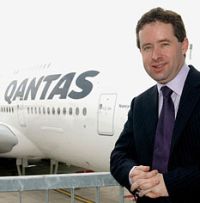 Qantas has inaugurated a four days per week non-stop service between Sydney (Australia) and Dallas/Fort Worth (USA) (DFW). Flown by a three-class Boeing 747 the flight leaves Sydney at 13:25 local time and arrives 13:50 on the same day. QF7 is in the air for around 15½ hours. On the return leg the aircraft is routed via Brisbane.
From Australia Qantas Group currently serves in the USA Honolulu, Los Angeles, New York (Qantas and Jetstar) and now Dallas.
Chief Executive Officer, Mr Alan Joyce, said that the airline was delighted to be providing the first direct connection between the Antipodes and Texas. "This new service takes Qantas customers into the heart of the United States, with a wide range of options for onward travel," Mr Joyce noted. "Dallas and Fort Worth are attractive destinations in their own right, combining rapid economic growth with Texas' rich heritage.
"However, what sets DFW apart are the connections its world-class airport provides to other major cities in the United States, Canada and Mexico. This makes it the perfect platform for Qantas to develop its relationship with our oneworld partner American Airlines, beginning with a significant expansion of codesharing to capitalise on DFW's hub location." www.qantas.com.au
EBACE is normally a pretty friendly occasion. They may be deadly rivals when it comes to business but the executive aircraft family eat, drink and debate together, normally in harmony.
Not so this year at Geneva.
On the eve of EBACE, a bank, Swiss but nameless, in a supporting presentation, stated to the assembly that a certain manufacturer would be out of business within 12 months.
You could hear a pin drop.
Your Editor would like to tell the young, and one would guess overpaid, so-called finance man, that even if the plane maker were to go bust tomorrow 50 years or more of production would leave a fine heritage requiring support (and hence business).
No writs have been delivered to date as far as we know.