10 JANUARY 2011
BTN DISTRIBUTION
BTN also goes out by email every Sunday night at midnight (UK time). To view this edition click here.
The Business Travel News
PO Box 758
Edgware HA8 4QF
United Kingdom
+44 (0)20 8952 8383
info@btnews.co.uk
© 2021 Business Travel News Ltd.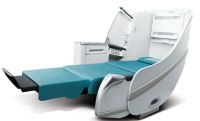 Korean Air will launch its first A380 service in May 2011 with the entire upper deck of the aircraft devoted to Business Class clients. The unique configuration will allow Korean Air business flyers "to feel exclusivity like they're travelling in their own private jet," says Mr Jae Ho Kim, Managing Vice President and Director of Korean Air Europe Headquarters. He added "this innovative approach to dedicate an entire floor for a single class will be benchmarked by other airlines."
The airline's A380 will have a total of only 407 seats: 12 First Class and 301 Economy Class seats on the first level, and the 94 Prestige Class seats on the upper deck. It is the first airline to devote the entire A380 second level to the business flyer.
Korean Air has ordered ten A380 aircraft with the first five to be delivered by the end of 2011 and an additional five by 2014. The airline will launch its A380s on short haul routes to Japan and East Asia in May, and then expand to Korean Air's US and European routes in August 2011. www.koreanair.com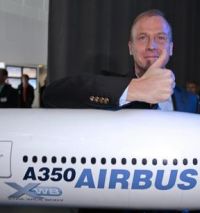 Airbus Chief Executive Tom Enders said in an end of year statement to staff that he was optimistic regarding 2011 in terms of orders and deliveries. The Toulouse-based manufacturer's output was just over 500 aircraft last year, a record figure.
"Overall, 2010 has been a good year, with a better-than-expected market recovery with, again, record commercial deliveries and an order intake which will be at least 50% higher than we expected it to be at the beginning of the year," the note said.
Airbus has delivered 18 A380s this year, below an initial target of 20. A 19th aircraft was to go to Qantas but this will slip into the "first weeks of January", an Airbus spokesman confirmed. Blame was placed on Rolls-Royce due to modifications required on the Trent 900 engine. www.airbus.com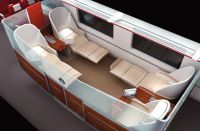 China will open its record breaking high-speed rail link between Beijing and Shanghai in June, state media said last week, cutting the journey between the two cities in half to less than five hours. It was only in last November that a prototype train on the track set a world record of 300mph.
The 1,318km (819-mile) railway, which has cost CNYuan220.9 bn (US$33.45 bn) to build, began construction in April 2008 and was originally planned to open in 2012.
The new line is expected to provide a serious challenge to airlines including Air China, China Eastern Airlines and China Southern Airlines. The route, connecting China's capital with its most important economic hub, is one of the most lucrative for Chinese airlines. City centre to city centre the journey time by train will be much the same as by air. With both cities much will depend on where you need to get to. www.cnvol.com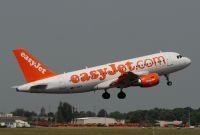 Airbus has started the new year with easyJet in effect tidying up its commitment for A320 aircraft which should leave it with a 220-size fleet by the end of September 2013.
What is evident from its negotiations with Airbus is that the airline is now committed to the larger 320 series aircraft (180 passengers) for the future. Whilst around 160 of the smaller A319s are available (156 passengers) and will make up the majority of the operation in the years ahead, where lease/finance commitments allow these are being dropped for the bigger plane.
Listed on the London Stock Exchange easyJet was launched at Luton in 1995 as a Boeing 737 operator. It purchased GO (Stansted) in 2002 from British Airways and GB Airways (Gatwick) in 2007. In 2002, in a change of strategy, it ordered 120 Airbus A319 series aircraft and now has virtually finished disposing of all its Boeing aircraft. www.easyjet.com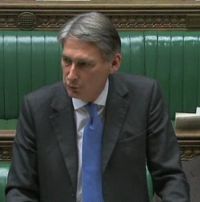 UK Transport Secretary Philip Hammond confirmed just before Christmas that the Government's proposed high-speed rail network will include a direct link to Heathrow and to the European high-speed rail network but at a later date than the initial route to Birmingham.
The completed 'Y'-shaped network would bring the West Midlands within about half an hour of London and would allow journey times of around 80 minutes from Leeds and Manchester to the capital. Connections onto existing tracks would also be included, allowing direct high-speed train services to be operated to cities including Edinburgh, Glasgow, Liverpool and Newcastle. A direct link to Britain's existing high-speed line, High-Speed 1 – which runs from London St Pancras to the Channel Tunnel – would allow travel from cities along the new high-speed line to the continent.
Various action groups opposing segments of the line are said the be planning to fight the whole project. www.dft.gov.uk/pgr/rail/pi/highspeedrail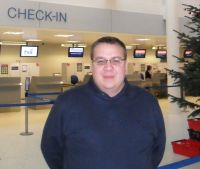 Richard Maslen, the popular Newcastle based air travel journalist, has joined Routesonline, where he will be in charge of what is known as "delivery".
"Routes", as it was originally called, was initially developed as an airline/airport gathering, putting together airports, with either established airlines or more often that not, start-ups. Now part of UBM Aviation, which includes OAG, Routesonline is a many faceted operation offering conferences worldwide, airline exchange, route opportunities and consultancy skills.
Previously at Key Publications Ltd, responsible for Airliner World and a whole host of related magazines and periodicals Maslen was before that with Airclaims, a leading provider of risk and asset management services to the global airline industry, where he edited its house journal. www.routesonline.com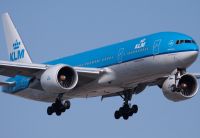 KLM Royal Dutch Airlines will begin operating scheduled service from Amsterdam to Xiamen (China) on 27 March three times per week with a two-class Boeing 777-200ER. These will be the first ever flights between the city, 400 miles north of Hong Kong, and Europe. With this new route the airline will have 43 weekly frequencies to China.
Xiamen is the second-largest city in the province of Fujian and has a population of 3m inhabitants. Owing partly to its favourable geographical location, Xiamen is undergoing rapid economic growth, attracting large international corporations. The city is also a tourist destination with interesting cultural and historical highlights. Geographically speaking it is directly opposite Taiwan, 75 miles away across the Taiwan Straight. www.klm.com
From the Sunday Times travel pages over the holidays.
"We were running the bar service on the Sydney route when a charming but slightly doddery older gentleman asked how he could order another G&T," says Lou, from Qantas. "I pointed at the call button on his arm rest – I wouldn't do it for everybody, to be honest – and told him he simply needed to push it. Sure enough, 15 minutes later, his light went on. When I got there he was holding his glass underneath the arm rest and stabbing the button repeatedly, while shaking his head and muttering that it didn't work. Bless him."