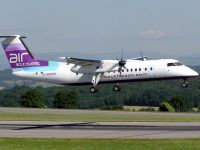 AIR SOUTHWEST "comes to the rescue" taking a leaf out of the Ryanair book after the Irish carrier abandoned its Stansted – Newquay route, blaming everyone else. The Plymouth-based airline is pulling out all the stops to remind travellers to Cornwall and the Isles of Scilly that it now flies six times per day from London to both Newquay and Plymouth. "And we don't have any hidden extras," says Managing Director Peter Davies who confirmed that the new London City route was performing to expectations without a big effect on the airline's long established Gatwick services. The airline says it offers more destinations out of Newquay both in terms of destinations and flights than any other carrier. www.airsouthwest.com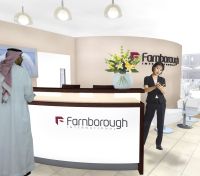 BAHRAIN will break new ground next January with its very first international air show. The site venue is within the immediacy of the Sakhir Airbase, the home of the F1 Grand Prix circuit. Organised in conjunction with Farnborough International Ltd the show aims to be entirely different to anything else staged to date, a wholly new concept for the global aerospace community. It is totally a business-to-business event catering for the civil, defence and business aviation markets. BIAS has been masterminded to offer highly exclusive meeting opportunities with buyers and suppliers in the region as well as delegations from around the Middle East. The show's maximum 40 participating companies will be housed in luxury chalet units, complete with adjoining aircraft parks. Already signed up are Bahrain Aerospace, BAE Systems, Bell Helicopter Textron Inc, Boeing, Cessna, EADS, Rolls-Royce, SELEX Sistemi Integrati (a Finmeccanica company), Sikorsky TAG Aeronautics Ltd, and recently, Gulfstream Aerospace Corporation. Gulf Air is the official air carrier. www.farnborough.com/Site/Content/bahrain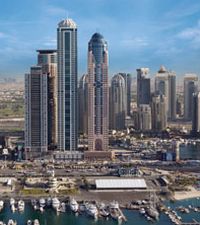 MARRIOTT is to be represented in an upscale manner at Dubai with the rebranding last week of the 52-storey Harbour Hotel & Residence at the entrance to Dubai Marina. Following some modifications, primarily to its public space and reconfiguration of some rooms bringing the new room count to 232 rooms, the property will be rebranded the Dubai Marriott Harbour Hotel & Suites later this year and will be the first five-star Marriott-branded hotel in the city. The agreement represents the second contract Marriott has reached with Emirates this year. Earlier, the company signed an agreement with Emirates to operate the under-construction 1,614-room JW Marriott Marquis Hotel Dubai. www.marriott.co.uk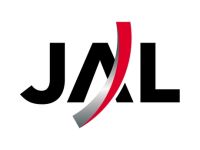 JAPAN AIRLINES (JAL) last Thursday 24 September bowed to the inevitable and asked the Japanese government for a bailout following massive losses, and the accumulation of some $15bn of debt. The timing could not have been worse with the Democratic Party of Japan, created in 1996, recently kicking out the incumbent Liberal Democrat Party which has been in power for over 50 years. The new Transport Minister immediately set up a task force to review the situation but also made it clear that cost cutting measures by JAL was not sufficient. JAL shares dropped dramatically but bankruptcy seems to be ruled out. Delta Air Lines and a rival group of carriers led by American Airlines are holding separate talks to invest in and deepen ties with JAL, eyeing growth in Japan and the rest of Asia. There is also talk of splitting JAL into "good" and "bad" parts, similar to the restructuring of US car maker automaker General Motors. www.jal.com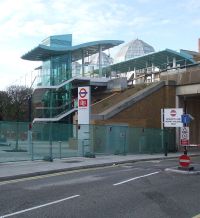 LONDON will have a new Overground station from Tuesday 29 September when Mayor Boris Johnson officially opens Imperial Wharf, Chelsea Harbour (Town Mead Road). The station is part of the Willesden Junction to Clapham Junction line which also stops at Kensington Olympia and West Brompton (for Underground connections). Currently there are three trains per hour. The station is the first truly new station to open on London's public transport network since Woolwich Arsenal on the DLR. Over the next two years Mayor Boris Johnson will be kept busy with openings on the DLR and resurrected East London line. www.tfl.gov.uk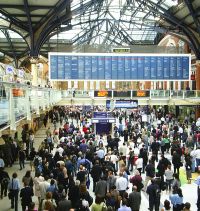 RAIL PASSENGERS are set to benefit from lower rail fares from January 2010 due to a drop of the Retail Price Index (RPI) to -1.4% in July this year. On the majority of rail journeys fares are regulated by the Government. Increases to most of those fares are capped at RPI+1% with the changes implemented in January, based on the previous July's RPI figure. The Government has also taken away the flexibility for operators to raise individual regulated fares by up to 5% above the national fare change, protecting passengers from unduly steep rises in regulated fares next year. Transport Secretary Lord Adonis said: "This is good news. For the first time in a generation passengers across the country will see their fares fall. Drops in fares should encourage more people to travel by train, which is good for the economy and the environment." www.dft.gov.uk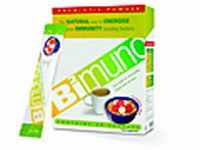 TRAVEL SICKNESS is something that can affect the most seasoned traveller. The results of a clinical trial published in the European Journal of Clinical Nutrition indicates that a product called Bimuno could help prevent some of the physical strains that have plagued business travellers for years, including travellers' diarrhoea. Business travel is synonymous with tiredness, lethargy and stomach upsets. Statistics show that business travellers, living off little sleep, early mornings; night-flights and convenience food, make up the 11m people a year who suffer with travellers' diarrhoea that could benefit from taking the food supplement. Current treatments only provide relief from the symptoms after they occur, but do not offer any prevention. The supplement is sold as a stir-in powder in a sugar-size sachet. www.bimuno.com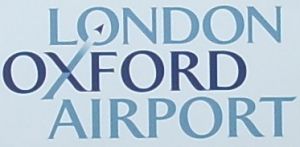 The entry level jets have arrived (ELJ). Forget the term VLJ (very light jets). This description does not go down well with banks and insurance companies, whose movers and shakers have never seen a jet of any shape or size, except perhaps an Airbus or Boeing on the way to a holiday.

That perhaps was the most important message from a two-day conference at the recently renamed London Oxford Airport last week. Promulgating this view was eminent aviation law firm Gates and Partners. The lawyers, one of the sponsors of the gathering, did manage to persuade the delegates that next year's event should adapt the title Light Jets Europe. With a brand new Embraer Phenom proudly sitting on the Oxford apron there was proof positive of the changing aviation scene, a very serious smaller jet produced by the world's fourth largest aircraft manufacture.

The Phenom made its maiden flight in July 2007, and its first delivery in December 2008. The 72nd aircraft leaves the factory later this week.

Times are tough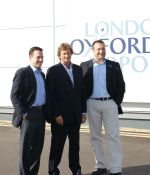 Times are tough for everyone, but particularly in the world of the business jet. The Eclipse 500 ELJ went into service at the beginning of 2007, but by the middle of 2008 the company was bust with around 250 built. Dayjet, its largest customer, did not last much longer and in September 2008 it too folded.

The two leading operators in the UK, London Executive Aviation (LEA) and Blink disagreed on the success of the industry's newest genre to date. Edwin Brenninkmeyer from Oriens Advisors, newly established specialist consultants in the VLJ market, stated that the VLJ sector was in a state of evolution, not revolution. Eclipse is slowly coming back in the game with new investment bankers; Honda is entering it with its distinctive looking HondaJet set to start type certification flying in January 2010, but the two clear leaders in the sector are Cessna and Embraer with the Citation Mustang and Phenom 100, respectively.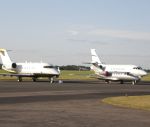 Delegates heard that these small jet operators must realise they operate in a wider business aviation market which is supportive, but communication is all important. Airports, said London Oxford's Managing Director Steve Jones, need to know what they require; Eurocontrol needs to be able to integrate them into existing air traffic routes; training academies need to understand crew requirements, and operators, owners and purchasers must take the time to understand the complexity of the infrastructure around purchasing, operating and maintaining aircraft.

The principals of low cost airlines

While the ad hoc charter market focuses around regional operators, third party brokers and owner/manager relationships, the VLJ/air taxi model takes the principals of low cost airlines and applies this to business aviation. Homogenous fleets, high utilisation spreading fixed costs and simple pricing, combined with strong direct relations with the client will ensure the long survival of these small business jet operators, delegates heard. Blink's CEO Peter Leiman said his company's Cessna Citation Mustang jets were gaining high utilisation of up to 600 hours a year, well integrated into a network with bases now in London (Farnborough), the Channel Isles and recently Geneva.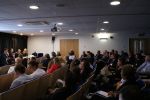 LEA, which combines the same type with six other larger business jets in its fleet, averages 346 hours annually with 1,854 flying hours a year in total on its Mustangs. It has postponed and cancelled Mustang orders and does not believe everything is rosy in the garden.

"The VLJ sector is still an unproven market. The industry expectation several years ago that VLJs would bring low-cost business aviation has not happened," said LEA CEO Patrick Margetson-Rushmore. "The reality is that while operating VLJs costs less than operating larger business jets, it is by no means cheap. In terms of price, we still have tough competition with aircraft such as the Cessna Citation CJ1 and CJ2, the Hawker Beechcraft Premier 1 and small turboprops." Having been a charter operator for 15 years, and a Mustang operator for two, Margetson argued that a hybrid approach for the LEA Citation Mustang, enabling a combination of owner, manager and charter usage was the way forward.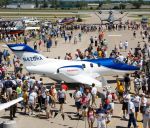 Jetbird, a Cologne-based newcomer, (which has ordered 59 Phenom 100s) hopes to be operating this side of Christmas, pending confirmation of its Air Operating Certificate (AOC). It has four aircraft in Brazil awaiting delivery, said Chief Executive Officer Stefan Vilner. Vilner, one time former boss of the low cost airline Sterling, praised the attributes of the Phenom 100 as the aircraft to beat for its spacious cabin, design and its aft, enclosed lavatory. With onerous commercial airline experiences, Jetbird anticipates an increasing number of airline passengers will move towards the air taxi model through the simple need to save time and work more efficiently.

Cambridge Marshall Airport-based Ambeo, which received its first Cessna Citation Mustang earlier this year, announced the launch of a new partnership, the Jetworld Alliance, with Privatair of Switzerland and Sky Taxi of the Netherlands. This innovative alliance sees Ambeo, Privatair and Sky Taxi joining forces to ensure the customer has access to all types of aviation requirements through one source and reflects the general consensus that each customer's requirements will be different.

First UK Phenom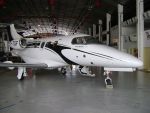 Ambeo too is awaiting its AOC so it can commence revenue operations. Meanwhile the UK's FlairJet has a team of experts now preparing the manuals and pilots undergoing type rating so that after CAA inspection it can bring its first two aircraft back from Brazil. Delegates heard that attaining this was not an easy road. They were also warned of the tax implications and the danger of under insuring. Operators were encouraged to seek professional advice at an early stage to avoid expensive and legal complication at a later stage.

In an encouraging note, Joe Leader of the Air Taxi Association reported he recently met with the CEO and COO of British Airways and they were both interested and supportive of this business model. Maybe one day British Airways will be embracing small business jets, just like Delta in the US and Lufthansa and Swiss International in Europe. There was optimism too from Alex Hendricks, Deputy Director at Eurocontrol. When the air transport industry starts to recover, business aviation will lead and these small jets, owing to their low costs, will be well placed to win market share. He also highlighted, however, ahead of the Low Cost Airline Summit in Barcelona next week, that the budget airline market has seen its first fall off in traffic in 15 years.


The 3rd annual VLJ Europe Conference was organized by MIU Events.
www.miuevents.com

Alison Chambers
Emerald Media
alison@emeraldmedia.co.uk

Photos mainly by James Bourne