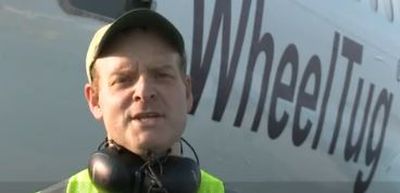 During the Paris Air Show we managed to track down Isaiah Cox, the outspoken leader of WheelTug, the aircraft front wheel ground self propulsion system. Mr Cox is a London-based American and Princeton graduate who founded WheelTug, and the electric motor company that supplies the enabling technology that allows for a 25-knot system capable of driving a fully loaded narrow-body aircraft – using a motor less than 5 inches wide.

The latest WheelTug demonstrator was static in Hall 5E. It remains to be seen if for Farnborough, the theatre that is the air display, allows for what would be a silent ground manoeuvering demonstration. It is a thought in any event.
Mr Cox believes that the Airport Commission should take a close look at what the industry now refers to as "E-taxi".

Change in the commercial aerospace industry is usually incremental and intermittent. There are gradual improvements in things like airframe weight or engine efficiency. This progress is important but also conservative. Aircraft operations and the flying experience remain essentially unchanged.

The E-taxi concept, and WheelTug in particular, follows a somewhat different model by offering a system that can deliver order-of-magnitude benefits for all stakeholders: airlines, airports, passengers and the public.

WheelTug's E-taxi solution is based around a small motor integrated into each nosewheel. The all-weather motors drive the aircraft at taxi speed, powered by electricity from the APU. This means the engines remain off until the pilot is ready for pre-flight warmup, typically a couple of minutes before takeoff. Upon landing, the pilot can turn off the engines a couple of minutes after touchdown.

This means major improvements in local air quality, and reductions in fuel burn and emissions of all kinds: ozone, particulates, NOx, and CO2.

Engines are designed for efficient operation at cruising speeds and high altitudes. The only reason they're used to propel aircraft on the ground – the most inefficient portion of every flight – has been the lack of a practical alternative. E-taxi is now that alternative.

Looking at the popular narrowbodies, a Boeing 737NG or Airbus A320 burns about 17 lbs/min of fuel during single-engine taxi, and about 25 lbs/min during dual-engine. By contrast, the APU burns only 4 lbs/min.

Now consider that difference during a single 30- or 60-minute Heathrow taxi-out: hundreds of kilograms of saved fuel on a single departure. Then multiply by all of an operator's LHR departures that day, or all operators' LHR departures that day. That's just at one airport.

Now let's review the most pressing dimension: time.

Heathrow airport is now operating at just about 100% capacity. There's no room left for expansion. The Davies Commission is still two years away from issuing its report: so significant new space won't be coming soon. In the absence of physical space, the only option for achieving more aircraft movements at existing facilities is by saving time; by somehow increasing the efficiency of existing operations. And it's here that E-taxi can offer unmatched benefits.

The pushback process takes at least several minutes per flight, when everything goes right. Most of us have experienced tug delays, mishaps or errors. When a pilot is pushing back or has powered engines near the gate, surrounding aircraft are on a virtual ground stop until the first airplane moves away. Every flight's pushback mushrooms out and impacts neighbouring gate operations. Time is valuable at an airport and that per-minute value is highly studied. The direct costs are estimated over US$75/min. Indirect costs can add over 50% more.

Just by eliminating the need for pushback vehicles, E-taxi will save operators substantial time.

That's only the start. By eliminating the noise and hazards of jet blast, E-taxi unlocks new ground handling possibilities. Without jet blast, crews can service the aircraft sooner upon landing. It becomes practical to board and de-board passengers through both the front and rear doors, which alone can save nearly a quarter-hour per turn.

WheelTug calls this the "WheelTug Twist", which would park the aircraft parallel to the terminal, allowing both entry and departure without reversing at all. Instead, the airplane would be steered into and out of the gate. In addition to greatly speeding the unloading and loading of passengers (which is the single slowest part of a narrowbody turn – and the component with the highest variability), the Twist also reduces the need for ground marshals since the pilot does not necessarily require any marshalling when driving forward. Once the tower has given permission to leave the gate, the pilot will be able to elegantly pull out of the gate by simply turning the nosewheel.

These combined time savings, over 18 minutes per flight in many scenarios, will get aircraft off the ground faster, freeing up gate space, speeding up operations, and enabling new departure slots.

The time saved will allow operators to add an extra daily departure on many routes, winning more passengers and higher profits while burning less fuel. For airports, E-taxi means more movements from existing facilities, with lower pollution, less noise and greater safety; and without the huge capital expenditures that are normally the prerequisite for expanded capacity.
At airports with noise curfews, flexibility expands. With E-taxi, pilots can quietly taxi out to the runway during curfew, ready to spin up the engines and takeoff promptly when curfew ends. Flights can also arrive shortly before night curfew and quietly taxi-in. This can again enable the opening of new slots and additional daily flights on key routes.
Airlines increasingly appreciate the value proposition of doing something old in a smart new way. Airports need ways to manage more activity, with lower pollution and lower noise while achieving customer satisfaction. E-taxi can drive achievement of these goals, and unlock new possibilities for airport operations, like no other technology out there.
Isaiah Cox
OUR READERS' FINEST WORDS (All times and dates are GMT)
All comments are filtered to exclude any excesses but the Editor does not have to agree with what is being said. 100 words maximum
---