Southampton sees it all. What with the introduction of Norwegian Cruise Line Breakaway earlier this month (see BTN 29 April and below) and Royal Princess the week after next the port has never been busier.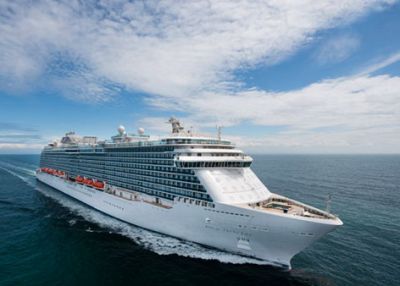 Comparison of the Norwegian Cruise Line ship and Carnival's Princess offering are bound to be made. Both are around the same size and both offer the latest in technologies and innovations. But they are different. Breakaway is designed as New York's ship, a 'break away', usually for seven nights entertaining (mostly) North Americans, whilst Royal Princess is much more of a general purpose ship, the summer spent in the Mediterranean, with international clientele and the winter in the Caribbean.

If you are lucky enough to be invited on the 3,600-passenger Royal Princess during its introductory sojourn at Southampton you will experience a new-generation holiday ship for Princess Cruises. Among the special features found on board is a greatly expanded atrium, the social hub of the ship; a dramatic over-water SeaWalk, a top-deck glass-bottomed walkway extending more than 28 feet beyond the edge of the vessel; plush private poolside cabanas that appear to be floating on the water; the new Princess Live! television studio; a patisserie, a special Chef's Table Lumiere, essentially a private dining experience that surrounds diners in a curtain of light; and balconies on all outside staterooms. To find out more this summer you will have to take a flight to Barcelona or Venice. Southampton may be the big send-off but once a real Royal Princess names her she is south bound to warmer waters.

Lucky enough to be on the invite list Business Travel News will initially review Royal Princess next month.

BREAKAWAY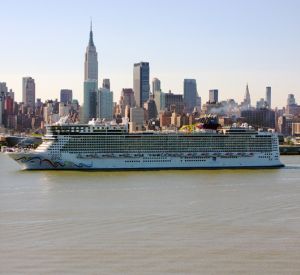 Earlier in May your editor and wife overnighted on NCL Breakaway at Southampton coupled with a Hampshire visit en route to the port. (See BTN Hampshire and the Four Seasons)

Many years ago for the family holiday we went 'down to the sea.' Things have changed somewhat over time. With the children, and sometimes grandchildren, is it 'upon the sea' that we now take the break. And rather like the holidays themselves the resort ships on which we now find ourselves afloat bear little resemblance to the traditional liners of yesteryear. The 21st century cruise ship is a carefully designed holiday package leaving all the cooking and cleaning behind. You don't even have to spend money, at least until the final bill arrives as you prepare to leave your home of the last few days at the end of the trip.

Norwegian Breakaway is the latest 'holiday at sea' to arrive from a company that has been in the business since 1966, a certain Ted Arison (now Chairman of Carnival) one of the founding fathers.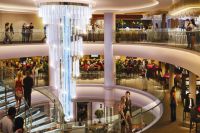 Norwegian Breakaway comes in at 144,000 tons (Queen Mary II is 150,000 tons). It is just over 1,000ft long, 133ft wide and has 1,600 crew for around 4,000 passengers. That puts her in the 'very big ship' class. Her home port is New York. If the seas are calm, which is not always the case, living on board is just like living in a well-designed large hotel. Accept that there is a lot of people about and you will not be overcome by numbers. Moving around is very easy, the lifts (elevators) cope easily, and most ports have got their act together when it comes to boarding. If it is an early evening departure there is usually something of a rush when guests are first accepted on board around noon (for some reason holidaymakers must grab that first meal) but by mid afternoon it would have all settled down. That is the best time to arrive if you are on a longer cruise.

Last year Norwegian introduced Epic, slightly larger than Breakaway and different with a traditional promenade deck. Breakaway features an open-air boardwalk, The Waterfront, and 678 Ocean Place; a wide range of indoor and outdoor venues on three decks that creates a whole new complex at sea enhancing the guests' connection with the ocean. It really works and whilst a very busy night stop is not the best way to view a ship one can easily imagine sitting out on deck dining on the way to Bermuda or one of the Caribbean islands.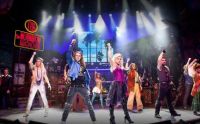 Norwegian Breakaway's entertainment includes three Broadway shows: five-time Tony nominated Rock of Ages, the dance sensation Burn the Floor and for a $30 supplement the Cirque Dreams & Dinner. Watch the show and dine at the same time. The quick change artist is an amazing performance, possibly 10 different costumes each one becoming something else in two or three seconds. It has to be seen to be believed. The famed comedy troupe The Second City, Howl at the Moon duel at pianos, and New York's own Slam Allen perform on the vessel. Norwegian Breakaway will also feature an exciting fireworks show on every cruise that should dazzle guests on the second to last night at sea each week, and will be the grand finale of a decadent 1980s-themed deck party.

The ship features a total of 27 dining options on board and an Ice Bar, which is kept at 17 degrees Fahrenheit and features New York City-inspired speciality cocktails, as well as ice sculptures of the Brooklyn Bridge, Statue of Liberty and the Chrysler Building to pay homage to New York City.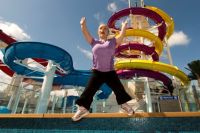 The top decks of Norwegian Breakaway include the first Aqua Park at sea with five full-size water slides including twin Free Fall slides which Paralympics star Ellie Simmonds tested. She is young and brave. They are not for everyone. There is a three-storey sports complex that includes the largest ropes course at sea, a nine-hole miniature golf course, basketball court, rock climbing wall and more.

The ship features a rich mix of stateroom options including The Haven by Norwegian, comprised of 42 Suites at the top of the ship and 22 additional Suites located throughout the ship; the innovative Studios, designed and priced for solo travellers; Oceanview staterooms, Balcony and Mini-Suites; along with Spa Balcony, Mini-Suites and Suites in close proximity to the spa.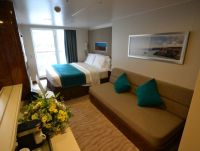 Really impressive were the standard balcony cabins, 21sq m minimum and featuring easily the best bathrooms at sea to date with a full size shower. In the slightly larger mini-suite there are even double sinks. On Breakaway the beds are by the balcony sliding door, the opposite of Epic. This means as you enter on the new ship you are straight away into the lounge area. NCL should organise a customer vote for next year's Getaway (Miami-based). I know which one I would go for. The flat screen TV is on a swivel.

Breakaway is a family holiday ship with speciality areas in different age groups right up to 17. Deposit your child in the morning, pick them up for lunch and supper (the 12 plus group can go off by themselves to eat) and collect them late at night.

In less than 24 hours it was impossible to take in all that is on board but the Spa is extensive, you can keep really fit, or increase the profits of NCL in the casino. If your airline has lost your luggage on the way to New York everything can be purchased in the shops. www.ncl.co.uk
CRUSING NOTES & BARGAINS
Effective with the first cruises in 2014, Crystal Cruises will eliminate smoking in all indoor areas, except for its Connoisseur Club smoking lounge. Outside smoking will be allowed in a limited number of specially designated spaces. The revised policy begins with the 5 January and 8 January voyages of Crystal Serenity and Crystal Symphony respectively and eliminates smoking in all staterooms and suites, the Crystal Cove lobby lounge and Pulse and Luxe nightclubs.

"We have received considerable feedback and we listened. Our policies have evolved as lifestyles have changed", says Gregg Michel, Crystal Cruises' President. "The majority of our guests worldwide are non-smoking, and travellers are used to more non-smoking environments today". www.cruisedeals.co.uk

An Update on Bargains
There still seems to be plenty of availability on European cruises over the coming summer months, on the sea and on the rivers. Unless specifically noted all the ones mentioned do not include flights, nor in many cases a £5/£10 per day service charge. Parking for ex-UK ports is also dependent on the booking. Prices per person are normally for a double/twin cabin and fully inclusive of all meals, cabin servicing etc, and subject to availability. If your favourite operator is not mentioned it is because we have not heard from them. We had added the Berlitz cruise guide rating for all the sea going ships in order to give some idea of the quality of the product. www.berlitzcruising.com

Aegean Odyssey (1341) is operated by Voyages to Antiquity and features what is termed "a learning experience. 24 June Ancient Greece and the Magic of Italy, Athens to Rome – 13 days fly/cruise from £1,995pp with no single supplement. The flights and transfers are included as well as gratuities, tours each day and wine with dinner. www.voyagestoantiquity.com
AmaWaterways the luxury river cruise operator has a week long Rhine sailing between Basel and Amsterdam for £1799 on 12 July. The trip includes visiting cities such as Cologne and Heidelberg, the legendary Black Forest, and past Switzerland's Alpine scenery. The price includes return flights and transfers, all meals on board, wine and beer with dinner and lunch, free-Wi-Fi, free use of on-board bicycles and the company will even send guests' post-cards gratis. www.amawaterways.co.uk
Azamara Quest (1558) departs from Southampton 18 August on 12-night Vineyard of Europe trip £1,799 calling at St Peter Port, Bordeaux, St Jean de Luz, Bilbao, Lisbon and Seville. The cruise also includes selected standard spirits, wines and international beers; complimentary bottled water; soft drinks; speciality teas and coffees; meals and room service; housekeeping and dining gratuities; a bespoke evening event; and all relevant cruise taxes/fees. www.azamaraclubcruises.co.uk

Celebrity Cruises is offering an upgrade from interior to ocean view stateroom for a 6 July 14-day holiday on Eclipse (1607) with a US$250 onboard credit to spend with the speciality dining experiences onboard. The Southampton departure calls at Reykjavik (Iceland), Akureyri (Iceland), Klaksvik (Faroe Islands), Geiranger (Norway), Flåm (Norway), Stavanger (Norway) and Kristiansand (Norway). Sea days too. £1,845 per person. www.celebritycruises.co.uk

CroisiEurope has a 22 July departure on a seven-day canal cruise through the Saone-et-Loire and La Cote d'Or regions of France on the 12-cabin crewed hotel barge, "La Jeanine". Cruise-only prices from approximately £1,103 per person including accommodation in an outside cabin with all onboard meals, drinks with meals, entertainment, excursions, use of onboard bicycles and port taxes. Lyon is the starting point which can be reached by air from Gatwick or Eurostar www.croisieurope.travel.com

Crystal Cruises has discounts of up to 25% for combining selected 2013 voyages. The new Explorer Combinations promotion boasts savings for travellers who combine two to three of the Crystal Serenity (1717) Mediterranean cruises back-to-back. Itineraries include calls at Dubrovnik, Sicily, Montenegro, Malta, Mykonos, St Tropez and more, with overnight stays in Venice, Monte Carlo, Lisbon, Istanbul, Barcelona and Sorrento. 17 and 26 October: Istanbul to Rome (16 nights) from £3,313 per person fly/cruise. 26 October and 2 November: Venice to Lisbon (20 nights) from £3,806 per person fly/cruise. www.cruisedeals.co.uk

Cunard has offers on its three fine ships out of Southampton including over the summer Queen Mary 2 (1702) on the New York run in both directions. However this time of the year the short nights make Scandinavia particularly attractive, with "Mary" taking in 'Norwegian Fjords and North Cape Adventure' visiting Hamburg, Bergen, Andalsnes (maiden call), Trondheim, Honnigsvaag, Tromso, Alesund, Stavanger, Hamburg, Southampton, 8-24 June 16-nights from £799. With Queen Elizabeth (1607) its 'Fjords and Waterfalls' and Stavanger, Olden, Geiranger, Bergen, 9-16 June starting at just £499 per person. Queen Victoria (1587) offers 'St Petersburg and Baltic Explorer' calling at Stockholm, Helsinki, St Petersburg (overnight), Tallinn, Warnemunde, Copenhagen, Kristiansand, 20 July-3 August £999 per person. www.cunard.co.uk

Fred. River Cruises is Fred Olsen Cruise Line with a fancy title highlighting a move into the European river holiday scene. Appropriately named, the MS Mozart has an affinity with a classical ocean liner, apparent with its spacious and sumptuous public areas, the most impressive of which being the sweeping staircase that steers guests towards the viewing lounges above. An eight-day Danube itinerary includes Passau, Krems, Esztergom/Budapest, Budapest, Bratislava, Vienna and Melk, before returning to Passau. Shore excursions include a visit of Göttweig Abbey with a guided walking tour or Dunstein and wine-tasting, as well as city tours of Budapest, Bratislava and Vienna. Prices from £1,099. www.fredrivercruises.co.uk

Fred Olsen Cruise Lines Braemar (1315) has a series of cruises out of Dover, including 'Celtic Experience' 14 August for nine nights calling at Dublin (overnight), Belfast, Ullapool, Kirkwall and Invergordon. Prices start at £621 (£69 per person, per night). More ambitious is the 13-night 'Palaces of Stockholm & St Petersburg' cruise departing 27 August including Stockholm (overnight), Tallinn, St Petersburg (two-night stay), Ronne and Copenhagen. £767 or £59 per person, per night). www.fredolsencruises.com

Hebridean Princess (1680), as chartered by The Queen is quite unique and up market. Seven nights to Lewis and Harris cruise from £5,120. Cruise departs from Oban and calls at Shieldaig, Tanera Mor, Stornoway on Lewis, Harris, The Shiant Isles, The Uists, and Muck before returning to Oban, north of Glasgow, your starting port. www.hebridean.co.uk

MSC has a series of 10-night cruises through July and August out of Southampton on Opera (1445) from £695. The itinerary includes LJMuiden (for Amsterdam), Le Harve, St Peter Port, Bilbao, Vigo and Lisbon. The 60,000 ton Italian ship carries around 1,800 passengers. There are Mediterranean seven-night fly-cruises on the larger (90,000 tons) Orchestra (1465) from £599. www.msccruises.co.uk

Norwegian Cruise Line has a whole series of deals available during June on Epic (1543) and Jade (1481) out of Barcelona and Venice from as little as £379 with various routings covering both the East and West Mediterranean. Epic was new in 2012 and features 128 studio cabins, really for single occupancy but with standard size double beds and a common private lounge complete with hostess and free coffee etc. www.ncl.co.uk

P&O Cruises is offering a 14-night Iceland cruise on Arcadia (1490) from £699 inside cabin (with others available). Departing 7 July Southampton with calls at Dublin, Reykjavik, Isafjordur, Akureyri, Alesund, Olden and Stavanger. Exclusively for adults, Arcadia's facilities include two pools, one with a skydome, Oasis Spa, gym, golf nets, boutique cinema, and a variety of restaurants and bars including Ocean Grill fine dining restaurant by celebrity chef Marco Pierre White. Also available is a 16-night Baltic trip on Adonia (1540) from £1,199 leaving 3 July with the ports Copenhagen, Saaremaa Island, Tallinn, St Petersburg (overnight), Stockholm, Visby, Kalmar, Sassnitz and Kiel Canal. Both cruises are based on a Getaway Fare, which requires full payment at the time of booking, carries 100% cancellation charge and does not have a specific cabin allocated at the time of reservation. www.pocruises.com

Regent Seven Seas Cruises announced it has added three exceptional offers to 13 Far East and South America voyages in 2013/14. Guests who make a new booking before 30 June 2013 on any of the eligible cruises will receive a combination of three exceptional added-value offers of a free enriching pre- or post-cruise land programme. The choice includes a Rio package, Cuzco & Machu Picchu, Iguazu Falls, Beijing & the Great Wall experience and a New Zealand Countryside & Wineries land programme. Seven Seas Mariner (1651), Seven Seas Voyager (1654) www.rssc.co.uk/cruises

SeaDream I (1786) and SeaDream II (1788) are rated by Berlitz as the 'Best Boutique Cruise Line in the World'. SeaDream Yacht Club has announced the introduction of exceptional fares applying to two Mediterranean seven-night voyages in June – an ideal opportunity for those wishing to try the SeaDream experience for the first time. 22 June, sailing aboard SeaDream II from Monte Carlo to Rome, calling at Pampelonne Beach, St Tropez; Calvi and Bonifacio, Corsica; Amalfi, Sorento and Capri, Italy. 29 June – sailing aboard SeaDream I from Istanbul to Athens, calling at Kepez and Kusadasi, Turkey; Patmos, Parikia, Santorini and Hyrdra, Greece. From £2,199. www.seadream.com

Silver Spirit is an exceptional ship (1772) large enough (36,000 tons and around 500 passengers) to have all the facilities of a big ship, but boutique in style, and laid out in such a way as it is difficult to get lost. Prices start at £2,584 for a seven-night cruise 19 June, but once on board it is totally inclusive including drinks. From Athens to Mykonos, Rhodes, Santorini, Kusadasi, Chios, finishing at Istanbul. www.silversea.com

Swan Hellenic has a cruise around the UK from 20 June 2013. The 15-day Realms of the British Isles cruise on Minerva (1456) is from £1,495. Tours are included. From Portsmouth calling at Port of Tyne, Scrabster, Ullapool, Tobermory (overnight), Bangor, Holyhead, Anglesey, Isles of Scilly, Fowey, St Peter Port and Portland. www.swanhellenic.com

Voyages of Discovery (1111) is offering up to £250 worth of on board credit on the 13-day In the Footsteps of St Paul cruise, from £1,299 per person (Saver Fare, based on two people sharing an inside cabin). Cruise departs on 21 October 2013 from Istanbul (Turkey) (overnight), Canakkale (Turkey), Dikili (Turkey), Kusadasi (Turkey), Antalya (Turkey) (overnight), Patmos (Greece), Kavala (Greece), Thessaloniki (Greece) and Piraeus (Greece) (overnight). www.voyagesofdiscovey.com
OUR READERS' FINEST WORDS (All times and dates are GMT)
All comments are filtered to exclude any excesses but the Editor does not have to agree with what is being said. 100 words maximum
---
No one has commented yet, why don't you start the ball rolling?
---