John Burke reports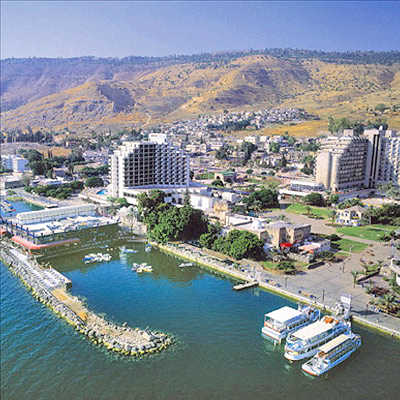 Israel gets an annual four million tourists, but most – whether Jews, Christians or anyone on business – stay in Jerusalem or Tel Aviv, if not sunning it down by the Dead Sea or Red Sea. Very few relax on the unspoilt Sea of Galilee – also known as Lake Tiberias or Kinneret – with an almost oval circumference of 35 miles.

This is surprising because the surrounds are a verdant area of rolling hills and forests that are ideal for hiking and biking. Religiously, it is where Jesus Christ did most of his preaching, and there is plenty more history and archaeology in this lush northerly region that was the Old Testament land flowing with milk and honey.

There is at least one hotel at a kibbutz at the top end of the lake, but the only resort lies halfway along the western shore. This is Tiberius that was named after the Roman emperor, but built by pleasure-loving Herod in AD 20.

Today, the ancient spa has 35 hotels, including a former Scottish mission with a wellness centre. Six others are also top class, and 22 of good standard, but half the guests are Israelis who predominate during Jewish festivals.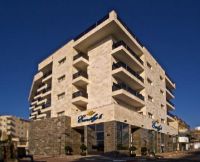 The newest is the four-star Emily's Boutique (467 shekels upwards = £87 bed and fine Israeli breakfast) that boasts a small pool and a breakfast buffet with 60 hot and cold dishes. The manager, Itzhaak Madan, already has a cosmopolitan clientele. By contrast, anyone with young relatives, backpacking, should refer them to www.hostelbookers.com that can speedily find accommodation without fee at somewhere like Panorama. Plain but clean rooms with bathrooms and tea-making facilities start at around 70 shekels and you have to share a kitchen for communal use.

Both establishments have fine views of the lake, being on central Hagalil Street with its shops and eating-places. They are also only 50 yards from historic buildings (one houses the tourist office) and harbour where you can embark on Holyland Sailing's replica of a first-century boat, one of the few craft on the waters.

Joanne Smader at the Tiberias Hotel Association says: "The hot springs were famous in Roman times, but the novelty now is the Tiberium aquatic and musical show at the marina. Our resort could do with more attractions, as most visitors just make excursions round the lake on tour-buses from Tel Aviv or Jerusalem".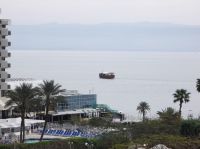 Also, coachloads of pilgrims, mostly Protestants from as far afield as Africa and Asia, go to be (re-)baptised at Yardenit eight miles south of Tiberius. Shaped like open-air baths, this site on the River Jordan belongs to Israel's second-oldest kibbutz, and its spokesman, Alon Hooper, a Jew born in Middlesex, notes: "We get various VIPs from archbishops to state governors". At the Manna Restaurant, visitors can have a biblical meal washed down with Galilean wine for 130 shekels after watching a documentary. Otherwise, pilgrims are charged just 37 shekels for bathrobe, towel, shower and certificate.

There are buses to Yardenit from Tiberius that offers adequate public transport besides car-hire and taxis. Buses also go 20 miles to Nazareth, the home of Jesus, via Cana, the place of his first miracle. Sweet red and dry white wines in souvenir bottles (25 shekels) are sold opposite its memorial church.

Most Christian sites are managed by the Franciscans who have enclosed the ruins of Capernaum, including a synagogue. There is a lakeside restaurant between there and Tabhga whose church includes a fishpond to commemorate the feeding of the five thousand.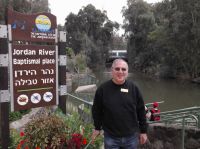 Nearby, also overlooking the lake, is a church to mark the Sermon of the Mount.
Halfway along the ten miles back to Tiberius lies Mary Magdalen's razed hometown, where another synagogue was recently uncovered during construction of a Catholic study-centre. One stone has the oldest carving yet of a menorah, the seven-branched lamp stand that became Israel's national symbol.

Frequent buses and shared taxis take 2½ hours from Tel Aviv and Jerusalem to the Galilee whose first landmark is Tabor, the deemed Mount of Transfiguration topped by yet another Franciscan church.

I had left Luton at 09:00 on a full easyJet flight, arriving at Ben Gurion International at 16:00 local time. Taking the Netanya train (15 shekels) to Tel Aviv-Merkaz, I caught Egged's No 831 bus (42 shekels) that arrived in Tiberius by 21:30. Being back in Jerusalem on the eve of Passover, when public transport stops, I booked a shared taxi (62 shekels) to the airport for EZY2084. Congratulations to Captain Phillips for getting the Airbus A320, departing at 16:55, back to snow-cleared Luton 15 minutes early at 20:15. www.tiberias-hotels.com www.easyjet.com


John Burke is a travel-writer and former tour-guide who has visited 79 countries – including Israel five times, writing for Catholic Life and broadcasting from the BBC's Jerusalem studio.
OUR READERS' FINEST WORDS (All times and dates are GMT)
All comments are filtered to exclude any excesses but the Editor does not have to agree with what is being said. 100 words maximum
---
No one has commented yet, why don't you start the ball rolling?
---