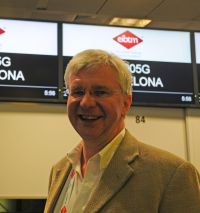 Air Charter Travel Ltd was established in 1992 by Tim Procter and Steve Williams after they had previously worked together at Air London Plc – the first broker of aircraft charters to float on the London stock exchange prior to its relaunch as Air Partner in 1999.
Tim Procter was Sales Director at Air London Plc. His previous experience also includes handling special charter flights for VIPs and unique group travel charters at Dan Air and Instone Air Transport.

"Time and time again I'm told that charter flights are far too expensive for specialist groups – "I can get Ryanair for a quarter of that price", says the group organiser. Whilst I doubt that to be the case for a group of 200 passengers, I agree that the advent of the low-cost carrier (LCC) has created a fantastic new travel medium for the low-cost traveller.

But, unlike its schedule service forebears, LCCs are a flawed mode of transport for groups of business travellers, as well as prestigious conference and incentive parties, for the simple reason that they do not deliver the required levels of service to ensure a problem free and cost-efficient trip.

Take an example of a Plc Finance Director who can prove he's saved almost 50% on his air travel budget – maybe £15,000 to £20,000 – for his 150 top-performing sales people who have earned a VIP weekend conference with their partners in an exclusive Mediterranean resort. His fully incentivised happy couples all arrive at Stansted, as opposed to a more convenient local private airport, to check-in to be told that for operational reasons the flight is cancelled and they should rebook on the next available service in one or two days' time.

The whole weekend incentive collapses and the FD wonders how many of his salesmen will ever try to qualify for another trip? He realises his 50% budget saving was now a completely false economy but he might find some consolation in booking a charter the following year. Charters do not cancel, and in addition they provide a plethora of services that properly reflect the exact purpose of the trip.

To charter an aircraft for an incentive, business travel or a meeting/conference puts the charterer in complete control. There's no LCC uni-flow check-in queuing amidst crowd control barriers. The bespoke check-in desks can display the company's logo on screens and dedicated check-in teams will have a complete understanding of the purpose of the trip and act accordingly. Exclusive VIP lounges are available offering a quiet and private facility away from the crowds, enabling the charterer's guests to chat amongst themselves over drinks in comfortable surroundings.

All seats on-board can be pre-allocated to each guest's preferences and there's no scrum-down for boarding – the charterer's guests can take their time to board in a relaxed fashion knowing that the aircraft will leave with an on-time departure flying directly to the destination of their choice.

And when do you want to depart? The answer is that the charterer decides. The guests don't have to conform to an existing schedule; it can be timed to perhaps match their collective groups' disparate joining flights. The return trip can be timed to coincide with the end of a lengthy lunch just a short drive from the airport of the client's choice. There's no need to travel for an hour at an unearthly time to fit around the LCC's schedule.

The purpose of these trips is to not only reward but to incentivise to ensure improved and repeat performances from a team. Supporting this purpose a chartered aircraft can be festooned in corporate logo's to reflect the business or product – pre-printed headrest covers, menus, drip mats, and even tailored shaped chocolates, all promote the purpose of the trip. In-flight videos can feature exclusive footage for the trip itself and of course the catering and bar will exactly match the charterer's specification. For large scale business product launches Air Charter Travel has even provided passengers with personal tablets in flight, demonstrating the product launch on the outbound flight so that, on the return flight, the tablets can ask each individual what they thought of the launch and what they can recall of the new product. Such intelligence then allows the charterer to know exactly each guest's reaction to their trip and deliver another tailor-made flight on the next occasion.

And the cost? The answer is that the cost is directly proportionate to the success of the trip. You cannot inspire top business executives to be successful; feel valued and appreciated by having them travel on an LCC, in fact this can have a negative effect. You cannot convince your best customers to buy your new £100,000 supercar by flying them to the launch on a LCC. You cannot expect your guests to fly to an overseas meeting that departs at 06:00 and returns at 01.50 just because it's an LCC. Well you could but it may not leave the desired impression.

Whilst LCCs offer an excellent service for leisure, individual business travellers, and can link major hubs, a chartered flight benefits from bringing a group together with a joint purpose flying at the times they want to the exact airports they want. It is powerful and effective, and has to be a lot better than 150 claims for rooms in a budget hotel and all the loss of credibility."

Tim Procter
OUR READERS' FINEST WORDS (All times and dates are GMT)
All comments are filtered to exclude any excesses but the Editor does not have to agree with what is being said. 100 words maximum
---
No one has commented yet, why don't you start the ball rolling?
---