National Ferry Fortnight (and Azamara Journey)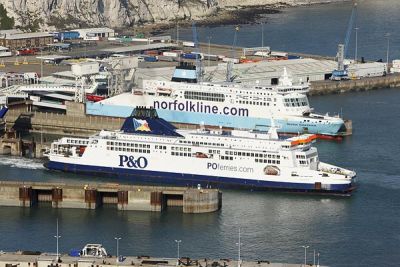 The UK's annual National Ferry Fortnight starts next Saturday (2 March). Now in its fifth year, the campaign has been growing steadily since launching in 2008. Supported by the 13 ferry line members of DiscoverFerries.com, the two-week showcase was created to heighten consumer and media awareness of Britain's extensive ferry services covering more than 50 routes. Central to the campaign is a series of promotional offers on ferry routes to Belgium, Denmark, France, Holland, Ireland, Spain, the UK including the Isle of Wight and the Scottish islands; and also the Channel Islands and Isle of Man.

This year, National Ferry Fortnight urges ferry operators and passengers alike to get "ferry familiar" and encourages consumers to experience the ease, value and flexibility of ferry travel. More than 34m passengers travel by ferry annually and ferry companies have invested millions in modern, versatile fleets and upgraded services. With spas, First Class lounges and fine dining restaurants onboard some ships, "Discover Ferries" says that now is the time for passengers to jump onboard and discover the new face of ferries.



"Britain's ferry services offer a reliable and flexible way to travel and represent great value", said PSA Director Bill Gibbons. "We've chosen the new theme 'ferry familiar' to encourage even more people to get onboard and try ferry travel for the first time – having sailed once, we're sure they will see the great benefits of ferry travel which include no hidden costs.

National Ferry Fortnight offers a real showcase for our industry to highlight the huge investment that has been committed to providing a relaxed and versatile way of travel, particularly for families in their cars".

Azamara Journey – By sea around South East Asia

Dr William Baker, an Englishman, is Presidential Research Professor of English at Northern Illinois University and an expert on 19th-century British literature. He is also a keen cruise fan and not afraid to give some honest views. Let us hope that Azamara reads this report. He sums it up at the end.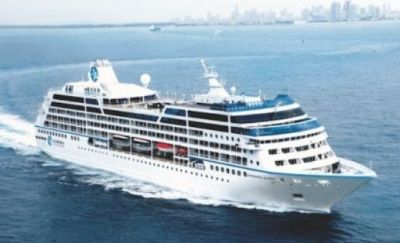 Cruising with Azamara Club Cruises, an up-market part of the Royal Caribbean Group, is fashionable. There were a number of repeat passengers on our 14-day Azamara Journey (30,000 tons R Class ship 694 passengers). Singapore was the first and the final port of call. Other ports were Ko Saui (Thailand) [docked for a day]; Bangkok (Thailand) [Klog Toey docked for three days]; Sihanoukville (Cambodia) [one day]; Ho Chi Minh City (Vietnam) [three days].
Azamara includes tips and house wine for lunch and dinner. For us the attraction was the all-in package (including staff gratuities), though not cheap but very good value. Some fellow passengers were offered by their travel agents money on board as a sort of back-handed discount you have to use up. For our Azamara promotion the travel agent refunded US$500 following the cruise or on booking.
The all-in package included air-fare, another reason why we deserted our regular Holland America cruise for Azamara and paid more than we usually do. However there is a catch 22 that didn't occur to us when booking the flights [all United] arranged by Azamara Club Cruises.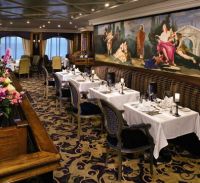 We left Chicago [O'Hare] on a 06:30 flight for Los Angeles [this meant, as we live 60 miles from O'Hare, going to the additional cost of booking a hotel at the airport]. From LA we flew to Tokyo and then to Singapore. On the return we were booked early in the morning again from Singapore to Hong Kong and then the long flight from Hong Kong to Chicago. Going and returning we paid extra for United upgrade from basic steerage class.
Admittedly Azamara provided a hotel day room at the Conrad Centennial on arrival and departure but in order to accommodate the flights we were forced to get up at ridiculously earlier hours such as for instance 02:30. No wonder our body clocks a week or so post the cruise have still not adjusted. Also upon arrival in Singapore we were exhausted and forced to wait with luggage for an hour or so before being transferred to the hotel owing to a lack of co-ordination at the local level between tour representative and Azamara head office!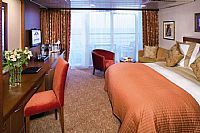 Apart from the shops, the spa treatments and hairdresser, plus a rather limited on-board casino or some of the very well organised shore trips, about the only place to spend money on board was one of the two private dining rooms that offered gourmet themed menus and even finer wines. Whilst we were on board there were Indian or Thai and other themed evenings in one of the two other dining rooms: one more formal than the buffet based other. Formal dress nights were not required.
The standard of accommodation and cuisine is very high and with a more than competent choice of complimentary drinks of either white or red wine at lunch and dinner. Indeed not just one glass but continual refills.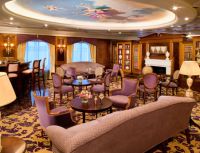 The cruise was only three quarters full: there had been a fire on a recent Journey cruise and the ship had drifted for several days in potentially hazardous pirate waters. Given that there were 471 passengers on board [majority Americans, large proportion of Brits, Australians, some South Africans, and colourful Brazilians and others] and a crew of just over 400, the atmosphere is like a small village but it is difficult to avoid those whom you wouldn't otherwise spend the time of day with in real life.

Cabin numbers had to be given at dinner in the main dining room so it was not difficult to determine who were in the expensive suites served by a butler with satin drapes and an English style bath. The basic cabins were similar to those on for instance Holland America.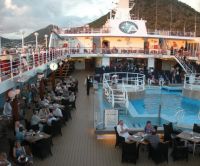 The entertainment team worked very hard but was rather limited. There was a jazz ensemble with a fine saxophonist. A harpist performed near the main dining room and a bar at meal times and seemed rather wasted. Indeed larger cruise ships seem more conducive to passengers liking classical music. There was no string trio or quartet. A fine classical pianist performed twice for half an hour or so but was hampered by her inadequately tuned piano and rough seas.

The staff were very professional, friendly and multi-tasked. The captain of the ship seemed to spend more time acting in a "PR" capacity speaking to selected passengers rather than actually being at the bridge. As the ship sailed a safety drill was carried out: its informality was appreciated.

In short the cruise was value for money and yes we will book Azamara again. www.azamaraclubcruises.com


CRUISE NEWS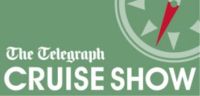 The Telegraph CRUISE Show takes place in London's Olympia on 23-24 March 2013. From small boutique river boats to modern resort style ships perfect for the whole family, this is your chance to meet with over 100 cruise lines and specialist operators all under one roof – and have a great day out!

Visitors to the March show can get up-to-date insider tips and advice from the experts, attend the informative FREE talks and participate in the exciting panel discussions, discover different ship styles and incredible destinations, find out what's new for 2013/14 and also save thousands of pounds with exclusive show-only offers!

Prices for the show are £10 on the day, £6 for-pre booked on the web, and only £4 (£2 before 28 February) by quoting 'BTN' when booking tickets online at www.cruisingshow.com

AMAWATERWAYS is introducing four new itineraries in France and Portugal for 2013, cruising the Seine for the first time and returning to the Douro after an absence of nearly two years. The line offers a total of 25 cruise itineraries across Europe, Africa, Russia, Vietnam and Cambodia, and is increasing its fleet to 15 luxury river cruisers with the debut of the brand new AmaPrima in April 2013 on the Danube and the Rhine and the AmaVida which debuts on the Douro in March 2013.

The new 164-guest, luxury river cruiser AmaPrima is a sister ship to the innovative new ship AmaCerto (which debuted in April 2012) and incorporates the most advanced river cruise ship design with spacious staterooms, most featuring exclusive twin balconies, a heated swimming pool, multiple fine dining venues, a complimentary internet and infotainment system with 42" flat screen TV, gratis wi-fi and free use of on board bicycles.

The smaller 108-guest AmaVida will cruise Europe's Douro River Valley and features balconies in the majority of its spacious staterooms and suites, which range up to 323sq ft. Guests will enjoy fine gourmet dining with free-flowing local wines, in addition to a casual al fresco dining option. The AmaVida also features a sun deck swimming pool; fitness centre and spa; complimentary in-stateroom Internet access on a 42" flat-screen and ship-wide wi-fi. www.amawaterways.com

COMPAGNIE DU PONANT, a boutique French cruise line and 5-star expedition specialist, has just launched a 64-page brochure uniquely dedicated to its brand new Asian itineraries for the winter season 2013-2014. From modern empires to ancient kingdoms, passengers are invited to explore the diversity of a mysterious and captivating continent.

For the first time, Le Soléal (132 staterooms and suites), the latest addition to the fleet launching on 1 July, will be sailing for Japan, Vietnam, Thailand, Malaysia, Indonesia, Borneo, Myanmar, Sri Lanka, India and the Maldives. A comprehensive programme of shore excursions will include some of the world most outstanding UNESCO World Heritage sites. Small ships can often get up close to sites hitherto impractical for visitors. Also onboard are experts, historians and lecturers ready to share their passion with the passengers. The 17 Asian itineraries designed by Compagnie du Ponant promise to offer much more than a cruise: a genuine travel experience. http://en.ponant.com

NORWEGAIN CRUISE LINES is heavily promoting its latest family liner Norwegian Breakaway which will be based in New York. From May until September on offer will be a series of seven-night cruises to the Bahamas and in the winter 12-night trips to the Caribbean. You can top or tail the holiday with a stay on Manhattan, the centre of the world's entertainment industry.

We will be previewing this fantastic 144,000 ton (Titanic 46,000 tons – original Queen Mary 81,000 tons) ship in a forthcoming Business Travel News, but it has 28 dining choices (Including On the Waterfront – dining over the sea), a three-storey sports complex and an Aqua Park with two swimming pools, a kids pool and five water slides. Three Broadway shows are booked, and each cruise will feature a grand firework display on the second to last night. www.breakaway.ncl.co.uk
PORTSMOUTH, very accessible with the M3/A3 virtually at the dock gate, will be hosting 50 cruise ship movements this next year, compared with 34 in 2012. In 2011 the port opened its new terminal, a positive move that is clearly helping to attract new clients, both operators and passengers. All Leisure (Swan Hellenic and Voyages of Discovery) more or less treat the port as their UK base and Fred Olsen is another user. The most spectacular visitor to Portsmouth next year has to be 'Wind Surf', the largest sailing ship on the planet. The sleek five-masted yacht accommodates 312 guests in luxury accommodation over six decks. www.portsmouth-port.co.uk
REGENT SEVEN SEAS CRUISES, has announced news of an exclusive 'Verona Opera & Cruise' experience this summer featuring a stunning operatic performance of Giuseppe Verdi's Aida at the world-famous Arena di Verona in Italy.

As Verona's internationally acclaimed Roman amphitheatre prepares to celebrate its Centennial year, Regent has reserved prestigious Gold Tickets providing clients with the opportunity of a lifetime to experience Verdi's lyrical work within this unforgettable setting. The 12-night 'Verona Opera & Cruise' experience is complimented with a luxurious 2-night pre-cruise stay at the legendary Due Torri Hotel, Verona's most renowned palatial 5-star hotel prior to joining Seven Seas Mariner for an all-inclusive 10-night sailing from Venice to Athens. www.rssc.com

SILVERSEA is introducing a new collection of eight shorter cruises for 2013. These convenient four- to seven-day voyages to Northern Europe and the Mediterranean are designed for time-strapped working professionals, travellers who like to combine a cruise with a land programme, and those trying out cruising for the first time, and want to do it in real luxury, all-inclusive including a butler. www.silversea.com

Four days
Silver Cloud, 15-19 June, Hamburg to Copenhagen, with calls in Warnemünde (Rostock) and Helsingborg.
Silver Wind, 16-20 March, Barcelona to Rome, with calls in Monte Carlo and Livorno.
Silver Wind, 14-18 May, Rome to Monte Carlo, with calls in Bonifacio, Calvi, and Livorno.

Five days
Silver Wind, 11-16 March, Lisbon to Barcelona, with calls in Málaga, Cartagena, and Valencia.
Silver Wind, 18-23 May, Monte Carlo to Barcelona, with calls in Sóller de Mallorca, Ibiza, and Valencia.
OUR READERS' FINEST WORDS (All times and dates are GMT)
All comments are filtered to exclude any excesses but the Editor does not have to agree with what is being said. 100 words maximum
---