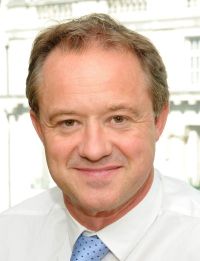 Andrew Haines became the first Chief Executive of the Civil Aviation Authority (CAA) in August 2009.
Previously the post was called Executive Chairman. Mr Haines joined the CAA after a wide-ranging career in the rail industry. He quickly became what Flight International would call "a total aviation person".
He is seen very much as a 'hands on' CEO, a visible contact between the industry and the legislators.
Business Travel News likes to pride itself with a worthy COMMENT introduction to the New Year. Mr Haines' words affect us all and should be carefully considered.
Making the most of UK Airspace

As a small country with huge demand for aviation UK airspace is a very scarce resource.

The UK's airspace system was developed over 40 years ago. It has not been comprehensively updated since and is still based around decades old technology. Every day we hear discussions about a shortage in capacity for aviation in the UK. Much of the debate centres on airports and runways. But in some areas airspace capacity is also a major factor because of its effect on the overall efficiency of aviation and its impact on the environment. And unlike the tricky subject of extra runway capacity, airspace is much more under the sector's control; indeed we have a golden opportunity to make improvements now while traffic levels are recovering from a global recession.

The CAA's Future Airspace Strategy (FAS) Deployment Plan sets out a roadmap for the modernisation of the UK airspace system, including the en-route airspace managed with Ireland as the UK/Ireland Functional Airspace Block (FAB). The plan was developed in a truly collaborative way, with operators, airports, air space service providers and the regulator all strongly represented.

There are no silver bullets in the plan. Multiple initiatives are required to improve the way air traffic is managed and moves around the network, including:
• Implementing a fundamentally more efficient route network in the busy terminal environment.

• Removing fixed airspace structures to allow for more direct routes across the UK / Ireland FAB.

• Streaming traffic, through speed controls, to manage queuing and reduce stack holding.

• Re-designing departure procedures to allow aircraft to climb continuously and increase runway throughput.

• Connecting airports electronically into the network to share accurate information about planned departure times to avoid bottlenecks and delays.
Airspace in the UK and UK / Ireland FAB is not being developed in isolation. The FAS work feeds into the Single European Sky process and globally is aligned to the ICAO Aviation System Block Upgrades and US 'Next Gen' Programme.

These initiatives are expected to improve cost efficiency, punctuality and environmental performance. Airspace modernisation also provides opportunities to continually enhance safety. Collectively, the first phase of FAS implementation is expected to save over 160,000 tonnes of fuel, half a million tonnes of CO2, and 1.1 million minutes of delay per year. FAS is also expected to generate airspace capacity to accommodate forecast demand out to 2025 and improve the efficiency of existing runway capacity.

The New Year marks the shift from planning to implementation. There are important dependencies on all segments of the industry and the regulator if the benefits are to be achieved. The plan identifies a number areas to be progressed as a priority in 2013 because they have the potential to generate near term benefits or lay the foundation for future changes; for example:

• a consultation in Spring on a mandate to implement Performance Based Navigation (PBN) in certain areas of the UK's controlled airspace. PBN allows aircraft to use satellite navigation, instead of ground based navigational aids, to fly much more accurate routes and is fundamental to many of the changes proposed in FAS;

• for NATS, the priority for 2013 and 2014 is to design and consult on a new PBN based terminal airspace network for implementation after 2015;

• many airports will be required to consider how their low level arrival and departure procedures link efficiently into the NATS led network design;

• all airports must also consider strengthening the systems and processes used to share planned time of departure information electronically;

• operators have an important role to play in 2013 supporting the development of advanced airspace design concepts as part of the new terminal network;

• operators will be asked to share their fleet capability and investment plans for PBN in support of a CAA impact assessment;

• during 2013 operators, airports and NATS will also be considering a more strategic approach to scheduling and block times to improve arrival predictability.


Many organisations now are signing up to a FAS Memorandum of Understanding to demonstrate their commitment to the project. I look forward to continuing to work collaboratively with industry to implement the FAS Deployment Plan – there is no doubt that our proposals are ambitious, and there is also no doubt that without effective joint working between ourselves, industry and government, the strategy will not meet its aims.

Andrew Haines, Civil Aviation Authority Chief Executive
OUR READERS' FINEST WORDS (All times and dates are GMT)
All comments are filtered to exclude any excesses but the Editor does not have to agree with what is being said. 100 words maximum
---
No one has commented yet, why don't you start the ball rolling?
---