OR: Any port in a storm!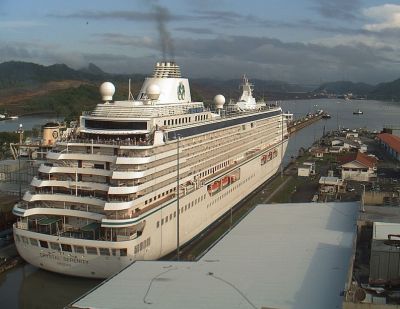 Now it may be that on first sight Hurricane Sandy and the Panama Canal are not connected, but read on. This is the longest ever ON TOUR in Business Travel News history but we think it well worthwhile the read.
The writer Susan Linder is a regular contributor to BTN. In real life Susan is a strategic business planning and marketing consultant with over 40 years' experience. She is the creator of several management success tools including Marketing Forensics and Market Manageering. www.srlinder.com
Two days before Sandy changed New York City, probably forever, I was still a sceptic. It has been my experience that the more the hype, the less the reality.
On Wednesday 31 October we were due to join a leisurely 6-star Crystal cruise down the US Atlantic coast, across the Caribbean, through the Panama Canal and on to Los Angeles. 15 minutes in a taxi from our apartment and we would be met with Champagne.
But the warnings were more strident than usual.
Saturday 27 October B.S. (before Sandy): I shopped and stocked up on a few essentials, like wine. The line outside of Trader Joe's liquor store was halfway down the block with patrons wanting to carry on with storm parties. We (my husband is an accountant specializing in the music industry – Irving Berlin was a client) live in a university neighbourhood. Apparently the fear of running out of drink was universal. A friend in Atlantic City to whom I sent off a quick "hunker down" email, he shot off the retort: "hunkering down with rum". Atlantic City was hit very hard.
Because clients usually make last-minute-before-you-go on vacation demands, I was fully packed on Sunday for our vacation cruise supposedly leaving a pier in mid-town Manhattan the following Wednesday. I bought more water.
Monday: Just heavy rain. From our windows on the south side of 14th Street at 5th Avenue in Union Square, all was just rain when my husband decided to get a transistor radio at the shop next door. It was only a US$14 purchase, but I scoffed. More about that later.
By the evening, as we were watching the bad news from the Atlantic shore, destruction was ploughing up through Staten Island, the tip of Manhattan and Long Island. Lights flickered and then all went dark around 8.25pm. We were to find out later that Mayor Blumberg had given the order to shut down electricity from 34th Street to Battery Park. With everything in the dark…with the annoying exception of a single pale light on the top floor of a building three blocks away with a generator…we went to bed.
I awoke at 2am and remembered. No electricity means no water from the tap… eventually. It took me just 15 minutes to fill every tub, pot, and vase and, yes, empty wine bottle I could find with water. Some for drinking stored in the now shut-down refrigerator; some for hand washing and manual toilet operation. I found our candles and two flashlights. And, miracle, the right type of extra batteries. I located the old fashioned "Princess Phone", the US$9.99 phone we did buy for emergency use a few years back. Few of us remember that our phones are now all electronically based. If it plugs into the wall, you're out of luck if electricity goes. The back-up power on our phone system lasted eight hours. Unfortunately, those extra hours were in the middle of the night.
Back to that transistor radio. We would have known nothing except for this 'old' technology. The 'Tranny' told us how widespread the outage was and how devastating the consequences of the confluence of weather patterns would be on a city unused to such weather. I listened to news and commentary channels for hours. Best US$14 we spent.
Tuesday: Things were bad but we had daylight. Our cruise line insisted that we'd leave from NYC. Had they called me…if they could have reached me on my dwindling cell phone…I would have told them: no way. How were dock workers getting to the pier! We were prepared to forgo our vacation. But I am an eternal optimist. I found one of our building porters who was going off duty and paid him to help take our two big suitcases to a locker on the first floor. Lucky for him we are not over-packers. Dinner was sandwiches. Our gas stove uses an electronic ignition system.
Wednesday morning: Cell phones are running out of juice. Got word that Crystal Symphony would not be docking in New York City and would go direct to its next port of call – Charleston 750 miles to the south.
Get to Charleston. You must be joking! We had just re-discovered that Manhattan was an island…a fact we tend to forget. With tunnels closed, all but two bridges closed and no subways to connect to the "mainland" or the other boroughs that comprise New York City proper, we were fairly well trapped.
Get to Charleston?
I wasn't sure we could get uptown! No word on what would happen now with the vacation. We decided to go to my cousin who lives in the "real New York", not the ghost town lower Manhattan had become. (Our building was becoming its own little ghost village as well. Most who could moved to friends and relatives who had hot water.)
We would either bunk with my cousin until it was over; or, by some miracle, we would find a way to go on the cruise.
Wednesday lunchtime: Looking for relief. We found one of the few cabbies brave enough to trawl for business down 5th Avenue from 34st Street without traffic lights. We decamped for the Upper West Side and my wonderful cousin Walter who welcomed us with a hot cup of coffee, the shower and, most important, a phone charge.
Mid-afternoon, we got news that, if we could get to a mid-town hotel on Thursday morning, Crystal Cruises had set up a private bus service to Charleston, South Carolina, the second port on our scheduled 18-day trip to Los Angeles.
So back home in a cab for the 80-block ride downtown.
As we headed down 5th Avenue, the dark below 34th Street loomed in front of us.
I spent the remainder of the evening by candlelight throwing everything out from our well-stocked freezer and refrigerator.
Thursday six in the morning: Fingers crossed that the car service would pick us up. Retrieving luggage from the first floor storage room, our motor arrived on time for the transportation kick-off of our 13-hour bus trip to Charleston. For us, the system was pretty efficient. As one of the first to assemble at the hotel, we were bus One. Others were not so lucky. (Buses two and three were delayed. We left at 8am as scheduled; they left two hours later and then hit rush hour traffic, pulling into Charleston after midnight.) Our bus mates handled all with aplomb. I had the chance to buddy up with my onboard Pilates instructor, met a couple from Manila, several folks from crippled parts of New Jersey and Connecticut. We shared our war stories. By 9.30pm, we were in Charleston and in sight of the Crystal Symphony. Cooked food. Showers. Lights. And a lot of luxury was finally within reach.
Throughout our "ordeal", we were painfully aware that others are and would suffer more. Death. Home disruption. Home destruction. Others suffered so much more than a few days' inconvenience. As forewarned as we were, none of us… people or government…were truly prepared.
Other Crystal passengers from Florida and Texas thought we could have known better. Not really. If you live in a suburb in Texas, you could get in your car to charge your phone. In Manhattan, we don't have cars. If you live in Florida, you may have room for a backup generator. Here in Manhattan at least, most buildings don't have those so we deal with getting down blackened halls and multiple flights of stairs in total darkness when there are no elevators. More than that, we have no basis, no direct experience, with weather systems like Sandy. Things will change for us here now, too. I am lobbying for backup generators in our building, but I will bet my fellow owners may not want to pay for it. People's memories are short-lived.
My manual flush system worked. We had a functioning radio. I learned to use my husband's cheap cell phone for calls and reserve my smart piece for the internet.
I would have given myself a bigger pat on the back if I had remembered I could have cooked that steak rather than throw it out. Turns out I forgot that I could light the gas stove top with a match.
As for Crystal they were never going to win. 800 passengers to get home from Charleston (in fact not that difficult) and 800 more from all over the globe (but mostly US). 80% made it. And we got two days re-fund.
It is an experience we will look back on all our lives. A hurricane followed by a wonderful cruise. And like all these things the bad parts (and there were truly bad parts) will be forgotten.
AND ONWARD TO THE GREAT CANAL – A WONDER OF THE MODERN WORD
This has been my fourth crossing and it has taken me four transits – one from the Pacific, three from the Atlantic side – to understand why the transits hold an endless fascination for me as well as most of my fellow passengers on Crystal Symphony.
It comes down to this: The canal is elegant in its simplicity.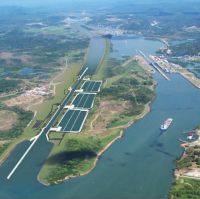 A waterway connectivity concept already in use in ancient Persia. The winch, a Greek invention in the 5th century BC. The principle of buoyancy expounded by Archimedes. A lock mechanism originally envisioned by Leonardo Da Vinci. And two men connecting the ship to guide train towing device in said lock.
With these simple techniques the Canal Administration moves approximately 15,000 ships a year in this 24-hour a day operation which stocks the world with cars, machinery, and oil.
It is a thrilling process to watch a container ship laden with 150 or more boxes rise in front of our liner buoyed only by the force water. Then there is the occasional magic trick that makes another ship practically disappear in a haze as a brief but torrential downpour obscures our view a mere 1,000 feet away. Under the superhot Panamanian sky, it is this rain that replenishes the tremendous volume of water lost each year during the ship-lifting process. Ferdinand de Lesseps, who also built the Suez Canal, floundered in Panama at great cost of lives and money, the waterway the work of US Army engineers in the early part of the last century.
Essentially the locks are now too small for modern shipping. After a number of abortive attempts under way is a US$5.25bn project, the world's largest engineering upgrade.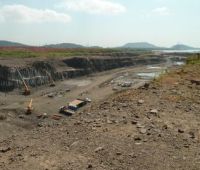 One can only glimpse at the rising structures taking shape behind what Dick Morgan, retired Panama Canal Company executive and a destination lecturer on our cruise, described to me as "the biggest pile of dirt in the world". The new locks at this end are based on ditches originally dug by the US but abandoned during its original engineering project. The new Pacific works are easier to see but are less complete. The triple Pacific locks are the cause of the inauguration delay of a few months. This is now scheduled for 2015 rather than the more symbolic 100th year anniversary of the original opening on 15 August 1914.
These commerce-changing additional locks and lanes will spell a significant increase in the movement of goods between continents, even surpassing the Suez Canal within a few years.
The industry is already responding to the Canal's imminent changes with hundreds of new ships in production. But only several ports on the West and only three ports on the East and Gulf coasts of the US can hold these monsters with their deep drafts. An interesting question posed by Dick Morgan is: "Are US ports ready to accept these Post-Panamax ships?" And, will the United States, who took on the original French failure, and supplies 24% of the users of the existing canal, benefit from that increased traffic?"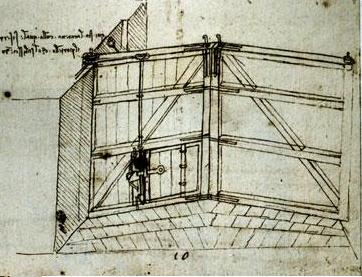 The size of the new lock chambers – width and length – as well as the depth of Lake Gatun will increase significantly. And that is a good thing. This time through, we watched a freighter with only inches on either side, bump and grind lock walls on its way through. Perhaps more dolphins, occasionally sighted by Crystal Symphony Cruise Director Scott Peterson, will decide to make the trip when they will be able to more comfortably share space with container ships. If they do, they will have to share the waters with tugboats which will replace the electric trains – just as those trains (still called "mules") replaced the actual mules which pulled ships through canals in history. Another change: the new locks will employ a paired rolling lock mechanism which slide out from recesses in the lock wall rather than Leonardo's mitred lock.
Instead of spilling enough water to quench the annual thirst of Trenton, NJ or Halifax, NS back into the ocean during the lift process, the new locks will have side-by-side recycling basins which will conserve approximately 60% of the water used to lift and then lower ships from ocean to ocean.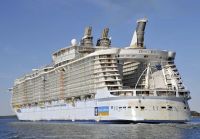 If the canal is an engineering inspiration, it is also an ecological one. The Canal organization relocates displaced mammal, reptile and bird wildlife. It protects the rain forest that one can see from shipboard as well as conducts reforestation projects in eight locations in western Panama. One example of the law of unintended consequences: digging of the expansion has uncovered many prehistoric fossils, unearthed within mere feet of the existing canal, and now housed at STRI, a bureau of the Smithsonian Institution based in Panama and dedicated to understanding biological diversity.
Ship spotters need to get out their manuals to see what will fit into the new locks. They are 1,400ft (426.72m) long, 180ft (54.86m) wide, and 60ft (18.29m) deep. Independence of the Sea (184ft) will not make it but RCCL will be able to take the 137,000 ton Voyager Class ships through with plenty of room to spare. As for the larger but slimline Queen Mary 2, it is an easy fit.
I am not finished with the Canal. I am looking forward to another transit in a few years to see the progress. Perhaps I can update my report from the deck of a container ship or perched on the bow of a Panama Canal tug boat.
SUSAN LINDER
OUR READERS' FINEST WORDS (All times and dates are GMT)
All comments are filtered to exclude any excesses but the Editor does not have to agree with what is being said. 100 words maximum
---
No one has commented yet, why don't you start the ball rolling?
---